Pianist Katie Mahan presents a program which transports the listener into the inner world of Beethoven. Traveling from his final work for piano backwards to the beloved Appassionata sonata, we hear the expression of his emotions and passions, and witness his transformation as an artist and a man.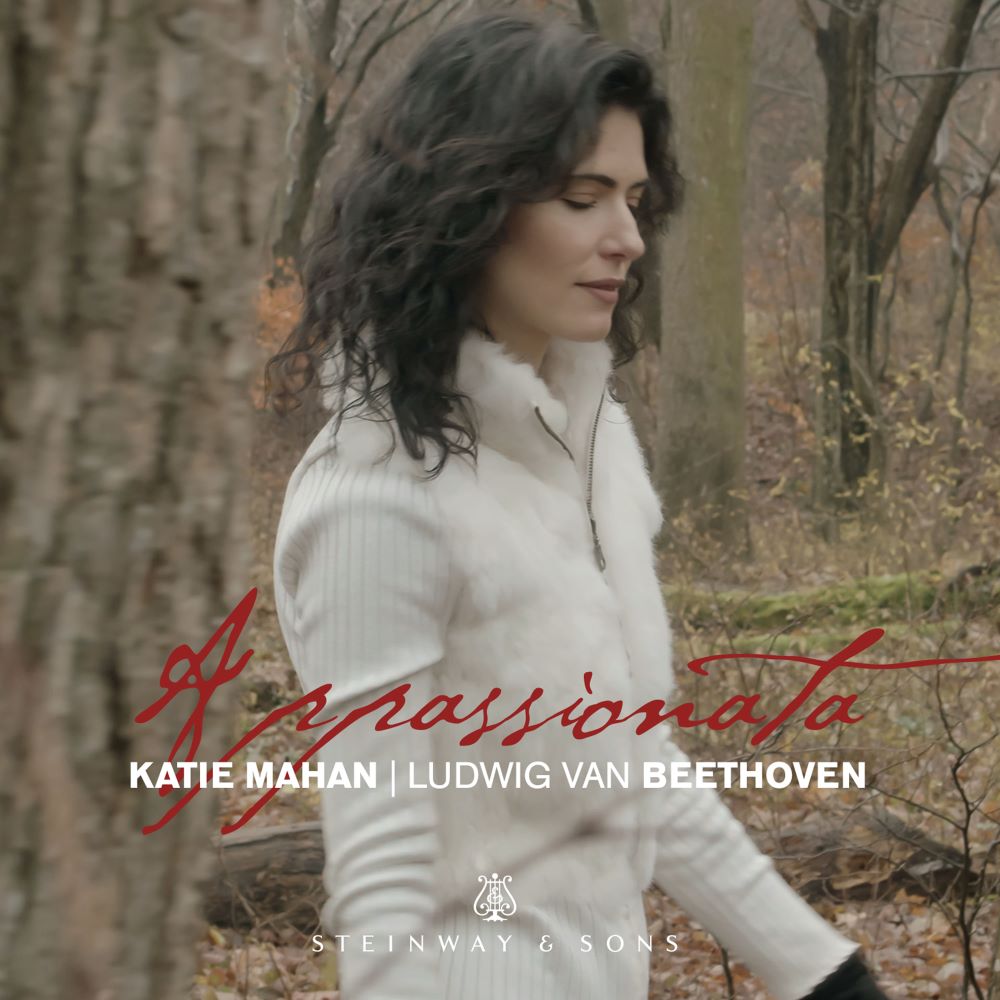 In the twenty years that separate the Bagatelles and the Appassionata sonata, we feel anger transformed into humility and fear transformed into serenity

.
On May 1, 2020 Steinway & Sons releases Appassionata (STNS 30161) from pianist Katie Mahan. The album includes the Bagatelles, Op. 126, Sonata No. 30, Op. 109, and Sonata No. 23, Op. 57 "Appassionata". In her liner notes, Mahan writes that it is only through the appreciation of the intensely visionary Appassionata that we can begin to grasp the mystical quality of Beethoven's late works. The profound depth and spirituality of Beethoven's last three piano sonatas pushes the limits of human understanding, and it is clear that in these works, Beethoven succeeds in triumphing over his tragedy and in so doing finds expression for the transcendental power and sublime inspiration that he knew existed in the depths of his soul.
Mahan says "I have chosen these pieces because for me they epitomize the essence of Beethoven's life journey. They speak not only of the turmoil that existed in his inner world but also to the acceptance into the prophecy of his vision of the future. It is a challenge for any musician to summarize the expressions of such a great composer in a short program of so few works, but it is my hope that the Beethoven spirit can be felt and seen on the musical journey I have prepared for my listeners on this recording."
"The "Appassionata" is the best of all: Mahan gives it a sweeping yet inward performance that will make listeners remember why they began to love Beethoven in the first place."

AllMusic Guide

"Katie Mahan adopts a conception that suits her perfectly: a sense of drama mixed with nobility of tone."

Crescendo

"Mahan's is not the shock-and-awe Beethoven of virtuosity run amuck but considered, expertly timed, and witty where demanded. She contrasts the Second Bagatelle's opening Baroquism and the ensuing Classicality with just the right shades of color and instantaneous changes in articulation."

Fanfare

"Mahan achieves a concentrated spirituality in the slow movement and an impressive virtuosity with plenty of forward momentum in the finale. Sonata 30 also shows attention to detail and considerable appreciation for the expressiveness of the music."

American Record Guide

"With her agile fingers, she knows how to adapt the timbres of her instrument to the stylistic needs of each composition. She also achieves directly magical results with subtle dynamics."

Pizzicato
Album Credits
Appassionata - Beethoven / Katie Mahan • STNS 30161
Release Date: 05/01/2020
Recording engineer: Rainer Maillard
Editing & Mastering: Rainer Maillard
Produced by Emil Berliner Studios GmbH, Berlin
Recording location: Meistersaal, Berlin
Piano: Steinway Model D (Hamburg)
Cover Photo: Michael Kölblinger

About the Artist
American pianist Katie Mahan's life has always been filled with music, and at the age of four, inspired by attending a performance of Gershwin's An American in Paris given by the famous French piano duo, Katia & Marielle Labèque, she decided that she wanted to be a concert pianist. She subsequently began piano studies with her mother, Bobette Mahan, giving her first solo recital two years later at the age of six. An American in Paris opened the door to the vast world of classical music for Katie, and her love of Gershwin quickly led her to discover the music of Debussy and Ravel, the French composers that Gershwin idolized. Although Katie's music now takes her all over the world, she never forgets her American heritage, and the great American composer who inspired her to become a pianist. Her programs often feature her own classical arrangements of her beloved countryman's music, alongside works of Debussy and the Viennese classical repertoire.
Katie's greatest pianistic influence came from her studies with the celebrated French pianist Pascal Rogé, with whom she studied the music of the French Impressionists. Rogé – who traces his musical heritage directly back to the great French tradition of Debussy and Ravel – was not only an important pianistic influence on Katie, but also inspired her to devote years of study to the search for understanding of French music, art and stylistic tradition.
Since making her orchestral debut in 1999 performing Gershwin's Concerto in F with the Breckenridge Symphony, Katie has appeared in concert throughout the USA, Europe, Canada, the Middle East, Russia and Japan. She has performed with such celebrated conductors as Jiri Belohlavek, Marin Alsop, Grant Cooper, and Lawrence Leighton-Smith, among others, and in such famous halls as the Konzerthaus in Berlin, the Prinzregenten Theatre in Munich, the great hall of the Moscow Conservatory in Moscow, and the Smetana Hall in Prague.
Katie's extensive discography includes solo repertoire from Mozart to Bernstein. Her eleventh album Classical Gershwin, a CD + DVD set which includes an innovative music video of Gershwin's beloved Rhapsody in Blue was released on the Steinway & Sons label in November 2019, and together with her Debussy CD Clair de lune, which has been praised as "a program to revel in and relish" (Fanfare Magazine), was selected by Lufthansa, Swiss Airlines, and Austrian Airlines to be presented on their in-flight entertainment programs on flights all over the world.
About Steinway & Sons label
The STEINWAY & SONS music label produces exceptional albums of solo piano music across all genres. The label — a division of STEINWAY & SONS, maker of the world's finest pianos — is a perfect vessel for producing the finest quality recordings by some of the most talented pianists in the world.