Bach
Six French Suites
Sergey Schepkin
The distinguished pianist Sergey Schepkin, one of today's foremost interpreters of Bach's keyboard works, marks his Steinway & Sons label debut with a double CD album that couples Bach's complete French Suites with two of his Fantasias & Fugues.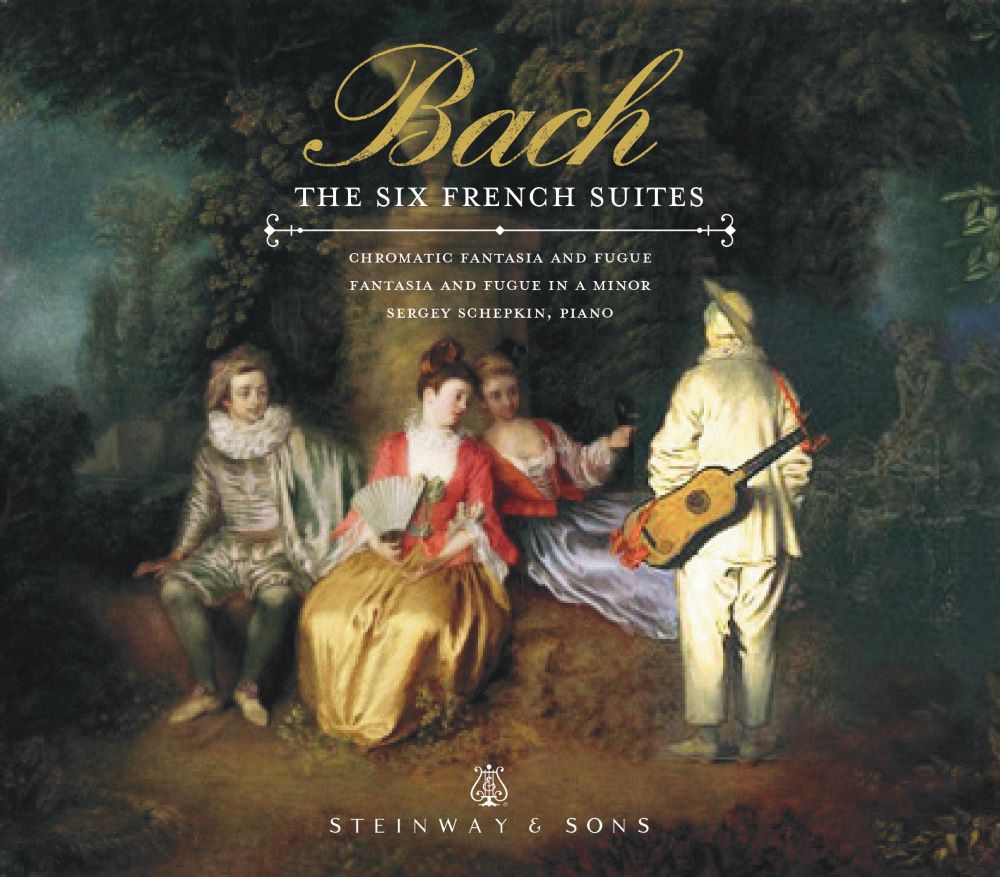 "A formidable Bach pianist who plays with the clarity of a harpsichordist and the passion and drama of a young Glenn Gould."
— New York Times
"Playing devoid of egocentricity, elaborate gesturing and agogic accentuation, in which everything is made seamless and natural, though with no loss of character. Bach is always allowed his own voice."
— Gramophone
"Schepkin's French Suites largely temper the highly ornamented style he favored earlier toward greater expressive economy, drawing more attention to the music than the pianist."
— ClassicsToday.com
"There is no denying the sheer pianistic beauty of Schepkin's playing in the Chromatic Fantasy and Fugue in D minor, BWV 903, even as the work's usual grandeur is pared way back."
— AllMusic Guide
"Schepkin brings a balance of interpretive and pianistic elements to these performances. His playing is extremely lyrical, but rhythms are firm and taut. He can play with extraordinary delicacy and poetry (the opening of No 6 for example), with wit and verve (many of the gigues), and with a wide range of colors."
— Fanfare
"This is a particularly lovely account of Bach's French Suites on modern piano by Sergey Schepkin. His approach is informed by historic-practice scholarship, but also takes full advantage of the expressive capabilities of the modern piano, making his interpretations of these works unusually compelling."
— CD Hotlist
Album Credits
Bach: The Six French Suites / Sergey Schepkin • STNS 30046
Release Date: 11/11/2014
Recorded 2011-2013 at Jordan Hall, New England Conservatory, Boston.
Producer: Sergey Schepkin
Recording and Editing: Patrick Keating
Executive Producers: Eric Feidner, Jon Feidner
Art Direction: Jackie Fugere
Design: Oberlander Group
Piano: Steinway Model D
Cover Painting: The Foursome, c. 1713 by Jean-antoine Watteau
About the Artist
Sergey Schepkin is recognized as one of the world's foremost interpreters of keyboard works by Johann Sebastian Bach. Schepkin made his Carnegie Hall début in 1993 at Weill Recital Hall, and has performed to great acclaim for the Great Performers Series at Lincoln Center, Celebrity Series of Boston, at New York's Metropolitan Museum of Art, the Kennedy Center for the Performing Arts in Washington, DC, the Maestro Chamber Series in Los Angeles, the Philharmonic halls in St. Petersburg, Russia, and the Sumida Triphony Hall in Tokyo, among many other places. He is a recipient of numerous awards and grants, and a prizewinner in several international competitions. Schepkin has performed concertos with such conductors as Kazuyoshi Akiyama, Nikolai Alexeev, Max Hobart, Christian Knapp, Keith Lockhart, Jonathan McPhee, Edward Serov, and Vassily Sinaisky. A passionate chamber player, he has performed with renowned instrumentalists, including the Borromeo, Cuarteto Latinoamericano, New Zealand, and Vilnius string quartets, as well as the Chameleon Arts Ensemble of Boston, of which he was a founding member.
He is a member of the Boston-based Trio Amici. A naturalized American, Sergey Schepkin was born in St. Petersburg, Russia. He studied piano at the St. Petersburg Conservatory with Alexandra Zhukovsky, Grigory Sokolov, and Alexander Ikharev. He studied with Russell Sherman at New England Conservatory in Boston, where he earned an Artist Diploma in 1992 and a Doctor of Musical Arts degree in 1999.
This album is part of Schepkin's large-scale recording project that will eventually comprise all of Bach's keyboard works performed on the modern piano while having historical performance practice as a source of inspiration. Schepkin is Associate Professor of Piano at Carnegie Mellon University in Pittsburgh, and is also a member of the piano faculty at the New England Conservatory School of Preparatory and Continuing Education in Boston. Sergey Schepkin is a Steinway Artist.
About Steinway & Sons label
The STEINWAY & SONS music label produces exceptional albums of solo piano music across all genres. The label — a division of STEINWAY & SONS, maker of the world's finest pianos — is a perfect vessel for producing the finest quality recordings by some of the most talented pianists in the world.