Bach
Six Partitas
Sergey Schepkin
Steinway artist and noted Bach interpreter Sergey Schepkin records Bach's signature work for keyboard in a 2-disc set for the Steinway & Sons label.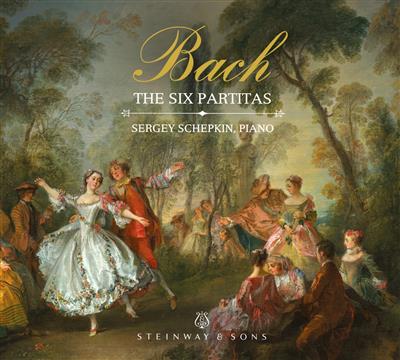 Johann Sebastian Bach's Partitas, BWV 825-830, were published between 1726 and 1730, and were the first of his works to be published under his direction. They were among the last of his keyboard suites to be composed, and are by far the most technically demanding.
Boston-based pianist Sergey Schepkin has recorded the complete Partitas for solo keyboard, following up on his 2014 release of The French Suites from Steinway & Sons. The Six Partitas (STNS 30062) is the latest addition to Schepkin's large-scale recording project that aims to cover all of Bach's keyboard works performed on a modern piano, informed by historic performance practices. Schepkin's recording of the French Suites was praised by Gramophone for its "exemplary precision and lucidity" and "effortless-sounding command."
Daniel Felsenfeld writes in the liner notes of the recording that "In the sheer scale of their musical imagination . . . the Partitas far surpass everything that Bach's predecessors and contemporaries created." Schepkin's approach combines fastidious attention to detail with a dance-like spirit, taking into account the works' dual origins as both dance pieces and music for study and contemplation. His deeply personal renditions of the Partitas were culled especially for the modern Steinway piano from the Bärenreiter Edition. The result is a refreshingly contemporary production that remains inextricably wed to Bach's musical intentions.
"This is a far cry from so-called authentic Bach playing, but it is immensely satisfying and reflects the genius of Bach with deep reverence... I highly endorse Schepkin's glowing rendition of this timeless music."
Fanfare

"Despite his formidable Steinway, Schepkin has a harpsichordist's feel for the magic of resonance born of slight, brief repetition."

Gramophone

"Mr. Schepkin's technical skills and innate virtuosity are integral in bringing the Baroque embellishments and ornamentation to his Steinway piano and to the ears of a modern listener."

AXS

"Schepkin's Steinway recording is thoroughly engaging and often unmatched by any other pianist. The interpretations are often fresh and surprising without seeming mannered or perverse."

American Record Guide

"Those who know the partitas as Bach wrote them, for the harpsichord, may well still find themselves captivated by the sheer joie de vivre that Schepkin offers in this Steinway & Sons release."

Infodad

"Sergey Schepkin's playing is technically as good as anyone else's out there, and his interpretations are a moveable feast—by turns fleet, witty, and playful; or, delicate, subtle, and pensive."

The Tannhäuser Gate
Album Credits
Bach: The Six Partitas / Sergey Schepkin • STNS 30062
Release Date: 07/08/2016
Recorded at Jordan Hall, New England Conservatory, Boston: Partita No. 1, BWV 825 on September 14, 2015; Partitas Nos. 2–6, BWV 826–830 on September 14 and 29, 2014.
Producer: Sergey Schepkin
Recording and Editing: Patrick Keating
Executive Producer: Jon Feidner
Piano: Steinway Model D, Hamburg
Art Direction: Jackie Fugere
Design: Anilda Carrasquillo
Production Assistant: Robert Hillinck
Administrative Assistant: Joanne Hong
Photo of Sergey Schepkin: Michael Lutch
About the Artist
Sergey Schepkin is recognized as one of the world's foremost interpreters of keyboard works by Johann Sebastian Bach. Schepkin made his Carnegie Hall début in 1993 at Weill Recital Hall, and has performed to great acclaim for the Great Performers Series at Lincoln Center, Celebrity Series of Boston, at New York's Metropolitan Museum of Art, the Kennedy Center for the Performing Arts in Washington, DC, the Maestro Chamber Series in Los Angeles, the Philharmonic halls in St. Petersburg, Russia, and the Sumida Triphony Hall in Tokyo, among many other places. He is a recipient of numerous awards and grants, and a prizewinner in several international competitions. Schepkin has performed concertos with such conductors as Kazuyoshi Akiyama, Nikolai Alexeev, Max Hobart, Christian Knapp, Keith Lockhart, Jonathan McPhee, Edward Serov, and Vassily Sinaisky. A passionate chamber player, he has performed with renowned instrumentalists, including the Borromeo, Cuarteto Latinoamericano, New Zealand, and Vilnius string quartets, as well as the Chameleon Arts Ensemble of Boston, of which he was a founding member.
He is a member of the Boston-based Trio Amici. A naturalized American, Sergey Schepkin was born in St. Petersburg, Russia. He studied piano at the St. Petersburg Conservatory with Alexandra Zhukovsky, Grigory Sokolov, and Alexander Ikharev. He studied with Russell Sherman at New England Conservatory in Boston, where he earned an Artist Diploma in 1992 and a Doctor of Musical Arts degree in 1999.
This album is part of Schepkin's large-scale recording project that will eventually comprise all of Bach's keyboard works performed on the modern piano while having historical performance practice as a source of inspiration. Schepkin is Associate Professor of Piano at Carnegie Mellon University in Pittsburgh, and is also a member of the piano faculty at the New England Conservatory School of Preparatory and Continuing Education in Boston. Sergey Schepkin is a Steinway Artist.
About Steinway & Sons label
The STEINWAY & SONS music label produces exceptional albums of solo piano music across all genres. The label — a division of STEINWAY & SONS, maker of the world's finest pianos — is a perfect vessel for producing the finest quality recordings by some of the most talented pianists in the world.