Beethoven
Diabelli Variations
John O'Conor
The eminent Irish pianist John O'Conor is featured on the Steinway label with a flawless interpretation of Beethoven's monumental variations.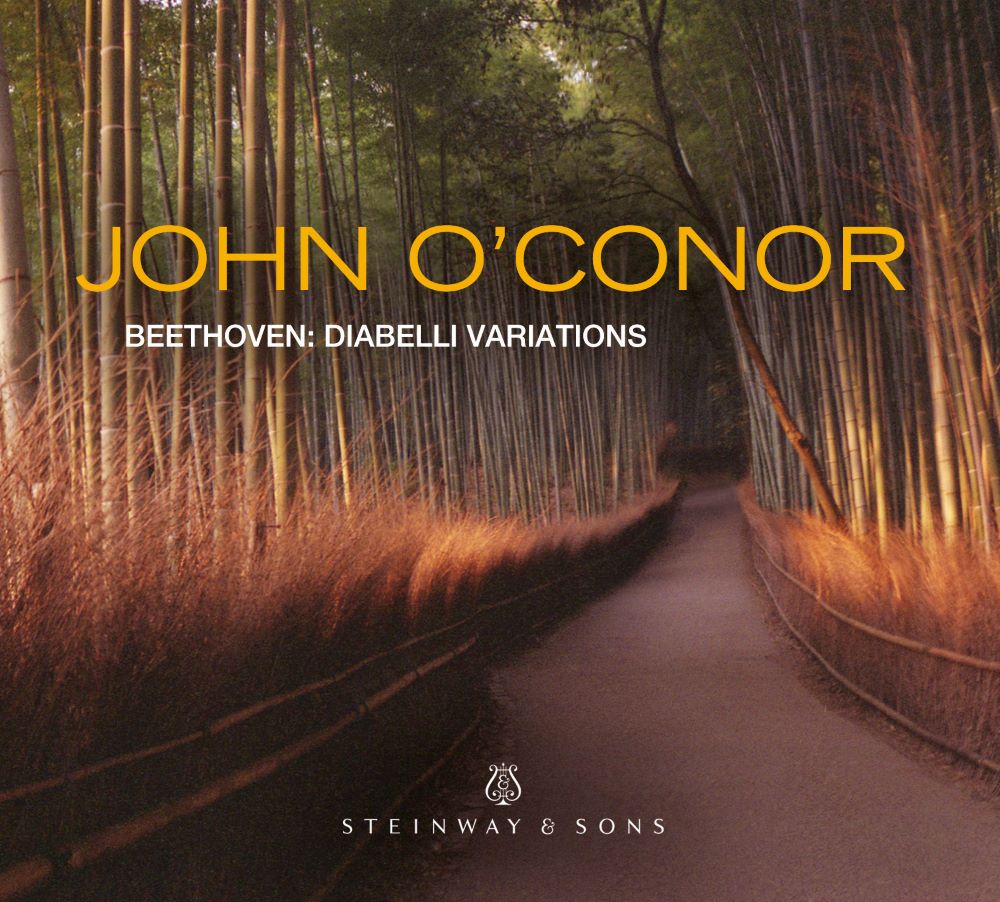 "John O'Conor's release offers a spontaneous and fluid performance that ranges in expression from humorous and mercurial in the early variations, to profound and awe-inspiring from the midpoint on, and he displays a fine balance between vigorous virtuosity and sublime restraint."
— AllMusic Guide
"Every variation is given a character of his own, yet the structure builds without any self-conscious interpretive impositions. In addition, he brings great expressivity to the more lyrical variations and makes spare use of the pedal."
— American Record Guide
Album Credits
Release Date: 10/14/2016
Beethoven: Diabelli Variations / John O'Conor • STNS 30054
Recorded September 28-30, 2015 at Sono Luminus Studios, Boyce, Virginia.
Producer: Dan Merceruio
Engineer: Daniel Shores
Executive Producer: Jon Feidner
Design: Cover to Cover Design: Anilda Carrasquillo
Production Assistant: Robert Hillinck
Cover Photo: Hugh O'Conor
Piano Technician: John Veitch
Piano: Steinway Model D #590904 (New York)
About the Artist
"A pianist of unbounding sensitivity" (Gramophone); "He represents a vanishing tradition that favors inner expression and atmosphere over showmanship and bravura" (Chicago Tribune); "Impeccable technique and musicality… it would be hard to imagine better performances" (Sunday Times - London); "This artist has the kind of flawless touch that makes an audience gasp" (Washington Post); "Exquisite playing" (New York Times).
The Irish pianist John O'Conor has been gathering wonderful reviews for his masterly playing for over forty years. He studied in his native Dublin, in Vienna with Dieter Weber, and was tutored by the legendary Wilhelm Kempff. His unanimous 1st Prize at the International Beethoven Piano Competition in Vienna in 1973 opened the door to a career that has brought him all around the world.
His recordings of the complete Beethoven Piano Sonatas led CD Review to say that he "by now should be recognized as the world's premier Beethoven interpreter"and his recent recordings of the complete Beethoven Piano Concertos with the London Symphony Orchestra and Andreas Delfs have also been greeted with acclaim. He recently released two CDs on the Steinway label: the first two volumes in a series of Haydn Sonatas.
A Steinway Artist, he is Chair of the Piano Division at Shenandoah University in Virginia, Professor of Piano at the Glenn Gould School of the Royal Conservatory of Music in Toronto, International Visiting Artist at the Royal Irish Academy of Music and Visiting Professor at Showa University in Japan.
For his services to music he has been decorated "Officier de l'Ordre des Arts et des Lettres" by the French Government, awarded the "Ehrenkreuz für Wissenschaft und Kunst" by the Austrian Government, the "Order of the Rising Sun" by the Emperor of Japan, and has received many other awards.
About Steinway & Sons label
The STEINWAY & SONS music label produces exceptional albums of solo piano music across all genres. The label — a division of STEINWAY & SONS, maker of the world's finest pianos — is a perfect vessel for producing the finest quality recordings by some of the most talented pianists in the world.