Beethoven Piano Sonatas
Young-Ah Tak
Steinway & Sons begins their celebration of the Beethoven anniversary year with a new recording from the thrilling Korean pianist Young-Ah Tak, an artist who was born to play this music.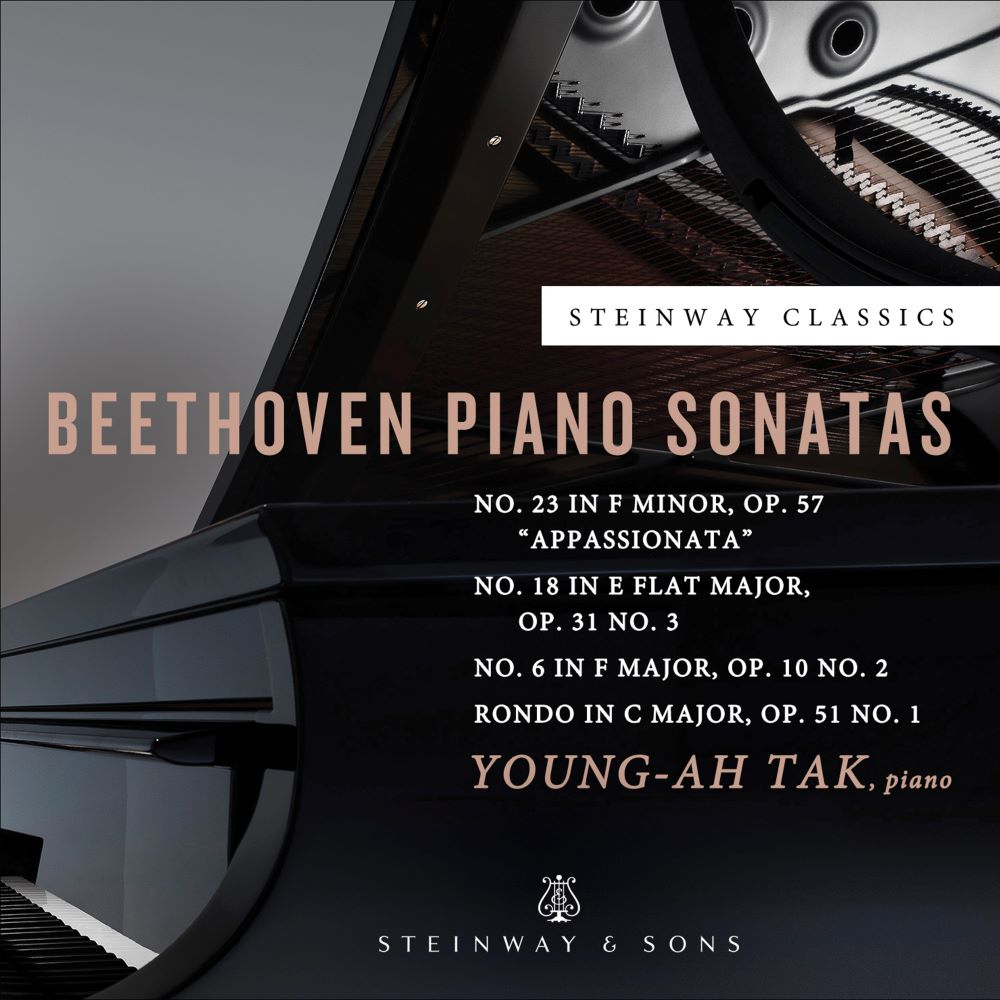 These recordings, recorded at Steinway Hall in New York, were immediately recognized as definitive recordings to serve in the essential series of Steinway Classics.
In anticipation of the 250th anniversary of Beethoven's birth, Steinway & Sons releases a recording of three of the composer's piano sonatas performed by Young-Ah Tak in her debut recording for the Steinway label (STNS 30106). The works span the short and cheery early Sonata No. 6 in F Major to the monumental Sonata No. 23 in F minor, "Appassionata." Tak will perform from the album along with other works in a recital at Steinway Hall in New York City on November 14, 2019. The event is private but a select number of media tickets are available.
Like most pianists, Tak has had a long relationship with Beethoven, from her first public solo recital at age 9 which included several Beethoven variations on the program, to her audition for The Juilliard School with the Sonata No. 18 in E flat major, featured on this disc. Tak waited a long time to study and perform the "Appassionata," given the hundreds of interpretations already out in the world, so as to ensure she could give the piece a convincing reading in her own voice.
"Getting to know Beethoven's sonatas and studying them has given me a different layer of meaning and reason why I became a musician and why I do what I do," says Tak on this project. "Beethoven put great emphasis on his solo piano works, particularly on his sonatas, and I think studying them, understanding them and living with them has had an important impact and influence on me as a musician and as a human being. It's a lifetime project to study these sonatas, and I feel privileged and excited to be involved."
"Tak plays with supreme confidence but never virtuosic arrogance, approaching these monumental works with both authority and humility."

CD HotList

"Her rhythmic incisiveness and technical fluency are marvels to behold, and her playing evinces both boldness and clarity of texturing..."

Fanfare

"Young-Ah Tak performs the late composer's piano sonatas with a deft touch, a stylistically appropriate grand Romantic gesture and a level of familiarity with LvB's work that is unsurprising, given the fact that her first solo recital, at age nine no less, included some of the very pieces captured here."

The Whole Note

"Tak's technical prowess is undoubted, as is the thoughtfulness of her playing, so this disc is a worthwhile addition to the considerable library of Beethoven sonata recordings."

Infodad.com
Album Credits
Beethoven: Sonatas / Young-ah Tak • STNS 30106
Release Date: 11/01/2019
Recorded 2016 – 2019 at Steinway Hall, New York City.
Producer: Jon Feidner
Engineer: Lauren Sclafani
Assistant Engineer: Melody Nieun Hwang
Editing: Jon Feidner and Renée Oakford
Production Assistant: Renée Oakford
Mixing and Mastering: Daniel Shores

Executive Producers: Eric Feidner, Jon Feidner
Art Direction: Jackie Fugere
Piano Technician: Lauren Sclafani
Piano: Steinway Model D #597590 (New York)
About the Artist
Praised for her "thrilling blend of fury and finesse" (San Antonio Express-News), pianist YOUNG-AH TAK enjoys a remarkable international career with performances throughout the United States, Canada, Austria, Germany, Italy, Korea and Japan.
Ms. Tak made her New York City debut at Lincoln Center for the Performing Arts' Alice Tully Hall with the Juilliard Orchestra. She has since appeared with numerous orchestras including the Roanoke, Lansing, North Arkansas, Imperial, Venice, Filharmonia Pomorska (Poland), Oltenia Philharmonic (Romania) and, in her native Korea, with the Busan, Seongnam, and the Korean Symphony Orchestras.
Ms. Tak has been awarded top prizes in many prestigious international competitions including the San Antonio International Piano Competition, Italy's Valsesia-Musica International Piano Competition, Korea's Isang Yun International Music Competition, Corpus Christi International Competition and Germany's Ettlingen International Piano Competition.
Ms. Tak currently serves as an Associate Professor of Piano and Head of the Piano Area at the Crane School of Music of the State University of New York at Potsdam. Dedicated to educating the pianists of future generations, she is also the Founding Artistic Director of the Crane International Piano Festival. She was a faculty member at the Preparatory Division of The Peabody Institute and at Southeastern University in Florida.
About Steinway & Sons label
The STEINWAY & SONS music label produces exceptional albums of solo piano music across all genres. The label — a division of STEINWAY & SONS, maker of the world's finest pianos — is a perfect vessel for producing the finest quality recordings by some of the most talented pianists in the world.