Brahms Cello Sonatas
Brian Thornton
Spencer Myer
Brian Thornton, acclaimed cello soloist and distinguished member of the Cleveland Orchestra, collaborates with Steinway Artist Spencer Myer on a recording of the great Sonatas for Cello and Piano by Johannes Brahms.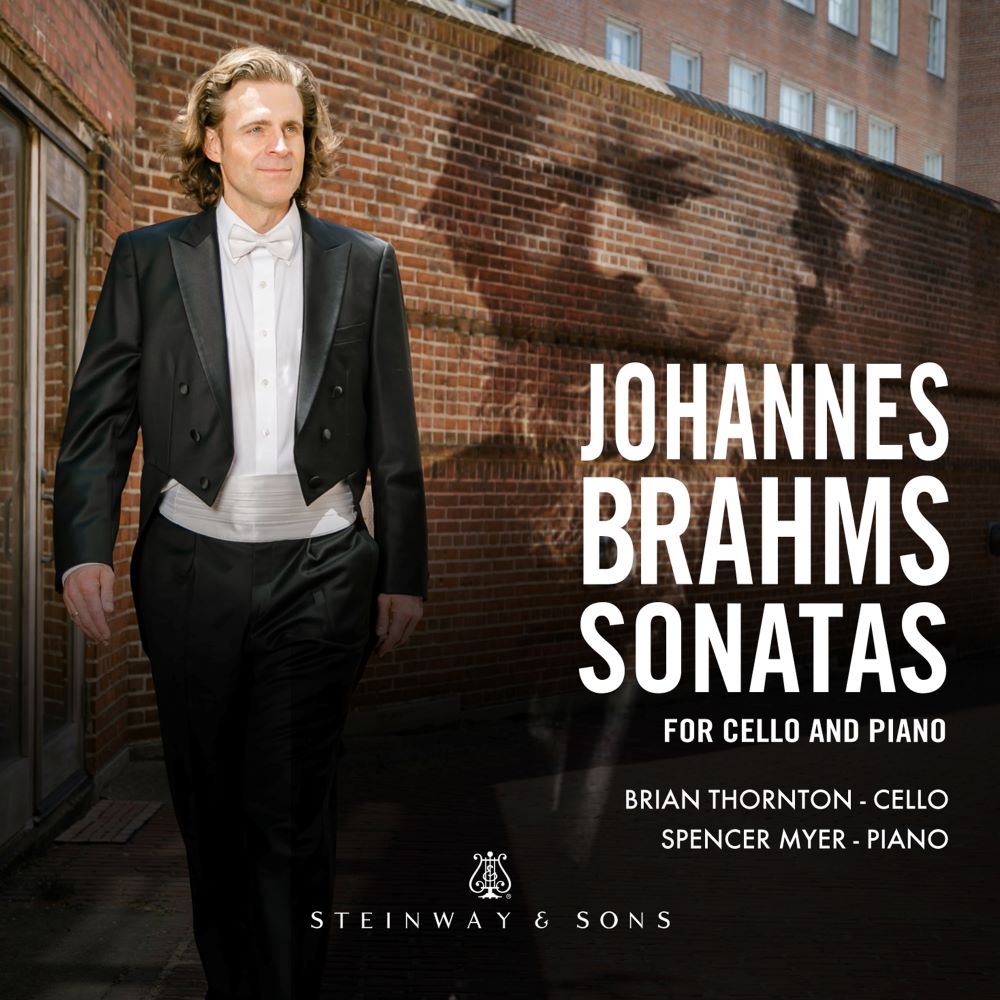 "The performance by Thornton and Myer is one of rapt concentration. Thornton's tone throbs with the many-splendored passions of love, lust, loss, loneliness, and ache, while Myer's piano rages and comforts."
Fanfare
"I can recommend Thornton and Spencer to all who like their Brahms with a little less sentiment, a bit more drive."
Audiophile Audition
"Cellist Brian Thornton and pianist Spencer Myer give inspired performances of Brahms' two Sonatas for Cello and Piano... From the very opening of Opus 38 in E minor, where the cello melody meanders slowly but with deceptive purpose, we know we are in for enchanted music making."
Audio video club of atlanta
"The first thing you notice about these Brahms performances is cellist Brian Thornton's warm, viola-like sonority, which boasts seamless uniformity between registers... The composer's gnarly keyboard writing poses no problems for pianist Spencer Myer, who is willing and able to abruptly adjust his balances and timbre."
classicstoday.com
"Thornton captures the contrast between power and intimacy that makes Brahms's writing so special. Both partners complement each other well, and are meticulous in their ensemble and phrasing."
Cleveland Classical
Album Credits
Brahms: Cello Sonatas / Brian Thornton, Spencer Myer • STNS 30081
Release Date: 06/16/2017
Recorded Clonick Hall, Oberlin Conservatory of Music; Oberlin, Ohio on September 10 - 11, 2016.
Producer/Editor: Thomas C. Moore, Five/Four Productions, Ltd.
Engineering/Mastering: Michael Bishop, Five/Four Productions, Ltd.
Executive Producer: Jon Feidner
Design: Cover to Cover Design, Anilda Carrasquillo
Cello: 1720 Dominic Montagnana
Piano: Steinway Model D
About the Artists
Brian Thornton is a multi-faceted musician who has touched the lives of thousands of people through musical outreach programs around the world and through his performances commemorating his teacher, Lev Aronson. Mr. Thornton began playing the cello in the public school system of Chicago, giving him a passion for teaching young musicians and public school outreach programs. He has traveled from Kolkata, India to Osaka, Japan, influencing young musicians not only to play better cello, but to use music to positively affect the world around them. Mr. Thornton teaches at the Cleveland Institute of Music (CIM) and performs with the Cleveland Orchestra where he has been part of the cello section for twenty-five years. Education is also a focus of Mr. Thornton's life, and he spends part of his time teaching at CIM, conducting young musicians, as well as traveling to teach in different parts of the world. Modern music is of particular interest to Mr. Thornton, and he has premiered more than a hundred new solo cellos work around the world. Brian Thornton performs on a cello made by Francesco Rugeri in 1695.
Gold Medalist of the 2008 New Orleans International Piano Competition, Spencer Myer has been soloist with the Cleveland Orchestra, the Indianapolis Symphony, the Cape Town and Johannesburg Philharmonics, and Beijing's China National Symphony Orchestra. His 2005 recital/orchestra tour of South Africa included a performance of the five piano concerti of Beethoven with the Chamber Orchestra of South Africa. In 2004 he captured First Prize in the 10th UNISA International Piano Competition in South Africa, and won the 2006 Christel DeHaan Classical Fellowship from the American Pianists Association. Spencer Myer is a graduate of the Oberlin Conservatory, the Juilliard School and Stony Brook University, and is currently a member of the piano and Collaborative Piano faculty of Boston's Longy School of Music Bard College. Spencer Myer is a Steinway Artist.
About Steinway & Sons label
The STEINWAY & SONS music label produces exceptional albums of solo piano music across all genres. The label — a division of STEINWAY & SONS, maker of the world's finest pianos — is a perfect vessel for producing the finest quality recordings by some of the most talented pianists in the world.