Classical Gershwin
Katie Mahan
Katie Mahan's first album on the Steinway label is dedicated to the memory of the "Classical Gershwin" whose music brought crowds to the classical concert halls, who successfully incorporated the nuances of jazz and popular music to create a classical music that was uniquely and authentically American.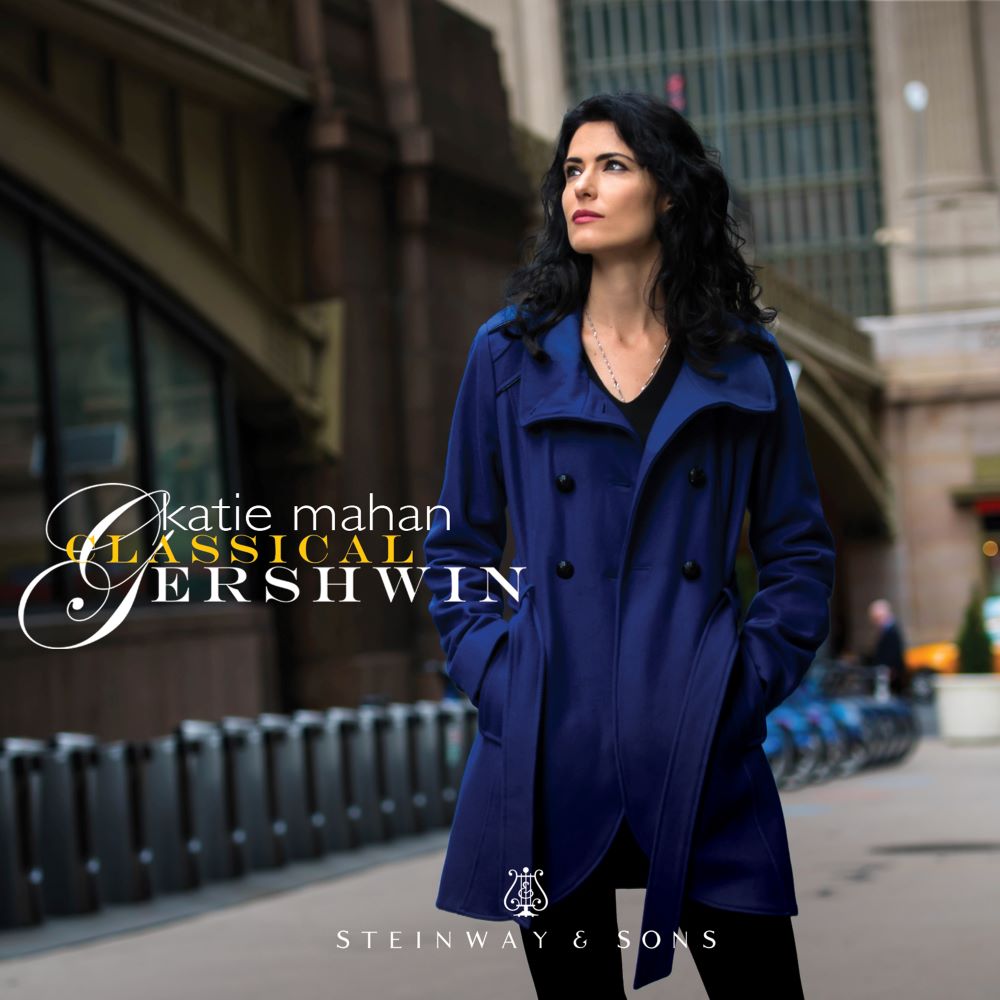 Classical arrangements by Katie Mahan and Earl Wild of pieces from

iconic American composer George Gershwin
Steinway & Sons releases Classical Gershwin (STNS 30132) from pianist Katie Mahan. This album highlights the work of iconic American composer, George Gershwin through a set of classically conceived arrangements of his most beloved songs. These arrangements by pianists Katie Mahan and Earl Wild favor the classical style rather than the improvisatory style we so often hear.
The program selections are bookmarked by Gershwin's two rhapsodies – Rhapsody in Blue and the Second Rhapsody, showcasing the evolution of Gershwin's personality and character thorough the eight years of compositional development that separate them. Interspersed are some of the composers most well-loved songs, which highlight Gershwin's signature lighter side. Although these pieces were primarily composed as popular songs for musicals, they nevertheless contain a wealth of compositional qualities that are enhanced and explored in the two rhapsodies on the album.
Also included in the release is bonus DVD of Rhapsody in Blue, brought to life as a musical journey through Gershwin's beloved New York City. Filmed in the Big Apple, this video tells the interesting story behind the great work, which was composed in a matter of hours on a train ride from New York to Boston.
"Brilliant, masterly playing… associations with the young Clara Schumann were revived - she could have played like this."

New Ruhr

"What amazed the listener most what the striking dynamic range... a pianissimo of the most tender poetry to a fortissimo of thunderous passion. An exquisite and memorable performance which was both soulful and powerful, and of great artistic understanding."

Rocky Mountain News

"Mahan brings out the mixture of sensual, indulgent melodies and wonderfully swinging rhythms that make Gershwin's sound so unique, with a punchy, pithy touch, sometimes velvety."

Crescendo
ALBUM CREDITS
Classical Gershwin / Katie Mahan • STNS 30132
Release Date: 11/01/2019
Producer: Micki Meuser
Recording Engineer: Rainer Maillard
Editing & Mastering: Rainer Maillard, Justus Beyer
Sound Recording Produced by Emil Berliner Studios GmbH, Berlin
Recording Location: Jesus-Christus-Churche, Berlin-Dahlem
Piano: Steinway Model D (Hamburg), provided by Steinway-Haus Berlin
Photos: Joshua Bauer
About the Artist
American pianist Katie Mahan's life has always been filled with music, and at the age of four, inspired by attending a performance of Gershwin's An American in Paris given by the famous French piano duo, Katia & Marielle Labèque, she decided that she wanted to be a concert pianist. She subsequently began piano studies with her mother, Bobette Mahan, giving her first solo recital two years later at the age of six. An American in Paris opened the door to the vast world of classical music for Katie, and her love of Gershwin quickly led her to discover the music of Debussy and Ravel, the French composers that Gershwin idolized. Although Katie's music now takes her all over the world, she never forgets her American heritage, and the great American composer who inspired her to become a pianist. Her programs often feature her own classical arrangements of her beloved countryman's music, alongside works of Debussy and the Viennese classical repertoire.
Katie's greatest pianistic influence came from her studies with the celebrated French pianist Pascal Rogé, with whom she studied the music of the French Impressionists. Rogé – who traces his musical heritage directly back to the great French tradition of Debussy and Ravel – was not only an important pianistic influence on Katie, but also inspired her to devote years of study to the search for understanding of French music, art and stylistic tradition.
Since making her orchestral debut in 1999 performing Gershwin's Concerto in F with the Breckenridge Symphony, Katie has appeared in concert throughout the USA, Europe, Canada, the Middle East, Russia and Japan. She has performed with such celebrated conductors as Jiri Belohlavek, Marin Alsop, Grant Cooper, and Lawrence Leighton-Smith, among others, and in such famous halls as the Konzerthaus in Berlin, the Prinzregenten Theatre in Munich, the great hall of the Moscow Conservatory in Moscow, and the Smetana Hall in Prague.
ALBUM CREDITS
Appassionata - Beethoven / Katie Mahan • STNS 30161
Release Date: 05/01/2020
Recording engineer: Rainer Maillard
Editing & Mastering: Rainer Maillard
Produced by Emil Berliner Studios GmbH, Berlin
Recording location: Meistersaal, Berlin
Piano: Steinway Model D (Hamburg)
Cover Photo: Michael Kölblinger
About Steinway & Sons label
The STEINWAY & SONS music label produces exceptional albums of solo piano music across all genres. The label — a division of STEINWAY & SONS, maker of the world's finest pianos — is a perfect vessel for producing the finest quality recordings by some of the most talented pianists in the world.