Cole Porter On A Steinway
Vol. 1
This release in the Steinway Standards series is the first in a collection of American Songbook sets that celebrates the immortal Cole Porter in arrangements for solo piano.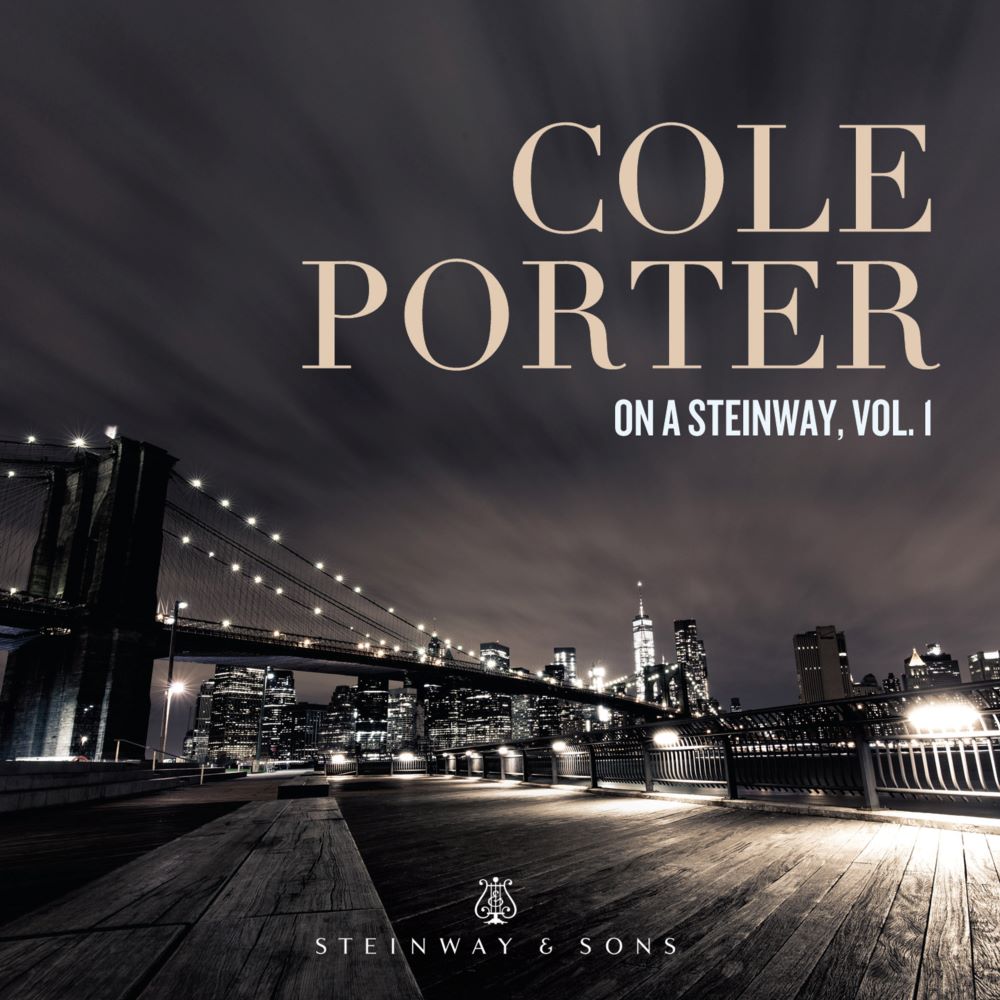 "THIS COLLECTION OF SOLO-PIANO TREATMENTS OF FAMOUS COLE PORTER SHOW TUNES PRESENTS, IN SPOT-ON HIGH-RESOLUTION SOUND, STANDOUT COLE PORTER INTERPRETATIONS THAT RANGE FROM THE WISTFUL AND PENSIVE TO THE LILTINGLY BOUNCY. ALL DELIVERED VIA SLOSHINGLY-FULL BUCKETS OF PIANO TECHNIQUE AND ALWAYS WITH A REFINED MUSICAL TASTE THAT MIGHT HAVE MADE COLE PORTER SMILE."
JOHN MARKS
STEINWAY ARTISTS ADAM BIRNBAUM, JED DISTLER AND SIMON MULLIGAN START OFF THIS NEW COLE PORTER SURVEY
ALBUM CREDITS
Cole Porter On A Steinway, Vol. 1 • STNS 30182
Release Date: 12/06/2019
Recorded 2014 – 2019 at Steinway Hall, New York City.
Producer: Jon Feidner
Engineer: Lauren Sclafani
Assistant Engineer: Melody Nieun Hwang
Production Assistant: Renée Oakford
Mixing and Mastering: Daniel Shores

Executive Producers: Eric Feidner, Jon Feidner
Art Direction: Jackie Fugere
Piano Technician: Lauren Sclafani
Piano: Steinway Model D #597590 (New York)
About the Artists
Called "an altogether extraordinary pianist" by Michael Redmond in the Newark Star Ledger, "the Downtown Keyboard Magus" in the New Yorker, and "a witty, genial and adventurous pianist and composer" in the New York Times, Jed Distler has premiered works by Frederic Rzewski, Lois V Vierk, Wendy Mae Chambers, Simeon ten Holt, Richard Rodney Bennett, Alvin Curran, William Schimmel, Virgil Thomson, Andrew Thomas and Virko Baley, among many others.
Jed's principal classical piano teachers were Stanley Lock and William Komaiko, although he considers Dick Hyman, Hank Jones and Bill Evans important mentors in his early years when he played jazz for a living. As a recitalist, Jed has given new music programs across the United States and Europe from Italian festivals in Ravello, Sorrento and Erculano to New York's Lincoln Center and Carnegie Hall.
The list of musicians, spoken word performers, visual artists and choreographers with whom Jed has collaborated is a veritable Who's Who of the New York arts scene in late 20th-century New York. In the 1980s Jed worked closely with dance legend Jacques D'Amboise and, more recently, played Beethoven with the Bill T. Jones/Arnie Zane Dance Company at the Brooklyn Academy of Music, and has performed with singers as diverse as Phyllis Bryn-Julson and KT Sullivan.
In 2012 Jed launched a solo piano project encompassing jazz icon Thelonious Monk's complete songs in a single concert, and has performed it in New York, Las Vegas, Berkeley, Italy and Germany. Jed conceived and programmed 100 Portraits for Virgil, the first complete performance of all the Virgil Thomson piano portraits in a day long, multi-media festival featuring thirty six performers, co-produced by the New School and Composers Collaborative, the latter for whom he serves as artistic director. He led the New York premier of Simeon ten Holt's minimalist manifesto Canto Ostinato with four pianos outdoors on Cornelia Street, where he also directed 150 performers for Terry Riley's "In C" for the first annual Make Music New York festival in 2007. In 2014 Jed and fellow composer/pianist Massimo Giuseppe Bianchi formed a piano duo devoted to old and new music as well as improvisation.
Adam Birnbaum is emerging as one of the top young voices in jazz piano. Since receiving a graduate Artist's Diploma in jazz studies from The Julliard School in 2003, he has become a presence on the New York City scene as a leader and sideman, performing in such venues as the Village Vanguard, the Blue Note, Birdland, the Jazz Standard and Dizzy's Club Coca-Cola. He has also performed on many national and world stages, including the Gilmore International Keyboard Festival, the Kennedy Center, the Montreal Jazz Festival, The Spoleto Festival, The Red Sea Jazz Festival, The Rockport Chamber Festival, NPR Jazz Christmas and the Capetown Jazz Festival.
As a leader, Birnbaum has released four albums under his name in Japan and the U.S. His first release, Ballade Pour Adeline, received a Gold Disk award from As a leader, Birnbaum has released four albums under his name in Japan and the U.S. His first release, Ballade Pour Adeline, received a Gold Disk award from Swing Journal as one of the top albums of 2006. Adam's U.S. debut Travels, released in 2009 under the Smalls record label, received enthusiastic reviews in Allmusic.com, All About Jazz and JazzTimes. Birnbaum's recent release Three of A Mind, featuring bassist Doug Weiss and drummer Al Foster, was hailed as "an eloquent dispatch from the heart of the contemporary piano trio tradition" by the New York Times, and received an Editor's Pick and four star review in Downbeat magazine.
As a sideman, Birnbaum's wide-ranging versatility and artistry have made him a first call for a wide variety of ensembles. He has performed or toured with established jazz artists such as Al Foster, Greg Osby, Regina Carter, The Vanguard Jazz Orchestra and Jazz at Lincoln Center with Wynton Marsalis, as well as with young artists such as Darcy James Argue's Secret Society and Cecile Mclorin Salvant. Birnbaum has appeared as a sideman more than 25 albums.
Birnbaum is also recognized as a composer and arranger. Allmusic.com reviewer Ken Dryden said "Birnbaum's compositions prove immediately infectious, each with a hook that draws the listener along for the ride. "A review of Travels in JazzTimes praised the album's "stellar originals." In 2009 Birnbaum premiered Dream Songs, a trio suite based on the poetry of John Berryman. The work was commissioned by Chamber Music America. Since 2012 Birnbaum has worked with Chelsea Music Festival each year to arrange Bach, Debussy, Beethoven, etc. for his own trio featuring strings and other guests musicians.
Born and raised in Boston, Massachusetts, Birnbaum studied at the New England Conservatory of Music before moving to New York City in 2001, one of two pianists selected to participate in the Julliard School's inaugural jazz studies program. In 2004 he won the American Jazz Piano Competition and became the American Pianists Association's Cole Porter fellow in Jazz. That same year, he became the first jazz pianist to present a recital at the prestigious Gilmore Rising Stars Recital Series. In 2006, he received the first-ever "special mention" prize at the Martial Solal Jazz Piano Competition in Paris. He has toured West Africa and Asia sponsored by Jazz at Lincoln Center and the U.S. State Department. Adam has studied with Danilo Perez, Kenny Barron and Fred Hersch.
Simon Mulligan is, according to the Times of London 'the most abundantly gifted of pianists.' Pulitzer prizewinning composer Paul Moravec calls him 'a pianist with complete mastery of the instrument', while Herbie Hancock says 'You have a phenomenal touch, man!'
In addition to his extensive discography and vast repertoire, Mulligan's solo work gains praise from critics and audiences alike, and his collaborations include performances and recordings with Yehudi Menuhin, Joshua Bell, Leonard Slatkin and Sting. He has performed all over the world, most notably at Carnegie Hall in New York, the Wigmore Hall and Royal Albert Hall in London, Suntory Hall in Tokyo, as well as private performances for Her Majesty the Queen and President Barack Obama.
Mulligan's keen interest in film composition led to a long association with composer Michael Kamen, culminating in his performance on the soundtrack to Spielberg's Band of Brothers. He has led his own jazz quartet since he was thirteen, which has performed in major international festivals. His eclectic work has led to profiles in Downbeat, JazzTimes, BBC Music, Classic FM and Gramophone magazines, among others. Simon is a recipient of the prestigious Fellowship of the Royal Academy of Music, and his teachers include Alexander Kelly, Murray Perahia, Alfred Brendel and Alexis Weissenberg.
About Steinway & Sons label
The STEINWAY & SONS music label produces exceptional albums of solo piano music across all genres. The label — a division of STEINWAY & SONS, maker of the world's finest pianos — is a perfect vessel for producing the finest quality recordings by some of the most talented pianists in the world.