Complete Solo Piano Works of Leonard Bernstein
A two-disc album that spans Bernstein's career, just in time for the 2018 centennial celebration of the composer's birth
Leonard Bernstein's works for piano are all collected here, including works unpublished and previously unrecorded. Including many miniatures written as tributes, gifts and memorials to friends and family, these pieces range across Bernstein's composing career and reflect his unique musical style and character.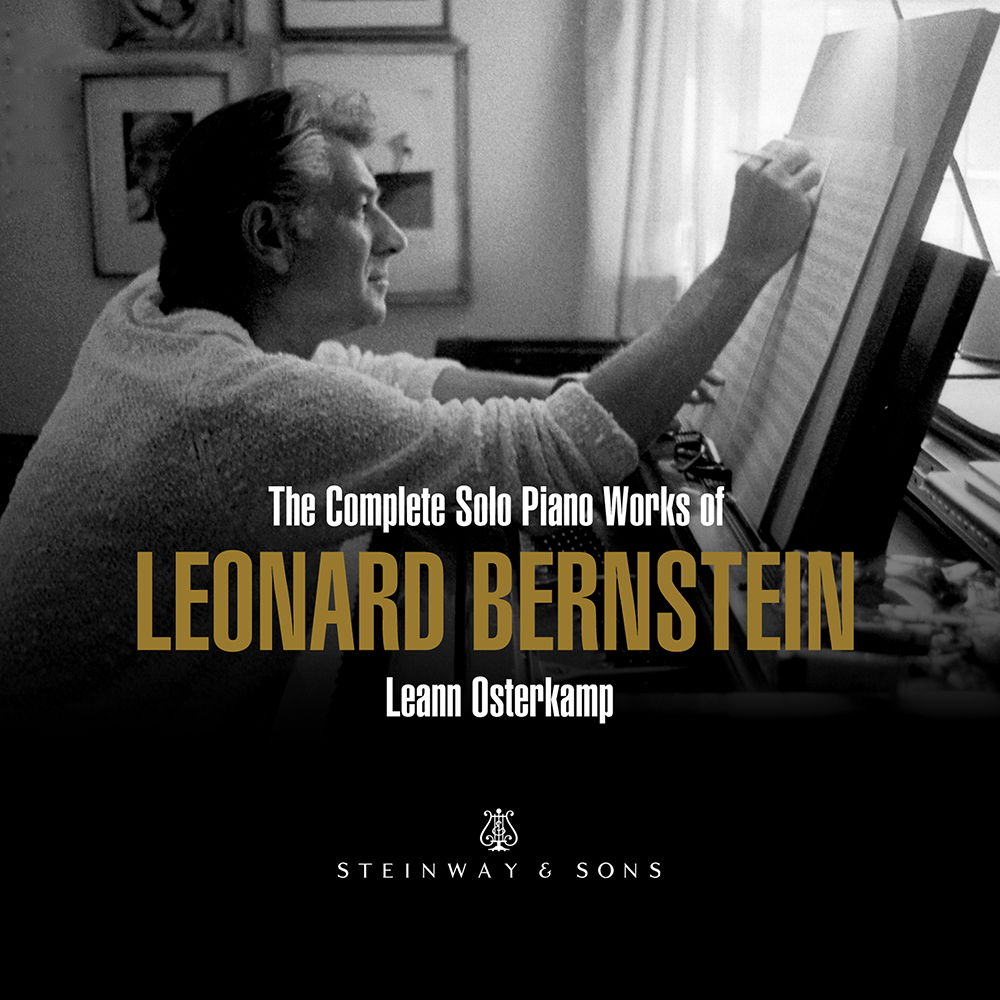 Leann Osterkamp records Leonard Bernstein complete solo piano works for the Steinway & Sons label
For her debut solo album, Young Steinway Artist Leann Osterkamp embarked on an ambitious mission: to produce the first complete recording of Leonard Bernstein's solo piano works. The finished product, aptly titled The Complete Solo Piano Works of Leonard Bernstein (STNS 30076), features several works that were previously unpublished or unrecorded, and was released on the Steinway & Sons label on September 15, 2017. The album is part of Leonard Bernstein at 100, a two-year global celebration of Bernstein's life and works on the centenary of his birth.
Osterkamp's deep love for Bernstein's music began years ago, when she was asked to perform a new arrangement of the composer's Songfest. From that experience, she gained two lifelong friends: Bernstein's daughter Jamie, and his protégé, Michael Barrett. It was from Jamie that Osterkamp first learned of the existence of some unpublished Bernstein piano works, and Barrett who first showed her several manuscripts of these previously unheard works.
Osterkamp's passion was evident to the Leonard Bernstein Office, who granted permission for her to pursue a complete recording of the composer's solo piano music. This album is the result of countless hours of work, including extensive research at the Library of Congress, where Osterkamp gained deeper understanding of Bernstein's life and his compositional process.
Of the finished product, Osterkamp says, "In short, the album is simply a love story. The best explanation I can give for the thousands of hours put into the project is that I simply am in love with the music. My hope is that this album brings the same joy and love to everyone who listens. I want this album to be an extension of Bernstein's lifelong passion for music and education."
"Osterkamp communicates these miniatures with verve, warmth and spirit that is quintessential Bernstein."

Audiophile Audition

"Osterkamp plays with affection and often with personal phrasing and other touches that reveal knowledge of the music and a willingness to engage with it rather than simply reproduce its notation too clinically. If you love Bernstein's music, you will want her set."

American Record Guide

"A little portrait of Bernstein's world, not easily available in any other form, and recommended for those fascinated by this protean American composer."

AllMusic Guide
Album Credits
The Complete Solo Piano Works Of Leonard Bernstein / Leann Osterkamp
STNS 30076
Release Date: 09/15/2017
Recorded October 17, December 5, 6 & 16, 2016 at Steinway Hall, New York City.
Producer: Kazumi Umeda
Engineer: Lauren Sturm
Editing: Kazumi Umeda
Mixing and Mastering: Daniel Shores

Executive Producer: Jon Feidner
Design: Cover to Cover Design, Anilda Carrasquillo
Cover Photo: George S. Zimbel/Getty Images
Photo of Leann Osterkamp: Lisa-Marie Mazzucco
Piano Technician: Lauren Sturm
Piano: Steinway Model D #519920 (Hamburg)
About the Artist
Leann Osterkamp is an American pianist known for her versatility, charisma, technical command, and outstanding academic scholarship. She has been a solo artist at some of the world's most prestigious venues, including Caramoor, the Kennedy Center, and Carnegie Hall. Leann was heralded by the New
York Times as bringing "descriptive color" to her performances and by the Los Angeles Times as a "strong" collaborator with "the desired flashiness."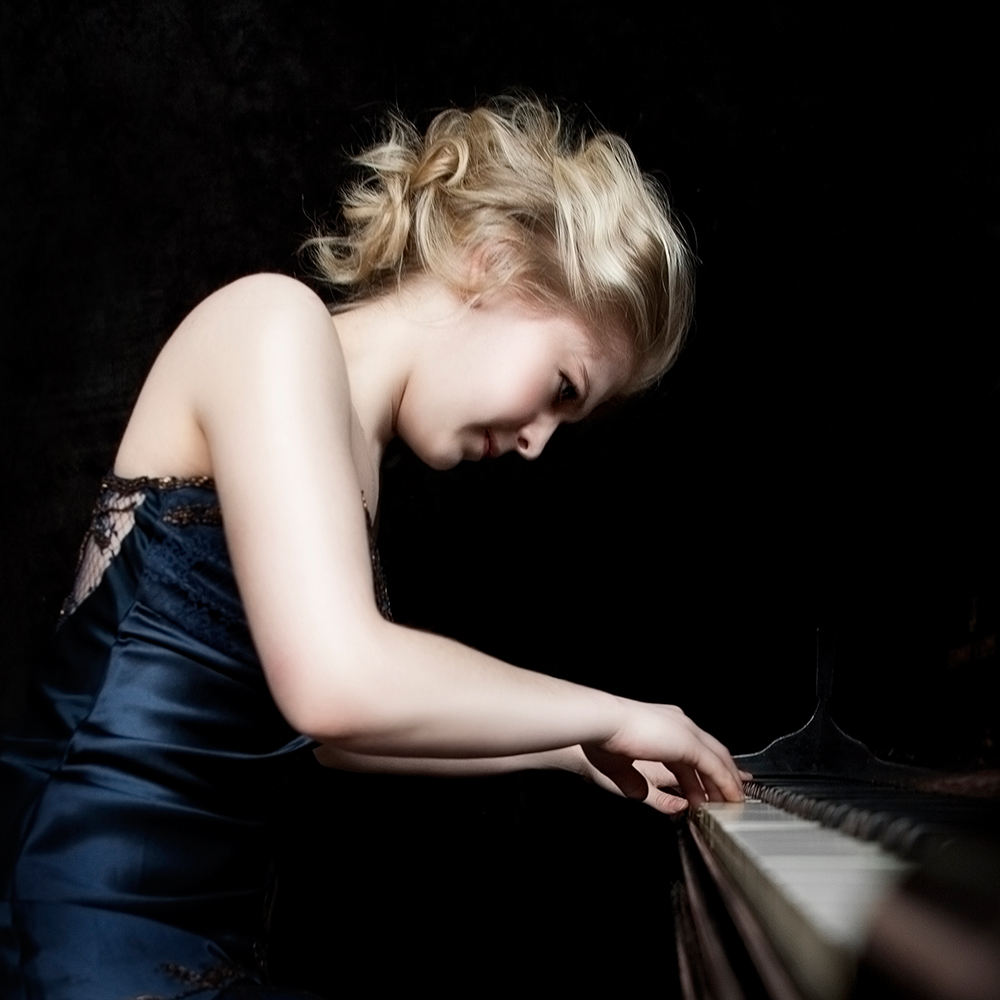 A U.S. Presidential Scholar of the Arts through the U.S. Department of Education under President Obama, Leann has also received top awards in many national and international competitions. She has been featured on WQXR, PBS, and Banff Centre Podcasts and regularly performs with the New York Festival of Song (NYFOS) Next Series and with the Stecher and Horowitz Foundation as a guest artist. Leann was named a Stern Fellow (Songfest) and became the first pianist to be named a Caramoor Rising Star. She has also been featured as a soloist with the Colorado Symphony Orchestra.
A noted scholar and educator, Leann has taught at The Juilliard School since 2012. Her academic research on Leonard Bernstein has been recognized through several prestigious awards and grants. She has been invited to lecture on her research at notable universities and conservatories including The Juilliard School, Brooklyn College, and The Graduate Center, CUNY. Leann will be awarded her Doctorate of Musical Arts by The Graduate Center, CUNY in Spring 2018 after having received all prior education at The Juilliard School.
About Steinway & Sons label
The STEINWAY & SONS music label produces exceptional albums of solo piano music across all genres. The label — a division of STEINWAY & SONS, maker of the world's finest pianos — is a perfect vessel for producing the finest quality recordings by some of the most talented pianists in the world.