Flow
David Braid
Epoque String Quartet
Jazz pianist and composer David Braid presents an album of compositions for piano and string quartet. Although the Canadian composer is greatly respectful of the Western Art Music Tradition, he draws much inspiration from Eastern philosophical ideas.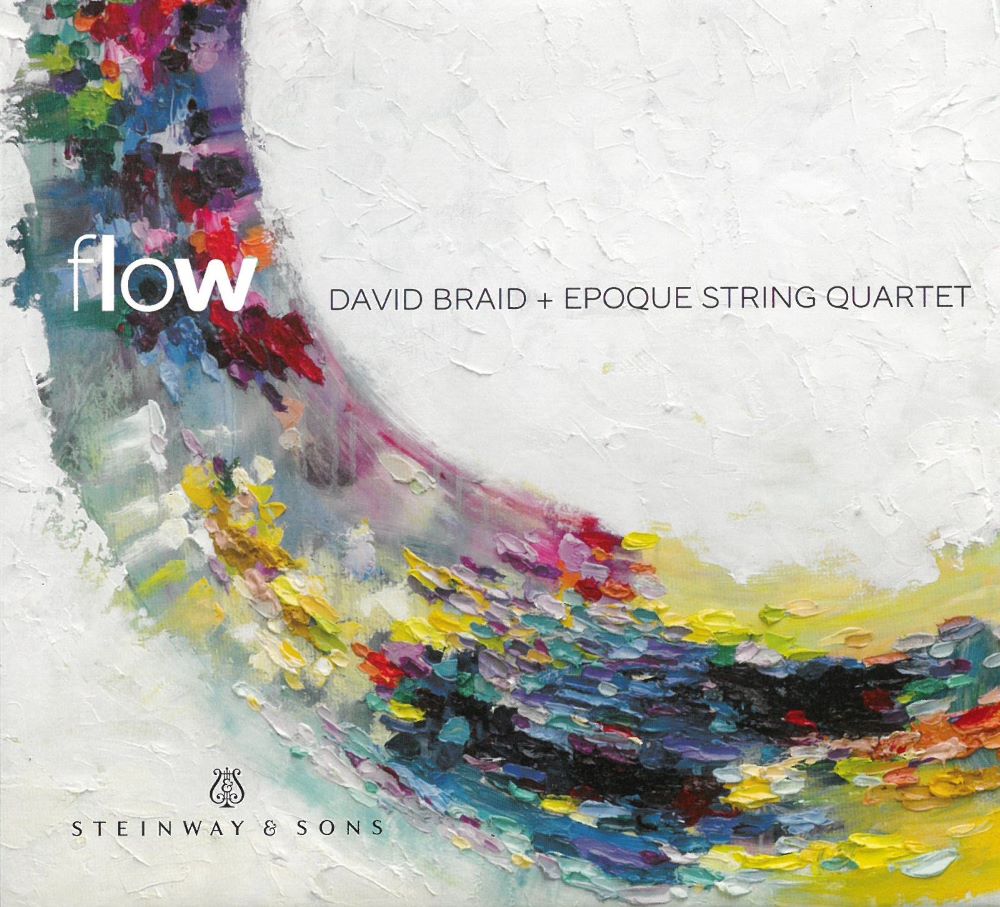 "Overall, Flow is an exceptional work that David Braid has created with patience, love and understanding of the human condition, form and structure."
- Examiner
"Braid's attitudinal approach blends rather well with that of the Epoque String Quartet, an ensemble that avowedly intends to mix the beauty of classical strings with jazz performance approaches as well as those of funk and rock."
- InfoDad
"There is...a lot going on here, but there's a balance: the music is quite accessible on the surface, with varied contemporary jazz idioms held together by the string quartet, and a friendly harmonic palette."
- AllMusic Guide
Album Credits
Flow / David Braid, Epoque String Quartet • STNS 30061
Release Date: 05/27/2016
Recorded November 22 & 25, 2015 at Czech TV Studio, Kavci Hory, Prague
Engineers: Milan Jilek and Jan Cenek
Assistant Engineer: Roman Sklenar
Mixed and Mastering: Dixon Van Winkle and David Braid
Album artwork adapted from "Qi" (2014), oil on canvas by Sophia Gao
Album Design: Marc LaFoy
Piano: Steinway Model D #598852
Piano Technician: Marcel Pindel
About the Artists
Hailed in the Canadian press as "one of his country's true renaissance men when it comes to music" (The Ottawa Citizen), composer and pianist, David Braid is a nine-time nominee, and three-time winner of Canada's highest music honour (Juno Award). Recognized for his solo jazz piano recording, "Verge", large-ensemble recording, "The David Braid Sextet Live", and small-ensemble recording, "The North," his foray into classical composition earned his first major work "Corona Divinae Misericordiae" a Juno nomination for Classical Album of the Year.

David Braid concertizes his original music and improvisations in the UK, Scandinavia, Europe, Russia, Central Asia, China, Australia, and Canada.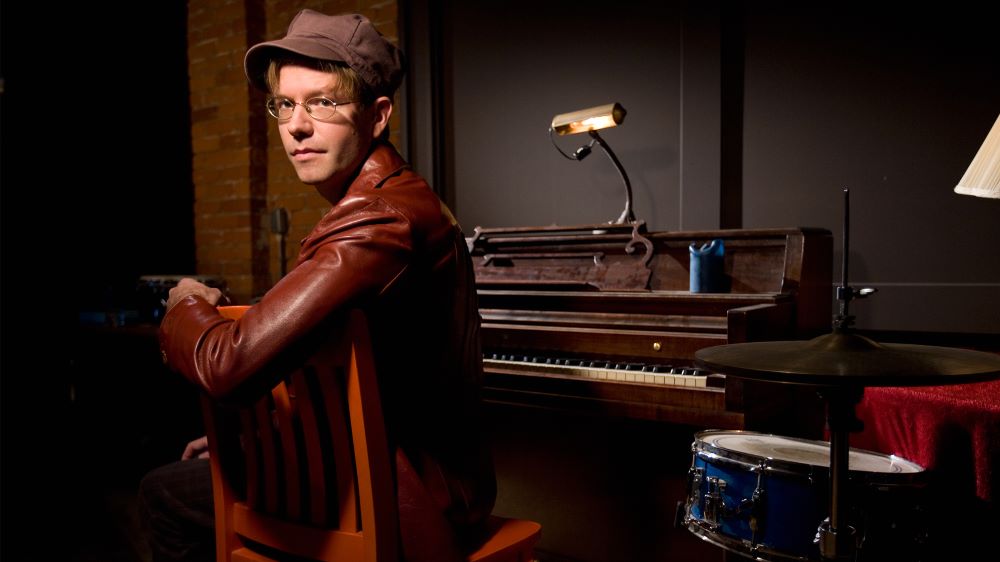 Described as "brilliant" (Montreal Gazette), "enchanting" (The Age, Australia), "une force poétique" (Le Soleil) and "hauntingly beautiful" (The Globe & Mail), Braid's music combines the discipline of European classical music with the spontaneity of jazz.

David Braid is a Steinway Artist, Composer-in-Residence for Sinfonia UK Collective, Artist-in-Residence at the University of Toronto, Adjunct Professor at the Danish National Conservatory of Music, and faculty member at the International Chamber Music Festival Casalmaggiore, Italy He is a recipient of the Ontario Foundation for the Arts' prestigious prize: "Paul de Hueck and Norman Walford Career Achievement Award for Keyboard Artistry."

His arrangements and compositions were an integral part of the Chet Baker-inspired film, Born to Be Blue and his jazz score received praise for its "contemporary patina without sacrificing period authenticity" (The Times, UK). He also won "Best Original Score" and "Best Original Song" at the 2017 Screen Awards.
The Prague-based string quartet Epoque Quartet was founded in 1999. Four excellent soloists and chamber musicians with abundant stage experience were brought together not only by their unanimity in musical opinions and thesimilarity of their artistic nature, but also their interest in musical genres other than classical – jazz, rock and funk.
As compositions of the classical quartet literature remain an integral part of this ensemble's repertoire, the sensitive approach to unconventional arrangements provides the quartet with new possibilities of using the string instruments and at the same time it enables the ensemble to widen its repertoire, which is unique both on Czech and world stages.
The members of the quartet are laureates of several international competitions (twice first place in the competition of Liezen in Austria, the first prize in the international competition Ludwig van Beethoven for string quartets, the prize Jeunesse Musicale).
The Epoque Quartet regularly performs in the subscription cycles of the Czech Radio Symphonic Orchestra, the Czech Nonet, and plays for the Czech Association for Chamber music. It workss with the Czech Television and the Czech Radio and is a regular guest on prestigious music festivals, e.g. the Schleswig-Holstein Musikfestival, Concentus Moraviae, the Music Festival of Český Krumlov, Chamber music Cycle of the Stuttgarter Philharmoniker, Metamorphoses (Switzerland), Music Festival Ludwig van Beethoven, Moravský podzim (Moravian Autumn) and others. In 2018 the Epoque Quartet had its debut at thw Prague Spring International Music Festival.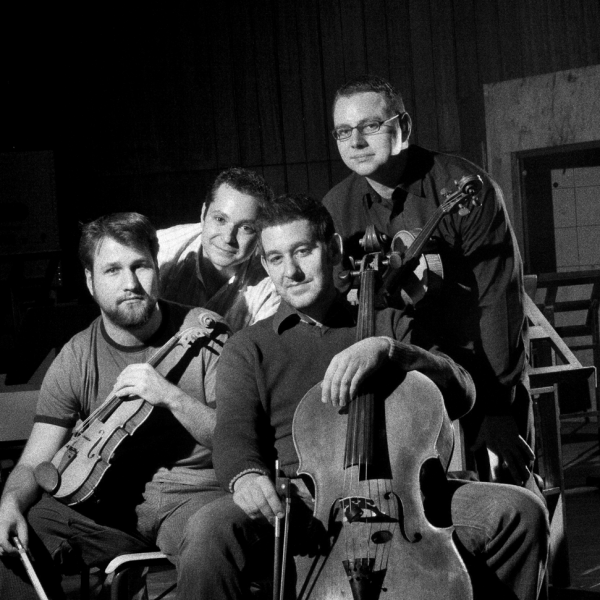 The members of the Epoque Quartet have led master classes in jazz interpretation inJerusalem, Sao Paulo, Belgrade, Pragu). In the field of jazz the Epoque quartet have performed with distinguished personalities like Gregory Porter, George Mraz, Benny Beailey, and Yoshiko Kishino. As a members of other groups (Czech Radio Orchestra, Czech Philharmonic, Orquestrina Baborak, Art Trio Bohemia…) they have played with international stars like Mischa Maisky, Placido Domingo, Jose Cura, Janin Jansen, Maxim Vengerov,Vaclav Neumann, Libor Pesek and others in venues such as Berlin Philharmonie, Tonhalle Zürich, Suntory Hall Tokyo, and Rudolphinum Prague.
About Steinway & Sons label
The STEINWAY & SONS music label produces exceptional albums of solo piano music across all genres. The label — a division of STEINWAY & SONS, maker of the world's finest pianos — is a perfect vessel for producing the finest quality recordings by some of the most talented pianists in the world.