Gottschalk And Cuba
Antonio Iturrioz
Steinway & Sons releases an album from Antonio Iturrioz featuring music by Creole and Cuban composers.
Louis Moreau Gottschalk was America's first important pianist-composer and A Night in the Tropics, Symphony Romantique is America's first symphony. This is a historic recording, as it contains for the first time both movements on one piano.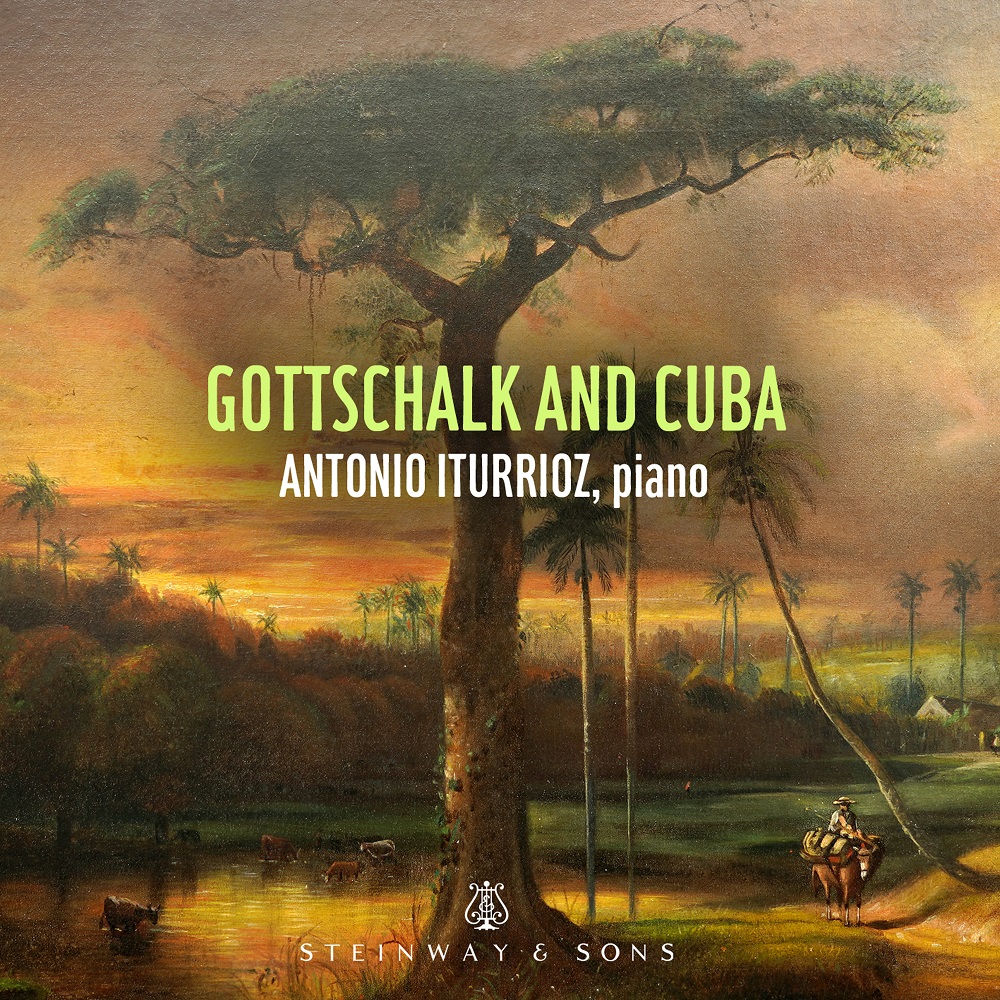 As Andre Watts says,

"

That you have given the world this historic first re-hearing of Gottschalk's original intentions for

'

A Night in the Tropics

'

is more than worthy of being recorded for posterity.

"
When most people think of Louis Moreau Gottschalk (1829-1869), Creole pianist and composer, they think of pieces such as The Banjo, Bamboula, The Dying Poet, and other familiar pieces. But he was so much more than that. He was America's first important pianist-composer. He was the precursor to ragtime and early jazz and anticipated the works of Granados and Albéniz. He traveled the world and spent several years of his short, colorful and tragic life in the Caribbean where he fell in love with Cuba and its music.
This album is a journey through 100 years of Cuban classical piano music, much of it never before recorded. The story begins with Gottschalk's years in Cuba and is told chronologically as each important pianist-composer influenced by Gottschalk passes this influence on to the next generation, starting with Saumell to Espadero to Cervantes to de Blanck to Ernesto Lecuona and to his distinguished composer sister, Ernestina.
"Antonio Iturrioz's projection of the inner life in these works of Gottschalk et al is uncanny. Of course, his technical mastery is beyond complete but it is his realization of the 'heart and soul' of this music which is most impressive."

Andre Watts

"…he mesmerized audiences with his virtuosity and eloquently realized execution of this extraordinary piano transcription of La Nuit des Tropiques, Symphony Romantique."

Cranberry Coast Concerts, 2017
Album Credits
Gottschalk and Cuba / Antonio Iturrioz • STNS 30102
Release Date: 09/21/2018
Recorded July 2017 at Skywalker Sound, a Lucasfilm, Ltd. company, Marin County, CA
Producer/Engineer: Leslie Ann Jones
Assistant Engineer: Dann Thompson
Editing: Robert Gatley
Mastering: Michael Romanowski, Coast Mastering
Executive Producer: Jon Feidner
Art Direction: Jackie Fugere
Design: Cover to Cover Design, Anilda Carrasquillo
Piano Technician: Larry Lobel
Piano: Steinway & Sons #600
Production Assistant: Renée Oakford
About the Artist
Concert pianist, documentarian and Steinway Artist Antonio Iturrioz, born in Cuba, came to the United States when he was 7 years old. Giving his first concert at 9, he played the Liszt First Piano o for his orchestral debut at 15. His teachers have included his father, Pablo Iturrioz; Francisco De Hoyos, a pupil of Gyorgi Sandor; Bernardo Segall, who studied with the Liszt pupil Alexander Siloti; Aube Tzerko; and Julian White. He has taken master classes from Byron Janis, Alexis Weissenberg, Jorge Bolet, and Andre Watts.
While recuperating from an injury to his right hand, Iturrioz learned important and obscure works for the left hand, including the complete Godowsky arrangements and original compositions. This led to his first film, the unique documentary The Art of the Left Hand: A Brief History of Left Hand Piano Music, called "an important film" by Clavier magazine. His second, The Buddha of the Piano: Leopold Godowsky, the only film about Godowsky, has been shown at international piano festivals, colleges in the U.S., and the Edinburgh Society of Musicians. Released to high praise from many pianists and scholars, Marc-Andre Hamelin said, "Antonio Iturrioz has performed a wonderful service to music lovers in general and pianophiles in particular…." Carlo Grante said, "As a musician and person of devotion to the cause of Godowsky's music, I think Iturrioz is the man we have been waiting for." Scotland's greatest pianist-composer Dr. Ronald Stevenson said of the film, "It is an important film for all pianists and pianophiles….You reveal with skill, clarity and sensitivity the intricacies of his polyphonic piano writing." The film, translated into Italian and French, will soon be translated into Polish. Both films have been featured on national public television.
In 2013 Iturrioz gave the world premiere performance on one piano of Louis Moreau Gottschalk's complete two-movement symphony, La Nuit des Tropiques, having transcribed for the first time for one piano the second movement, "Fiesta Criolla."
About Steinway & Sons label
The STEINWAY & SONS music label produces exceptional albums of solo piano music across all genres. The label — a division of STEINWAY & SONS, maker of the world's finest pianos — is a perfect vessel for producing the finest quality recordings by some of the most talented pianists in the world.