Haydn
Piano Sonatas Vol. 2
John O'Conor
The celebrated artistry of pianist John O'Conor returns to the Steinway label with the second volume of a continuing series of Sonatas by Haydn.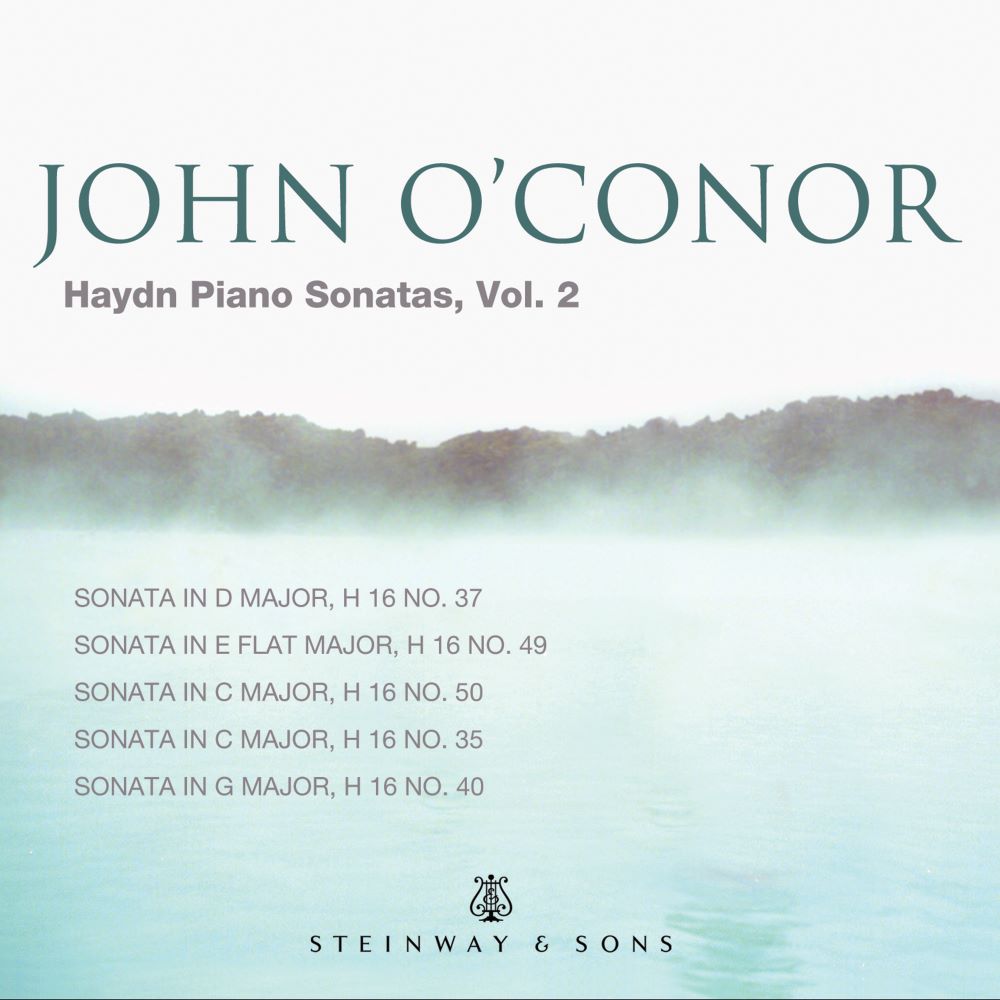 J

ohn O'Conor has been gathering wonderful reviews for his masterly playing for over forty years.

Steinway & Sons has released Haydn Piano Sonatas, Vol. 2 (STNS 30110) from pianist John O'Conor. This album follows O'Conor's last recording of Haydn piano sonatas for the Steinway label, released in 2016.

This album was born out of O'Conor's love for Haydn's sonatas, which he believes are greatly underestimated among the piano repertoire. In an interview on Soundboard, the Steinway & Sons podcast, O'Conor explains that while Haydn's sonatas tend to be eclipsed by the later works of composers such as Beethoven and Mozart, and even though they might not be as powerful, they still retain a certain "sparkle in them that's not necessarily always there in the Mozart and certainly not the Beethoven." O'Conor goes on to explain that Haydn's Sonatas can be very funny at times, full of infectious energy, and, of course, they are always beautiful.

Elaborating on the presence of humor in classical piano, O'Conor describes how Haydn plays with quick dynamic changes, moving from soaring fortes to surprising pianissimos, all while experimenting with the placement of the downbeat. O'Conor insists that surely "Beethoven would have learnt from that." Indeed, Liszt, Beethoven and many other notable composers all would have picked up quite a bit from Haydn, and while most classical music lovers tend to think of Haydn as a "symphony progenitor," the quality of these works should not be overlooked.

While performing these sonatas, O'Conor prioritizes showcasing "the juxtaposition of the sparkle and the beauty" present in the works, the quick tempo and dynamic changes, as well as the expressiveness that can be extraordinarily moving, particularly in some of the slow movements.

To listen to the full interview on Soundboard, the Steinway & Sons Podcast, click here.
"John O'Conor must be ranked high indeed... this was exquisite playing - lucid, poised and cool; he gave himself to the expression of this graceful music."

New York Times

"He brings a sincerity to Haydn's melodic lines born of an intimate, semplice mode of expression. O'Conor's ear for colouristic subtlety delivers harmonic poise and vocal nuance, begetting interpretations that would surely have made the old Austrian composer smile."

The Whole Note
Album Credits
Haydn: Sonatas, Vol. 2 / John O'Conor • STNS 30110
Release Date: 11/01/2019
Recorded June 3 & 4, 2019 at Steinway Hall, New York City.
Producer: Jon Feidner
Engineer: Lauren Sclafani
Assistant Engineer: Melody Nieun Hwang
Editing: Kazumi Umeda
Production Assistant: Renée Oakford
Mixing and Mastering: Daniel Shores

Executive Producers: Eric Feidner, Jon Feidner
Art Direction: Jackie Fugere
Piano Technician: Lauren Sclafani
Piano: Steinway Model D #597590 (New York)
Design: Cover to Cover Design, Anilda Carrasquillo
Cover Photograph: Hugh O'Conor
About the Artist
"A pianist of unbounding sensitivity" (Gramophone); "He represents a vanishing tradition that favors inner expression and atmosphere over showmanship and bravura" (Chicago Tribune); "Impeccable technique and musicality… it would be hard to imagine better performances" (Sunday Times - London); "This artist has the kind of flawless touch that makes an audience gasp" (Washington Post); "Exquisite playing" (New York Times).
The Irish pianist John O'Conor has been gathering wonderful reviews for his masterly playing for over forty years. He studied in his native Dublin, in Vienna with Dieter Weber, and was tutored by the legendary Wilhelm Kempff. His unanimous 1st Prize at the International Beethoven Piano Competition in Vienna in 1973 opened the door to a career that has brought him all around the world.
His recordings of the complete Beethoven Piano Sonatas led CD Review to say that he "by now should be recognized as the world's premier Beethoven interpreter"and his recent recordings of the complete Beethoven Piano Concertos with the London Symphony Orchestra and Andreas Delfs have also been greeted with acclaim. He recently released two CDs on the Steinway label: Beethoven's Diabelli Variations and volume one in a series of Haydn Sonatas.
A Steinway Artist, he is Chair of the Piano Division at Shenandoah University in Virginia, Professor of Piano at the Glenn Gould School of the Royal Conservatory of Music in Toronto, International Visiting Artist at the Royal Irish Academy of Music and Visiting Professor at Showa University in Japan.
For his services to music he has been decorated "Officier de l'Ordre des Arts et des Lettres" by the French Government, awarded the "Ehrenkreuz für Wissenschaft und Kunst" by the Austrian Government, the "Order of the Rising Sun" by the Emperor of Japan, and has received many other awards.
About Steinway & Sons label
The STEINWAY & SONS music label produces exceptional albums of solo piano music across all genres. The label — a division of STEINWAY & SONS, maker of the world's finest pianos — is a perfect vessel for producing the finest quality recordings by some of the most talented pianists in the world.