Giya Kancheli
Simple Music
Jenny Lin, Guy Klucevsek
Simple Music is a collection of inspired fragments from themes of classic Georgian plays and films for the stage and screen by Giya Kancheli.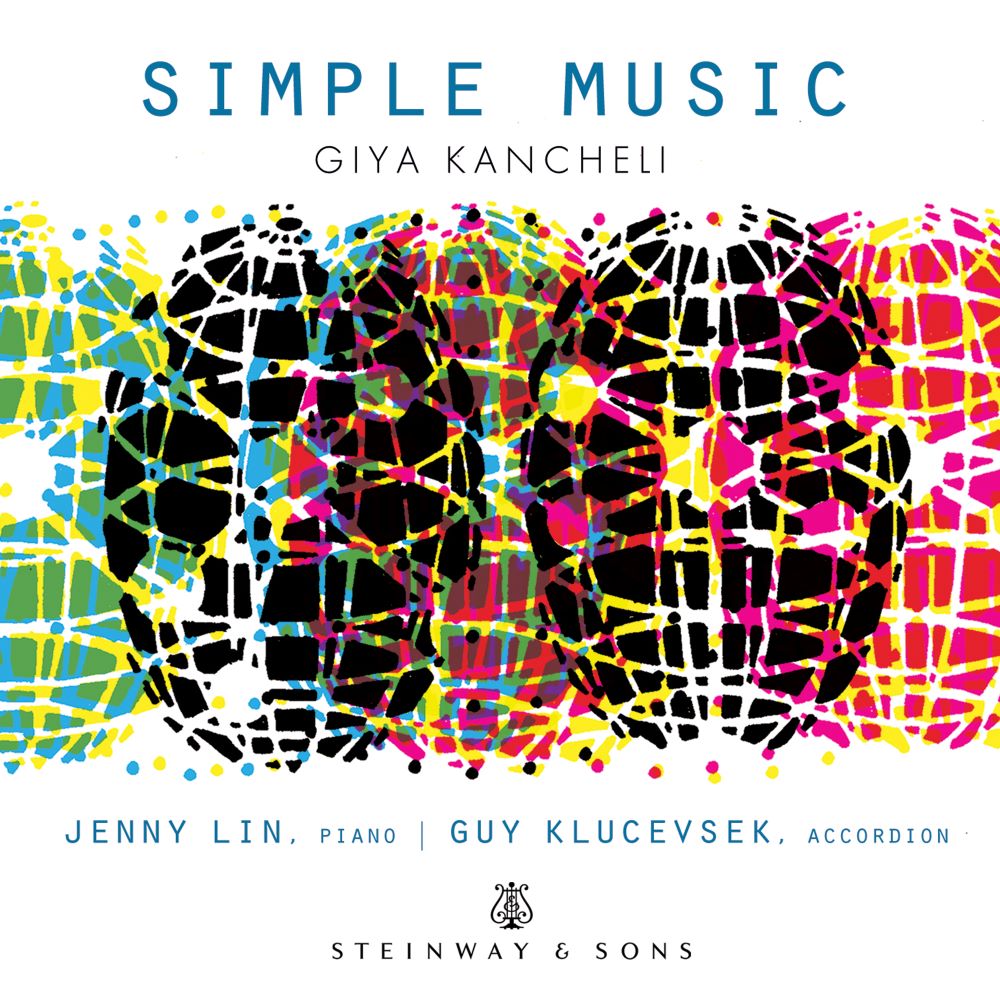 Kancheli's Simple Music is performed, improvised, arranged, even reimagined by the innovative pianist Jenny Lin and accordion virtuoso Guy Klucevsek as an engaging mixture of solos and duos.
Jenny Lin commands a vast repertoire, from the most obscure modern music to the most tried and true of romantic warhorses. An inveterate collector of sheet music, the score to Simple Music for Piano by Giya Kancheli sat on her shelf for a decade… until she had the brainstorm to invite accordion avatar Guy Klucevsek to join her in an amplification of the complete set. Originally the two talked about performing the pieces live, but the right moment didn't materialize.
The 2020 pandemic saw performing artists of all disciplines finding ways to make new work in the new normal. Many of these Kancheli miniatures were originally written for film. Since film is by necessity an artificial art, inconceivable without hours of editing and post-production, a "socially-distanced" rendition of this music made perfect sense.
In July, Lin recorded in person in Virginia at Sono Luminus studios, with one engineer in the booth and one remote in North Carolina. In August, Klucevsek recorded at his home in Staten Island with one engineer in the basement of the house and one remote in North Carolina.
The results on this unique album from Steinway & Sons offer a gorgeous listening experience.
"Jenny Lin, a resourceful performer blessed with superb technique and indefatigable curiosity."

TimeOut New York

"A rebel with an accordion ... Klucevsek combines poker-faced wit and imagination with command of his instrument, forcing you to re-think the accordion's limitations."

DownBeat

"The album is of our time, illuminating the power and possibility of music making during the COVID-19 pandemic. The result is stunningly beautiful, haunting in its simplicity, equally melancholic and lighthearted."

Broadway World

"The music may have been intended to be 'incidental'; but Kancheli always seemed to know how to make a listener sit up and take notice. When it comes to enduring pandemic conditions, this is decidedly my kind of quietude!"

The Rehearsal Studio

"Kancheli had a distinctive voice of his own, but it is fascinating to hear him working in a milieu that encourages pastiche. Lin and Klucevsek explore Simple Music's considerable charms with a sense of wonder and adventure."

Sequenza 21

"Kancheli encourages improvisaon and creative interpretation from the performers. Jenny Lin and Guy Kulcevsek add tasteful flourishes and dissonances to the pieces. In all, a lovely diversion with just the right amount of charm and humor."

American Record Guide

"Any group of half a dozen of these miniatures makes very enjoyable listening. The performers play with obvious relish for the music."

Fanfare
Album Credits
Kancheli: Simple Music / Jenny Lin, Guy Klucevsek • STNS 30173
Release Date: 04/02/2021
Jenny Lin recorded July 13-16 2020 at Sono Luminus Studios, Boyce, Virginia.
Guy Klucevsek recorded August 20, 2020 at his home in Staten Island, New York.
Executive Producers: Jon Feidner, Anthony B. Creamer III
Producer: Dan Merceruio
Recording, Mixing and Mastering Engineer: Daniel Shores
Editing Engineer: Dan Merceruio
Remote Recording Engineer Guy Klucevsek: Andreas K. Meyer & Jennifer Nulsen
Piano Technician: John Veitch
Piano: Steinway Model D #590904 (New York)
Art Direction: Jackie Fugere
Design: Cover to Cover Design, Anilda Carrasquillo
Cover Art: Terry Winters
Production Assistant: Renée Oakford
About the Artists
Pianist Jenny Lin is an artist of keen musicianship, brilliant technique, and a compelling perspective shaped by a deep fluency in global culture. Born in Taiwan, raised in Austria, educated in Europe and America, Lin has built a vibrant international career, notable for innovative collaborations with a range of artists and creators.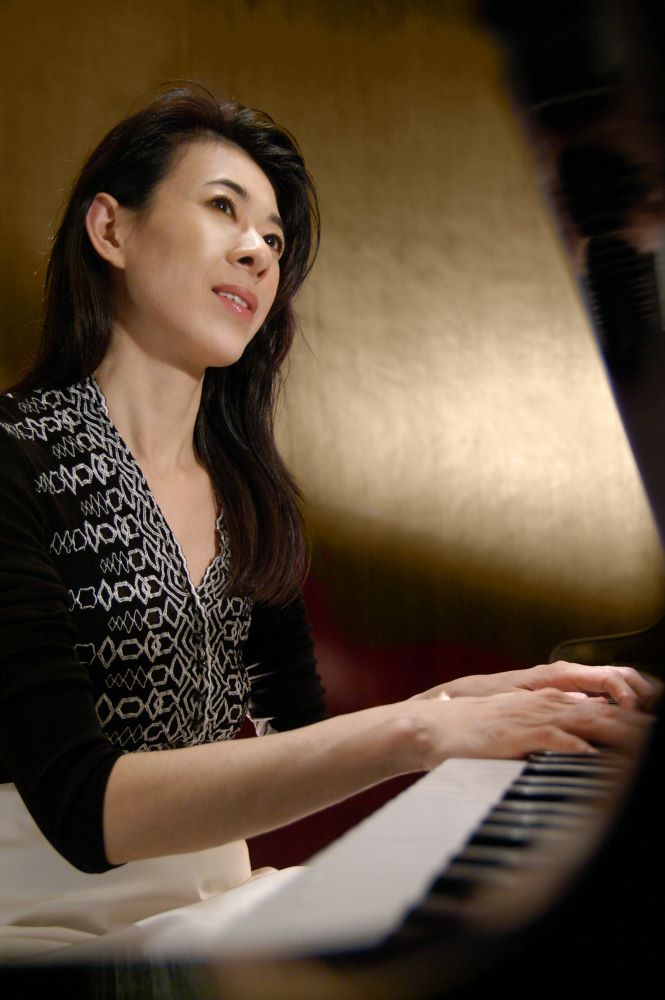 In this most unusual season, Lin has performances – both digital and in person – at the Mostly Mozart Festival, Washington Performing Arts, Winnipeg New Music, the Morris Museum, St. Olaf College, and elsewhere.
Jenny Lin also continues her collaboration with Philip Glass, performing his Etudes in concerts around the globe. This experience inspired Lin to create The Etudes Project, in which she works with a range of living composers to create new technical piano etudes, pairing each new piece with an etude from the classical canon. The results are featured on Sono Luminus albums; Volume 1 showcases Lin's work with ICEBERG New Music, and Volume 2 will be released in 2021.
Jenny Lin is the featured pianist in Elliot Goldenthal's original motion picture score for Julie Taymor's 2020 film, The Glorias. Notable recordings in Lin's catalogue (which includes more than 30 albums on Steinway & Sons, Hänssler Classic, eOne, BIS, New World, Albany, etc.) include Philip Glass's Etudes, Arthur Schnabel's complete solo piano music, the complete Chopin Nocturnes, an album of Broadway song arrangements titled Get Happy, her ingenious release of transcriptions of the songs of Chinese pop singer Teresa Teng, and Melody's Mostly Musical Day, an album, picture book, and multimedia children's concert, all released on the Steinway & Sons label.
Fluent in English, German, Mandarin, and French, Jenny Lin holds a bachelor's degree in German Literature from The Johns Hopkins University and studied music at the Hochschule für Musik, and at the Peabody Conservatory.
Guy Klucevsek is one of the world's most versatile and highly-respected accordionists. A composer as well as accordion virtuoso, he has performed and/or recorded with Laurie Anderson, the Boston Pops Orchestra, Dave Douglas, Bill Frisell, the Kronos Quartet, Natalie Merchant, John Williams and John Zorn; appeared as a guest on Mr. Rogers' Neighborhood; and accompanied soprano Renée Fleming at the memorial service for Senator John McCain.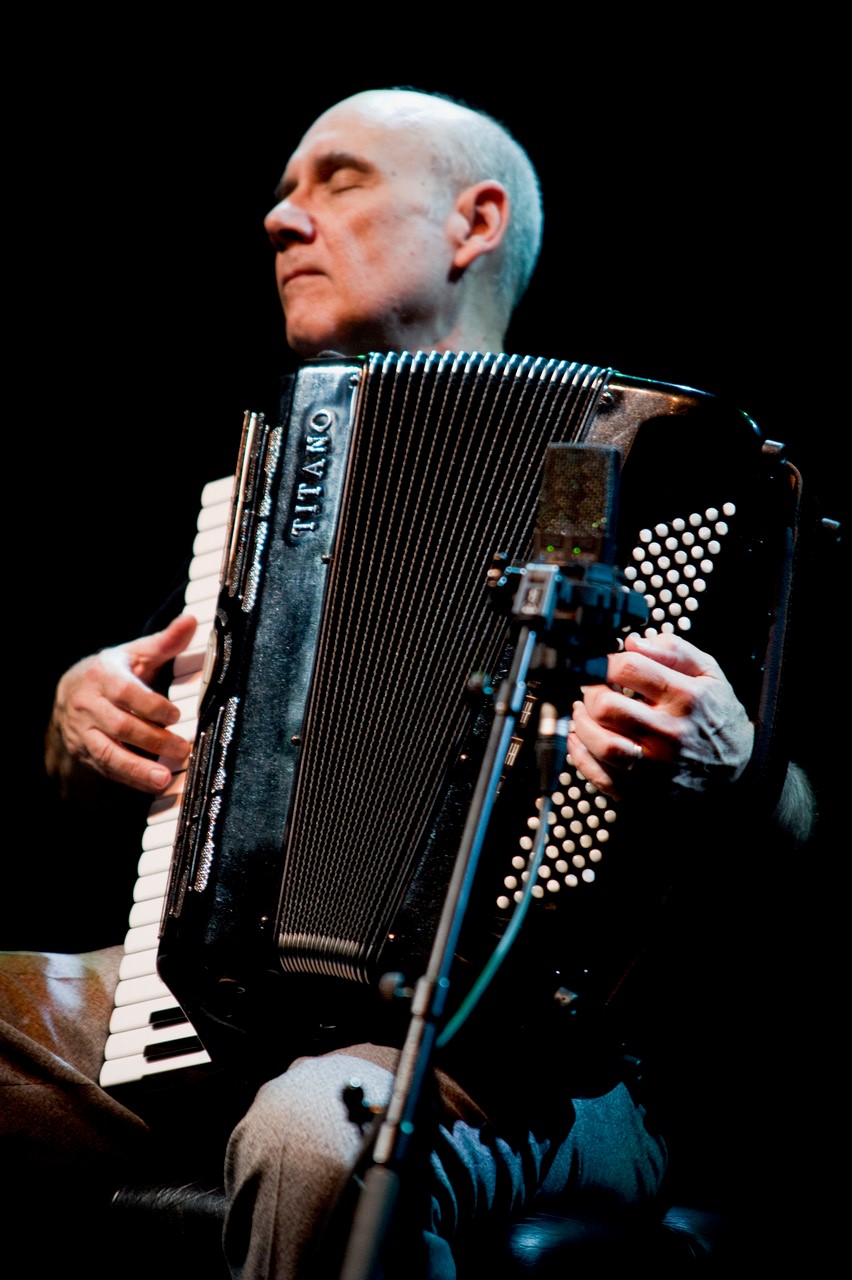 Klucevsek's Polka from the Fringe project—with contributions from composers including Mary Ellen Childs, Anthony Coleman, Carl Finch, Fred Frith, David Garland, Peter Garland, Daniel Goode, Robin Holcomb, Phillip Johnston, Joseph Kasinskas, Aaron Jay Kernis, John King, Guy Klucevsek, David Mahler, Bobby Previte, Elliott Sharp, and Lois V Vierk—premiered at New Music America 1987 in Philadelphia, was featured at the Brooklyn Academy of Music's Next Wave Festival in 1988, and toured the USA, Japan and Europe for several years thereafter. The 1992 recording of the entire collection, which John Schaefer cited as "one of the 10 best recordings of the year" on his New Sounds radio program, was recently re-released on the Starkland label.
His group Accordion Tribe—a quintet of international composers/accordionists Bratko Bibic (Slovenia), Lars Hollmer (Sweden), Maria Kalaniemi (Finland), Guy Klucevsek (USA), and Otto Lechner (Austria)—released three albums of original music, and is the subject of Stefan Schwietert's award-winning documentary film, Accordion Tribe: Music Travels.
Klucevsek has written over 100 pieces for accordion, for the ballroom, the beer garden, the concert hall, and for collaborations with choreographers, theatre artists, and filmmakers. His discography includes 24 recordings as soloist, leader, and co-leader on Starkland, Tzadik, Winter & Winter, Innova, and XI.
He is the recipient of a 2010 United States Artists Collins Fellowship, "recognizing the most compelling artists working and living in the United States."
About Steinway & Sons label
The STEINWAY & SONS music label produces exceptional albums of solo piano music across all genres. The label — a division of STEINWAY & SONS, maker of the world's finest pianos — is a perfect vessel for producing the finest quality recordings by some of the most talented pianists in the world.