Franz Liszt
Harmonies poétiques et religieuses
Jenny Lin, Adam Tendler
Performed by pianists Jenny Lin and Adam Tendler, Liszt's rarely heard Harmonies poétiques et religieuses is a sublime example of Liszt's early compositions.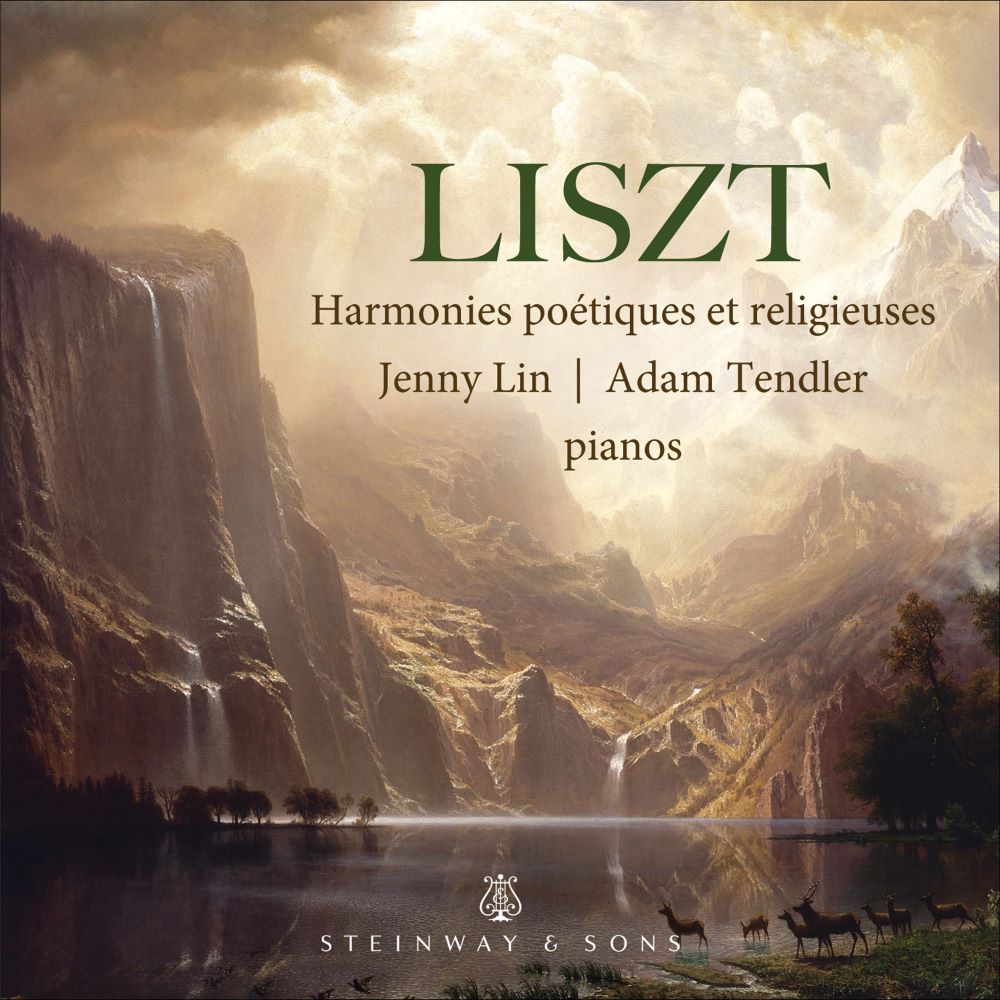 Jenny Lin and Adam Tendler alternate the movements of this monumental piano cycle.
"We're raised on this stuff. It's in our bones. And now we can come at this music with a different kind of lens."
— Adam Tendler
"This is definitely a very private Liszt, one who's retreated to his inner self."
— Jenny Lin
"Few performers are willing to take on not only its daunting scale, but also its grueling restraint —A cohesion held together in a delicate tension of wild Romanticism and controlled transparency. Mr. Tendler and Ms. Lin aren't typically associated with Liszt, or 19th-century music at all. But, to them, that's part of the fun. It didn't take long for them to see just how modern Harmonies poétiques et religieuses can be."
— New York Times
"The playing throughout is first-rate, the performers in such close emotional harmony with the music and each other that this recording is an easy one to recommend with enthusiasm."
— Infodad
"Lin and Tendler's performances are interior, moody, mysterious, and they revel in the music's variety and its exploratory quality..."
— AllMusic Guide
"I especially enjoyed Lin's high velocity and surprisingly light-fingered Funérailles and Tendler's gently drawn-out Pater noster, a work that's not easy to bring off. Lin's assertive Bénédiction (with its stress on the conflicts among the inner lines) and Tendler's high contrast Miserere d'après Palestrina are worthy additions to your Liszt collection.
— Fanfare
ALBUM CREDITS
Liszt: Harmonies poétiques et religieuses / Jenny Lin, Adam Tendler • STNS 30189
Release Date: 10/01/2021
Recorded September 19, 2019 at Steinway Hall, New York City.
Producer: Jon Feidner
Engineer: Lauren Sclafani
Assistant Engineer: Melody Nieun Hwang
Mixing and Mastering: Daniel Shores
Editing: Kazumi Umeda
Executive Producer: Jon Feidner
Art Direction: Jackie Fugere
Design: Cover to Cover Design, Anilda Carrasquillo
Photo of Jenny Lin and Adam Tendler: Kevin Condon
Production Assistant: Renée Oakford
Piano Technician: Lauren Sclafani
Piano: Steinway Model D # 610511 (Hamburg)
About the Artists
Pianist Jenny Lin is an artist of keen musicianship, brilliant technique, and a compelling perspective shaped by a deep fluency in global culture. Born in Taiwan, raised in Austria, educated in Europe and America, Lin has built a vibrant international career, notable for innovative collaborations with a range of artists and creators.
Jenny Lin is the featured pianist in Elliot Goldenthal's original motion picture score for Julie Taymor's 2020 film, The Glorias and recently recorded an album for the Steinway & Sons label with accordionist Guy Klucevsek (created in "contactless" fashion) featuring the music of Giya Kancheli. Notable recordings in Lin's catalogue (which includes more than 30 albums on Steinway & Sons, Hänssler Classic, eOne, BIS, New World, Albany, etc.) include Philip Glass's Etudes, Arthur Schnabel's complete solo piano music, the complete Chopin Nocturnes, an album of Broadway song arrangements titled Get Happy, her ingenious release of transcriptions of the songs of Chinese pop singer Teresa Teng, and Melody's Mostly Musical Day, an album, picture book, and multimedia children's concert, all released on the Steinway & Sons label.
Lin has performed with orchestras throughout the world, including the American Symphony Orchestra, NDR and SWR German Radio Orchestras, the RAI National Symphony Orchestra, and others. She has performed at Carnegie Hall, Lincoln Center, the Kennedy Center, at BAM Next Wave, Spoleto USA, the Schleswig-Holstein Festival, and elsewhere.
Fluent in English, German, Mandarin, and French, Jenny Lin holds a bachelor's degree in German Literature from The Johns Hopkins University and studied music at the Hochschule für Musik, and at the Peabody Conservatory. Jenny Lin resides with her family in New York City.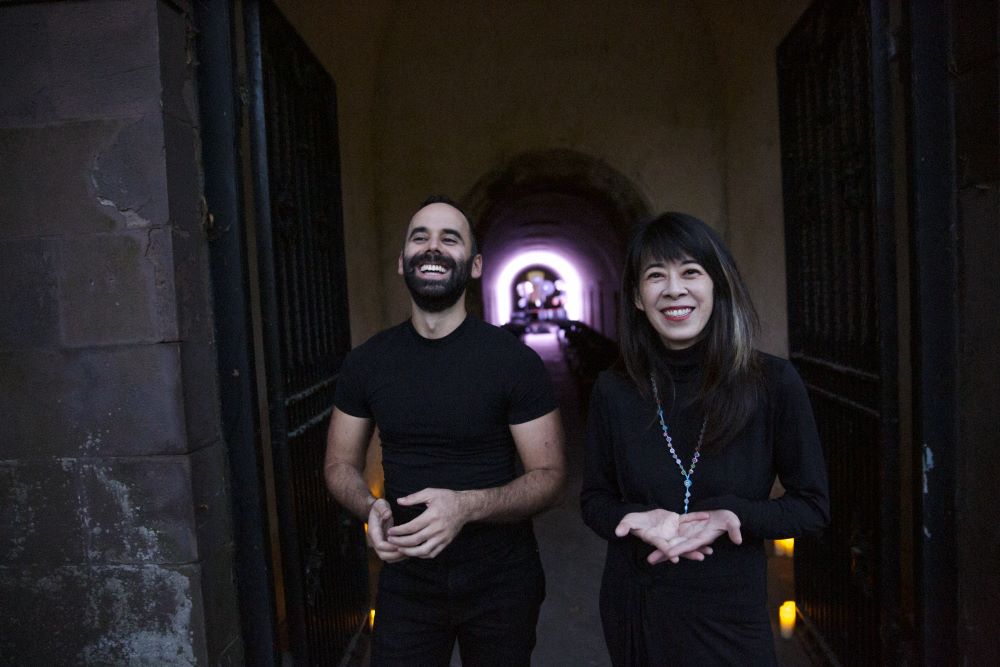 A recipient of the Lincoln Center Award for Emerging Artists, "remarkable and insightful musician" (LA Times), and "relentlessly adventurous pianist" (Washington Post) "joyfully rocking out at his keyboard" (New York Times), Adam Tendler is an internationally recognized interpreter of living, modern and classical composers. A pioneer of DIY culture in concert music, at age 23 Tendler performed solo recitals in all fifty United States as part of a grassroots tour he called America 88x50, which became the subject of his memoir, 88x50, a Kirkus Indie Book of the Month and Lambda Literary Award nominee. He maintains a career as a concert soloist, recording artist, speaker and educator.
Tendler released an album of piano works by Robert Palmer on New World Records in 2019. He has also recorded performances and masterclasses for the digital music platform, Tido, collaborated with Edition Peters on a new edition of John Cage's In a Landscape, and released the premiere recording of Edward T. Cone's 21 Little Preludes. An active presence in all contemporary concert music genres, Tendler has also performed the complete major piano works of Aaron Copland, and collaborates with the John Cage Trust and Edition Peters in presenting Cage's work internationally. He released his second book, tidepools, in 2018.
A graduate of Indiana University, Tendler lives in New York City and, in addition to guest lectures at the New School and Manhattan School of Music, serves on the piano faculty of Third Street Music School Settlement, the country's first community music school.
About Steinway & Sons label
The STEINWAY & SONS music label produces exceptional albums of solo piano music across all genres. The label — a division of STEINWAY & SONS, maker of the world's finest pianos — is a perfect vessel for producing the finest quality recordings by some of the most talented pianists in the world.