Steinway & Sons releases a new album from Zhenni Li, the 2017 winner of multiple coveted awards, including the Grieg International Competition in Norway and the New York Concert Artists Worldwide Debut Audition.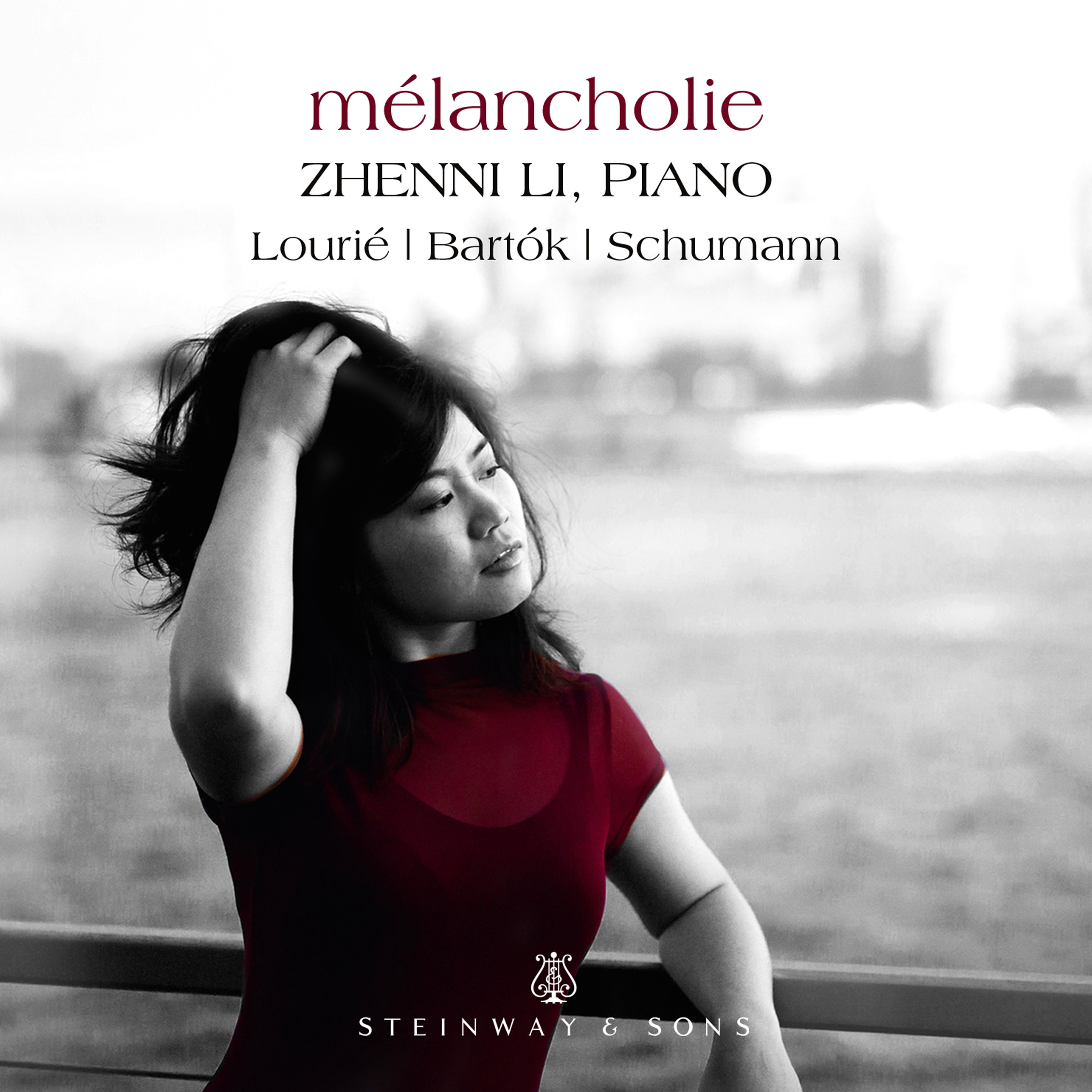 Zhenni Li's riveting personality and passionate performances have brought audiences to their feet around the world.
Mélancholie features works by Schumann, Bartók and Lourié played by, according to pianist and music critic David Dubal, "a magnetic pianist—with fire and poetry".
Arthur-Vincent Lourié, featured on the first five tracks of Li's album, "was a key figure among Russian composers involved in the Futurist movement, which largely drew inspiration from or paid homage to machines. Lourié's earliest piano pieces, however, reflect the teenage composer's eager assimilation of late Russian Romanticism, particularly the 5 Préludes Fragiles," according to Jed Distler in the liner notes for Mélancholie.
"Robert Schumann's F-sharp Minor Sonata counts among his most personal and idiosyncratic compositions, not the least in how he first titled it for publication: 'Pianoforte Sonata, Dedicated to Clara, by Florestan and Eusebius, Op. 11.' Listeners accustomed to the percussive tautness of Bartók's works with piano from the late 1920s on will find a looser, more voluble keyboard approach in his earlier Elegies Op. 8b."
"Zhenni Li found the quirky harmonic sensibility and strange beauty of Schumann with natural ease, with especially incisive drawing out of inner voices."

Broad Street Review

"An impressive program, both accessible and highly original."

AllMusic Guide

"A fascinating album, one that points to an artist with a deep emotional commitment to the music she is playing."

Art Music Lounge
Album Credits
Melancholie / Zhenni Li • STNS 30097
Release Date: 08/17/2018
Recorded October 30, 2017 & January 4, 2018 at Steinway Hall, New York City.
Producer: Jon Feidner
Engineer: Lauren Sturm
Editing: Kazumi Umeda
Production Assistant: Renée Oakford
Mixing and Mastering: Daniel Shores

Executive Producers: Eric Feidner, Jon Feidner
Art Direction: Jackie Fugere
Design: Cover to Cover Design, Anilda Carrasquillo
Piano Technician: Lauren Sturm
Piano: Steinway Model D #597590 (New York)
Photo of Zhenni Li: Brent Calis
About the Artist
Hailed for her "...big, gorgeous tone and a mesmerizing touch" by The Philadelphia Inquirer, Zhenni Li has performed throughout North America, Europe and Asia in such notable venues as Carnegie Hall, Lincoln Center's Alice Tully Hall, the Metropolitan Museum of Art, Merkin Concert Hall and WQXR's Greene Space in New York, the Kimmel Performing Arts Center in Philadelphia, the California Theater in San Jose, the Berlin Philharmonie, the Grieghallen in Norway and the National Concert Hall in Tianjin, China.
Ms. Li has garnered worldwide recognition as a winner of the 2017 New York Concert Artists Worldwide Debut Audition, Astral Artist's 2016 National Auditions, the Grieg International Competition in Norway, and the unanimous 1st Prize at the Concours Musical de France. She is also a top prizewinner of the International Russian Piano Competition, Midwest International Piano Competition, the Kosciusko Chopin Piano Competition and The Heida Hermanns International Piano Competition.
She currently is on Piano Faculty/Chamber music coach for McGill School of Music for undergraduate students and is also the co-founder and Artistic Director for "The Last Soirée", a multi-genre performing arts series which debuted in New York in spring 2018.
About Steinway & Sons label
The STEINWAY & SONS music label produces exceptional albums of solo piano music across all genres. The label — a division of STEINWAY & SONS, maker of the world's finest pianos — is a perfect vessel for producing the finest quality recordings by some of the most talented pianists in the world.