Mozart Piano Sonatas
Antonio Pompa-Baldi
Another entry in the Steinway Classics series featuring sparkling performances of Mozart's Piano Sonatas Nos. 5, 10 and 12 by Antonio Pompa-Baldi.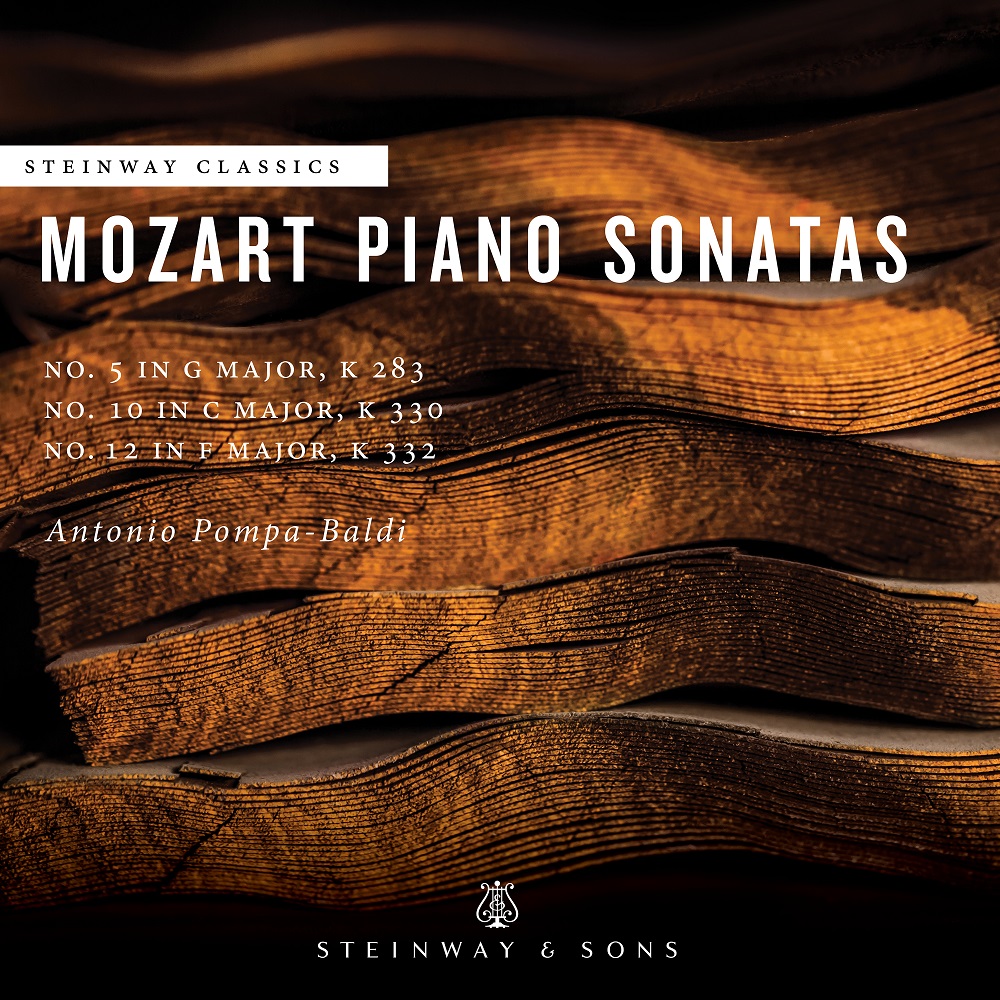 "When Pompa-Baldi operates at his untrammeled peak, the piano world lights up."
ClassicsToday.com
"Flexible rhythms, extremely cantabile playing, exemplary voicing and balance — and yes, virtuosity — were all key in the success of his performance."
ClevelandClassical.com
"We heard the most exquisitely refined, scaled down and stylistic playing you could ever hope to hear in a Mozart Sonata. There was no precious "porcelain doll" approach here, but rather a full blooded and expressive performance that relished every nuance and every turn of phrase."
Peninsula Reviews
Album Credits
Mozart: Piano Sonatas / Antonio Pompa-baldi • STNS 30089
Release Date: 11/16/2018
Recorded July 19 & 20, 2016 at Steinway Hall, New York City.
Producer: Jon Feidner
Engineer: Lauren Sturm
Editing: Jon Feidner and Renée Oakford
Assistant Engineer: Melody Nieun Hwang
Production Assistant: Renée Oakford
Mixing and Mastering: Daniel Shores
Executive Producers: Eric Feidner, Jon Feidner
Art Direction: Jackie Fugere
Design: Cover to Cover Design, Anilda Carrasquillo
Piano Technician: Lauren Sturm
Piano: Steinway Model D #519960 (Hamburg)
About the Artist
Born and raised in Foggia, Italy, Antonio Pompa-Baldi won the Cleveland International Piano Competition in 1999 and embarked on a career that continues to extend across five continents. A top prize winner at the 1998 Marguerite Long-Jacques Thibaud Competition of Paris, France, Antonio Pompa-Baldi also won a silver medal at the 2001 Van Cliburn International Piano Competition.
Mr. Pompa-Baldi appears regularly at the world's major concert venues including New York's Carnegie Hall, Paris' Salle Pleyel, Milan's Sala Verdi, Shanghai's Grand Theatre, and Boston's Symphony Hall. He performed in London, Tokyo, Seoul, Los Angeles, Philadelphia, Kiev, Auckland, Hong Kong, and Beijing, where he played a recital in the Forbidden City Concert Hall and conducted Master Classes at the China National Conservatory, being named Honorary Guest Professor of that institution. Pompa-Baldi has played with the Houston Symphony, Berliner Symphoniker, Orchestre Philharmonique de Radio France, Boston Pops, and Colorado Symphony, among many others. He has collaborated with great musicians and conductors such as Hans Graf, James Conlon, Louis Lane, Keith Lockhart, and Miguel Harth-Bedoya.
His extensive recording catalogue features over 25 CDs and is constantly growing. Among his recordings, the entire piano repertoire of Grieg for Centaur Records in twelve CDs, a live recital of his award-winning Cliburn Competition performances on Harmonia Mundi, "Napoli - Improvisations on Neopolitan Songs by Roberto Piana" on the Steinway & Sons label and "The Rascal and the Sparrow-Poulenc meets Piaf", piano arrangements of songs by Francis Poulenc and Edith Piaf, also on the Steinway Label. His CD, "After a reading of Liszt", is a tribute to Liszt recorded live in recital at the Stellenbosch Conservatory, and released by the South African label TwoPianists. For Centaur Records, he has also recorded an all-Schumann disc, an all-Rachmaninoff CD, as well as the Rheinberger Piano Sonatas. Pompa-Baldi is now recording the complete Hummel Piano Sonatas. The first two volumes are already available, with a third scheduled to be released in the near future.
In May 2014, Pompa-Baldi completed live performances of all the Rachmaninoff Concertos and Paganini Rhapsody with the Cape Town Philharmonic. In January 2015, he performed a recital at the First Lang Lang International Piano Festival in Shenzhen, China. In March 2015, he performed all the Beethoven Concertos in Fresno, CA, under the baton of Maestro Theodore Kuchar. Other recent notable engagements include the Cheyenne Symphony (Respighi Piano Concerto), Nova Scotia Symphony (Rachmaninoff Second and Third Piano Concertos), and recitals in Wenzhou and Xiamen (China), San Jose, CA, Ravello Festival, Todi International Music Masters festival, and the island of Sardinia, Italy.
A Steinway Artist, Mr. Pompa-Baldi is on the piano faculty of the Cleveland Institute of Music.
He is the founder and faculty member of Todi International Music Masters, a summer Festival in Italy, and sits on the juries of the most prestigious piano competitions of the world, including the Cleveland International Piano Competition, the Hilton Head Piano Competition, the International Edvard Grieg Piano Competition in Bergen, Norway, and the San Jose International Piano Competition.
About Steinway & Sons label
The STEINWAY & SONS music label produces exceptional albums of solo piano music across all genres. The label — a division of STEINWAY & SONS, maker of the world's finest pianos — is a perfect vessel for producing the finest quality recordings by some of the most talented pianists in the world.