Mozart
Piano Sonatas
David Fung
Pianist David Fung brings an almost operatic flair to his performances of Mozart's sonatas on his Steinway & Sons debut album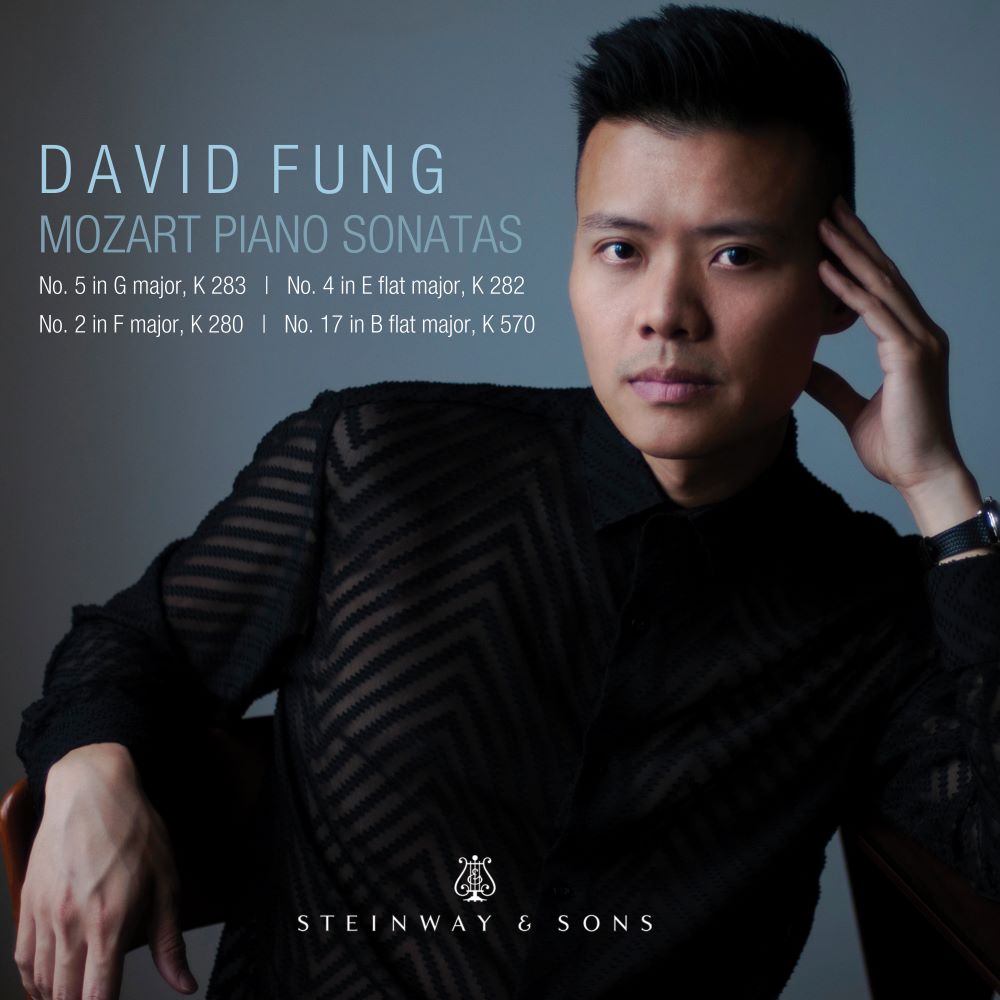 Pianist David Fung is widely recognized for interpretations that are elegant and refined, yet intensely poetic and uncommonly expressive
Even in his youth, the music of Wolfgang Amadeus Mozart always held mysterious power for pianist David Fung. His teachers made it clear that he certainly should study and learn Mozart's music, but he was not to perform it publicly.
Perhaps these directives only increased Fung's fascination with Mozart, heightening his desire to perform Mozart's music. In any case, they certainly did not stop him from playing Mozart's Piano Concerto No. 25 in C Major at the Rubinstein Piano Competition at age 22, where he was awarded the Mozart Prize by a jury comprising Mozart specialists Menahem Pressler and Robert Levin, among others.
For Fung, part of Mozart's appeal comes from the lyricism of his writing. Fung's mother is a singer, which imbued in him a deep admiration for vocal music. His interpretations of Mozart sonatas are quasi-operatic, full of drama. Similarly, Fung appreciates the range of emotion present in Mozart's music. "Within four measures, you can hear the entire breadth of human experience," he says.
For this Steinway recording, Fung selected three early Mozart piano sonatas and one much later sonata, which complements the early works and demonstrates Mozart's evolution as a composer.
Although Mozart made his fame as a keyboard virtuoso, he did not compose his first significant set of keyboard sonatas until he was nearly 20, which explains why his first group of six piano sonatas (K. 279-284, composed in 1774-75) are so self-assured.
Unusually, the first and last movements of Sonata in F Major, K. 280, are in triple meter, and the sublime second movement, a siciliano, is one of the most powerful movements in this entire sonata group. Sonata in E-flat Major, K. 282, begins with a slow movement, followed by a livelier second movement, which is a pair of minuets. It concludes with a pithy and spritely finale. Sonata in G Major, K. 283, the only one of Mozart's 18 piano sonatas in this key, is perennially popular among teachers and students, and is one of Fung's personal favorites with its incisive wit and buffa playfulness.
Mozart's penultimate sonata, K. 570 in B-flat Major, was erroneously published as a sonata for piano and violin after Mozart's death and not instated into the solo piano catalog until the 20th century. An outwardly simple piece that contains a multitude of cantabile lines, an exquisite second movement rondo, and frequent motifs that anticipate The Magic Flute, this late sonata brings together all the Mozartian elements that spark joy for David Fung.
"Fung showed a true poetic sensibility. He offered crystalline phrasing that would not have been out of place on the harpsichord while drawing hushed, beautifully rounded tone from his Steinway."

Washington Post

"Fung's sound was round and full, but never excessive. He demonstrated a wide palette of colors and had full command over the notoriously technically demanding piano part... The third movement was simply divine... Fung immersed us into a world of delicacy and finesse. "

Crescendo Magazine
Album Credits
Mozart: Sonatas / David Fung • STNS 30107
Release Date: 07/05/2019
Recorded November 7, 2017 & July 23, 2018 at Steinway Hall, New York City.
Producer: Jon Feidner
Engineer: Lauren Sclafani
Assistant Engineer: Melody Nieun Hwang
Production Assistant: Renée Oakford
Mixing and Mastering: Daniel Shores
Executive Producers: Eric Feidner and Jon Feidner
Art Direction: Jackie Fugere
Design: Cover to Cover Design, Anilda Carrasquillo
Piano Technician: Lauren Sclafani
Piano: Steinway Model D #597590 (New York)
Cover Photo: Daniel Moody
About the Artist
Praised for his "ravishing and simply gorgeous" performances by The Washington Post, pianist David Fung is widely recognized for interpretations that are elegant and refined, yet intensely poetic and uncommonly expressive. Fung is a regular recitalist, chamber musician and soloist who has played with the Cleveland Orchestra and the Melbourne Chamber Orchestra, among many others. He garnered international attention as a winner in two of the "top five" international piano competitions (the Queen Elisabeth International Music Competition in Brussels and the Arthur Rubinstein Piano International Masters Competition in Tel Aviv). In Tel Aviv, he was further distinguished by the Chamber Music and Mozart Prizes, awarded in areas in which Mr. Fung has a particularly passionate interest. Mr. Fung is the first piano graduate of the Colburn Conservatory in Los Angeles and is a Steinway Artist.
About Steinway & Sons label
The STEINWAY & SONS music label produces exceptional albums of solo piano music across all genres. The label — a division of STEINWAY & SONS, maker of the world's finest pianos — is a perfect vessel for producing the finest quality recordings by some of the most talented pianists in the world.