Muhly Cello Concerto Bloch Schelemo
ZUILL BAILEY
Zuill Bailey, one of the world's premiere cellists, performs acclaimed American composer Nico Muhly's Cello Concerto -- A world premiere recording performed with the Indianapolis Symphony conducted by Jun Märkl.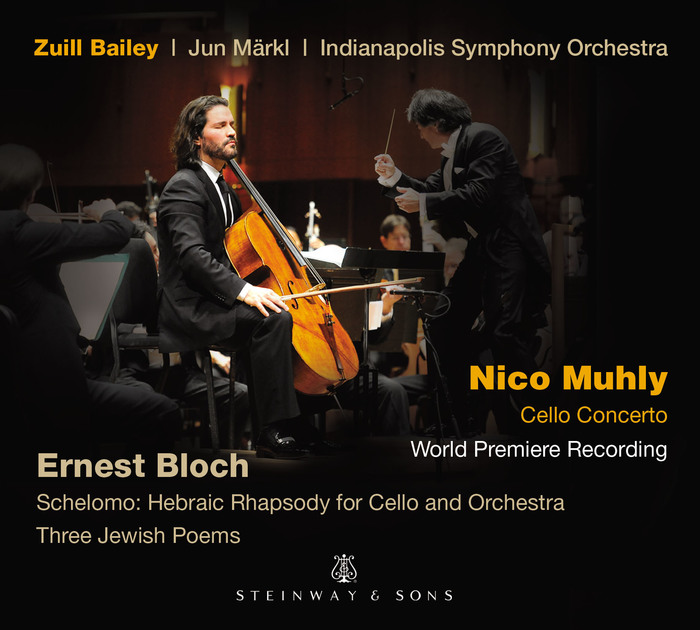 Zuill Bailey, one of the world's premiere cellists, performs acclaimed American composer Nico Muhly's Cello Concerto -- A world premiere recording performed with the Indianapolis Symphony conducted by Jun Märkl. Originally commissioned by the Barbican, the work received its American premiere with the Indianapolis Symphony in 2013 and that performance is the source for this recording. Also included on the album are two works by the great Swiss composer, Ernest Bloch: the Hebraic Rhapsody for Cello and Orchestra, again featuring Zuill Bailey as soloist, and the Three Jewish Poems for Orchestra.
"Zuill Bailey opens this triptych with a superb account of Bloch's masterly Schelomo, concentrated and powerful, the soloist rhapsodising in a freely expressive style."

Gramophone

"Bailey's performance here [of Schelemo] ranks with the best... One of the best reasons to acquire this recording is to hear the new and scintillating Cello Concerto by the young American composer Nico Muhly... Bailey's work on all of these bona fide showpieces is ecstatic..."

Audiophile Audition

"Bailey's playing is strong-limbed and sensitive throughout, and there are well-judged contributions by the Indianapolis Symphony under conductor Jun Märkl."

San Francisco Chronicle


"Bailey's performance of Bloch's terrific music for cello and orchestra s in the grand tradition. The Indianapolis Orchestra is exemplary too."

The Buffalo News


"The entire [Muhly] concerto is easy to love yet convincingly original, evincing a freedom of expression unconstrained by its historical connections... Schelomo is a wild, passionate late Romantic piece demanding an all-stops-out performance. Zuill Bailey and Jun Markl give just that, in the spirit of Feuermann/Stokowski and Rostropovich/Bernstein."

Fanfare


"Here is a program that balances itself well, combining composers born 100 years apart...the playing is fine and rich in mood..."

American Record Guide


"This live concert recording with the Indianapolis Symphony Orchestra features modern orchestral writing at its most challenging and expressive, and the soloist and Orchestra are up to the task."

Film Score Monthly


"Overall, the Muhly & Bloch recording beautifully reveals Zuill Bailey's virtuosity as a cellist and gives this gift of music exceptional clarity."

AXS

Album Credits
Muhly: Cello Concerto; Bloch / Zuill Bailey • STNS 30049
Release Date: 01/13/2015
Recorded Direct to Stereo DSD at Hilbert Circle Theater, Indianapolis on January 24 - 26, 2013 and November 21 - 23, 2013.
Additional Recording at Clonick Hall Studio, Oberlin Conservatory of Music on August 19, 2013
Recording Producer: Thomas C. Moore, Five/Four Productions, Ltd.
Recording, Mix, and Mastering Engineer: Michael Bishop, Five/Four Productions, Ltd.
Assistant Engineer: Ian Dobie, Five/Four Productions, Ltd.
Recording Editor: Thomas C. Moore, Five/Four Productions, Ltd.
Art Direction: Jackie Fugere
Design: Anilda Carasquillo
About the Artist
Zuill Bailey, widely considered one of the premiere cellists in the world, is a Grammy Award winner, distinguished soloist, recitalist, chamber musician, Artistic Director and teacher. His rare combination of celebrated artistry, technical wizardry and engaging personality has secured his place as one of the most sought after and active cellists today.
Recent highlights include appearances with orchestras such as Los Angeles, Chicago, Detroit, Minnesota, Israel, San Francisco, Toronto, Nashville, North Carolina, Indianapolis, Milwaukee, and the Philharmonia (UK) with conductors Itzhak Perlman, Carlos Kalmar, Neeme Jarvi, Jun Markl, Stanislav Skrowaczewski, Alan Gilbert, Andrey Borekyo, Krzysztof Urbanski, Giancarlo Guerrero, Andrew Litton, Grant Llewellyn and James DePriest. He was honored as the distinguished Alumnus of 2014 by Johns Hopkins University Peabody Institute.
Zuill Bailey is a renowned recording artist with over thirty titles. Mr. Bailey won a best solo performance Grammy Award in 2017 for his live recording of Tales of Hemingway by composer Michael Daugherty. His celebrated Bach Cello Suites, Britten Cello Symphony/Sonata with pianist Natasha Paremski, Haydn Cello Concertos, and recently released Schumann/Brahms Concertos CDs immediately soared to the number one spot on the Classical Billboard Charts. Other critically acclaimed recordings include the Brahms Sextets with the Cypress Strings Quartet, Elgar and Dvorak Cello Concertos, described by Gramophone magazine as the new "reference" recording and one that "sweeps the board." In addition, the Dvorak Cello Concerto CD is listed in the Penguin's Guide as one the Top 1000 Classical Recordings of all time. Other releases include his innovative Spanish Masters CD for Zenph Studios, where he forms a unique duo blending with recordings of composer Manuel de Falla, and an all-American recital program with pianist Lara Downes on the Steinway & Sons label.
Mr. Bailey performs on the "rosette" 1693 Matteo Gofriller Cello, formerly owned by Mischa Schneider of the Budapest String Quartet. He is the Artistic Director of El Paso Pro-Musica (Texas), the Sitka Summer Music Festival/Series and Cello Seminar, (Alaska), the Northwest Bach Festival (Washington), the "Classical Inside and Out," at the Mesa Arts Center (Arizona) and Director of the Center for Arts Entrepreneurship and Professor of Cello at the University of Texas at El Paso.
About Steinway & Sons label
The STEINWAY & SONS music label produces exceptional albums of solo piano music across all genres. The label — a division of STEINWAY & SONS, maker of the world's finest pianos — is a perfect vessel for producing the finest quality recordings by some of the most talented pianists in the world.