Napoli
Antonio Pompa-Baldi
Pianist Antonio Pompa-Baldi and composer Roberto Piana reunite for Napoli, an album of Improvisations on Neopolitan Songs.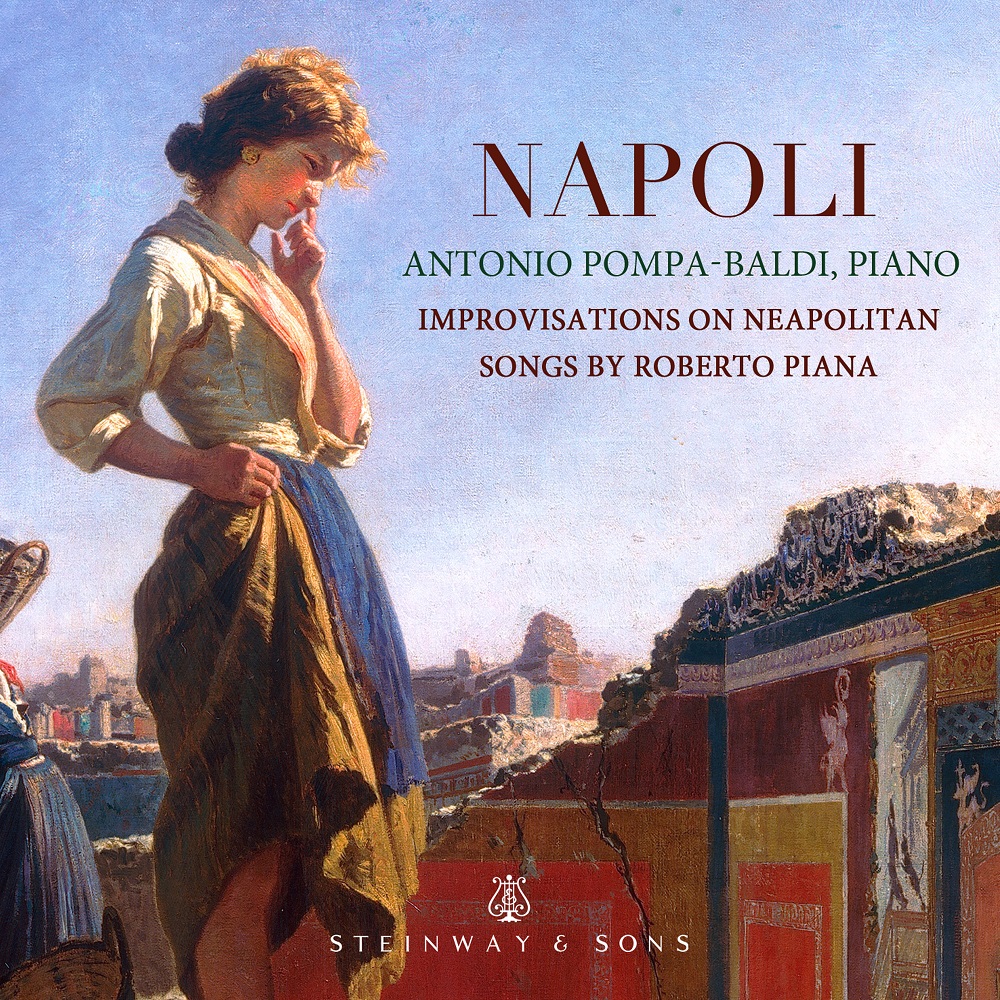 Antonio Pompa-Baldi's album includes 20 improvisations on both well-known and lesser-known Neapolitan songs.
As a follow-up to the well-received Steinway & Sons album The Rascal and the Sparrow, which juxtaposed solo piano arrangements of Francis Poulenc and Edith Piaf, pianist Antonio Pompa-Baldi and pianist/composer Roberto Piana reunite for another album, Napoli (STNS 30086). For this album, Pompa-Baldi and Piana turn to the music of their home country of Italy, specifically the trove of songs from the Neapolitan region.
In selecting songs to arrange for the album, Piana chose to focus on both well-known masterpieces (Torna a Surriento, Cannetella, Funiculí Funiculá, Marechiare) and unjustly-hidden gems (Serenata Medioevale, T'aggio ditto, M'allicordo, Lo ninno mio). In his "improvisations" on these Neapolitan themes, Piana's level of intervention varies from mainly enriching the harmonic language, to transforming the timbre, color, or harmonic aspect, to introducing entirely new musical forms and concepts to the relatively simple melodies. For instance, Piana combines the famous tune Torna a Surriento by Ernesto de Curtis with the Sonata K27/L449 of Domenico Scarlatti—a contrapuntal meeting between two Neapolitans from distant epochs.
"In all of these Neapolitan songs I found an immense potential and an evocative power that I could use in many different combinations. Intense melodies, rich harmonies, on which I could improvise producing ever different results, ever changing outlooks."

Roberto Piana

"Pompa-Baldi possesses a magical touch, rich in a thousand of nuances, a spectacular technique and an amazing finesse."

La Provincia

"A lively spirit of invention comes across in the sparkling settings and the flamboyant playing, which can be sampled in the characteristic 'A Vucchella, and one can easily connect these versions to the passionate vocal tradition of Naples in the age of Enrico Caruso."

AllMusic Guide

"Pompa-Baldi's grasp of melodic articulation shines on the ageless "Era de Maggio". The inherent emotional context makes it evident why this is a favorite among opera singers. The pianist's shifts easily from dramatic intonation to sentiment. In the spirit of salon music of the 19th century, "Il Segreto" is performed with heartfelt resonance and virtuosic detail."

Audiophile Audition

"Napoli is 73 minutes of listening pleasure... Composer and pianist Roberto Piana's magical improvisations turn these songs into shining gems..If you are already a lover of Neapolitan song, this is a must have for your collection. If you're not familiar with the style, this makes for a wonderful introduction."

Cleveland Classical

"Piana knows how to craft virtuoso writing that draws maximum effect from the piano, and Pompa-Baldi has the chops and musical sensitivity to make every track irresistible."

Pasatiempo
Album Credits
Napoli / Antonio Pompa-Baldi • STNS 30086
Release Date: 09/21/2018
Recorded October 10, 2016 and February 23, 2017 at Steinway Hall, New York City.
Producer: Jon Feidner
Engineer: Lauren Sturm
Editing: Kazumi Umeda
Assistant Engineer: Melody Nieun Hwang
Production Assistant: Renée Oakford
Mixing and Mastering: Daniel Shores
Executive Producers: Eric Feidner, Jon Feidner
Art Direction: Jackie Fugere
Design: Cover to Cover Design, Anilda Carrasquillo
Cover Painting: Gli scavi di Pompei, courtesy of Marco Bertoli, Art consultant Modena, Italy
Piano Technician: Lauren Sturm
Pianos: Steinway Model D #597590 (New York), Steinway Model D #610511 (Hamburg)
About the Artists
Antonio Pompa-Baldi is an Italian pianist. He won the Cleveland International Piano Competition in 1999, and embarked on a career that continues to extend across five continents. A top prize winner at the 1998 Marguerite Long Competition in Paris, France, he also won a silver medal at the 2001 Van Cliburn International Piano Competition.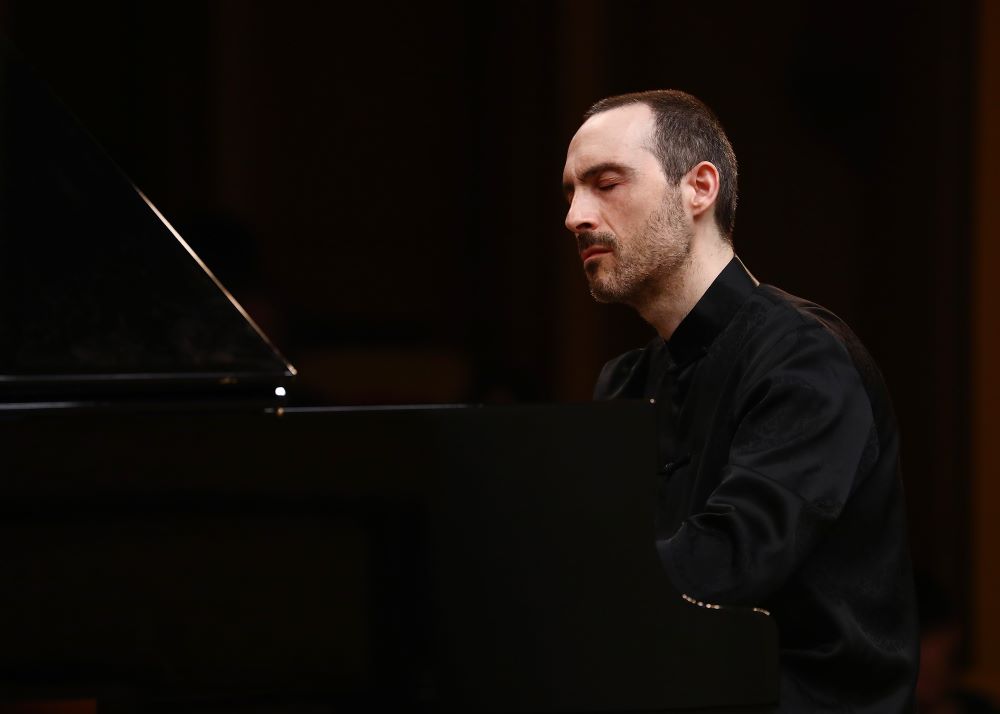 Mr. Pompa-Baldi appears regularly at the world's major concert venues including New York's Carnegie Hall, Paris' Salle Pleyel, Milan's Sala Verdi, Shanghai's Grand Theatre, and Boston's Symphony Hall. He performed in London, Tokyo, Seoul, Beijing, Los Angeles, Philadelphia, Kiev, Auckland, and Hong Kong, to name a few. Recent live performances include the 5 Beethoven Piano Concertos, as well as the complete Rachmaninoff Piano Concertos and Rhapsody on a Theme of Paganini. His extensive recording catalogue features 30 CDs and is constantly growing.
His albums include the complete music for solo piano and chamber music of Edvard Grieg, and discs dedicated to Schumann, Rachmaninoff, Liszt, and Brahms, among many others. He is the founder and artistic director of Todi International Music Masters, an Italian pedagogical summer camp featuring concerts and masterclasses for talented young musicians.
A Steinway artist, Mr. Pompa-Baldi is on the piano faculty of the Cleveland Institute of Music, and serves regularly on the juries of major piano competitions such as Cleveland, Grieg (Bergen), Minneapolis (E-Competition), Hilton Head, San Jose, Lang Lang (Shenzhen), and BNDES Rio de Janeiro. He is an honorary guest professor at many institutions including the China National Conservatory in Beijing.
Pianist and composer Roberto Piana was born in Sassari, on the Italian island of Sardinia, in 1971. He perfected his studies with numerous famous pianists, but owes his training to Isabella Lo Porto, with whom he graduated in piano studies with top marks, at the Music Conservatory of Sassari.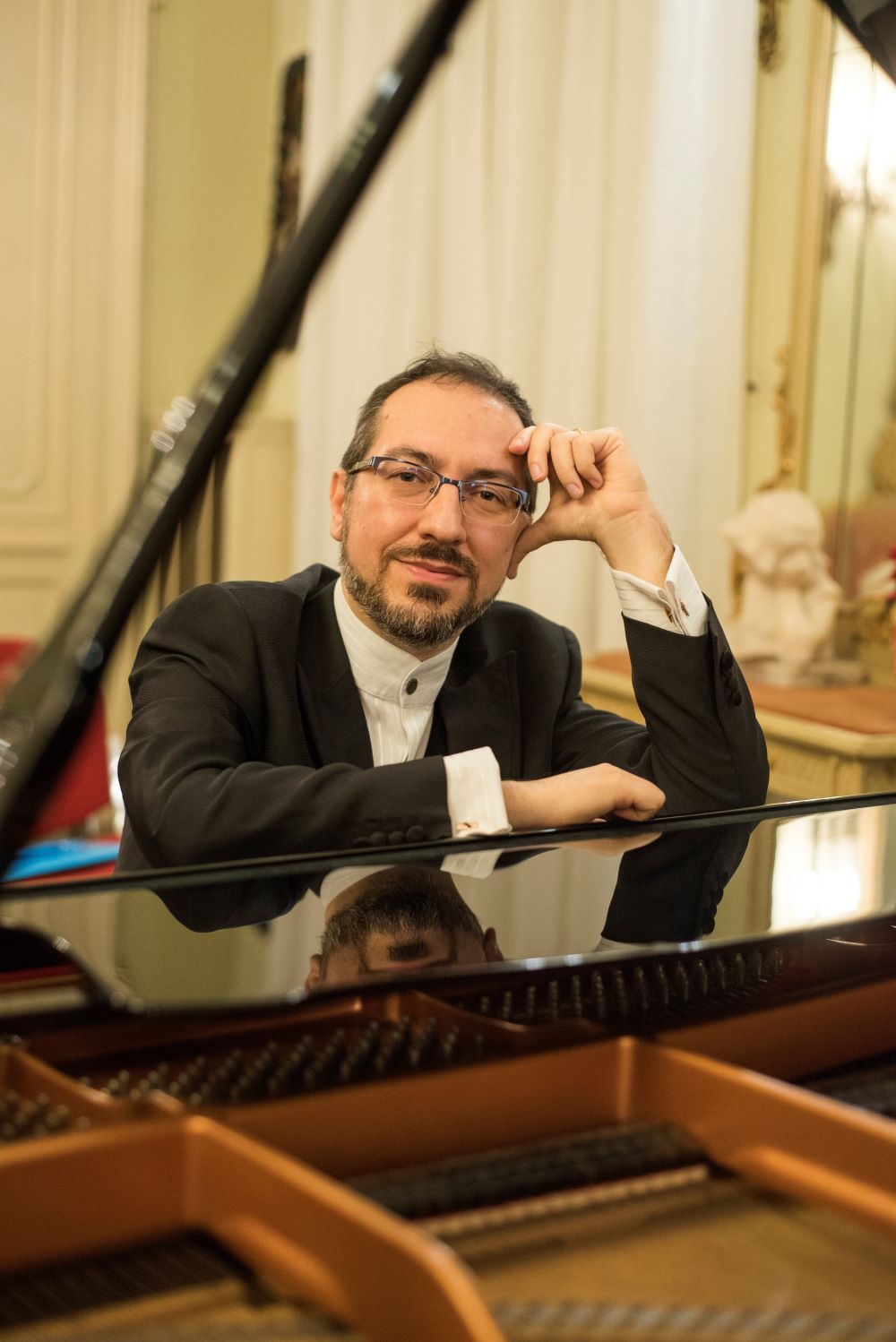 As a pianist, he has performed with great success in numerous theatres such as Rond Point on the
Champs-Elysées in Paris, Teatro Regio in Turin, Teatro alla Scala in Milan, University of Stuttgart, Germany, and Saint Petersburg, Russia, as well as in cities such as Barcelona, Zurig, Liège, Brussels, Charleroi, Mons, Lausanne, and Düsseldorf.
While maintaining a busy performance schedule, Roberto is also committed to the study of lesser known composers such as Ansorge, Gutmann, Ornstein, Rebello, Ricordi, Tellefsen, Wolff, and others. Since 1994, he has authored essays, books, and CDs (Stradivarius, Da Vinci Classics, Amadeus, Tactus, Documenta Edizioni, Suonare News).
As a composer, Roberto Piana is the author of various works for piano, voice, symphonic and chamber music, published by Bèrben, and Editoriale Documenta. Many of his compositions can be heard on CDs released by labels such as Steinway & Sons, Centaur Records, Music & Arts, and TwoPianists.
He is a piano professor at the Sassari Conservatory of Music. He holds piano master classes in Italy and Russia (St. Petersburg).
About Steinway & Sons label
The STEINWAY & SONS music label produces exceptional albums of solo piano music across all genres. The label — a division of STEINWAY & SONS, maker of the world's finest pianos — is a perfect vessel for producing the finest quality recordings by some of the most talented pianists in the world.