Natasha
Brahms Kahane
Prokofiev Balakirev
Natasha Paremski's debut album on the Steinway label features works by Brahms, Kahane, Prokofiev, and Balakirev - a diverse program showing her diverse talent.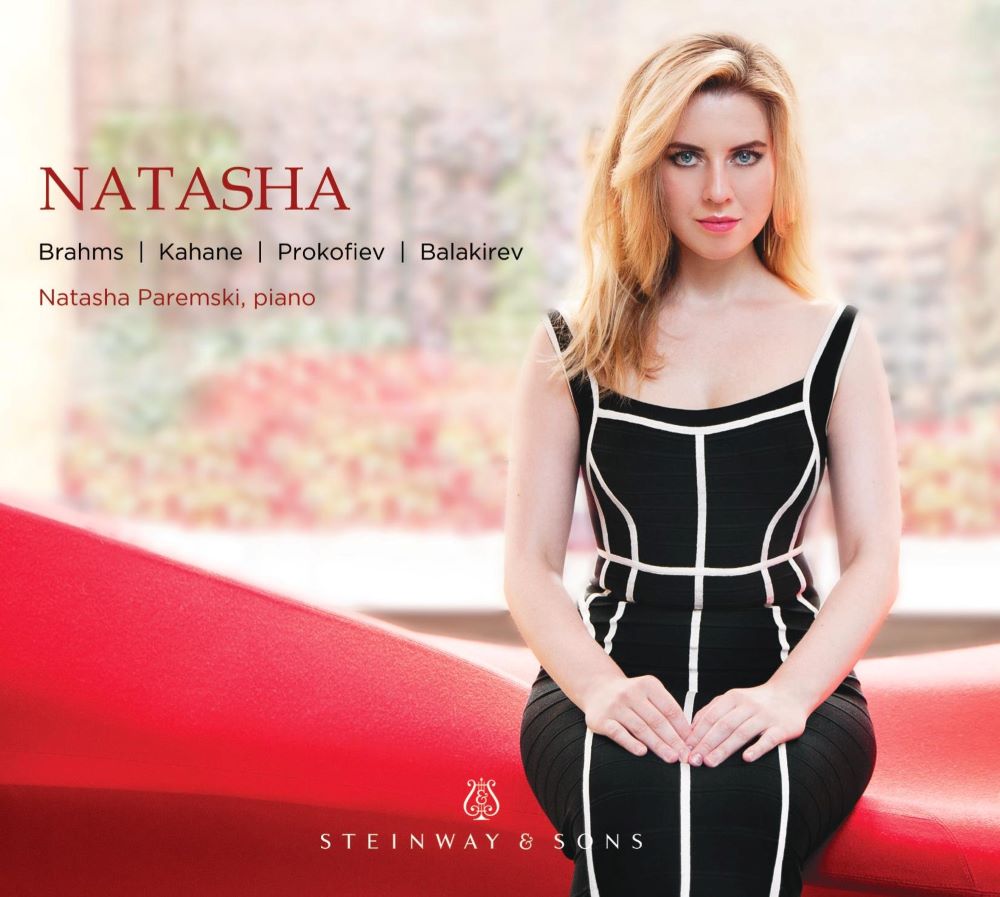 With her consistently striking and dynamic performances, pianist Natasha Paremski reveals astounding virtuosity and voracious interpretive abilities. She continues to generate excitement from all corners as she wins over audiences with her musical sensibility and flawless technique.
"The music on this album I hold very close to my heart" shares Natasha about this recording. "All three works are connected by the desire to be heard and to be loved. And in these masterpieces, the composers give a voice to the many who seek to be heard, those who seek the freedom of individuality, the comfort of acceptance, the solace of love."
"Paremski dives into the monster octaves of the first movement of Brahms's F sharp minor Sonata with steely assurance and the rhythmic incisiveness of a pouncing tigress. In the beautiful Andante con espressione, she keeps the textural shifts between melody and accompaniment in well-contoured perspective."

Gramophone

"The program stimulates even as it dazzles, with the Balakirev as a finale that tops even the considerable challenges of the Prokofiev. Highly recommended."

AllMusic Guide
Album Credits
STNS 30063 • Natasha - Brahms, Kahane, Prokofiev, Balakirev / Natasha Paremski
Release Date: 8/12/2016
This album includes previously released performances.
Tracks 1-10 Recorded at The Recital Hall at the Performing Arts Center, SUNY Purchase on Sept. 7-9, 2010.
Track 11 recorded at Steinway Hall, New York City on October 6, 2015.
Recording Producer, Recording Engineer (tracks 1-10): Adam Abeshouse
Recording Engineer (track 11): Lauren Sturm
Editor (track 11): Kazumi Umeda

Executive Producer: Jon Feidner
Design: Cover to Cover Design, Anilda Carrasquillo
Production Assistant: Robert Hillinck
Photography: Andrea Joynt

About the Artist
Born in Moscow, Paremski moved to the United States at the age of eight and became a U.S. citizen shortly thereafter. She is now based in New York. Paremski began her piano studies at the age of four with Nina Malikova at Moscow's Andreyev School of Music. She then studied at the San Francisco Conservatory of Music before moving to New York to study with Pavlina Dokovska at the Mannes School of Music, from which she graduated in 2007. Natasha was awarded several prestigious artist prizes at a very young age, including the Gilmore Young Artists prize in 2006 at the age of eighteen, the Prix Montblanc in 2007, and the Orpheum Stiftung Prize in Switzerland. In September 2010, she was awarded the Classical Recording Foundation's Young Artist of the Year.
At fifteen she debuted with the Los Angeles Philharmonic and recorded two discs with the Moscow Philharmonic Orchestra under Dmitry Yablonsky — the first featuring Anton Rubinstein's Piano Concerto No. 4 and Rachmaninoff's Rhapsody on a Theme of Paganini while the second featured Chopin's complete shorter works for piano and orchestra. Her first recital album was released in 2011 and debuted at No. 9 on the Billboard Traditional Classical chart. In 2012 she recorded Tchaikovsky's Piano Concerto No. 1 and Rachmaninoff's Rhapsody on a Theme of Paganini with the Royal Philharmonic Orchestra and Fabien Gabel. In 2016, she collaborated with Zuill Bailey on a recording of the Prokofiev Cello Sonata, released on the Steinway & Sons label.
With a strong focus on new music, Paremski's growing repertoire reflects an artistic maturity beyond her years. In the 2010-11 season, she played the world premiere of a sonata written for her by Gabriel Kahane, which is featured on this album. At the suggestion of John Corigliano, Paremski brought her insight and depth to his Piano Concerto with the Colorado Symphony. In recital, she has played several pieces by noted composer, pianist, and Steinway Artist Fred Hersch. His Variations on a Theme by Tchaikovsky, was commissioned for Paremski and is included on her second solo album for the Steinway & Sons label along with Mussorgsky's Pictures At An Exhibition.
About Steinway & Sons label
The STEINWAY & SONS music label produces exceptional albums of solo piano music across all genres. The label — a division of STEINWAY & SONS, maker of the world's finest pianos — is a perfect vessel for producing the finest quality recordings by some of the most talented pianists in the world.