Once Upon A TIME
Katie Mahan
Pianist Katie Mahan's latest project is a very personal album focusing on the music of Mozart and Liszt.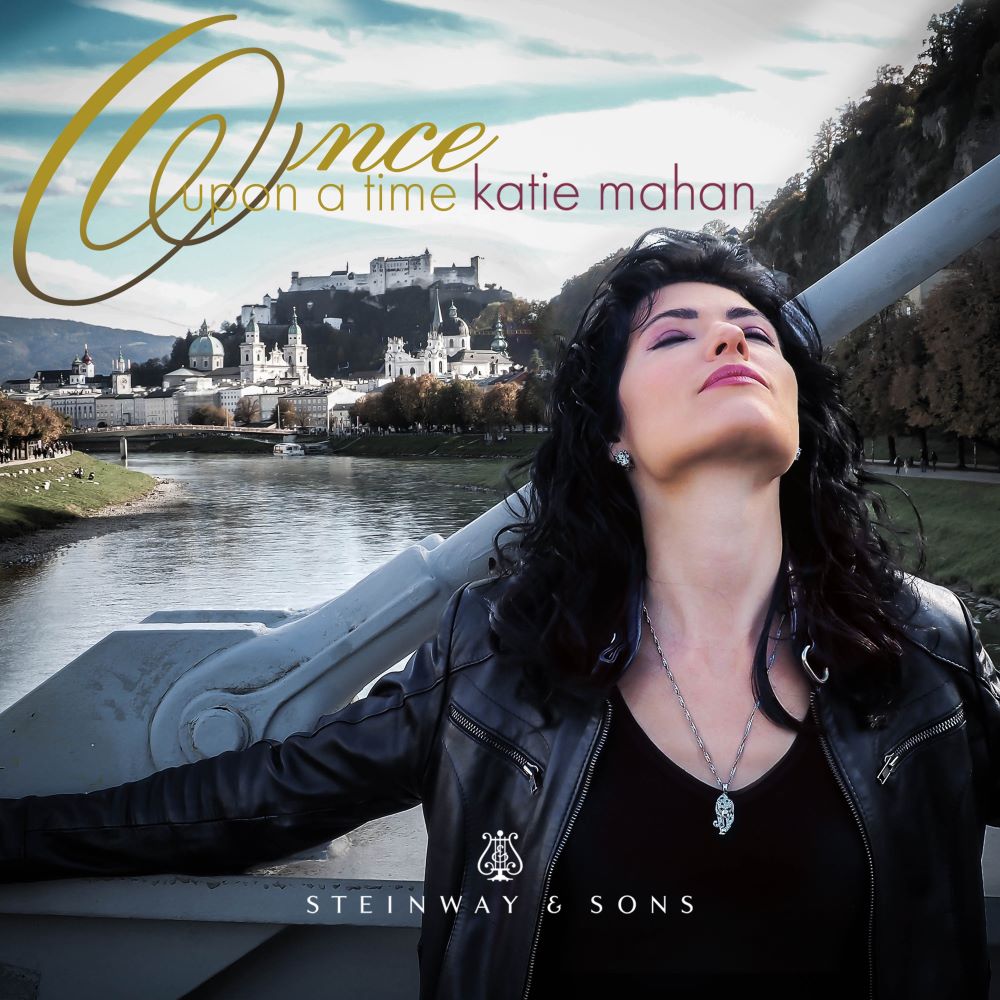 Katie Mahan considers this album the realization of some of her most cherished dreams from childhood.
"These works hold a particularly special place in my heart and memory. Each has been with me since my earliest years, being learned and relearned, discovered and rediscovered. They have inspired me, challenged me, taught me and grown with me, and in the process, helped to create the musician that I am today."
— Katie Mahan
"On this acoustically spacious CD she interprets this fantasy KV 394 with an unerring sense of melodic effects and rich thematic material. No less impressive is her sensitive rendition of Mozart's Sonata No. 8 in A minor K. 310. Katie Mahan's robust rendition of Liszt's Sonata in B minor captivates above all because of the sensitive exploration of the motivic cells, which assert themselves here with tonal power."
— Online Merker
"Expressive and technically perfect. Highly tense and expressive, not forgetting the cantabile, Katie Mahan plays Mozart's Sonata in A minor K. 310... whips it with sharp accents, threatens rhythmically monotonous bass figures in the development and shapes sharp attacks...Katie Mahan owes nothing to Liszt's Sonata in B minor, neither extreme, never-ending power development nor beautiful-sounding dolcissimo; she logically and convincingly proves how confidently she understands the structure of this sonata."
— Klassik Heute
On October 7, 2022 STEINWAY & SONS releases Once Upon a Time (STNS 30203), pianist Katie Mahan's third release for the STEINWAY label. The album begins with Mozart's Fantasy and Fugue, K 394, an enchanting and underplayed work Katie first discovered at the age of 12. In the album's liner notes Katie writes that at the time she had an obsession with the music of Bach and the discovery of the "baroque" side of Mozart delighted her. The sonata subsequently secured a place in her repertoire.
The album continues with the Sonata in A minor, K 310, one of Mozart's most beloved works for piano. Katie says that "this sonata found itself repeatly on my recital programs. While the outer movements appealed to me for their technical brilliance, it was the second movement with its sheer beauty and poignancy that really affected me."
Following the A minor Sonata are two works from Mozart's childhood, the Allegro in C major, K 5a and Klavierstück in F major, K 33b. Katie writes that these two works take her back to her very earliest years, as she played them on first recitals as a five year old.
The album closes with Franz Liszt's monumental Sonata in B minor. Katie fell in love with the work at the age of seven and was determined to learn it despite its difficulty. Katie writes "At that time, I was not very fond of note reading and learned primarily by ear, but to ensure that I learn the sonata correctly, my mother (who was also my teacher through the age of eighteen) lovingly wrote in all the notes of the difficult technical passages. Over the course of its thirty-some pages, I learned how to read music, and over the course of my lifetime, this work has appeared, disappeared and reappeared in my repertoire perhaps more than any other work." Filled with dazzling virtuosity and vast expressive range, it is recognized as one of the greatest compositions in the piano literature.
"With her agile fingers, Mahan knows how to adapt the timbres of her instrument to the stylistic needs of each composition. She also achieves directly magical results with subtle dynamics."

Pizzicato

"Katie Mahan shows a lot of sensitivity... she brings a density which nourishes intimacy but also charm and depth."

Crescendo

"Imaginative phrasing and subtle interpretive acumen..."

MusicWeb International
Album Credits
Once Upon a Time / Katie Mahan • STNS 30203
Release Date: 10/07/2022
Recording engineer: Rainer Maillard
Editing & Mastering: Rainer Maillard

Recording location: Jesus-Christus-Kirche, Berlin, Germany
Piano: Steinway Model D (Hamburg) Provided by Steinway-Haus Berlin
Photos: Herbert Dachs, Salzburg

About the Artist
American pianist Katie Mahan's life has always been filled with music, and at the age of four, inspired by attending a performance of Gershwin's An American in Paris given by the famous French piano duo, Katia & Marielle Labèque, she decided that she wanted to be a concert pianist. She subsequently began piano studies with her mother, Bobette Mahan, giving her first solo recital two years later at the age of six. An American in Paris opened the door to the vast world of classical music for Katie, and her love of Gershwin quickly led her to discover the music of Debussy and Ravel, the French composers that Gershwin idolized. Although Katie's music now takes her all over the world, she never forgets her American heritage, and the great American composer who inspired her to become a pianist. Her programs often feature her own classical arrangements of her beloved countryman's music, alongside works of Debussy and the Viennese classical repertoire.
Katie's greatest pianistic influence came from her studies with the celebrated French pianist Pascal Rogé, with whom she studied the music of the French Impressionists. Rogé – who traces his musical heritage directly back to the great French tradition of Debussy and Ravel – was not only an important pianistic influence on Katie, but also inspired her to devote years of study to the search for understanding of French music, art and stylistic tradition.
Since making her orchestral debut in 1999 performing Gershwin's Concerto in F with the Breckenridge Symphony, Katie has appeared in concert throughout the USA, Europe, Canada, the Middle East, Russia and Japan. She has performed with such celebrated conductors as Jiri Belohlavek, Marin Alsop, Grant Cooper, and Lawrence Leighton-Smith, among others, and in such famous halls as the Konzerthaus in Berlin, the Prinzregenten Theatre in Munich, the great hall of the Moscow Conservatory in Moscow, and the Smetana Hall in Prague.
Katie's extensive discography includes solo repertoire from Mozart to Bernstein. In 2020, she released Appassionata on the Steinway & Sons label, a highly acclaimed album of Beethoven bagatelles and sonatas​​​​​. Her album Classical Gershwin, a CD + DVD set which includes an innovative music video of Gershwin's beloved Rhapsody in Blue was released on Steinway & Sons in November 2019, and together with her Debussy CD Clair de lune, which has been praised as "a program to revel in and relish" (Fanfare Magazine), was selected by Lufthansa, Swiss Airlines, and Austrian Airlines to be presented on their in-flight entertainment programs on flights all over the world. Katie's most significant recording to date, the Complete Solo Piano Music of Leonard Bernstein, was released by Deutsche Grammophon in 2018 in honor of the 100th anniversary of the composer's birth, and in 2017 she also recorded an all-Gershwin LP for the Berliner Meister Schallplatten label's Direct-to-disc format. In addition to her CD releases, Katie is committed to finding new ways to bring younger audiences to classical music through multimedia, and is in the process of producing a series of innovative video projects to accompany upcoming CD releases.
About Steinway & Sons label
The STEINWAY & SONS music label produces exceptional albums of solo piano music across all genres. The label — a division of STEINWAY & SONS, maker of the world's finest pianos — is a perfect vessel for producing the finest quality recordings by some of the most talented pianists in the world.