Andrey Gugnin, Gold Medalist at the Gina Bachauer International Competition, presents Mussorgsky's monumental Pictures at an Exhibition alongside two vibrant works by Jacques Ibert and Armenian composer Arno Babadjanian - exhibitions of their own which overflow with life, color and imagery.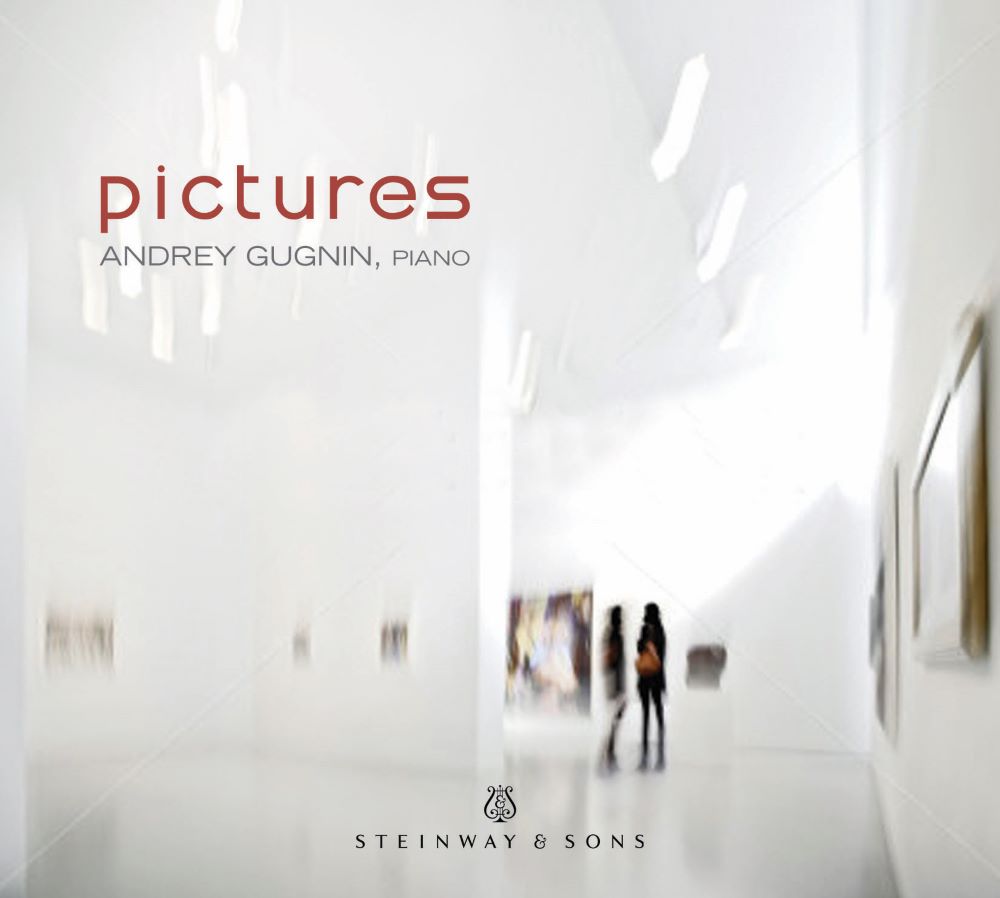 "This solo set shows classical piano fans that they have a new pro with many good years ahead of him that will provide them with years of enjoyment. A winner."
MidWest Record
"Colorful and involving, [the Six Pictures by Arno Babadjanian] neatly cap a CD whose pianism and musical creativity are equally captivating."
InfoDad
"Jacques Ibert's Petite Suite en 15 images are intermittently programmatic; this suite is something of a late neoclassic homage to Couperin, with dances and little portraits mixed together, and Gugnin gives a precise reading that makes a good case for its revival."
AllMusic Guide
Album Credits
Pictures / Andrey Gugnin • STNS 30042
Release Date: 04/08/2016
Recorded March 16-18, 2015 at Sono Luminus Studios, Boyce, Virginia
Producer: Dan Merceruio
Engineer: Daniel Shores
Executive Producers: Eric Feidner, Jon Feidner
Design: Cover to Cover Design, Anilda Carasquillo
Photo: Lisa-Marie Mazzucco
Piano: Steinway Model D #590904 (New York)
Piano Technician: John Veitch
About the Artist
Moscow-born concert pianist Andrey Gugnin is rapidly gaining international acclaim as a passionately virtuosic performer, who possesses an "extraordinarily versatile and agile technique, which serves an often inspired musical imagination" (Gramophone). Since winning the prestigious Sydney International Piano Competition in 2016, Gugnin has gone from strength to strength in concerts and recordings which exhibit his impassioned interpretations.
In addition to winning in Sydney, Gugnin also received prizes at this illustrious competition for Best Overall Concerto, Best 19th/20th Century Concerto, Best Violin and Piano Sonata, and Best Preliminaries for his first-round recital. His also won the Gold Medal and Audience Award at the XCI International Gina Bachauer Piano Competition in 2014, and second prize at the 2013 Beethoven International Piano Competition in Vienna.
Increasingly in demand as a concerto soloist, Gugnin has been invited to perform as a guest artist with notable orchestras worldwide, such as the London Philharmonic Orchestra, the Mariinsky Symphony Orchestra, the State Academic Symphony Orchestra of Russia, the Netherlands Symphony Orchestra, Utah Symphony, West Australian Symphony Orchestra and the Sydney Symphony, and has performed under the distinguished batons of Maestro Valery Gergiev, Jaap Van Zweden, Reinbert de Leeuw, Daniel Raiskin, Stanislav Kochanovsky and Asher Fisch. He has also collaborated in a more chamber context with the Asko Schönberg ensemble, Orchestre de Chambre de Genève, Jerusalem Camerata and Camerata Salzburg and on several occasions as the duo partner of violinist Tasmin Little.
As a recording artist, Gugnin has published a broad scope of repertoire ranging from solo piano to symphonic works. His recent release of Shostakovich: Sonatas (Hyperion, 2019) was selected by BBC Music Magazine as Recording of the Month, and his release of Liszt's Transcendental Etudes (Piano Classics, 2018) were commended as Editor's Choice, and distinguished Gugnin as "one to watch" (Gramophone). Other notable recordings include his duo programme with violinist Ioana Cristina Goicea (Atoll Records, 2019), and a collection of piano duets with Vadim Kholodenko (Delos International, 2010). Andrey has also extensively recorded for TV and radio in Russia, The Netherlands, Croatia, Austria, Australia, Switzerland and the USA.
In addition to these recordings, Gugnin's Shostakovich Concertos (Delos International, 2007) were selected to feature on the soundtrack of Steven Speilberg's Oscar®-winning film Bridge of Spies.
Gugnin's expanding list of performance venues include Vienna's Musikverein, Victoria Hall in Geneva, Carnegie Hall in New York, Abravanel Hall in Salt Lake City, Sydney Opera House, the Great Hall of the Moscow State Conservatory, the Tchaikovsky Concert Hall in Moscow, Mariinsky Concert Hall, the Louvre in Paris, Tokyo Metropolitan Art Space and Asahi Hamarikyu Hall. Gugnin has also participated in a plethora of international festivals, including Verbier, Klavier Festival Ruhr, Mariinsky International Festival, Dubrovnik Summer Festival, the Ohrid Summer Festival and the Duszniki Chopin International Festival.

Gugnin took his first lessons with Natalia Smirnova, who laid the foundations for study with Olga Mechetina, Valery Kastelsky, Lev Naumov, Stanislav Ioudenitch, William Naboré and Vera Gornostayeva.
About Steinway & Sons label
The STEINWAY & SONS music label produces exceptional albums of solo piano music across all genres. The label — a division of STEINWAY & SONS, maker of the world's finest pianos — is a perfect vessel for producing the finest quality recordings by some of the most talented pianists in the world.