Reynaldo Hahn
Le Rossignol Éperdu
Yoonie Han
Steinway & Sons releases a double album by pianist Yoonie Han; a charming set of miniatures by French composer Reynaldo Hahn.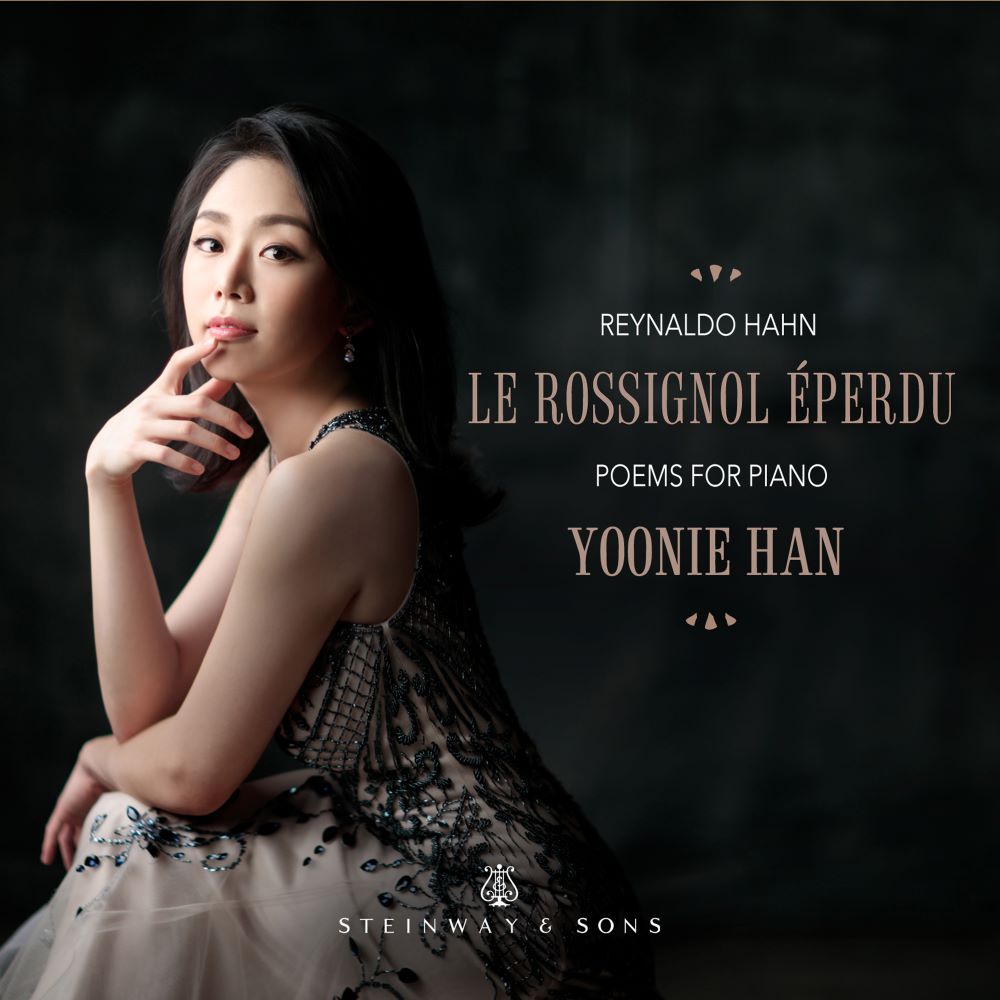 Reynaldo Hahn's "53 poèmes pour piano" collectively titled Le Rossignol éperdu is the early 20th Century's answer to Mendelssohn's Songs Without Words.
Given Reynaldo Hahn's high profile with the patrons of Paris's pre-war artist salons, it's not surprising that his original works for piano include a good number of short character pieces that exude charm.
Listeners coming to this exquisite body of work may initially find Hahn's attractive if modestly deployed keyboard writing recalling or foreshadowing other composers: The sensuous, arching phrases of early Scriabin preludes, or the sparse lyricism of late Liszt. Fauré's subtle harmonic palette may cast a benign shadow, or the effortless melodic fluidity of Massenet; or Satie at his least brash and ironic, or the delicate balance of Mompou's piano miniatures.
Yet Hahn goes his own way. Listen to how the disarmingly simple ascending two-note motif of Éros caché dans les bois (No. 9) weaves in and out of a chromatically-oriented linear texture that sounds denser than it is. Antiochus (No. 12) focuses on an obsessive chordal pattern that assiduously builds to a fulfilling climax. By contrast, unpredictable melodic twists and turns in the 30-second plus Portrait (No. 14) keep listeners guessing in every measure. Also notice the shimmering delicacy of the unison lines in Le Jardin de Pétrarque (No. 38), while Noces du Duc de Joyeuse (No. 41) is a masterclass in how to sustain ceremonial momentum. In short, Le Rossignol éperdu is the early 20th Century's answer to Mendelssohn's Songs Without Words.
"Yoonie Han...possesses an articulate combination of fluency and poetic feeling."

Audiophile Audition

"Yoonie Han delivers...playing with every detail of the score fluently clear yet with a spontaneously improvisatory quality."

AllMusic Guide
Album Credits
Reynaldo Hahn: Le Rossignol Eperdu / Yoonie Han • STNS 30108
Release Date: 04/05/2019
Recorded August, 2018 at Steinway Hall, New York City.
Producer: Jon Feidner
Engineer: Lauren Sclafani
Assistant Engineer: Melody Nieun Hwang
Editing: Kazumi Umeda
Mixing and Mastering: Daniel Shores

Executive Producers: Eric Feidner, Jon Feidner
Art Direction: Jackie Fugere
Design: Cover to Cover Design, Anilda Carrasquillo
Piano Technician: Lauren Sclafani
Piano: Steinway Model D #597590 (New York)
About the Artist
Praised for her "flowing tones, poetic phrasing and heavenly singing melodies" (Cincinnati Inquirer) and "musical imagination and feel for complex textures that drew vivid images" (Washington Post), South Korean pianist Yoonie Han has won top prizes in distinguished international competitions and the highest accolades for her poetic performances in major concert halls in the U.S. and around the world.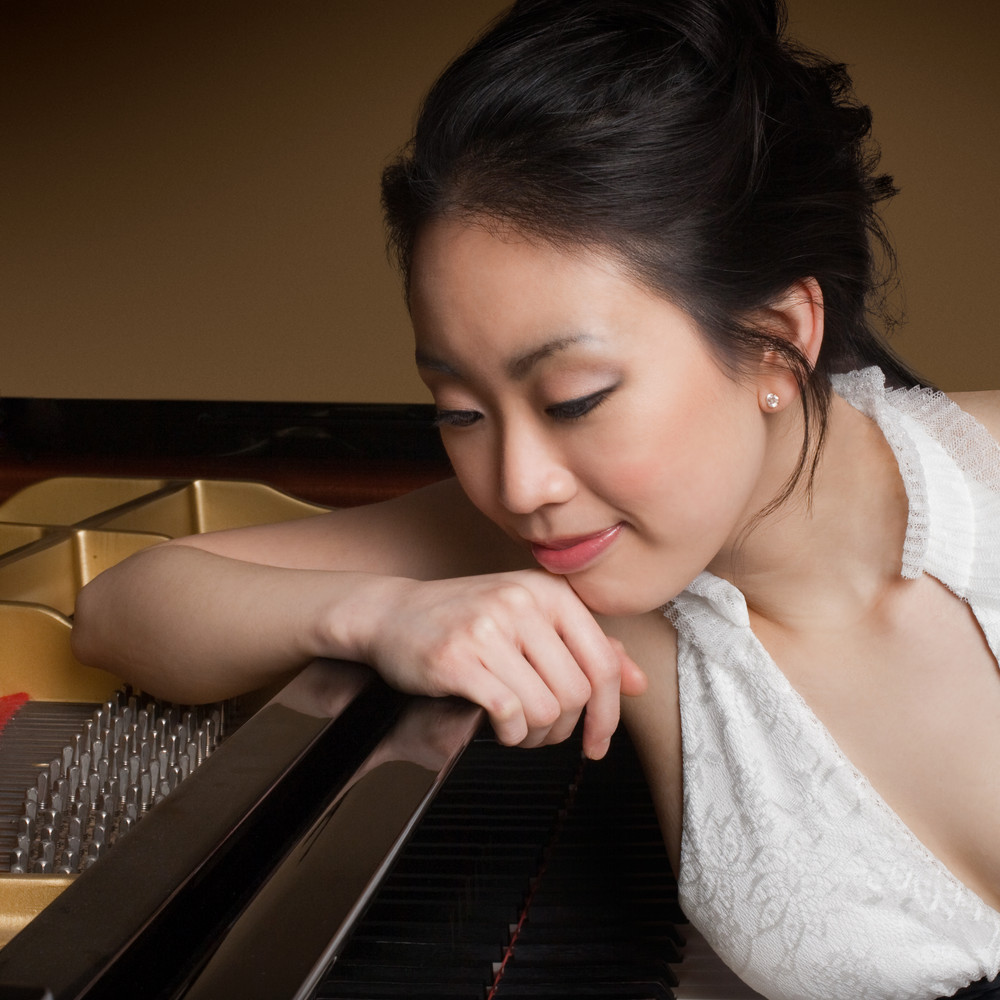 In 2009, Ms. Han was honored with the Gawon Music Award as the "most brilliant pianist aged 17 to 31 of any nationality who possesses the most promising potential for global prominence." She is the first-prize winner of the Washington International Piano Competition, Fulbright Concerto Competition, World Piano Competition, Kosciuszko Chopin Competition, Juilliard's Gina Bachauer Piano Competition, Juilliard's Chopin Competition, Juilliard's Frederich Nordmann Piano Competition, Music Teachers' National Association Piano Competition, Nena Wideman Piano Competition, and has garnered major prizes at the International Helsinki Maj Lind Piano Competition, Arturo Benedetti Michelangeli Prize, Concorso Pianistico Ettore Pozzoli Internazionale, Valencia-Paterna International Piano Competition, and Recontre International Piano Competition. Following her 2001 grand-prize award in the Korea National Music Competition, the Korean Ministry of Culture named her its "Most Promising Young Artist." She is the recipient of the "Brava!" award given by the Italian Academy Foundation, as well as an award from London Keyboard Trust.
Having made her solo debut with the Seoul Philharmonic Orchestra at Seoul Arts Center at age 13, Ms. Han has since performed with the Berliner Symphoniker, Buffalo Philharmonic, Helsinki Philharmonic, Houston Symphony, Banff Festival Orchestra, I Pomeriggi Musicali di Milano, Gangnam Symphony Orchestra of Korea, Presidential Symphony Orchestra of Turkey, Santa Cruz Symphony, Artosphere Festival Orchestra, New Jersey Festival Orchestra, New Amsterdam Orchestra, Philharmonic of Southern New Jersey, and Juilliard Pre-College Symphony Orchestra among many others. She has played at venues worldwide such as Berlin Philharmonie, Concertgebouw, Lincoln Center, Carnegie Hall, Kennedy Center, Cathedral of St. John the Divine, The Frick Collection, Symphony Space, Tanglewood, Bergamo Festival in Italy, Salle Cortot in Paris, and SeJong Performing Arts Center in Korea. From 2012–2013, with support from the Fulbright Foundation, she toured major Steinway Halls in the U.S. and Europe.
Ms. Han's album Love and Longing on the Steinway & Sons label was "Album of the week" on WQXR. Her second album with Steinway & Sons, Goyescas, was released in 2017 to mark the 150th anniversary of the birth of the composer, Enrique Granados.
Ms. Han received her Bachelor's degree from the Curtis Institute of Music, her Master of Music degree from the Juilliard School, and her Doctorate at SUNY Stony Brook. She has given seminars at Harvard University, New York University, Boston University, Berklee College of Music, Indiana University, San Francisco Conservatory, College of William & Mary, City University of New York, State University of New York, California State University, and Longy School of Music.
She was an Assistant Professor of Piano and Chamber Music and Artistic Events Coordinator at Bilkent University in Turkey from 2015–2018. She is the founder and Artistic Director of the Bilkent International Piano Festival in Turkey. She is currently an Assistant Professor of Piano at Hong Kong Baptist University.
About Steinway & Sons label
The STEINWAY & SONS music label produces exceptional albums of solo piano music across all genres. The label — a division of STEINWAY & SONS, maker of the world's finest pianos — is a perfect vessel for producing the finest quality recordings by some of the most talented pianists in the world.