Schumann Brahms
Cello Concerto Double Concerto
Zuill Bailey
Cellist Zuill Bailey releases an album that is a celebration of the 10th anniversary of the Wimbledon International Music Festival, where he has often appeared. It includes gripping performances of the Schumann Cello Concerto and the Brahms Double Concerto with violinist Philippe Quint.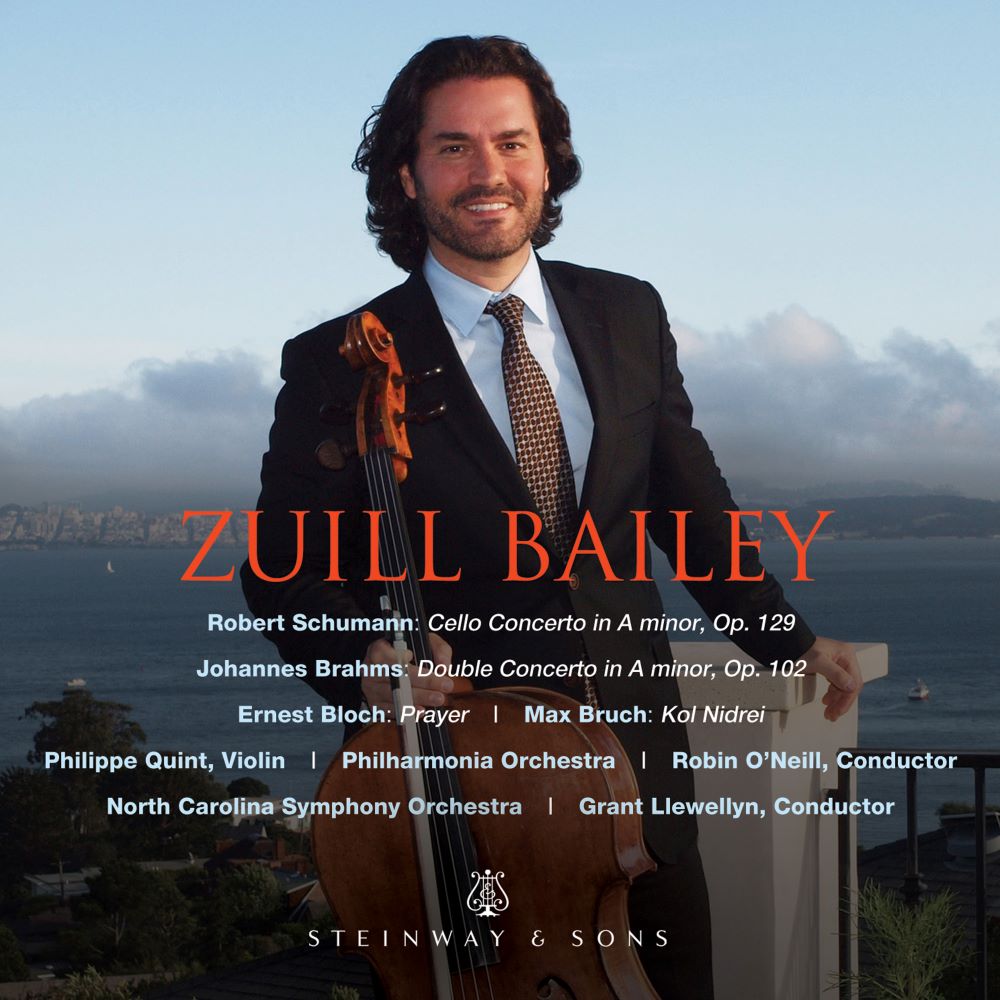 Steinway & Sons releases an album from cellist Zuill Bailey: a celebration of the 10th anniversary of the Wimbledon International Music Festival, where Bailey has often appeared. The album (STNS 30123) includes performances of the Schumann Cello Concerto, performed with the Philharmonia Orchestra under Robin O'Neill; and the Brahms Double Concerto with violinist Philippe Quint, recorded live with the North Carolina Symphony under Grant Llewellyn, as well as shorter works by Ernest Bloch and Max Bruch.
The idea for this album was born out of Zuill Bailey's long-standing connection to the Wimbledon International Music Festival, where he performed, with the Philharmonia Orchestra, the program that would later be featured on his 2018 Steinway album, Haydn Cello Concertos. Of the many facets of this recording, the through line of all of the works is the voice of the cello and its great capacity to be intimate, expressive and heartbreaking.
Schumann's Cello Concerto, written in 1850, was catapulted to its current place in the canon of great nineteenth-century cello works by renowned cellist Pablo Casals, and since then it has been a staple of the concerto repertoire. While Brahms never wrote a cello concerto, he did write a Double Concerto with virtuosic parts for both cello and violin, which converse in musically daring ways.
An arrangement by Philharmonia Orchestra conductor Robin O'Neill of Prayer, the first movement of Ernest Bloch's triptych entitled From Jewish Life, follows the Brahms Concerto. This piece maintains the distinct emotional heights created by the rest of the program, providing listeners with an intensely-felt impressionistic sound that creates an introspective and melancholic mood.
Rounding out the recording is Max Bruch's Kol Nidrei, a gorgeous and imploring adagio for cello and orchestra. The work is based on two Jewish sources, the Kol Nidrei (meaning "all vows"), an Aramaic declaration recited in the synagogue on the eve of Yom Kippur, and a musical setting of one of Byron's Hebrew Melodies, "Oh, weep for those that wept by Babel's stream." In Bruch's arrangement, the cellist effectively becomes the cantor, singing out these lines on the instrument.
"Bailey's pacing and shaping of the music is extraordinary, allowing you to hear the structure of the music as well as its emotional effect...this is clearly one of Bailey's finest albums to date."

Art Music Lounge

"Cello soloist Bailey drew the best out of this work, creating ethereal poignancy, purifying rapture, and sustaining compelling intrigue."

The Boston Musical Intelligencer
Album Credits
Schumann: Cello Concerto; Brahms: Double Concerto / Zuill Bailey • STNS 30123
Release Date: 09/06/2019
Recorded November 27, 2019 at Henry Wood Hall, London.
Brahms recorded April 15–16, 2016 at Meymandi Concert Hall, Raleigh, North Carolina.
Produced and Edited by Thomas C. Moore, Five/Four Productions, Ltd.
Recorded, Mixed and Mastered by Robert Friedrich, Five/Four Productions, Ltd.
Assistant engineers and session support provided by Neil Hutchinson and Jonathon Stokes, Classic Sound Ltd., UK.
Brahms - Assistant engineer: Nathaniel Yaffe

Executive Producers: Eric Feidner, Jon Feidner
Art Direction: Jackie Fugere
Design: Cover to Cover Design, Anilda Carrasquillo
Cover photo: Peter Rodgers
Production Assistant: Renée Oakford
About the Artists
Zuill Bailey, widely considered one of the premiere cellists in the world, is a GRAMMY Award winner, distinguished soloist, recitalist, chamber musician, Artistic Director and teacher. His rare combination of celebrated artistry, technical wizardry and engaging personality has secured his place as one of the most sought after and active cellists today.
Recent highlights include appearances with orchestras such as Los Angeles, Chicago, Detroit, Minnesota, Israel, San Francisco, Toronto, Nashville, North Carolina, Indianapolis, Milwaukee, and the Philharmonia (UK) with conductors Itzhak Perlman, Carlos Kalmar, Neeme Järvi, Jun Märkl, Stanislav Skrowaczewski, Alan Gilbert, Andrey Boreyko, Krzysztof Urbanski, Giancarlo Guerrero, Andrew Litton, Grant Llewellyn and James DePriest. He was honored as the distinguished Alumnus of 2014 by Johns Hopkins University Peabody Institute.
Zuill Bailey is an internationally renowned recording artist with over twenty titles. Mr. Bailey's extensive discography includes the Bach Cello Suites and Britten Cello Symphony/Cello Sonata CDs, both of which immediately soared to the number one spot on the Classical Billboard Charts.
Mr. Bailey performs on the "rosette" 1693 Matteo Gofriller Cello, formerly owned by Mischa Schneider of the Budapest String Quartet. He is the Artistic Director of El Paso Pro-Musica (Texas), the Sitka Summer Music Festival/Series and Cello Seminar (Alaska), the Northwest Bach Festival (Washington), the "Classical Inside and Out" at the Mesa Arts Center (Arizona) and Director of the Center for Arts Entrepreneurship and Professor of Cello at the University of Texas at El Paso.
Multi GRAMMY Award nominee Violinist Philippe Quint has established himself as one of the leading violinists of his generation. Constantly in demand, he regularly appears at venues ranging from the Gewandhaus in Leipzig to Carnegie Hall in New York and at the most prestigious music festivals such as Verbier, Colmar, Hollywood Bowl and Dresden Festspiele. "Truly phenomenal" is how BBC Music Magazine recently described him.
In addition to his award-winning discography, the celebrated American violinist of Russian heritage has won worldwide acclaim playing with world's leading orchestras and conductors. Quint's appearances in recent seasons have taken him to the London Philharmonic, Los Angeles Philharmonic, Chicago Symphony, Seattle Symphony, Detroit Symphony, Indianapolis Symphony, Bournemouth Symphony, Weimar Staatskapelle, Royal Liverpool Philharmonic, China National Symphony, Orpheus Chamber Orchestra, Berlin Komische Oper Orchestra, and Leipzig's MDR performing under the batons of such renowned conductors as Kurt Masur, Edo De Waart, Andrew Litton, Tugan Sokhiev, Ludovic Morlot, James Gaffigan, Carl St. Clair, Michael Stern, Vladimir Spivakov, Jahja Ling, Carlos Miguel Prieto, Tugan Sokhiev, Tito Muñoz, Steven Sloane and Bramwell Tovey.
Philippe Quint plays the magnificent 1708 "Ruby" Antonio Stradivari violin on loan to him through the generous efforts of The Stradivari Society®.
Robin O'Neill is principal bassoonist with the Philharmonia Orchestra and has held the same position with the Chamber Orchestra of Europe and the English Chamber Orchestra. He is a member of London Winds and the Gaudier Ensemble. He has been Professor of Bassoon at the Guildhall School of Music and the Royal Academy of Music where he is currently Visiting Professor of Bassoon. He has recorded virtually the whole of the core chamber music repertoire with more than 40 CDs to his name on labels such as Hyperion, Decca and Philips.
In the past few seasons Robin O'Neill has conducted the Philharmonia Orchestra and Chorus, London Philharmonic Orchestra, BBC Scottish Symphony Orchestra, Belgrade Philharmonic Orchestra, Johannesburg Philharmonic Orchestra, Trondheim Symphony Orchestra, Bogota Philharmonic Orchestra, Swedish Chamber Orchestra, Nordic Chamber Orchestra, City of London Sinfonia, Orchestra Ensemble Kanazawa Japan and the Orchestras of the Guildhall School of Music, Royal Academy of Music and the Royal College of Music, where he is professor of conducting.
Robin O'Neill is music director of the music theatre ensemble The Motion Group. In 2005 together with theatre director Andrew Steggall he travelled to Baghdad, Iraq, and used their experiences to stage, with the support of Kevin Spacey, Stravinsky's Soldier's Tale at the Old Vic Theatre in London. This production used both Iraqi and European actors and musicians in what was by common consent one of the most shocking and thought-provoking theatre events of 2006.
Founded in 1945, the Philharmonia is a world-class symphony orchestra for the 21st century. The Orchestra's home is Southbank Centre's Royal Festival Hall in the heart of London where the Philharmonia has been resident since 1995. Philharmonia presents a season of around 50 performances each year. Under Principal Conductor & Artistic Advisor Esa-Pekka Salonen, the Philharmonia has created a series of critically-acclaimed, visionary projects, distinctive for both their artistic scope and supporting live and digital content.
The Philharmonia is resident orchestra at Bedford Corn Exchange, De Montfort Hall in Leicester, The Marlowe in Canterbury, The Anvil in Basingstoke, the Three Choirs Festival in the West of England, and Garsington Opera. At the heart of these residencies is an education program that empowers people in every community to engage with, and participate in, orchestral music.
Internationally, the Philharmonia is active across Europe, Asia and the USA. In 2018/19, the Orchestra performed extensively in Europe and undertook three major international tours, to China and South Korea (October 2018); to Cartagena in Colombia, in a joint digital installation-live concert tour (January 2019); and to the USA (March 2019).
Each year, the North Carolina Symphony's 300 concerts, education programs, and community engagement events are enjoyed by 250,000 people across the state of North Carolina. The Symphony's musicians perform under the artistic leadership of Music Director Grant Llewellyn, delivering orchestral experiences of the highest quality and collaborating with renowned performers that range from classical artists, to bluegrass musicians, to jazz bands. Founded in 1932, NCS was the first state-supported orchestra in the United States.
The North Carolina Symphony is based in the state capital of Raleigh and travels more than 18,500 miles each year for performances throughout North Carolina. NCS leads the most extensive education program of any symphony orchestra, engaging 70,000 students annually.
Dedicated to giving voice to new art, NCS has presented 49 U.S. or world premieres in its history. In 2017, NCS appeared at The John F. Kennedy Center for the Performing Arts in Washington, D.C., as one of four orchestras chosen for the inaugural year of SHIFT: A Festival of American Orchestras—an honor that recognized the Symphony's creative programming and innovative community partnerships.
Grant Llewellyn is renowned for his exceptional charisma, energy, and easy authority in music of all styles and periods. He has been Music Director of the North Carolina Symphony since 2004 and will become Music Director Laureate in the 2020/21 season.
As Assistant Conductor of the Boston Symphony Orchestra in the early 1990s, he conducted at the Tanglewood Music Festival, and on classical series and Boston Pops concerts. As Music Director of the Handel and Haydn Society, he gained a reputation as a formidable interpreter of music of the Baroque and Classical periods.
Llewellyn's is Music Director of the Orchestre Symphonique de Bretagne and has held positions with numerous other European orchestras — including Principal Conductor of the Royal Flanders Philharmonic and Principal Guest Conductor of the Stavanger Symphony Orchestra. He has a continuing relationship with the BBC National Orchestra of Wales, leading them on tour to Patagonia and South America, joining their 90th anniversary celebrations, and conducting their Proms in the Park in 2018.
About Steinway & Sons label
The STEINWAY & SONS music label produces exceptional albums of solo piano music across all genres. The label — a division of STEINWAY & SONS, maker of the world's finest pianos — is a perfect vessel for producing the finest quality recordings by some of the most talented pianists in the world.