Social Flutterby
Piano Music of David Shenton
Joanne Polk
David Shenton's music has been described by critics as being immediately accessible, while maintaining immense depth, beautiful melodic writing, and incredible sophistication.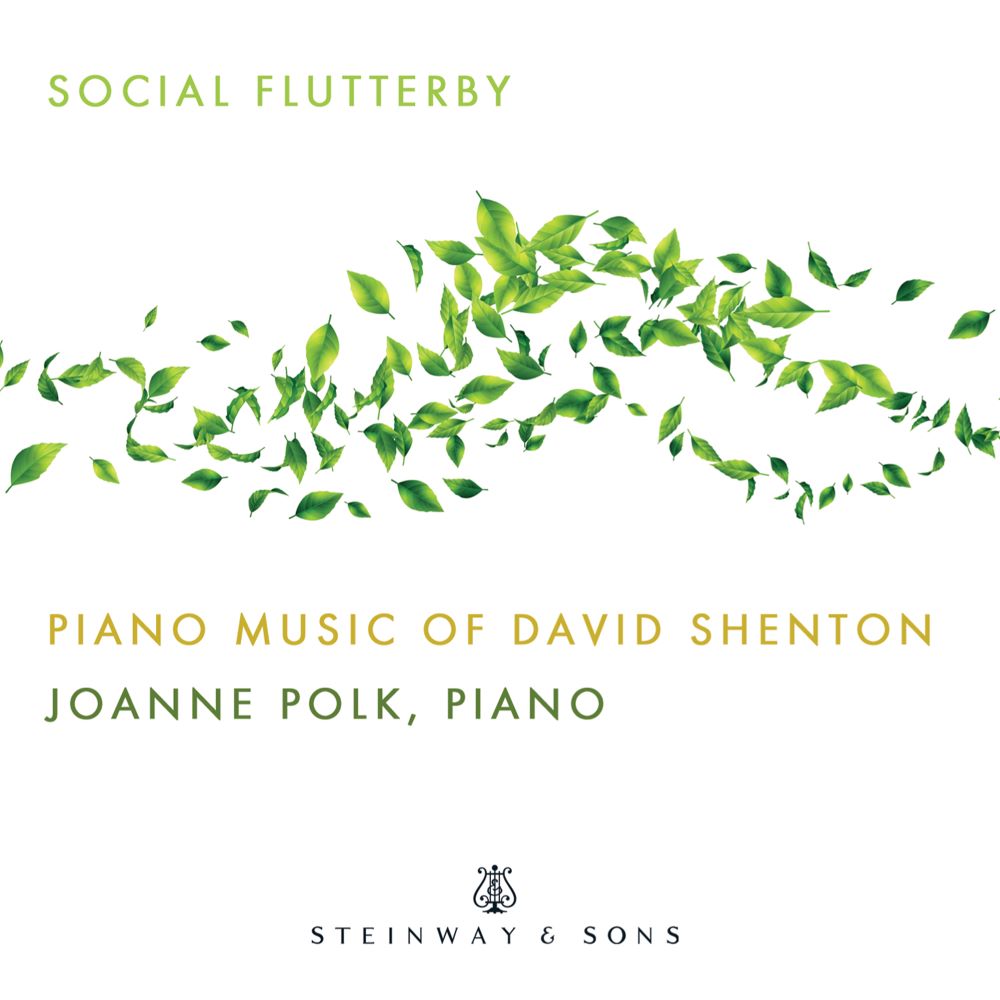 There is something for every musical taste in these selections, brilliantly performed by pianist Joanne Polk.
On November 5, 2021 STEINWAY & SONS releases Social Flutterby - Piano Music of David Shenton (STNS 30187) performed by pianist Joanne Polk.
About the music on this album David Shenton writes: "Many composers created so many wonderful forms of original piano compositions, yet I had never heard of nor played an "oddity," so I wanted to create something new to add to the piano repertoire. The Six Musical Oddities, Op. 81 have a jazzy element to them. I wanted to convey a whimsical sentiment, to create piano music that is technically challenging and hopefully worth the effort.
I am a huge fan of Chopin and I've performed his first and fourth Ballades many times in public. The musical structure of these groundbreaking masterpieces is engrained in my subconscious so much so that this Ballade, Op. 80 follows a similar form.
The Sonata for Piano, Op. 77 is in traditional Romantic period sonata form, consisting of four separate movements: Allegro, Scherzo, Romanza, and Rondo. It is reminiscent in structure, of the great sonatas by Beethoven, Chopin, Brahms, and others from this period.
When composing Variations on Santa Claus is Coming to Town (after Chopin's Etudes), I wanted to incorporate the basic elements of the 24 studies, maintaining the integrity of the patterns, the technical intentions, and as many of the original harmonies as possible while trying to weave in the melody of this great Christmas standard. The Studies by Chopin are generally less melody​-driven than his other group compositions, such as the Preludes or Nocturnes, so in many ways, they are more adaptable to transcriptions, since one can play the studies with different harmonies​, yet they will remain recognizable as the Chopin Etudes. The true challenge of playing this piece, aside from the obvious technical difficulties, is the realization that a pianist will have to 'unlearn' the original studies."
"Awesome on all fronts, Joanne Polk will engage and bedazzle like a mathematical puzzle in need of someone who can make a logical puzzle out of the notes with utmost care and consideration."

ConcertoNet.com

"This CD is basically an unalloyed delight... The Santa variations after Chopin's Studies is as clever as it is hilarious. If you don't laugh out loud at least half a dozen times during the piece, you should probably check to make sure you still have a pulse. "

Records International
Album Credits
Social Flutterby - Piano Music of David Shenton / Joanne Polk • STNS 30187
Release Date: 11/5/2021
Recorded at Steinway Hall, New York City on April 27, 2021.
Variations on Santa Claus is Coming to Town recorded on July 28, 2020.
Producer: Jon Feidner
Engineer: Lauren Sclafani
Assistant Engineer: Melody Nieun Hwang
Editing: Kazumi Umeda
Mixing and Mastering: Daniel Shores

Executive Producer: Jon Feidner
Art Direction: Jackie Fugere
Photo of Joanne Polk: Jeffrey Langford Photography
Photo of David Shenton: Erin K. Shields
Production Assistant: Renée Oakford
Design: Cover to Cover Design, Anilda Carrasquillo
Piano Technician: Lauren Sclafani
Piano: Steinway Model D # 616938 (New York)
About the Artists
Pianist Joanne Polk received her Bachelor of Music and Master of Music Degrees from The Juilliard School, and her Doctor of Musical Arts Degree from Manhattan School of Music. She has given master classes at many summer festivals and universities across the country.
In 2014, Joanne Polk was named as one of Musical America's Top 30 Professionals of the Year in an article titled, "Profiles in Courage." Ms. Polk's profile focused on her work promoting the music of women composers.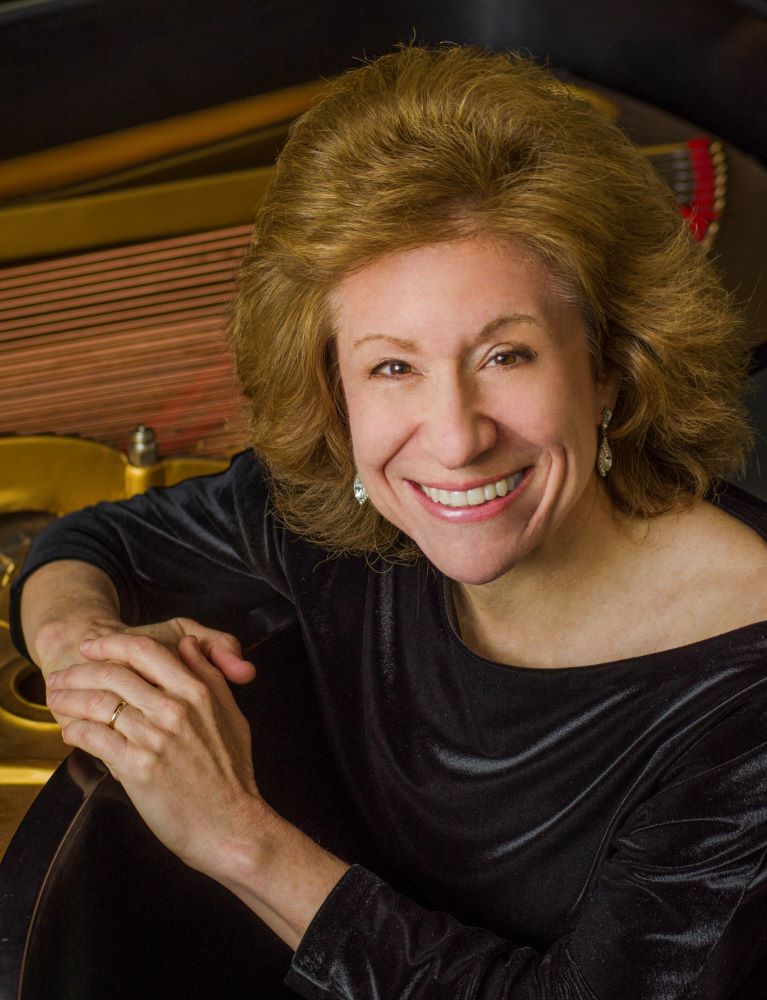 In 2018 Ms. Polk completed a five-city, three-week concert and master class tour of Taiwan and China. In 2019, two of Ms. Polk's CDs, Felix and Fanny Mendelssohn and her Steinway & Sons release The Flatterer: Piano Music of Cécile Chaminade, were included on New York City's classical radio station WQXR's Essential Piano Recordings.
In Febrary 2020, Steinway & Sons released Ms. Polk's highly acclaimed album Louise Farrenc: Etudes & Variations for Solo Piano. In March 2020, Joanne Polk was interviewed about her Farrenc CD on NPR's Performance Today hosted by radio personality Fred Child. In December 2020, Ms. Polk's Farrenc CD was on The New York Times "Best Classical Music of 2020" list.
Ms. Polk recorded Variations on Santa Claus is Coming To Town (after Chopin's Etudes), a brilliant and fun set of variations composed by David Shenton, utilizing all 24 Chopin Etudes, and weaving the popular Christmas song throughout. It was released as a digital album by Steinway and Sons in November, 2020, and is also included on the present CD.
Although most concerts were suspended during 2021, Ms. Polk gave virtual masterclasses at various colleges and universities this year, including Boston University, and performed virtual recitals at summer festivals including the Puerto Rico Piano Festival.
Joanne Polk is a member of the piano faculty of Manhattan School of Music, and is an exclusive Steinway artist.
Pianist, violinist, composer, and arranger David Shenton began writing music at the age of 9, composing in the classical/jazz subgenre, since his main influences have always been from the Classical and Romantic Periods and from traditional jazz music. Dubbed as "totally ingenious" by BBC Radio 3's Jeremy Sams, Shenton has composed around 200 works including sonatas for various instruments, 2 piano concertos, a violin concerto, a double jazz violin concerto, a symphony (composed at age 11), an oratorio, several string quartets, dozens of songs, instrumental works, four operas and ten musicals.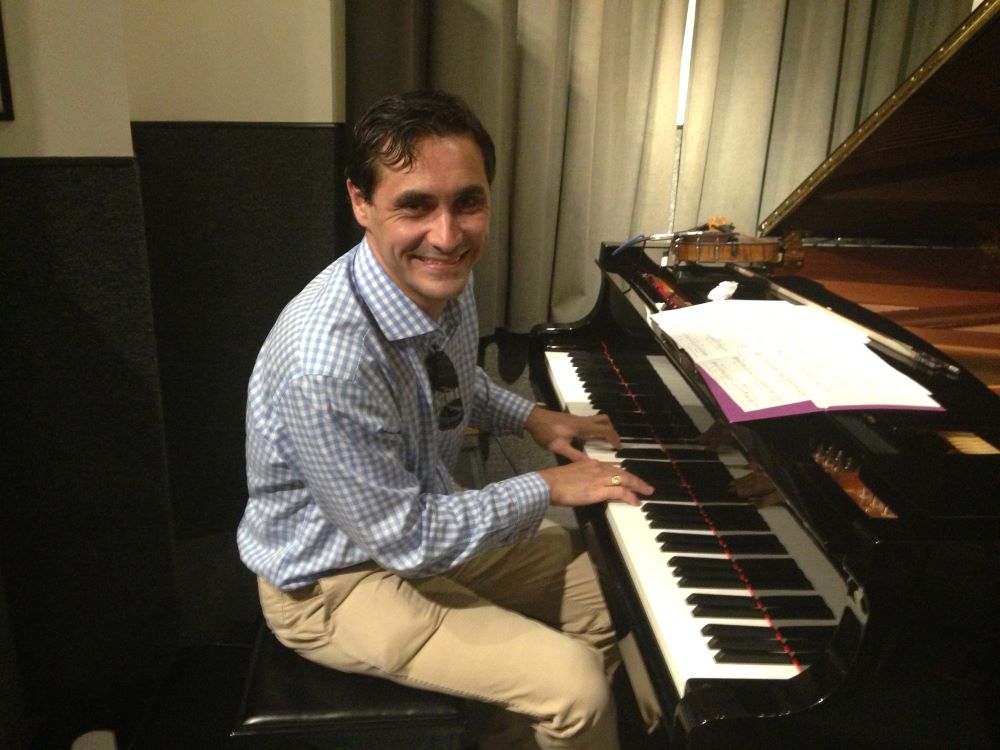 Shenton began working as a professional musician at the age of 14, which was also the age he gave his concerto debut on the violin. As a pianist and musical director, Shenton has collaborated with a host of stars including Vanessa Williams, Tony Bennett, Pinchas Zukerman, Renée Fleming, Liz Callaway, Sherrill Milnes, Sir André Previn, Michael Feinstein, Amanda McBroom, Katie Couric, Alan Menken and Stephen Schwartz, to name a just few. Shenton has performed at all of the top concert halls in New York and London, and many other prestigious venues around the world.
Shenton has written, orchestrated or arranged music for the concert hall, for Broadway and West End shows, and for the Hollywood and UK film industries. Shenton founded two popular musical ensembles, Empire Trio and Uptown Girls, and tours extensively with these two groups in the US and Canada. He teaches extensively and, as a coach, accompanist, and teaching professor, has been on the faculties of NYU, The New School, The Lee Strasberg Theatre & Film Institute, Mannes College of Music, St. Thomas Choir School and Grace Church School.
Shenton and his wife, soprano Erin Shields, share a passion for saving endangered wildlife and they have taught English in Africa where they frequently volunteer to work with elephants, rhinos and other endangered species. David graduated from the Royal College of Music in 1997 with the highest honors.
About Steinway & Sons label
The STEINWAY & SONS music label produces exceptional albums of solo piano music across all genres. The label — a division of STEINWAY & SONS, maker of the world's finest pianos — is a perfect vessel for producing the finest quality recordings by some of the most talented pianists in the world.