Pablo Ziegler releases an album of brand new arrangements of his nuevo tango pieces, as well as some new compositions and works by Astor Piazzolla, Alejandro Dolina, and Juan Carlos Cobián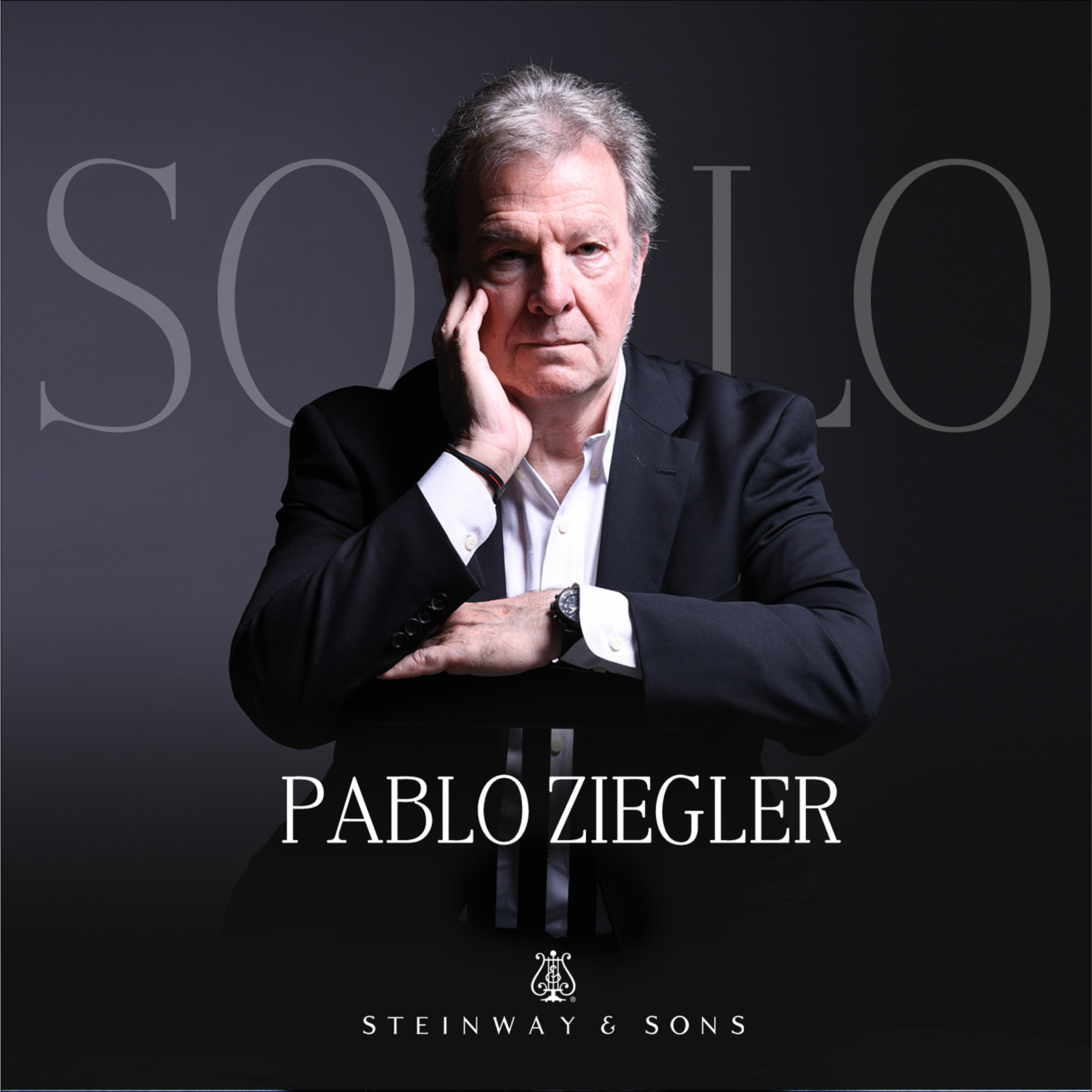 FRESH OFF 2018 GRAMMY WIN, PABLO ZIEGLER RELEASES HIS FIRST SOLO PIANO ALBUM FOR STEINWAY & SONS
Pablo Ziegler, 2018 Grammy Award winner for Best Latin Jazz Album, writes music imbued with Buenos Aires soul. Following up on 2016's Tango Nuevo with Christopher O'Riley, Pablo Ziegler Solo presents the composer and pianist on his own terms with new arrangements of his nuevo tango works, along with pieces by Juan Carlos Cobián, Alejandro Dolina, and Ziegler's mentor, Astor Piazzolla.
While Ziegler is accustomed to playing his music with orchestra or small ensemble, this new solo program is a natural extension of his love and affinity for his instrument. He remarks, "The piano is a way to have a conversation for me; I express my feelings through piano rather than words. I always hear music in my mind, and the piano has been always accompanied my journey." Compositions recorded for the first time on Pablo Ziegler Solo include "Alguien sin Nombre," a dream of an encounter with an unknown true love; and "Nana para un Niño Dormido," inspired by Georg Büchner's play Woyzeck.
In choosing works by other composers for the project, Ziegler hoped to emphasize the varying sides of his identity, from classical to jazz to nuevo tango. Two works by Piazzolla – "Oblivion" and "Milonga del Ángel" – represent the time in Ziegler's life when he and Piazzolla were performing together. Ziegler met Alejandro Dolina in the 1980s, and arranged and re-harmonized his piece "El Vals del Duende," the album's penultimate track. Juan Carlos Cobián graduated from the same conservatory as Ziegler and is considered the Chopin of Tango music; his "Nostalgias" closes the album."
Releasing this solo piano album is a new chapter of my life as a musician," says Ziegler. "There is always a first time for everything. This album happened to be one of them."
"He is cool, understated and makes everything look easy and natural...Just as a really suave tango dancer seems not to move with feet but on wheels, Ziegler skates the keyboard."

The Los Angeles Times

"A stellar, sitting down piano recital in which he recrafts a bunch of his own classics, and of course Piazzolla's, this is as good as it gets and should be heard by all no matter how they feel about tango, instrumental and other musical types that might not be on their normal radar."

MidWest Record
Album Credits
Solo / Pablo Ziegler • STNS 30084
Release Date: 03/16/2018
May 10, 19, 26 and June 1, 2016 at Steinway Hall, New York City.
Producer: Jon Feidner
Engineer: Lauren Sturm
Editing: Jon Feidner
Mixing and Mastering: Daniel Shores

Executive Producers: Eric Feidner, Jon Feidner
Art Direction: Jackie Fugere
Design: Cover to Cover Design, Anilda Carrasquillo
Photo of Pablo Ziegler: Shigeto Imura
Piano Technician: Lauren Sturm
Piano: Steinway Model D #597590 (New York)
About the Artist
For decades, Buenos Aires-born, Grammy-winning pianist, composer and arranger Pablo Ziegler has been one of the most important figures in Argentine New Tango, the vibrant musical hybrid of classic tango, American jazz, and European art music. After performing in tango grand-maestro Astor Piazzolla's legendary quintet for over a decade, and appearing on iconic Piazzolla recordings including Tango: Zero Hour, La Camorra and Central Park Concert, Ziegler has led his own groups for over 20 years, refining and reimagining the bounds of the modern tango tradition.
Ziegler has performed at major venues and festivals including Carnegie Hall, Lincoln Center Out of Doors, Muziekgebouw, Verbier Festival, Ravinia Festival, SFJAZZ, Montreal Jazz Festival, the Ottawa International Jazz Fest, Tokyo Jazz Festival, Birdland, Blue Note and many others.
In 2016, for the Steinway & Sons label, Ziegler teamed up with pianist Christopher O'Riley for Tango Nuevo, a love letter to the traditions and culture of Argentina, particularly to the city of Buenos Aires.
About Steinway & Sons label
The STEINWAY & SONS music label produces exceptional albums of solo piano music across all genres. The label — a division of STEINWAY & SONS, maker of the world's finest pianos — is a perfect vessel for producing the finest quality recordings by some of the most talented pianists in the world.