Wake up to a Steinway Sunrise. This selection of sparkling performances of piano music from the Steinway catalog is a wonderful way to begin your morning.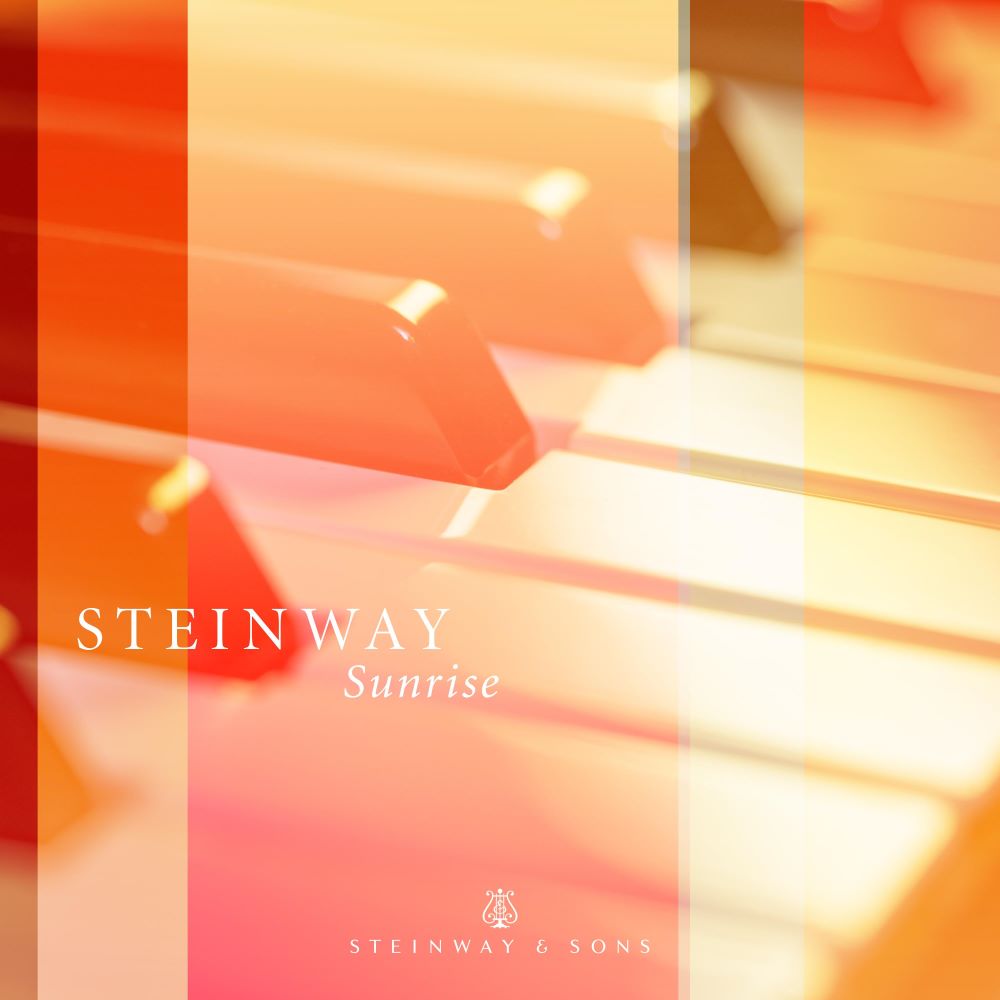 Album Credits
Steinway Sunrise • STNS 30190
Release Date: 10/01/2021
Producer: Jon Feidner
Engineer: Lauren Sclafani
Production Assistant: Renée Oakford
About the Artists
Pianist David Deveau enjoys a distinguished career internationally, performing in the US, Canada, the UK, Europe and Asia. He has appeared as soloist with the Boston Symphony and Boston Pops; the San Francisco, Pittsburgh, St. Louis, Minnesota, Houston and Miami symphony orchestras; the Toulouse Capitole Orchestra in France and the Qingdao Symphony in China. He has toured China, Taiwan and Japan, appearing in Beijing, Shanghai, Taipei, Tianan, Nagoya and Kyoto. He has performed at the festivals of Tanglewood, Wolf Trap, Caramoor, Seattle, Mainly Mozart (San Diego) and was Artistic Director of the Rockport (MA) Chamber Music Festival from 1995-2017. His first recording for Steinway, Siegfried Idyll (2015), was critically acclaimed in the New York Times and Gramophone, and was listed as one of the year's ten best classical albums by the Boston Globe in 2015. Deveau is on the music faculty of the Massachusetts Institute of Technology.
Gábor Farkas uplifting performances have enchanted audiences throughout Europe and the world. He holds an MA and DLA degree in piano performance and teaching from Liszt Ferenc Academy of Music, Budapest. In January 2011, Farkas was the soloist in the Official Opening Concert of the Liszt Year 2011, Zoltán Kocsis conducted the National Philharmonic Orchestra at the Palace of Arts, Budapest and he was also the soloist of the Closing Concert of the Chopin Year, in 2010 with the Sinfonia Varsovia. Farkas has worked with such internationally known conductors as Zoltán Kocsis, Ádám Fischer , Tamás Vásáry, Olli Mustonen, Philippe Bender and George Tchitchinadze.
Alan Feinberg is a unique and versatile pianist, as comfortable with Brahms as with Cage. He has given over 200 premieres, including Mel Powell's Pulitzer Prize-winning work Duplicates, and numerous works by such composers as John Adams, Milton Babbitt, John Harbison, Steve Reich, and Charles Wuorinen. In addition to frequent collaborations with the London Philharmonia and the BBC Scottish Symphony, he has been featured at major international festivals, such as the BBC Musica Nova Festival, and the festivals of Edinburgh, Bath, Cambridge, Geneva, Berlin, Brescia, Bergamo, and Budapest. In 1997, Feinberg won his third Grammy Award nomination for his recording of Morton Feldman's Palais de Marie and Charles Wuorinen's Capriccio, Bagatelle, and Sonata No. 3.
Stanislav Khristenko's performances have captivated audiences on four continents since his first solo recital at the age of 11 at the Kharkiv Philharmonic Hall in Ukraine. A "poet of piano" (Le Soir, Belgium), Khristenko has been praised for his emotional intensity, charismatic expression, "palette of touches", "solid" and "precise" technique by The New York Times, The Washington Post and Miami Herald (USA); Gramophone and BBC Music (UK) and El Pais (Spain).
As a concert pianist, Khristenko received prizes at over 30 international piano competitions including Cleveland International Piano Competition, Maria Canals International Piano Competition and Queen Elisabeth International Music Competition. His recordings have been released on Steinway & Sons, Naxos, Oehms, and Toccata Classics. Khristenko has appeared as a piano soloist with the Cleveland Orchestra, Phoenix, Puerto Rico and Richmond Symphonies, National Orchestra of Belgium, Bilbao, Madrid and Tenerife Symphony Orchestras, Liege Royal Philharmonic, and Suwon Philharmonic Orchestra, among others. His performance highlights include solo recitals at Carnegie Hall, Vienna Konzerthaus, Palais de Beaux-Arts in Brussels, as well as performances with orchestras in the Berlin Philharmonie, Seoul Arts Center, Moscow Conservatory Great Hall and Hong Kong City Hall.
Katherine Jacobson Fleisher's international performing career as a soloist, duo pianist and chamber musician has received critical acclaim. Leading orchestras with which she has performed include the Philadelphia Orchestra, Chicago Symphony Orchestra at Ravinia, Baltimore Symphony Orchestra, Gulbenkian Orchestra of Portugal, and the Orchestre National d'Ile de France. Emphasizing the importance of the music of our own time, she has commissioned works by contemporary women composers such as Dina Koston and Luna Pearl Woolf, and has performed chamber music of Dina Koston in Carnegie Hall's Zankel Hall.
Klara Min has performed extensively throughout North America and Europe as well as in her native country of South Korea, in some of the world's most important concert venues including Carnegie Hall, Munich's Gasteig, the Berlin Philharmonie, Berlin's Konzerthhaus, Laeiszhalle, Vienna's Konzerthaus, and Paris's Salle Cortot. She has performed with prestigious orchestras such as Munich Kammerphilharmonie, Seoul Symphony Orchestra, Sinfonie Orchester Berlin, Manhattan Chamber Orchestra, and Tchaikovsky Symphony Orchestra. Min was the recipient of a Samsung scholarship and is the founder and artistic director of New York Concert Artists and Associates (NYCA).
Nikita Mndoyants has toured in Asia, Europe, Russia, and the U.S. and appeared in major concert halls in Moscow, St. Petersburg, Paris, and Seoul. He has worked with renowned conductors including Bramwell Tovey, Leonard Slatkin, Eri Klas, Ignat Solzhenitsyn, Charles Ansbacher, and Alexander Sladkovsky, and performed with the Svetlanov State Academic Symphony Orchestra, the Mariinsky Theatre Orchestra, the St. Petersburg Philharmonic Orchestra. Mndoyants won first prize at the 2016 Cleveland International Piano Competition, first prize at the 2007 Paderewsky International Piano Competition, and was a finalist at the 2013 Van Cliburn International Piano Competition.
Andrew Rangell is recognized as among the most eloquent and insightful interpreters of the major keyboard works of Bach and Beethoven. He is also acclaimed for a wide variety of recordings, which range from the music of Sweelinck, Farnaby, and Gibbons to Nielsen, Ives, Enescu, Bartók.
Rangell made his New York debut as winner of the Malraux Award of the Concert Artists' Guild, and has since performed and lectured throughout the United States, and in Europe and Israel. He has also taught on the faculties of Dartmouth, Middlebury, and Tufts University.
In the 1980s, already recognized as a distinctive recitalist and collaborative artist, Rangell gained national attention – and the award of an Avery Fisher Career Grant – for his vivid traversals of the complete Beethoven sonata-cycle in New York, Boston, Cleveland, Rochester, Denver, and other U.S. Cities. In recent years he has created several DVDs for children — integrating his special talents as author, illustrator, narrator, and pianist.
Sergey Schepkin is considered one of the world's foremost interpreters of keyboard works by Johann Sebastian Bach. Schepkin made his Carnegie Hall début in 1993 at Weill Recital Hall, and has performed to great acclaim for the Great Performers Series at Lincoln Center, Celebrity Series of Boston, at New York's Metropolitan Museum of Art, the Kennedy Center for the Performing Arts in Washington, DC, the Maestro Chamber Series in Los Angeles, the Philharmonic halls in St. Petersburg, Russia, and the Sumida Triphony Hall in Tokyo, among many other places. He is a recipient of numerous awards and grants, and a prizewinner in several international competitions. Schepkin has performed concertos with such conductors as Kazuyoshi Akiyama, Nikolai Alexeev, Max Hobart, Christian Knapp, Keith Lockhart, Jonathan McPhee, Edward Serov, and Vassily Sinaisky. A passionate chamber player, he has performed with renowned instrumentalists, including the Borromeo, Cuarteto Latinoamericano, New Zealand, and Vilnius string quartets, as well as the Chameleon Arts Ensemble of Boston, of which he was a founding member. He is a member of the Boston-based Trio Amici.
Schepkin is Associate Professor of Piano at Carnegie Mellon University in Pittsburgh, and is also a member of the piano faculty at the New England Conservatory School of Preparatory and Continuing Education in Boston.
Passionate, inspired performances and brilliant technique are the hallmark of ChangYong Shin, First Prize winner of the 2018 Gina Bachauer International Artist Piano Competition, 2018 Rencontre Internationale des Pianistes "Prix Zygmunt Zaleski" in Paris, 2017 Seoul International Piano Competition and 2016 Hilton Head International Piano Competition. With performances in South Korea, Italy, France, the UK, across the United States and a growing reputation for compelling interpretations, Mr. Shin is developing an international career as a soloist and chamber musician.
About Steinway & Sons label
The STEINWAY & SONS music label produces exceptional albums of solo piano music across all genres. The label — a division of STEINWAY & SONS, maker of the world's finest pianos — is a perfect vessel for producing the finest quality recordings by some of the most talented pianists in the world.