Steinway Sunsets is our musical portrait of brightness and color, gradually shifting in texture to a peaceful farewell to the daylight.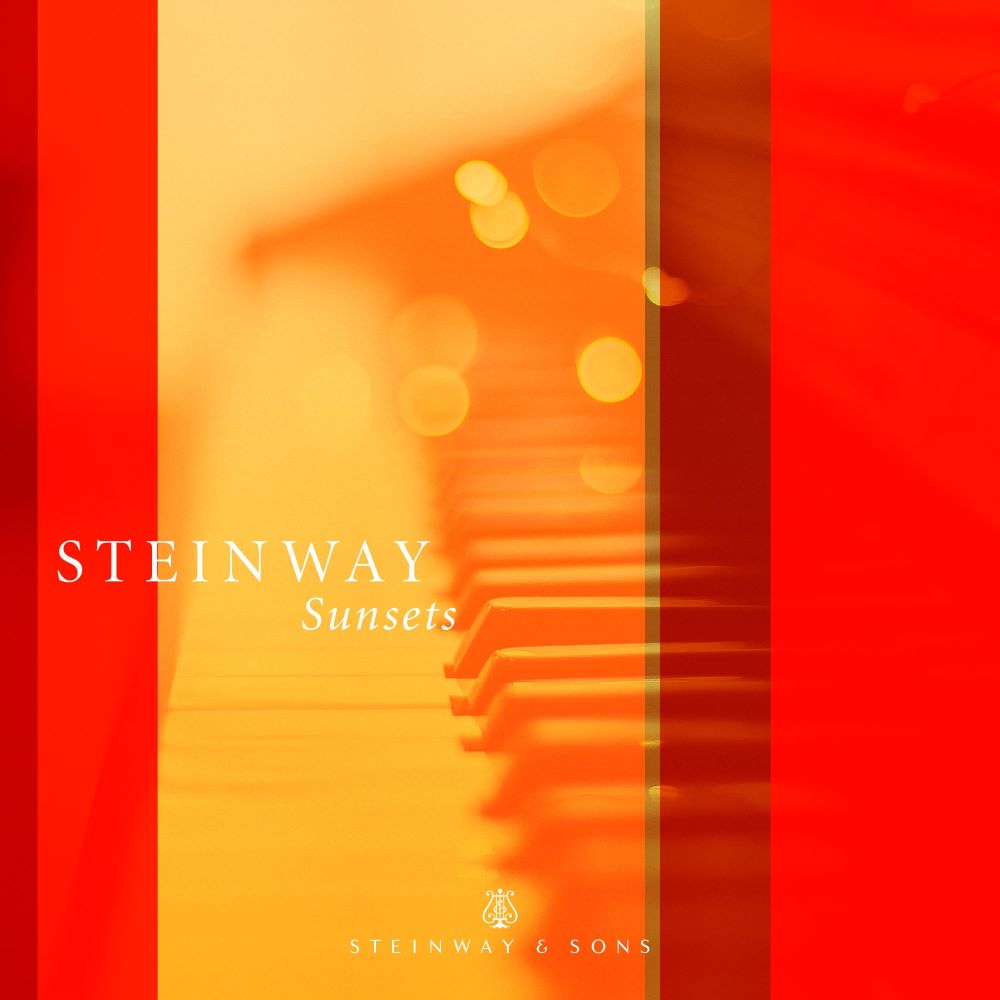 Album Credits
Steinway Sunsets • STNS 30191
Release Date: 12/03/2021
Producer: Jon Feidner
Engineer: Lauren Sclafani
Production Assistant: Renée Oakford
Art Direction: Jackie Fugere
About the Artists
Known for their adrenalized performances, original compositions, and notorious music videos, Greg Anderson and Elizabeth Joy Roe are revolutionizing the piano duo experience for the 21st century. Described as "the most dynamic duo of this generation" (San Francisco Classical Voice), "rock stars of the classical music world" (Miami Herald), and "the very model of complete 21st-century musicians" (The Washington Post), the Anderson & Roe Piano Duo aims to make classical music a relevant and powerful force around the world. Their five critically acclaimed albums have spent dozens of weeks at the top of the Billboard Classical Charts, while their Emmy-nominated, self-produced music videos have been viewed by millions on YouTube and at international film festivals.
Since forming their dynamic musical partnership in 2002 as students at The Juilliard School, Anderson & Roe have toured extensively worldwide as recitalists and orchestral soloists; appeared on NPR, MTV, PBS, and the BBC; presented at numerous international leader symposiums; and served as hosts for the medici.tv webcast of the 15th Van Cliburn International Piano Competition. A live performance by Anderson & Roe was handpicked to appear on the Sounds of Juilliard CD celebrating the school's centenary. Highlights of the 2019/20 season include performances throughout North America, Europe, and Asia; a stint as guest hosts of NPR's From The Top; the release of nearly a dozen new music videos; and a multi-week residency at the Tippet Rise Art Center as recitalists, recording artists, and filmmakers.
A "thoughtful musician well beyond his years" (The Republic), pianist Sean Chen shares his "alluring, colorfully shaded renditions" (New York Times) and "genuinely sensitive" (LA Times) playing with audiences around the world in solo and chamber recitals, concerto performances, and masterclasses. After winning the 2013 American Pianists Awards, placing third at the 2013 Van Cliburn International Piano Competition, and being named a 2015 Annenberg Fellow, Mr. Chen is now a Millsap Artist in Residence at the University of Missouri-Kansas City Conservatory.
Chen's debut recording on the STEINWAY label, La Valse, was hailed for "penetrating artistic intellect" (Audiophile Audition). It features the music of Maurice Ravel and Alexander Scriabin. His other CDs include a live recording from the Cliburn Competition released by harmonia mundi, praised for his "ravishing tone and cogently contoured lines" (Gramophone); an album of Michael Williams's solo piano works on the Parma label; and a recent album of Flute, Oboe, and Piano repertoire titled KaleidosCoping with colleagues Michael Gordon and Celeste Johnson.
A multifaceted musician, Mr. Chen also transcribes, composes, and improvises. His transcriptions of such orchestral works as Ravel's La Valse, Mozart's Overture to The Marriage of Figaro, and the Adagio from Rachmaninoff's Symphony No. 2, have been received with glowing acclaim and enthusiasm, and his encore improvisations are lauded as "genuinely brilliant" (Dallas Morning News). His Prelude in F# was commissioned by fellow pianist Eric Zuber, and subsequently performed in New York. An advocate of new music, he has also collaborated with several composers and performed their works, including Lisa Bielawa, Jennifer Higdon, Michael Williams, Nicco Athens, Michael Gilbertson, and Reinaldo Moya.
Alan Feinberg is a unique and versatile pianist, as comfortable with Brahms as with Cage. He has given over 200 premieres, including Mel Powell's Pulitzer Prize-winning work Duplicates, and numerous works by such composers as John Adams, Milton Babbitt, John Harbison, Steve Reich, and Charles Wuorinen. In addition to frequent collaborations with the London Philharmonia and the BBC Scottish Symphony, he has been featured at major international festivals, such as the BBC Musica Nova Festival, and the festivals of Edinburgh, Bath, Cambridge, Geneva, Berlin, Brescia, Bergamo, and Budapest. In 1997, Feinberg won his third Grammy Award nomination for his recording of Morton Feldman's Palais de Marie and Charles Wuorinen's Capriccio, Bagatelle, and Sonata No. 3.
Vyacheslav Gryaznov is the author of more than 30 concert arrangements and has gained a reputation as one of the most remarkable young arrangers working today. In 2014 Gryaznov signed a publishing contract with Schott Music. His recent engagements included solo recitals at Berliner Philharmonie, Carnegie Hall, Ehrbar Hall in Vienna, National Center for the Arts, Mexico City; and as soloist with the Atlantic Classical Orchestra, the Moscow Philharmonic in Russia, RTÉ National Symphony Orchestra in Dublin, Ireland, and the Dnipro Philharmonic in Ukraine. In 2019, he is performing in China, Australia, the United States, Russia, Ukraine, Belgium, Netherlands, Croatia, France.
Gryaznov is a prize-winner of international competitions in New York, Italy, Ukraine, Denmark, Georgia, Japan, and Russia (including six first and Grand prizes) and a frequent guest at international festivals, the pianist has toured in many countries of Europe, CIS, Africa, Japan, the United States, and throughout Russia.
Gryaznov holds degrees from the Moscow State Conservatory, the Moscow Conservatory and the Yale School of Music. He is an Artist of the Moscow Philharmonic and is an Artist-in-Residence with The Drozdoff Society in the United States.
Katherine Jacobson Fleisher's international performing career as a soloist, duo pianist and chamber musician has received critical acclaim. Leading orchestras with which she has performed include the Philadelphia Orchestra, Chicago Symphony Orchestra at Ravinia, Baltimore Symphony Orchestra, Gulbenkian Orchestra of Portugal, and the Orchestre National d'Ile de France. Emphasizing the importance of the music of our own time, she has commissioned works by contemporary women composers such as Dina Koston and Luna Pearl Woolf, and has performed chamber music of Dina Koston in Carnegie Hall's Zankel Hall.
Stanislav Khristenko's performances have captivated audiences on four continents since his first solo recital at the age of 11 at the Kharkiv Philharmonic Hall in Ukraine. A "poet of piano" (Le Soir, Belgium), Khristenko has been praised for his emotional intensity, charismatic expression, "palette of touches", "solid" and "precise" technique by The New York Times, The Washington Post and Miami Herald (USA); Gramophone and BBC Music (UK) and El Pais (Spain).
As a concert pianist, Khristenko received prizes at over 30 international piano competitions including Cleveland International Piano Competition, Maria Canals International Piano Competition and Queen Elisabeth International Music Competition. His recordings have been released on Steinway & Sons, Naxos, Oehms, and Toccata Classics. Khristenko has appeared as a piano soloist with the Cleveland Orchestra, Phoenix, Puerto Rico and Richmond Symphonies, National Orchestra of Belgium, Bilbao, Madrid and Tenerife Symphony Orchestras, Liege Royal Philharmonic, and Suwon Philharmonic Orchestra, among others. His performance highlights include solo recitals at Carnegie Hall, Vienna Konzerthaus, Palais de Beaux-Arts in Brussels, as well as performances with orchestras in the Berlin Philharmonie, Seoul Arts Center, Moscow Conservatory Great Hall and Hong Kong City Hall.
Klara Min has performed extensively throughout North America and Europe as well as in her native country of South Korea, in some of the world's most important concert venues including Carnegie Hall, Munich's Gasteig, the Berlin Philharmonie, Berlin's Konzerthhaus, Laeiszhalle, Vienna's Konzerthaus, and Paris's Salle Cortot. She has performed with prestigious orchestras such as Munich Kammerphilharmonie, Seoul Symphony Orchestra, Sinfonie Orchester Berlin, Manhattan Chamber Orchestra, and Tchaikovsky Symphony Orchestra. Min was the recipient of a Samsung scholarship and is the founder and artistic director of New York Concert Artists and Associates (NYCA).
British pianist Simon Mulligan is, according to The Times of London 'the most abundantly gifted of pianists', to Steinway & Sons he is 'the world's most versatile pianist'; Pulitzer prizewinning composer Paul Moravec calls him 'a pianist with complete mastery of the instrument', while Herbie Hancock says 'You have a phenomenal touch, man!' In addition to his extensive discography and vast repertoire, Mulligan's solo work gains praise from critics and audiences alike, and his collaborations include performances and recordings with Yehudi Menuhin, Joshua Bell, Leonard Slatkin and Sting.
He has performed all over the world, most notably at Carnegie Hall in New York, the Wigmore Hall and Royal Albert Hall in London, Suntory Hall in Tokyo, as well as private performances for Her Majesty the Queen and President Barack Obama. His keen interest in film composition led to a long association with composer Michael Kamen, culminating in his performance on the soundtrack to Spielberg's Band of Brothers. He has led his own jazz quartet since he was thirteen, which has performed in major international festivals. His eclectic work has led to profiles in Downbeat, JazzTimes, BBC Music, Classic fM, and Gramophone magazines, among others.
Mulligan is a recipient of the prestigious Fellowship of the Royal Academy of Music, and his teachers include Alexander Kelly, Murray Perahia, Alfred Brendel and Alexis Weissenberg.
Antonio Pompa-Baldi won the Cleveland International Piano Competition in 1999, and embarked on a career that continues to extend across five continents. A top prize winner at the 1998 Marguerite Long Competition in Paris, France, he also won a silver medal at the 2001 Van Cliburn International Piano Competition. Pompa-Baldi appears regularly at the world's major concert venues. His extensive recording catalogue features over 30 CDs and is constantly growing. Pompa-Baldi is on the piano faculty of the Cleveland Institute of Music, and serves regularly on the juries of major piano competitions such as Cleveland, Grieg (Bergen), Minneapolis, Hilton Head, San Jose, Lang Lang (Shenzhen), and BNDES Rio de Janeiro.
Andrew Rangell is recognized as among the most eloquent and insightful interpreters of the major keyboard works of Bach and Beethoven. He is also acclaimed for a wide variety of recordings, which range from the music of Sweelinck, Farnaby, and Gibbons to Nielsen, Ives, Enescu, Bartók.
Rangell made his New York debut as winner of the Malraux Award of the Concert Artists' Guild, and has since performed and lectured throughout the United States, and in Europe and Israel. He has also taught on the faculties of Dartmouth, Middlebury, and Tufts University.
In the 1980s, already recognized as a distinctive recitalist and collaborative artist, Rangell gained national attention – and the award of an Avery Fisher Career Grant – for his vivid traversals of the complete Beethoven sonata-cycle in New York, Boston, Cleveland, Rochester, Denver, and other U.S. Cities. In recent years he has created several DVDs for children — integrating his special talents as author, illustrator, narrator, and pianist.
A native of Jiangsu, China, pianist Shen Lu has performed concerts at Beijing's Central Conservatory Music Hall, Weill Recital Hall and Carnegie Hall in New York, Jordan Hall in Boston, Severance Hall in Cleveland, The Kennedy Center in Washington DC, The County Museum of Art in Los Angeles, the Seymour Centre in Sydney, and the National Concert Hall in Dublin. He was a prize-winner at the 59th Wideman, the 4th Campillos, the 2nd Florida, and the 25th Ferrol International Piano Competitions, and won best French music prize for Ravel's Miroirs at the 2015 Dublin International Piano Competition.
Shen Lu earned his Bachelor's Degree at the Central Conservatory of Music in Beijing, and his Master's and Graduate Diploma from the New England Conservatory. He is currently studying at the Cleveland Institute of Music for his Artist Diploma Degree.
About Steinway & Sons label
The STEINWAY & SONS music label produces exceptional albums of solo piano music across all genres. The label — a division of STEINWAY & SONS, maker of the world's finest pianos — is a perfect vessel for producing the finest quality recordings by some of the most talented pianists in the world.