Ease into the day with Sunday-Morning Steinway, the latest album in a series of compilations that highlight piano music from the Steinway catalog.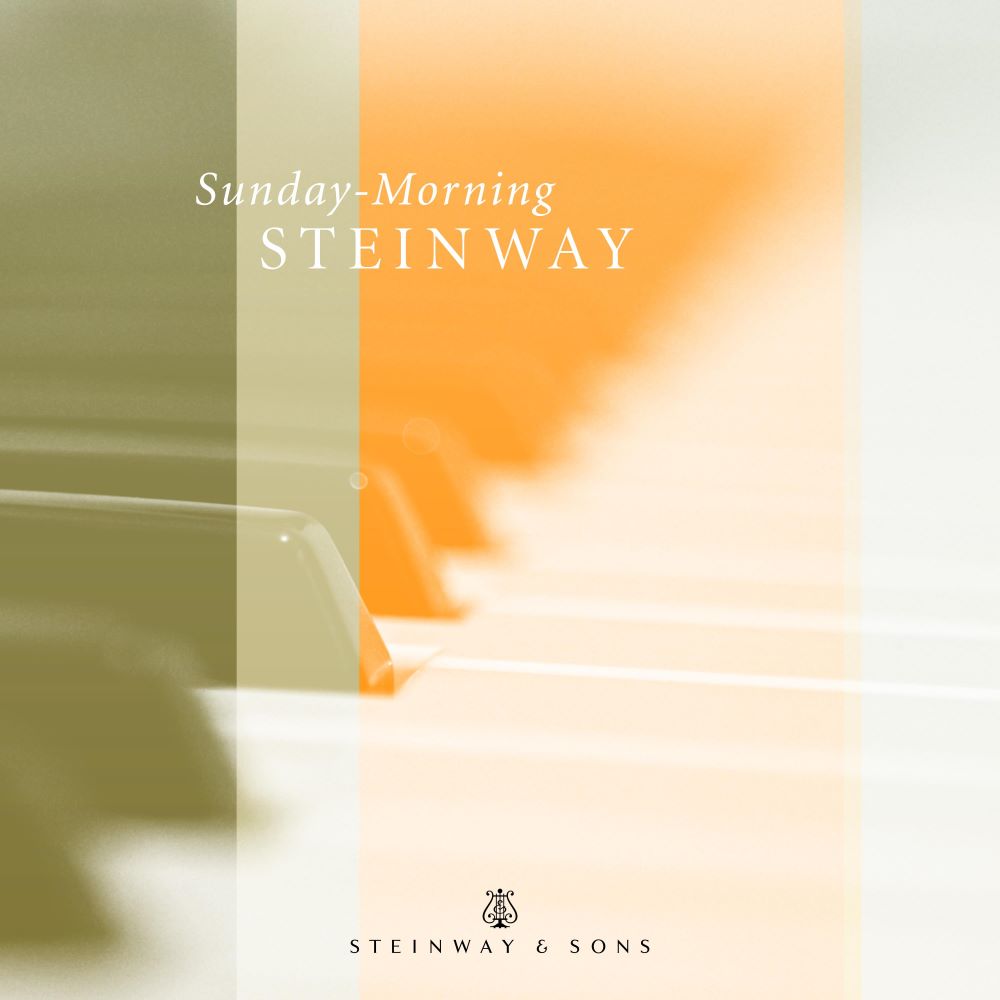 Music to accompany a leisurely brunch, weekend errands, or any part of your Sunday morning routine. You will find yourself returning to this engaging collection again and again.
Album Credits
Sunday-Morning Steinway • STNS 30185
Release Date: 09/03/2021
Producer: Jon Feidner
Engineer: Lauren Sclafani
Production Assistant: Renée Oakford
About the Artists
Alan Feinberg is a unique and versatile pianist, as comfortable with Brahms as with Cage. He has given over 200 premieres, including Mel Powell's Pulitzer Prize-winning work Duplicates, and numerous works by such composers as John Adams, Milton Babbitt, John Harbison, Steve Reich, and Charles Wuorinen. In addition to frequent collaborations with the London Philharmonia and the BBC Scottish Symphony, he has been featured at major international festivals, such as the BBC Musica Nova Festival, and the festivals of Edinburgh, Bath, Cambridge, Geneva, Berlin, Brescia, Bergamo, and Budapest. In 1997, Feinberg won his third Grammy Award nomination for his recording of Morton Feldman's Palais de Marie and Charles Wuorinen's Capriccio, Bagatelle, and Sonata No. 3.
Vyacheslav Gryaznov is the author of more than 30 concert arrangements and has gained a reputation as one of the most remarkable young arrangers working today. In 2014 Gryaznov signed a publishing contract with Schott Music. His recent engagements included solo recitals at Berliner Philharmonie, Carnegie Hall, Ehrbar Hall in Vienna, National Center for the Arts, Mexico City; and as soloist with the Atlantic Classical Orchestra, the Moscow Philharmonic in Russia, RTÉ National Symphony Orchestra in Dublin, Ireland, and the Dnipro Philharmonic in Ukraine. In 2019, he is performing in China, Australia, the United States, Russia, Ukraine, Belgium, Netherlands, Croatia, France.
Gryaznov is a prize-winner of international competitions in New York, Italy, Ukraine, Denmark, Georgia, Japan, and Russia (including six first and Grand prizes) and a frequent guest at international festivals, the pianist has toured in many countries of Europe, CIS, Africa, Japan, the United States, and throughout Russia.
Gryaznov holds degrees from the Moscow State Conservatory, the Moscow Conservatory and the Yale School of Music. He is an Artist of the Moscow Philharmonic and is an Artist-in-Residence with The Drozdoff Society in the United States.
Praised for her "flowing tones, poetic phrasing and heavenly singing melodies" (Cincinnati Inquirer) and "musical imagination and feel for complex textures that drew vivid images" (Washington Post), South Korean pianist Yoonie Han has won top prizes in distinguished international competitions and the highest accolades for her poetic performances in major concert halls in the U.S. and around the world.
In 2009, Han was honored with the Gawon Music Award as the "most brilliant pianist aged 17 to 31 of any nationality who possesses the most promising potential for global prominence." She is the first-prize winner of the Washington International Piano Competition, Fulbright Concerto Competition, World Piano Competition, Kosciuszko Chopin Competition, Juilliard's Gina Bachauer Piano Competition, Juilliard's Chopin Competition, Juilliard's Frederich Nordmann Piano Competition, Music Teachers' National Association Piano Competition, Nena Wideman Piano Competition, and has garnered major prizes at the International Helsinki Maj Lind Piano Competition, Arturo Benedetti Michelangeli Prize, Concorso Pianistico Ettore Pozzoli Internazionale, Valencia-Paterna International Piano Competition, and Recontre International Piano Competition. Following her 2001 grand-prize award in the Korea National Music Competition, the Korean Ministry of Culture named her its "Most Promising Young Artist." She is the recipient of the "Brava!" award given by the Italian Academy Foundation, as well as an award from London Keyboard Trust.
A native of Jiangsu, China, pianist Shen Lu has performed concerts at Beijing's Central Conservatory Music Hall, Weill Recital Hall and Carnegie Hall in New York, Jordan Hall in Boston, Severance Hall in Cleveland, The Kennedy Center in Washington DC, The County Museum of Art in Los Angeles, the Seymour Centre in Sydney, and the National Concert Hall in Dublin. He was a prize-winner at the 59th Wideman, the 4th Campillos, the 2nd Florida, and the 25th Ferrol International Piano Competitions, and won best French music prize for Ravel's Miroirs at the 2015 Dublin International Piano Competition.
Shen Lu earned his Bachelor's Degree at the Central Conservatory of Music in Beijing, and his Master's and Graduate Diploma from the New England Conservatory. He is currently studying at the Cleveland Institute of Music for his Artist Diploma Degree.
The Irish pianist John O'Conor has been gathering wonderful reviews for his masterly playing for over forty years. "A pianist of unbounding sensitivity" (Gramophone); "He represents a vanishing tradition that favors inner expression and atmosphere over showmanship and bravura" (Chicago Tribune); "Impeccable technique and musicality ... it would be hard to imagine better performances" (Sunday Times - London); "This artist has the kind of flawless touch that makes an audience gasp" (Washington Post); "Exquisite playing" (New York Times).
O'Conor's recordings of the complete Beethoven Piano Sonatas led CD Review to say that he "by now should be recognized as the world's premier Beethoven interpreter" and his recent recordings of the complete Beethoven Piano Concertos with the London Symphony Orchestra and Andreas Delfs have also been greeted with acclaim. He has released three CDs on the Steinway & Sons label: Beethoven's Diabelli Variations, two volumes of Haydn Sonatas, and the complete Beethoven Cello Sonatas with cellist Ailbhe McDonagh.
For his services to music O'Conor has been decorated "Officier de l'Ordre des Arts et des Lettres" by the French Government, awarded the "Ehrenkreuz für Wissenschaft und Kunst" by the Austrian Government, the "Order of the Rising Sun" by the Emperor of Japan, and has received many other awards.
Antonio Pompa-Baldi won the Cleveland International Piano Competition in 1999, and embarked on a career that continues to extend across five continents. A top prize winner at the 1998 Marguerite Long Competition in Paris, France, he also won a silver medal at the 2001 Van Cliburn International Piano Competition. Pompa-Baldi appears regularly at the world's major concert venues. His extensive recording catalogue features over 30 CDs and is constantly growing. Pompa-Baldi is on the piano faculty of the Cleveland Institute of Music, and serves regularly on the juries of major piano competitions such as Cleveland, Grieg (Bergen), Minneapolis, Hilton Head, San Jose, Lang Lang (Shenzhen), and BNDES Rio de Janeiro.
Andrew Rangell is recognized as among the most eloquent and insightful interpreters of the major keyboard works of Bach and Beethoven. He is also acclaimed for a wide variety of recordings, which range from the music of Sweelinck, Farnaby, and Gibbons to Nielsen, Ives, Enescu, Bartók.
Rangell made his New York debut as winner of the Malraux Award of the Concert Artists' Guild, and has since performed and lectured throughout the United States, and in Europe and Israel. He has also taught on the faculties of Dartmouth, Middlebury, and Tufts University.
In the 1980s, already recognized as a distinctive recitalist and collaborative artist, Rangell gained national attention – and the award of an Avery Fisher Career Grant – for his vivid traversals of the complete Beethoven sonata-cycle in New York, Boston, Cleveland, Rochester, Denver, and other U.S. Cities. A hand injury sustained in 1991 forced Rangell to gradually alter the trajectory of his career, and eventually to place his highest priority on recording. In recent years he has created several DVDs for children — integrating his special talents as author, illustrator, narrator, and pianist.
Sergey Schepkin is considered one of the world's foremost interpreters of keyboard works by Johann Sebastian Bach. Schepkin made his Carnegie Hall début in 1993 at Weill Recital Hall, and has performed to great acclaim for the Great Performers Series at Lincoln Center, Celebrity Series of Boston, at New York's Metropolitan Museum of Art, the Kennedy Center for the Performing Arts in Washington, DC, the Maestro Chamber Series in Los Angeles, the Philharmonic halls in St. Petersburg, Russia, and the Sumida Triphony Hall in Tokyo, among many other places. He is a recipient of numerous awards and grants, and a prizewinner in several international competitions. Schepkin has performed concertos with such conductors as Kazuyoshi Akiyama, Nikolai Alexeev, Max Hobart, Christian Knapp, Keith Lockhart, Jonathan McPhee, Edward Serov, and Vassily Sinaisky. A passionate chamber player, he has performed with renowned instrumentalists, including the Borromeo, Cuarteto Latinoamericano, New Zealand, and Vilnius string quartets, as well as the Chameleon Arts Ensemble of Boston, of which he was a founding member. He is a member of the Boston-based Trio Amici.
Schepkin is Associate Professor of Piano at Carnegie Mellon University in Pittsburgh, and is also a member of the piano faculty at the New England Conservatory School of Preparatory and Continuing Education in Boston.
About Steinway & Sons label
The STEINWAY & SONS music label produces exceptional albums of solo piano music across all genres. The label — a division of STEINWAY & SONS, maker of the world's finest pianos — is a perfect vessel for producing the finest quality recordings by some of the most talented pianists in the world.