The Rascal and the Sparrow
Antonio Pompa-Baldi
Poulenc meets Piaf on Antonio Pompa-Baldi's enchanting Steinway & Sons debut.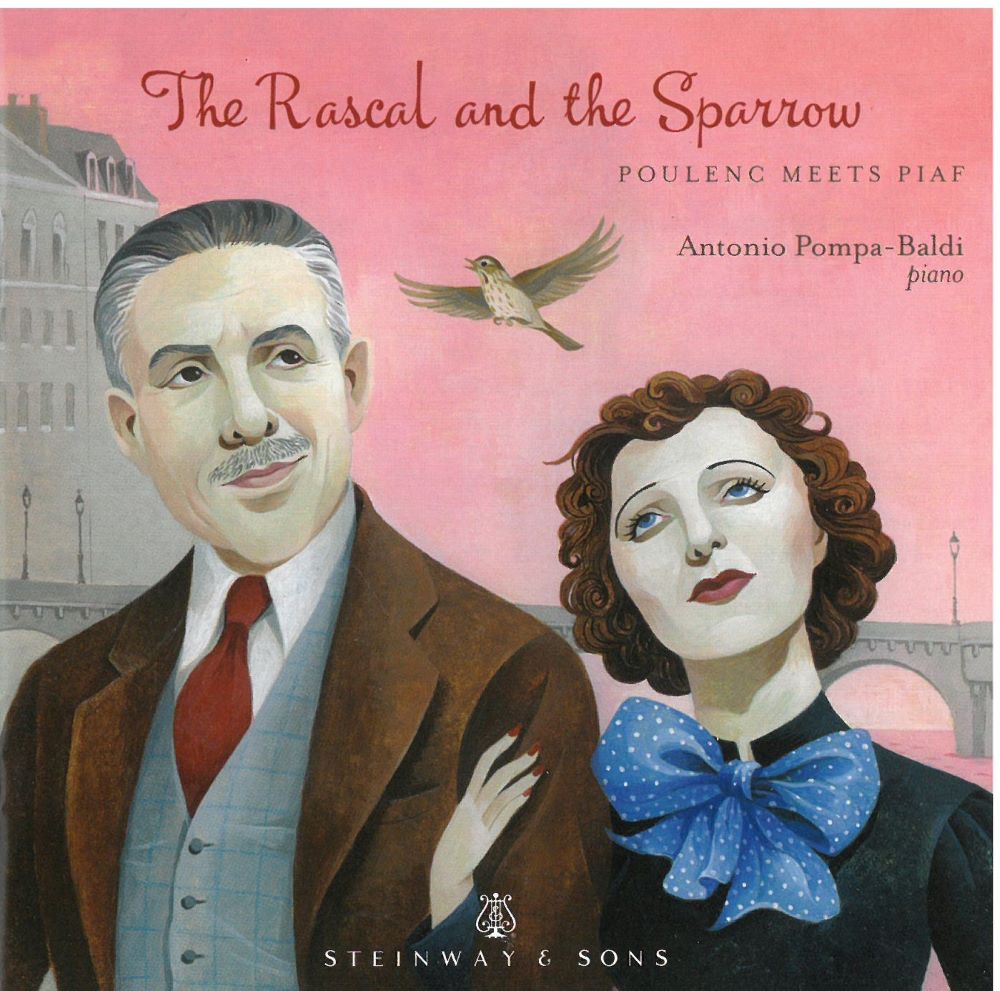 By weaving together solo piano arrangements of music from two icons of mid-20th-century French chanson, Pompa-Baldi evokes a glittering memory of one of history's most romanticized eras.
In 1959, Francis Poulenc finished up his series of 15 improvisations for piano with No. 15 in C minor, subtitled "L'hommage à Édith Piaf." While nobody knows why he called it this, the three-and-a-half minute piece echoes the melancholy, impassioned strains that The Little Sparrow (the diminutive Piaf's famous nickname) would have been belting out to sold-out crowds at Paris' Olympia Theater that year. This charming work, and its mysterious dedication, is the inspiration behind The Rascal and the Sparrow: Poulenc Meets Piaf, pianist Antonio Pompa-Baldi's STEINWAY & SONS debut that captures all of the passion, heartbreak and beauty of mid-20th-century Paris.
The recording blends Pompa-Baldi's elegant transcriptions of some of Poulenc's most melodious art songs, including the famous cabaret-inspired "Les chemins de l'amour," with composer Roberto Piana's "elaborations" on beloved chansons from Piaf's extensive songbook, including "La vie en rose" and "Non, je ne regrette rien." The result is an exquisite time capsule that transports us back to Paris of the 1920s and '30s.
Although it is unknown if Poulenc and Piaf knew each other during their lifetimes, they shared a great deal including common friends (Jean Cocteau, for example), infectious melodies and, above all, a profound honesty in their art. They also died in the same year, 1963, and this album coincides thus with the 50th anniversary of their passing.
With his intuitive grasp of the deep humanity that permeates this music, Pompa-Baldi draws an intimate portrait of these two larger-than-life personalities who elevated the art of the song both in the concert hall and the cabaret. The recording opens with Poulenc's bittersweet waltz, "Les Chemins de l'Amour," and the Improvisation No. 15, "Hommage à Édith Piaf" before transitioning seamlessly into a stunning, ornamented rendition one of Piaf's signature tunes, "Hymne à l'amour," setting into motion an elegiac arc that makes us nostalgic for a time and place that we've never known.
Other songs on the recording from Poulenc include transcriptions from several of his song cycles including Cinq Poèmes de Max Jacob; Métamorphoses; Deux Poèmes de Louis Aragon; Tel Jour, Telle Nuit; Chansons Gaillardes and Huit Chansons Polonaises, as well as the evocatively titled "Nos souvenirs chantent" and "Montparnasse." On the Piaf side, fans will recognize some of her most triumphant successes including "La Vie en Rose," "Non, Je ne regrette rien," "Mon legionnaire," "Les amants d'un jour," and many more. One of the year's most original solo piano recordings, The Rascal and the Sparrow demands to be played on repeat.
"There are 27 numbers in all, each wonderfully played, with a pathos that never turns pathetic in the more languishing pieces, and a zesty swagger where the music asks for it... This one's certainly a winner from start to finish."

ClassicsToday.com

"There are no truly comparable recordings for The Rascal and the Sparrow and I doubt that anyone will want to compete with Antonio Pompa-Baldi's tour de force at the piano. He has given us a gem with clean, clear sound."

Fanfare
Album Credits
The Rascal and the Sparrow / Antonio Pompa-Baldi • STNS 30015
Release Date: 09/24/2013
Recorded April 26-28, 2013 at Sono Luminus Studios, Boyce, Virginia.
Producer: Dan Merceruio
Engineer: Daniel Shores
Executive Producers: Eric Feidner, Jon Feidner
Art Direction: Oberlander Group
Cover Illustration: Jody Hewgill
Piano Technician: John Veitch
Piano: Steinway Model D #590904 (New York)
About the Artist
Antonio Pompa-Baldi is an Italian pianist. He won the Cleveland International Piano Competition in 1999, and embarked on a career that continues to extend across five continents. A top prize winner at the 1998 Marguerite Long Competition in Paris, France, he also won a silver medal at the 2001 Van Cliburn International Piano Competition.
Pompa-Baldi appears regularly at the world's major concert venues including New York's Carnegie Hall, Paris' Salle Pleyel, Milan's Sala Verdi, Shanghai's Grand Theatre, and Boston's Symphony Hall. He performed in London, Tokyo, Seoul, Beijing, Los Angeles, Philadelphia, Kiev, Auckland, and Hong Kong, to name a few. Recent live performances include the 5 Beethoven Piano Concertos, as well as the complete Rachmaninoff Piano Concertos and Rhapsody on a Theme of Paganini. His extensive recording catalogue features over 30 CDs and is constantly growing.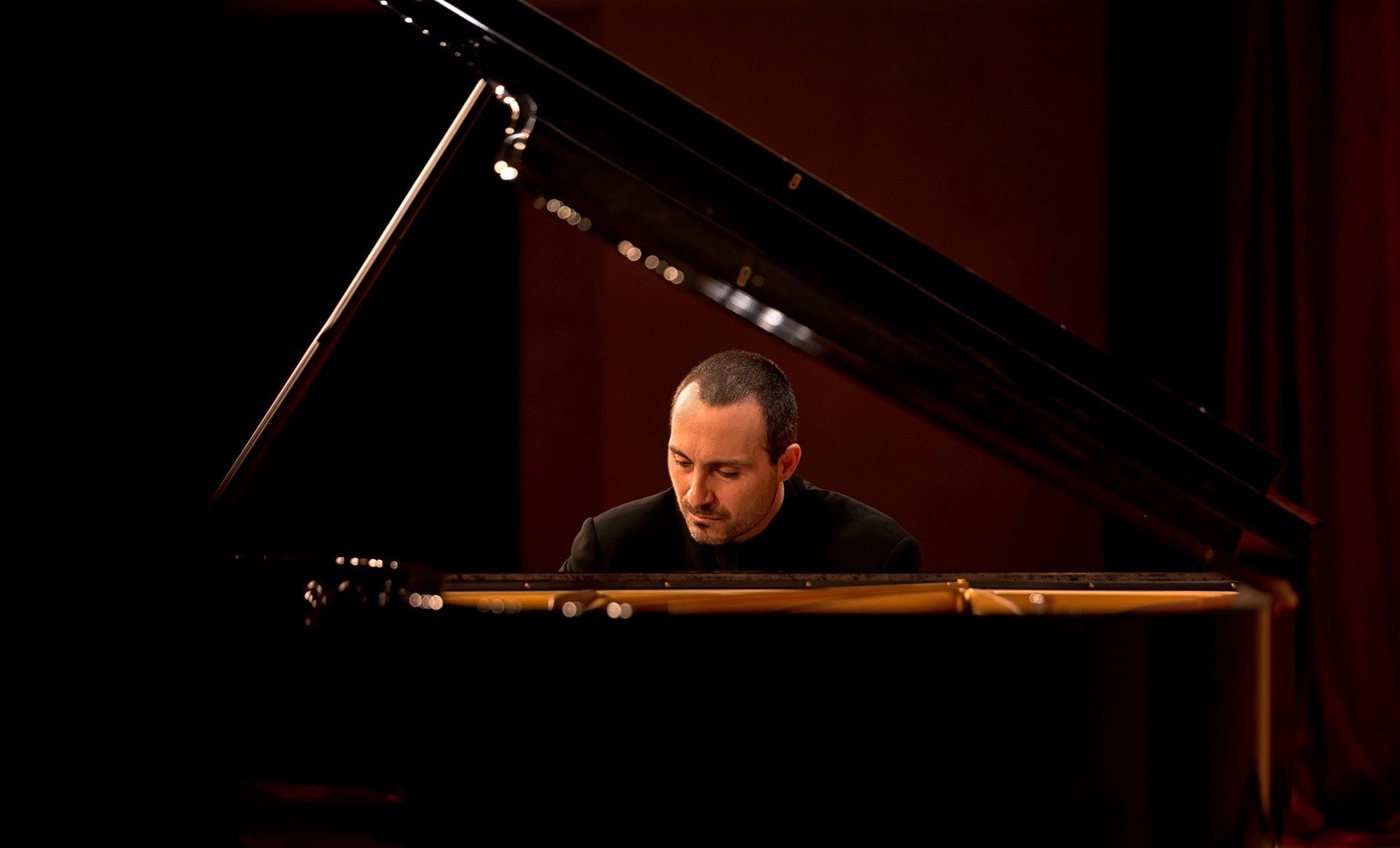 Pompa-Baldi's albums include the complete music for solo piano and chamber music of Edvard Grieg, and discs dedicated to Schumann, Rachmaninoff, Liszt, Brahms, and Debussy, among many others. His 2018 album on the Steinway & Sons label, Napoli, contains 20 improvisations on Italian songs by Roberto Piana.
A Steinway artist, Mr. Pompa-Baldi is on the piano faculty of the Cleveland Institute of Music, and serves regularly on the juries of major piano competitions such as Cleveland, Grieg (Bergen), Minneapolis (E-Competition), Hilton Head, San Jose, Lang Lang (Shenzhen), and BNDES Rio de Janeiro. He is the founder and artistic director of Todi International Music Masters, an Italian pedagogical summer camp featuring concerts and masterclasses for talented young musicians. He is an honorary guest professor at many institutions including the China National Conservatory in Beijing.
About Steinway & Sons label
The STEINWAY & SONS music label produces exceptional albums of solo piano music across all genres. The label — a division of STEINWAY & SONS, maker of the world's finest pianos — is a perfect vessel for producing the finest quality recordings by some of the most talented pianists in the world.