Spirio Sessions
Uri Caine, Jenny Lin
The musical worlds of Scarlatti, Gesualdo, and Mozart intersect with the improvisatory genius of jazz composer and pianist Uri Caine, who is joined by virtuoso pianist Jenny Lin in an album of adventurous music for one and two pianos.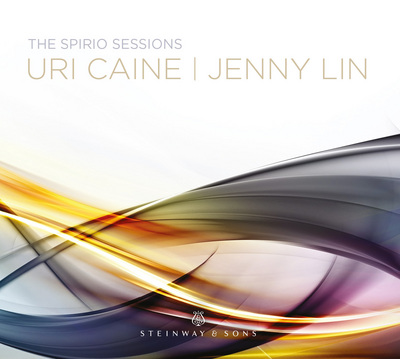 Jazz pianist Uri Caine and classical pianist Jenny Lin teamed up with STEINWAY & SONS SPIRIO, the world's finest high resolution player piano, to offer The Spirio Sessions, an album on the STEINWAY & SONS label comprised of works by Scarlatti, Mozart and Gesualdo played by Lin, with Caine improvising over the top of her performances, resulting in an engaging series of piano duets. played on a Spirio, each part recorded separately.
"There's more than a little witchcraft at work on this lovely and playful recording...a wonderfully tender conversation between the past and the present."
— New York Times
Album Credits
The Spirio Sessions / Uri Caine, Jenny Lin • STNS 30044
Release Date: 01/08/2016
Recorded for Spirio in July 2014 at Steinway Hall, New York City.
Recorded for audio on November 18, 2014 at Sono Luminus Studios in Boyce, Virginia.
Producer: Jon Feidner
Audio Engineer and Mastering: Daniel Shores
Spirio Editing: Kazumi Umeda, Jon Feidner
Audio Editing: Dan Merceruio
Executive Producers: Eric Feidner, Jon Feidner
Art Direction: Jackie Fugere
Design: Cover to Cover Design, Anilda Carasquillo
Spirio Record Piano: Steinway Model B #567568 (New York)
Spirio Playback Piano: Steinway Model B #576497 (New York)
Piano Technician: Glen Bingham
About the Artists
Jenny Lin is one of the most respected young pianists today, admired for her adventurous programming and charismatic stage presence. She has been acclaimed for her "remarkable technical command" and "a gift for melodic flow" by The New York Times. The Washington Post praises "Lin's confident fingers…spectacular technique…," "…surely one of the most interesting pianists in America right now…" and Gramophone Magazine has hailed her as "an exceptionally sensitive pianist." Her orchestral engagements have included the American Symphony Orchestra, NDR and SWR German Radio orchestras, and Orchestra Sinfonica Nationale della RAI. Her concerts have taken her to Carnegie Hall, Avery Fisher Hall, Kennedy Center, Lincoln Center's Great Performers, SF Jazz, MoMA, Stanford LIVE, and the National Gallery of Art. She has appeared at Festivals such as Mostly Mozart, BAM's Next Wave, Spoleto USA, Kings Place London, Chopin Festival Austria, and Schleswig-Holstein Festival Germany.
Since 2000, Jenny's discography includes more than 30 recordings on Steinway & Sons, Hänssler Classic, eOne, BIS, New World, and Albany Records. She is also the central figure in Cooking for Jenny by Elemental Films, a musical documentary portraying her journey to Spain. Other media appearances include CBS Sunday Morning, NPR Performance Today, and Speaking for Myself, a film about Manhattan as seen through the eyes of eight contemporary artists by filmmaker Bert Shapiro. Born in Taiwan and raised in Austria, Jenny studied at the Hochschule für Musik in Vienna, the Peabody Conservatory in Baltimore and the Fondazione Internazionale per il pianoforte in Como, Italy. She holds a bachelor's degree in German literature from The Johns Hopkins University. Jenny is a Steinway Artist.
Uri Caine is a popular pianist/composer who mixes classical, jazz, and other forms of music in his own compositions, as well as in his arrangements of works by others. It is for his arrangements that he is probably best known, and it is here also that he is wildly imaginative and, to some, controversial. In his version of J.S. Bach's Goldberg Variations, for instance, he employs many types of music beside classical -- multiple forms of jazz, bossa nova, klezmer, and samba -- and suggests the styles of a spate of other classical composers, including Mozart, Beethoven, Verdi, Rachmaninov, Sullivan, and others, while generally treating the original score respectfully, if a bit waywardly. Purists might not approve of many of his arrangements, but both critics and public have shown strong support. Caine often performs with his own ensemble, the Uri Caine Ensemble, as well as with other jazz groups and classical orchestras. He has appeared on numerous recordings over the years on a variety of labels, including Winter & Winter, Tzadik, and JMT.

Uri Caine began studies on piano at the age of 12 with jazz pianist Bernard Peiffer. Later on he enrolled at the University of Pennsylvania, where his most important teachers were composers George Rochberg and George Crumb.

During his student years in the late '70s Caine began performing with jazz musicians in the Philadelphia area, including Philly Joe Jones, Bootsie Barnes, Hank Mobley, Johnny Coles, Jymie Merritt, Bobby Durham, and many others. He continued playing regularly after his 1981 graduation and made his first recording in 1985, with the Cornell Rochester/Gerald Veasley Band.

Caine moved to New York in 1988 and regularly appeared there with many top jazz ensembles, including the Clark Terry-led Swing Machine, Frank Tiberi's Woody Herman Big Band, and numerous others. Since the early '90s, Caine has made nearly 20 recordings as a lead player, many with the Uri Caine Ensemble and with his Bedrock Trio.

Caine's 1997 CD Urlicht/Primal Light, based on the music of Gustav Mahler, was a sensation, as was his 2002 CD version of the Beethoven Diabelli Variations, recorded with the Concerto Köln Chamber Orchestra. Caine has served as composer-in-residence for the Los Angeles Chamber Orchestra (2005-2009). Among his recordings is the 2008 Winter & Winter CD The Othello Syndrome featuring arrangements of music from Verdi's Othello.
About Steinway & Sons label
The STEINWAY & SONS music label produces exceptional albums of solo piano music across all genres. The label — a division of STEINWAY & SONS, maker of the world's finest pianos — is a perfect vessel for producing the finest quality recordings by some of the most talented pianists in the world.