Liszt & Lyapunov
24 Transcendental Etudes
Konstantin Scherbakov
Russian virtuoso Konstantin Scherbakov brings two two great works together for the first time on a 2-CD set; Liszt's twelve Transcendental Etudes and Lyapunov's Douze études d'exécution transcendante.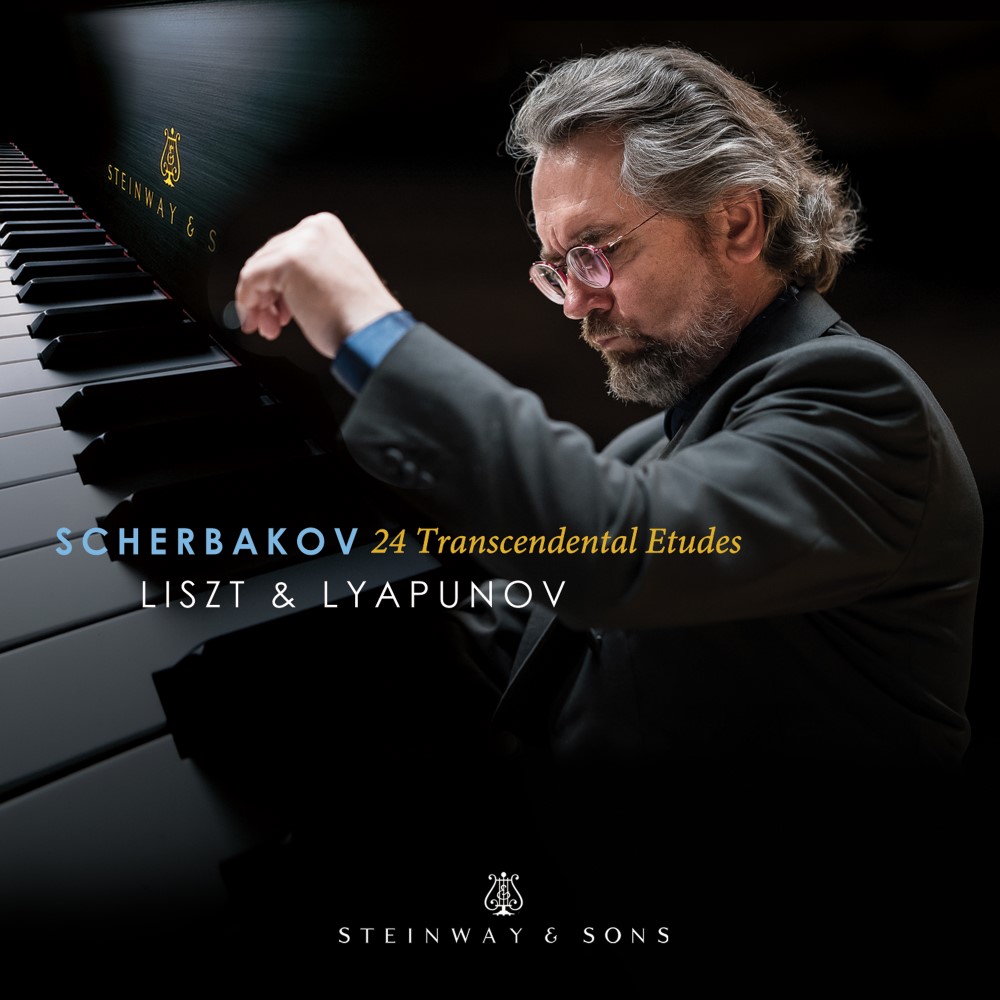 Lyapunov's Douze études d'exécution transcendante were meant as a complement to Liszt's Transcendental Études and dedicated to his memory. But more than an homage, they finish what Liszt had started.
For his new Steinway & Sons album (STNS 30098) released on April 5, 2019, pianist Konstantin Scherbakov pairs Franz Liszt's Transcendental Études — an ambitious, difficult group of pieces composed with the goal of moving around the circle of fifths twice — with twelve études by Sergei Lyapunov that both complement and complete the rotations that Liszt started. Both sets of études move through the same keys within the circle of fifths, with Lyapunov's first études picking up where Liszt's last piece ended.
According to the liner notes, the challenge when performing these two semi-circles as one is to "aim at some sort of unity of style – since that was the idea of Lyapunov's. But that is in fact rather difficult, because two worlds – the cosmopolitan romanticism of Liszt and the Russian romanticism of Lyapunov – are very different." The cycles can be performed together, though the collective run time is 130 minutes, making for a lengthy program that can strain both performers and audiences. The reward, however is well worth the wait, since it not only contrasts two differing composition styles, Liszt's "internationalist bravura style" versus Lyapunov's "westward-looking Russian intensity," but also serves as the realization of a challenging and important piece in the piano repertoire.
The main purpose of this record, according to Scherbakov, is to "rediscover and recognize music long considered inconsequential, if not outright inferior – and which has therefore remained in the shadow of works of great and more renowned composers – and to reveal its true and lasting artistic value."
"One of the most capable, daring and interesting musicians of these days"

Peter Cossé

"Scherbakov's keyboard facility, his pinpoint articulation, his unerring sense of rhythmic drive and security, his weaving together of the many layers and voices and his sense of colour and phrasing are all a joy to listen to..."

Gramophone Magazine

"Scherbakov's imaginative pedaling and original rubatos shed poetic light on a piece [Feux follets] that all too often is treated like an athletic event rather than a miniature tone poem. The same holds true for No. 10 [Liszt], where Scherbakov balances the yearning melody and cascading triplets in thoughtful perspective."

ClassicsToday.com

"He relishes the technical challenges of 'Mazeppa' and 'Wilde Jagd'. Yet he also finds the poetry in the cascades of notes in 'Ricordanza' and 'Harmonies du soir'."

International Piano

"In the Lyapunov, he's ideal: he is simply one of the few pianists around who can get his fingers around these pieces technically."

AllMusic Guide
Album Credits
Liszt, Lyapunov - Transcendental Etudes / Konstantin Scherbakov • STNS 30098
Release Date: 04/05/2019
Recorded January 20 – 23, 2018 at Steinway Hall, New York City.
Producer: Jon Feidner
Engineer: Lauren Sclafani
Assistant Engineer: Melody Nieun Hwang
Editing: Kazumi Umeda
Production Assistant: Renée Oakford
Mixing and Mastering: Daniel Shores
Piano Technician: Lauren Sclafani
Piano: Steinway Model D #597590 (New York)
Executive Producers: Eric Feidner and Jon Feidner
Art Direction: Jackie Fugere
Design: Cover to Cover Design, Anilda Carrasquillo
Photo of Konstantin Scherbakov: Jen-Pin Lin
About the Artist
Konstantin Scherbakov is an internationally renowned member of the modern piano world. His artistry and contribution to the piano repertoire and recording catalogue are highlighted in his uncompromising responsibility and selfless dedication to music and piano repertoire throughout his thirty-five-years-long career.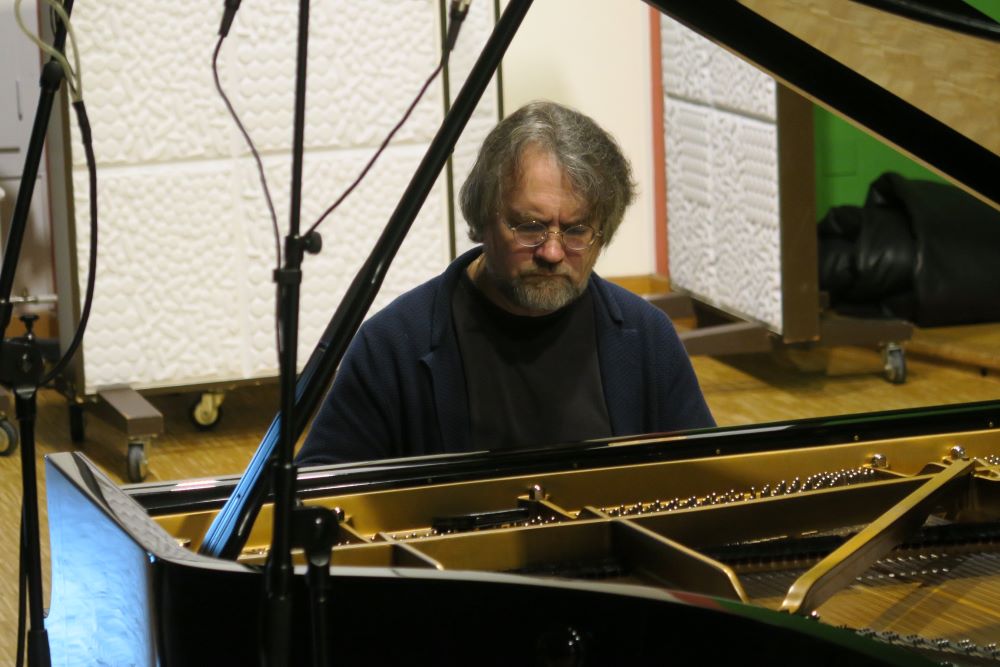 In 1992, Scherbakov received an invitation from the founder of Naxos, Klaus Heymann, to make a CD with repertoire that had not been recorded before. The release of the CD (Lyapunov's Douze études d'exécution transcendente, Op. 11) was a sensation which not only started Scherbakov's long and successful recording career, but also determined its direction and perspectives, both in the studio and on stage. Since then Scherbakov has worked extensively in the studio, producing well over 40 records in total. In 1990, Scherbakov made his European debut at the XX Music Festival in Asolo, Italy where he played the complete works by Rachmaninoff in four evenings. In 1993, Scherbakov made his Lucerne Festival debut, where he was described by the press as the "Rachmaninoff of today". Boasting an extensive repertoire of around 60 concertos, Scherbakov has performed as soloist with some of the world's best orchestras and conductors such as Georg Alexander Albrecht, Rudolf Barshai, Aldo Ceccato, Arnold Katz, Andrei Boreiko, Yoel Levi, Dmitri Liss, Cristian Mandeal, and Kirill Petrenko.
Konstantin Scherbakov has given solo performances in over 50 countries on all continents. He has played in many concert halls and at renowned international music festivals, such as Salzburg, Frankfurt, Bregenz, Klavier-Festival Ruhr, Beethoven Festival Bonn, Schubertiade Feldkirch and Schwarzenberg, Singapore Piano Festival, Piano Rarities Husum, Beethoven Festival Krakow and Warsaw, Lebanon Music Festival, "Primavera concertistica" Lugano, Evian, Colmar, Liszt Festivals in Raiding and Weimar, Piano Festival Lucerne, and among others - numerous festivals in Italy, France, New Zealand, USA, Russia, Sweden and Switzerland.
About Steinway & Sons label
The STEINWAY & SONS music label produces exceptional albums of solo piano music across all genres. The label — a division of STEINWAY & SONS, maker of the world's finest pianos — is a perfect vessel for producing the finest quality recordings by some of the most talented pianists in the world.