Vyacheslav Gryaznov
Russian Transcriptions
Gryaznov's recording features his own original piano transcriptions of orchestral and chamber works by his countrymen Borodin, Tchaikovsky, Rachmaninoff, Prokofiev, and Glinka.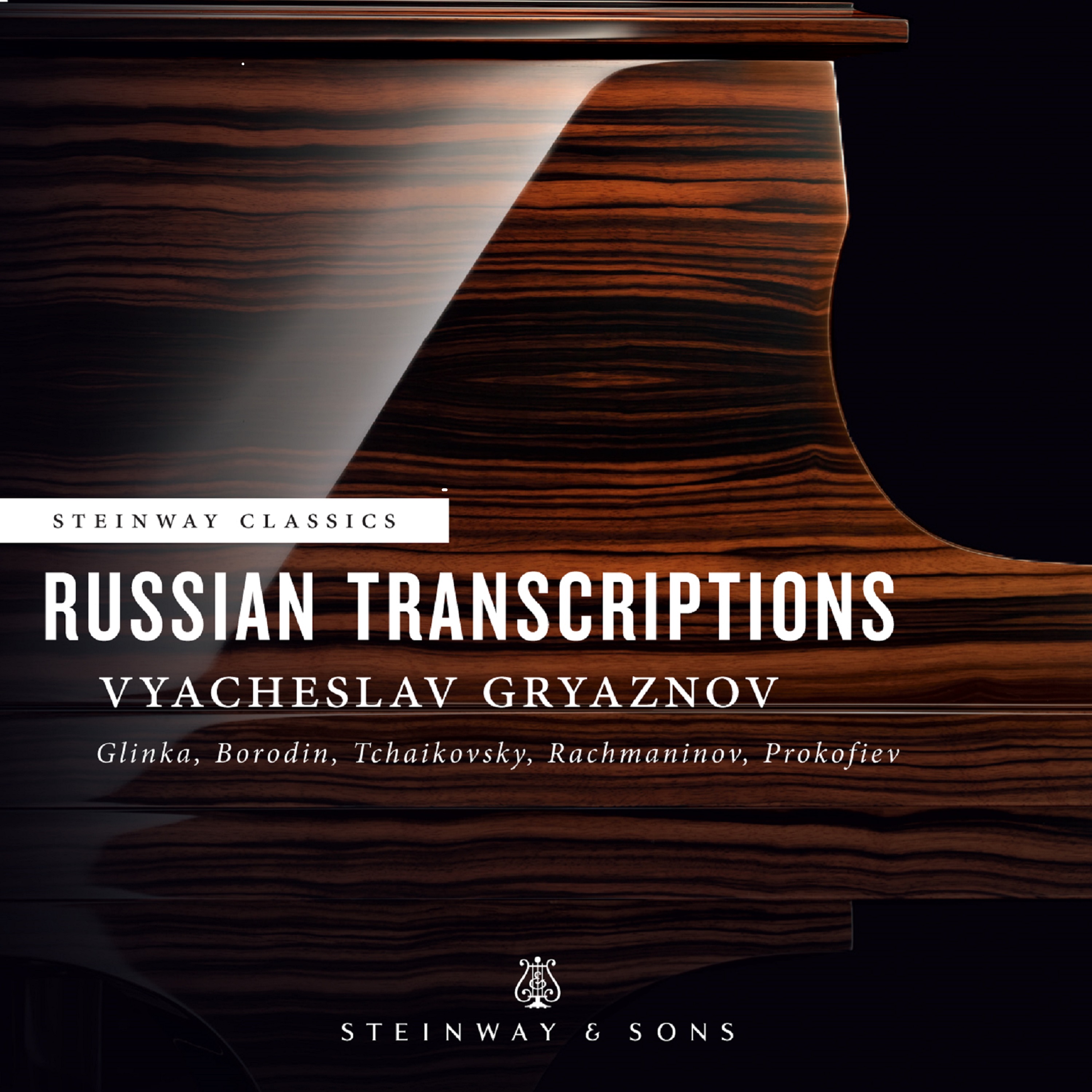 Vyacheslav Gryaznov's goal is always to clarify the sense and soul of the music he arranges for the piano, and to make it sound natural.

Vyacheslav Gryaznov says that the art of transcription is a genre that is an integral part of his creative life. It is the possibility to make an exclusive encore for a recital. It is an opportunity to interpret his favorite symphonic pieces not being a conductor, and to do it with this special psychology and subjectivity that are possible only in a solo performance. Finally, it's an opportunity to look at some well-known pages of the past and feel modernity and novelty in them and express this dialog of epochs and styles.
"The process of creating any piano transcription is completely unique each and every time. I very much enjoy this unpredictability, and love when a spontaneous idea comes into my mind and yields an absolutely new and fresh vision of the music with which I am working."

Vyacheslav Gryaznov

"There is virtuosity aplenty, perhaps in unexpected places (sample the little Italian Polka of Rachmaninov), but really the most fun are the pieces that draw attention to the player as a poetic figure: the little-heard ballet music On the Dnieper, Op. 51, of Prokofiev, comes alive in Gryaznov's flexible, lovingly shaped renderings."

AllMusic Guide
Album Credits
Russian Transcriptions / Vyacheslav Gryaznov • STNS 30082
Release Date: 05/18/2018
Recorded April 25–27, 2017 at Steinway Hall, New York City.
Producer: Jon Feidner
Engineer: Lauren Sturm
Production Assistant: Renée Oakford
Mixing and Mastering: Daniel Shores
Executive Producer: Jon Feidner
Art Direction: Jackie Fugere
Design: Cover to Cover Design, Anilda Carrasquillo
Piano Technician: Lauren Sturm
Piano: Steinway Model D #597590 (New York)
About the Artist
Vyacheslav Gryaznov was born in Yuzhno-Sakhalinsk, a small city in the easternmost reaches of Russia. His musical talent became evident in his early childhood and developed so quickly that his parents, who were not themselves musicians, took the heroic step of giving up everything and moving to far-away Moscow, despite having nothing and no one there, all for the sake of their son's professional musical education.
Vyacheslav graduated with honors both from the Central Music School of the Moscow State Conservatory where he studied with Professor Manana Kandelaki and from the Moscow Conservatory, class of Professor Yuri Slesarev. He continued at the Moscow Conservatory as a post-graduate student and is on the teaching faculty of its Piano Department. Vyacheslav Gryaznov is a member of the Moscow Philharmonic Society.
Vyacheslav Gryaznov is the author of more than 30 concert arrangements and transcriptions, which have been performed by Boris Berezovsky, Alexander Ghindin, Nikita Mndoyants, Tomoharu Ushida, the Messiaen-Quartet, the Moscow State Chamber Choir, the Moscow Philharmonic Orchestra, the Moscow State Symphony Orchestra, and other musicians and collectives. In 2014 he signed a publishing contract with Schott Music (Germany). He is one of the few prominent Russian composers published by them.
About Steinway & Sons label
The STEINWAY & SONS music label produces exceptional albums of solo piano music across all genres. The label — a division of STEINWAY & SONS, maker of the world's finest pianos — is a perfect vessel for producing the finest quality recordings by some of the most talented pianists in the world.