Music of Mieczyslaw Weinberg
Jeanne Golan, Attacca Quartet
Pianist Jeanne Golan and the Attacca Quartet release album honoring Mieczyslaw Weinberg, leading up to the composer's centennial.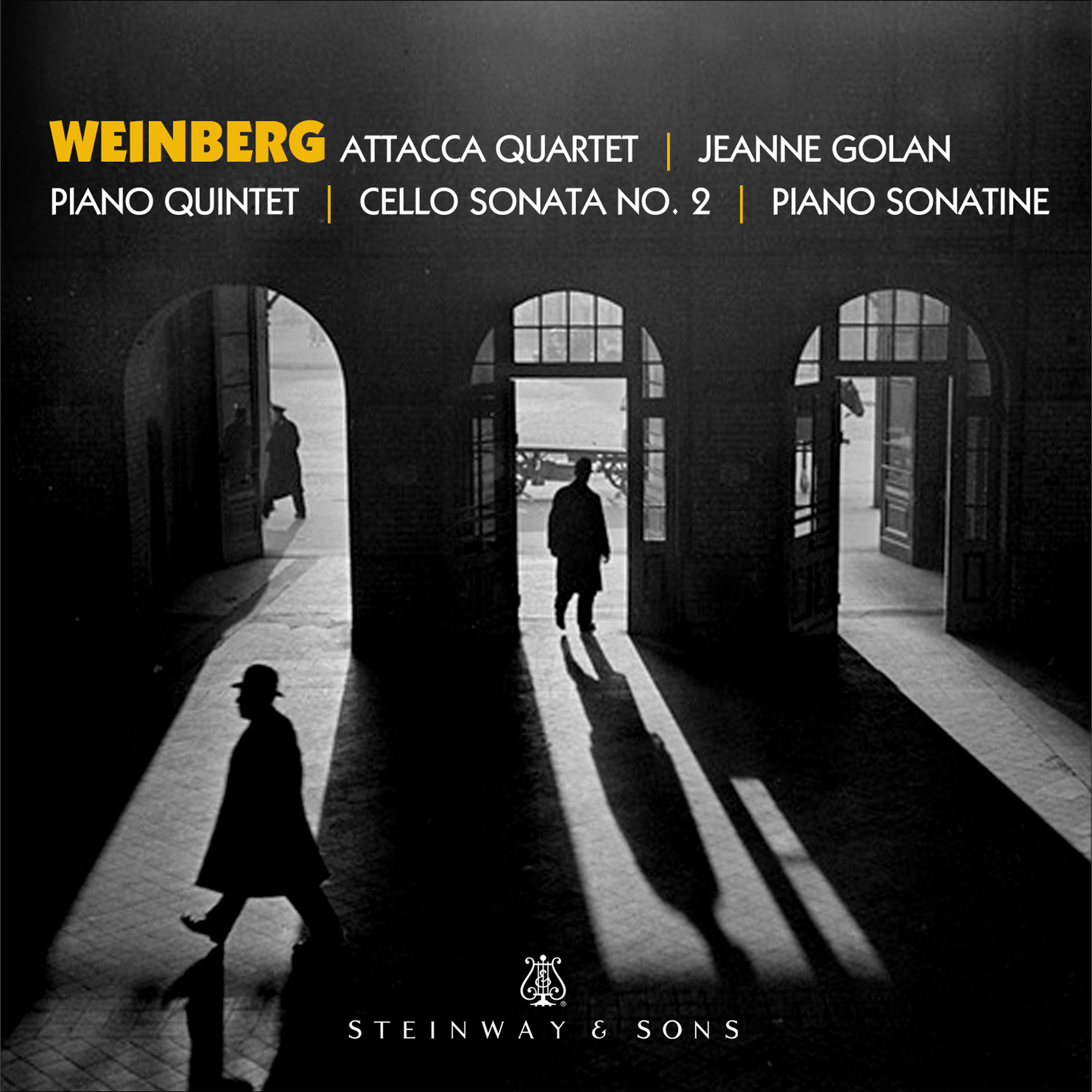 Golan performs Weinberg's Sonatine for Piano and is joined by cellist Andrew Yee and Attacca for his Piano Quintet and Cello Sonata
Mieczyslaw Weinberg, a composer beginning to be known outside Russia, found a home in music during a life full of persecution, exile, and upheaval. Pianist Jeanne Golan, cellist Andrew Yee, and the Attacca Quartet give passionate performances of three Weinberg works: the Piano Quintet Op. 18, the Cello Sonata Op. 63 No. 2, and the Sonatine for Piano, Op. 49, on their new recording for the Steinway & Sons label (STNS 30072).
"I'd begun to hear about Weinberg from friends involved in the 'recovered voices' movement and so tracked down a few chamber music scores," says Golan. "Reading through them for the first time, I immediately felt connected to this man's music. His drawing on Yiddish folk elements that were such a part of my home growing up, his distinct brand of Russian modernism so fresh and expressive... Combined with the naturalness of his writing for piano that makes the playing itself a joy, how could you not love that?"
Golan eventually shared her love of Weinberg's music with Andrew Yee, cellist in the Attacca Quartet. They read through the Cello Sonata together, and the sheer beauty of the slow movement was more than enough to convince Yee to focus more deliberately on the composer's output. Golan suggested recording the Sonata, along with Weinberg's epic Piano Quintet, and Yee brought his fellow Quartet members on board. "All of us in the Attacca Quartet quickly fell for the mysterious colors and bold statements of the Quintet, and Jeanne was a dream to work with," enthused Yee. "These two pieces of Weinberg's deserve to be in the core repertoire, and we couldn't be prouder to release this album on the Steinway label."
"Golan, aside from being a formidable pianist, is one with a deep intellectual and aesthetic curiosity. She is an imaginative and tasteful curator of the programs she presents."


Fanfare Magazine

"Pianist Jeanne Golan sounds poised and committed as does the Attacca Quartet and cellist Andrew Vee. The scores call for a thorough grasp of Weinberg's highly individual window on music. Happily all five do very much get it and get into it."

Gapplegate Classical-Modern Music Review

"The quartet, and pianist Jeanne Golan, attack the music with almost ferocious energy, which keeps one's rapt attention. Not a note or phrase goes by without an almost palpable connection to the spirit of the work, which is clearly one of Weinberg's masterpieces."

Art Music Lounge
Album Credits
Weinberg / Jeanne Golan, Attacca Quartet • STNS 30072
Release Date: 04/20/2018
Recorded June 13–15, 2017 at Steinway Hall, New York City.
Producers: Christopher Oldfather & Jeanne Golan
Engineer: Lauren Sturm
Editing, Mixing and Mastering: Daniel Shores
Executive Producers: Eric Feidner, Jon Feidner
Art Direction: Jackie Fugere
Design: Cover to Cover Design, Anilda Carrasquillo
Piano Technician: Lauren Sturm
Pianos: Steinway Model D #597590 (New York)
About the Artists
The New York Times describes pianist Jeanne Golan as "technically polished and superbly expressive," and the Philadelphia Inquirer as having the "gift and ability to clarify the core of music." Her programming reflects her active involvement in the fostering of works by new composers and discovering relatively unknown musical treasures. With an impressive collection of pieces written for her and that she has premiered and recorded, her solo and collaborative CDs appear under the Steinway & Sons, Albany, Capstone, ArsisAudio and Newport Classic labels. Ms. Golan has been featured at such venues as Carnegie and Merkin Halls in NYC; her range of experience includes work with the Philip Glass Ensemble, the Lark and Attacca Quartets, with singers as in Innocence Lost: The Berg-Debussy Project, and appearances with the American Symphony Orchestra.
Cellist Andrew Yee has been praised by Michael Kennedy of the London Telegraph as "spellbindingly virtuosic". He is a founding member of the Attacca Quartet. They have released several albums to critical acclaim including his arrangement of Haydn's "Seven Last Words" which Thewholenote.com praised as "easily the most satisfying string version of the work that I've heard."
The internationally acclaimed Attacca Quartet is one of the most dynamic ensembles oftheir generation. Praised by The Strad for possessing "maturity beyond its members' years," they were formed at the Juilliard School in 2003 and made their professional debut in 2007 in Carnegie Hall's Weill Recital Hall. From 2011-2013 they served as the Juilliard Graduate Resident String Quartet, and for the 2014-2015 season they were selected as the Quartet in Residence by the Metropolitan Museum of Art in New York. As stated by The Washington Post, "Mastery like this is scarce enough in quartets that have played together for decades."
About Steinway & Sons label
The STEINWAY & SONS music label produces exceptional albums of solo piano music across all genres. The label — a division of STEINWAY & SONS, maker of the world's finest pianos — is a perfect vessel for producing the finest quality recordings by some of the most talented pianists in the world.