Van Cliburn, winner of the 1958 Tchaikovsky Competition in Moscow, at a New York City ticker-tape parade in his honor AP Photo/Jack Harris
Listen Magazine FEATURE
An Unforeseen Ambassador
Van Cliburn and The Legacy Of Classical Music In America
By Ben Finane
AT THE HEIGHT of the Cold War in 1958, a young, tall drink of water from Texas loped into the lion's den of Moscow and won the piano prize in the inaugural International Tchaikovsky Competition. He won on Russian concertos (Tchaikovsky No. 1, Rachmaninoff No. 3) in front of a group of largely Russian judges that included Kabalevsky, Khachaturian, Oistrakh, Richter and Zimbalist. Shostakovich chaired the competition.

Reminiscent of rock-star performances of a bygone era by Liszt, Paganini and Paderewski, women at the competition wept and fainted at Van Cliburn's playing. The crowd was on his side. The judges were on his side. Nikita Khrushchev, embracing him after the concert in a great bear hug, was on his side. Looking back, what's striking is not that Van Cliburn won in Russia, but that he won the Russians over.

When he returned home, Cliburn was an instant hero. He made the cover of Time: The Texan Who Conquered Russia. The twenty-three-year-old was given a ticker-tape parade in New York City. America had never bestowed such an honor on a classical musician — and never will again.
Steinway Immortal
Van Cliburn
Van Cliburn plays for President Richard Nixon at the U.S. Embassy in Moscow.
Van Cliburn at the Moscow Conservatory, playing in 1958's Tchaikovsky Competition
The reason for that is not the low esteem of classical music in our country today, nor the fragmentation of the media nor the fractured nature of our breathless, cockeyed news cycle nor the fact that only opera singers reach diva status these days, but rather that the celebration of Van Cliburn as hero — on this side of the Atlantic — had nothing to do with classical music.

America loves a winner. And six months after the launch of Sputnik, the country was positively desperate for one. Had Van Cliburn attended Moscow's inaugural blintz-eating contest and polished off more plates of pancakes than the Russians, he may well still have garnered a parade upon his return home (at least in his native Texas), and Time wouldn't have had to change its cover line. Cliburn's artistry was appropriated as a victory in the Cold War. It would presage the moon landing and Rocky IV. Capitalism over Communism. We won. Let's throw this patriot, this warrior a parade. God bless America.

But revisit the reaction in Moscow: the weeping, the embraces, the adoration. These aren't the reactions of people who have "lost." The Russians were moved by the unassuming American's considered yet intuitive interpretations of their music — of Tchaikovsky, the greatest of Russian composers, of Rachmaninoff's vital and virtuosic Third Concerto. How many Muscovites, dwelling behind the iron curtain, had seen a non-Russian? A non-Russian pianist? An American pianist! An American pianist who had learned the great Russian concertos so intimately and played them so beautifully....

Moscow launched Van Cliburn into space but could not sustain the pianist's burgeoning career, which fell to earth and never recovered. In an obituary written in The Washington Post, Tim Page noted that Cliburn "relinquished his crown while he was still a young man, and his life may be seen as a long study in anticlimax." In The New York Times, Anthony Tommasini wrote: "In the late 1950s this baby-faced, teetotaling, churchgoing, wholesome Texan had fit the times. But to young Americans of the late 1960s he seemed a strained, stiff representative of the demonized establishment."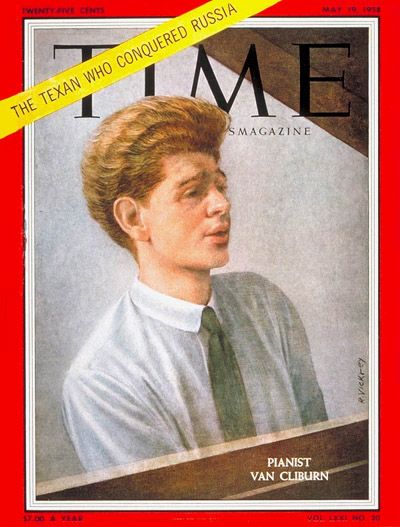 Van Cliburn shone, when the stars aligned, in an unscripted moment and was victorious. He didn't possess the temperament or discipline for a concert pianist and he was no Cold Warrior. He was not our greatest pianist but something far nobler: our greatest ambassador for classical music. Through his recordings of Tchaikovsky and Rachmaninoff, through the Van Cliburn International Piano Competition, which has continued every four years in Fort Worth for a half-century, Cliburn exposed millions of Americans to classical music — many for the first time.

After his victory in Moscow, after the initial rush of patriotism simmered down, Americans grew curious. Who was this Tchaikovsky, anyway? In a 2012 survey of Listen readers, many respondents said it was Van Cliburn's recording of Tchaikovsky's First Piano Concerto (RCA) — the first classical album to sell more than a million copies! — and other Cliburn albums that first sparked their interest in classical music.

"As an aspiring piano player," wrote J.R. from Seattle of Cliburn's Tchaikovsky First, "it made me want to practice."

"My older sister's boyfriend gave her the Cliburn recording as a going-away present," wrote Jim Kramer of Oregon. "I'm not sure she ever listened to it, but I listened to it a lot. I was fifteen."
America loves a winner. And six months after the launch of Sputnik, the country was positively desperate for one.
"Like many Texans," wrote Rev. Dr. Melinda V. McLain of San Francisco, "my father was extremely proud of fellow Texan Van Cliburn's historic win in 1958 in Moscow. He owned several recordings by Van Cliburn on vinyl and reel-to-reel and I remember that he would put big earphones on my little ears so we could listen to Van Cliburn play Rachmaninoff. Many evenings after dinner we would put our earphones on, listen and weep at the beauty of this music." It would appear that Cliburn's ability to move listeners to tears knows no nationality.

Today Van Cliburn serves for many Americans as a flash point, real or imagined, for such milestones as varied as the rise of the stereo LP, the raising of culture and cultural institutions such as the Kennedy Center and Lincoln Center, a slight rise in temperature to warm the Cold War, and a vaguely rising lump of extramusical pride and patriotism in the throat.

But revisiting Cliburn's live performance of the Rach Three at Carnegie Hall (RCA) reveals the man and his music making, unfettered by geopolitical projection. Here is a pianist both brash — you can hear how big his hands are — and nimble, playing vibrant phrases that are given room to breathe. In the final movement, there's an expansive moment of transcendent calm, played out of time. I try to hold onto it before the brakes are released and Cliburn comes crashing through Rachmaninoff's coda and into a wall of analog applause.
This article originally appeared in Listen: Life with Music & Culture, Steinway & Sons' award-winning magazine.
Davell Crawford discusses the rich jazz tradition of New Orleans, the fall of New York, moving forward, and employing the multiple personalities that live within you.

Read More

Igor Levit on improvising; his 'very direct' and personal sound; and his love for Frederic Rzewski, Marina Abramovic, and voices beyond the classical canon.
By Ben Finane

Read More

Two archival discoveries present Steinway Immortal Bill Evans in 1968 alongside Eddie Gomez and Jack DeJohnette.

by Bradley Bambarger

Read More