listen magazine feature
A Ceaseless Flow of Invention
Marc-André Hamelin reveals the unexpected.
By Bradley Bambarger
Anyone who has witnessed Marc-André Hamelin play Godowsky's fantastical inventions on Chopin's études or the mammoth Alkan solo symphony knows the feeling of a jaw grown sore from dropping. The pianist's incredible feats of dexterity, memorization and musical élan are dazzling, and yet — perhaps in a greater testament to his talents — a listener almost forgets these complications and simply marvels at the music's strange beauty.
Something like the converse happens when Hamelin plays a more familiar Haydn sonata or Debussy prelude: like a diamond cutter with soul, he enables the listener to hear the kaleidoscopic richness of the music anew. He is not only a pianist's pianist; he is a music lover's pianist.
Over the past two decades, Hamelin seems to have done more to expand the keyboard literature and its interpretation than any other pianist. He made his name by performing and recording repertoire — Medtner, Catoire, Roslavets, Sorabji, Kapustin — that other pianists wouldn't or couldn't play. Building inexorably since 1994, his beautifully produced discography for the British label Hyperion has come to be a modern treasure. It includes concertos by Busoni, Marx, Scharwenka and Korngold, as well as Bernstein and William Bolcom; plus more solo music from Scriabin, Grainger, Dukas, Ives, Ornstein and Villa-Lobos, not to mention Frederic Rzewski's The People United Will Never Be Defeated. In recent years, Hamelin has also essayed more standard literature, including Chopin, Schumann, Brahms and Albéniz.
Born in 1961 in Montreal (and now living in Boston), Hamelin's catholic tastes were fostered by an amateur-pianist father who introduced him to exotic scores. On a day off in Newark between performances of Richard Strauss's Burleske with the New Jersey Symphony Orchestra, Hamelin spent an afternoon talking with Listen about past pianists he admires (Samuel Feinberg, particularly his detailed, "composer's take" on Bach's Well-Tempered Clavier) and dislikes (Sviatoslav Richter, for his "unrelenting gloom"), as well as his appreciation for sonic collage and "outsider art" in popular music. But the main discussion focused on six of Hamelin's key recordings, from famous repertoire through the more obscure to his own compositions.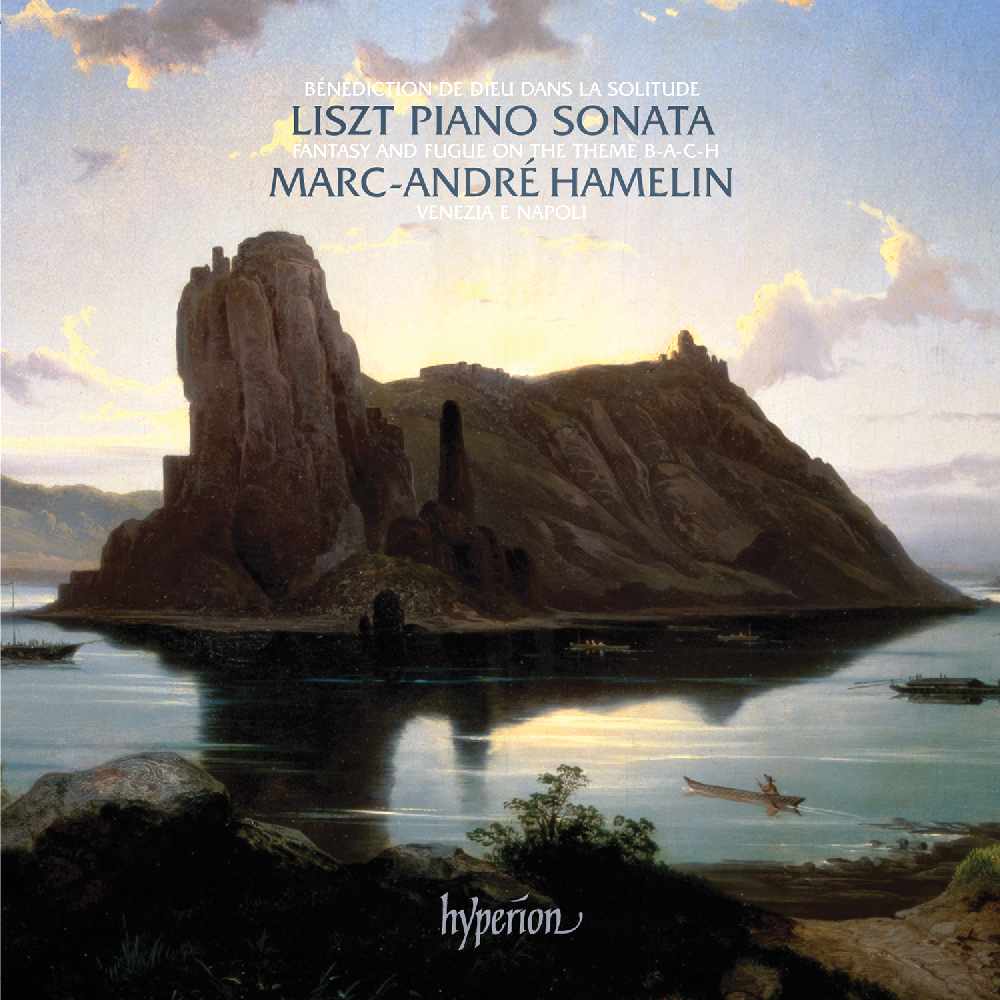 Liszt: Sonata in B minor, et al (Hyperion, 2011)
Hamelin's contribution to Liszt's bicentennial includes an album of the ever-totemic Sonata in B minor, Fantasy and Fugue on the Theme B-A-C-H, Bénédiction de Dieu dans la solitude and Venezia e Napoli. Even with Hamelin's long relationship with Hyperion, the pianist had to persuade the label that yet another take on the B minor Sonata was worth it. Hamelin explains: "Mine is the fourth in their catalog, after those by Stephen Hough, Nikolai Demidenko and Leslie Howard, who has recorded Liszt's every note for Hyperion. But somehow I talked them into it.
"The B minor Sonata I've known since I was very young, yet it wasn't until 2009 that it felt like the right time to tackle it. A few years before, the BBC requested it for a studio recital, but I chickened out. It's one of those familiar works, like Bach's Goldberg Variations, that people come to hear for what the pianist is doing with it as much as for the music itself. I thought I might feel the eagle ears of the listeners too much. But now I'm confident in presenting the piece as I hear it. When it came time for coming to grips with the material, I had the score so in my head that I could practically play it by ear. The challenge was figuring out its aesthetic and emotional direction. In certain performances I've heard, the piece becomes discursive, not allowed to speak directly. It helps to liken musical discourse to literary discourse — to the evolution of a story. Then it becomes easier to present something coherent, to not lose the listener. Whether the story I'm trying to tell will please everyone, that's another question. But I have found that trying to please everyone is the surest way to insanity.
"The view of Liszt remains pretty one-sided. People still generally associate him just with virtuosity. But if you look closely enough, it is hard to deny that he is one of the most original musical creators ever: he invented the symphonic poem, and he revolutionized musical form and harmony. For someone like Wagner to acknowledge Liszt's influence, that says a lot. Not everything is great; there are things he wrote that are repetitive rubbish. But if you examine a long cross-section of Liszt's works, it is astonishing how little he repeated himself. He was constantly finding new ways of making the instrument sound, new ornamentation, new passage-work. His imagination was always working, breaking new ground."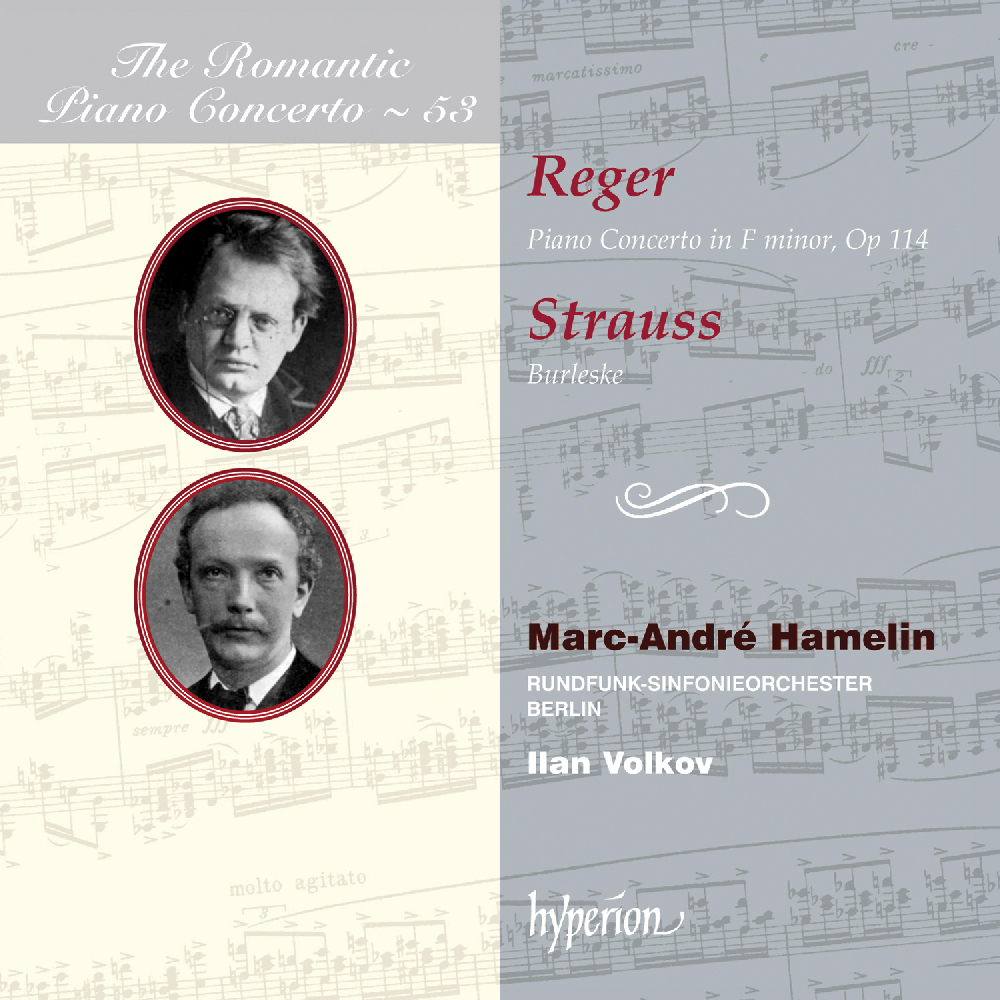 Reger: Piano Concerto in F minor/R. Strauss: Burleske with the Berlin Radio Symphony Orchestra; Ilan Volkov, conductor (Hyperion, 2011)
For all his connections to Austro-German tradition from Bach on down, Max Reger (1873–1916) has long stood as one of history's least-loved major composers, a complexity-obsessed "Brahms on steroids." The critical mauling of his Piano Concerto — despite its Largo of dark-hued, affecting lyricism — broke his heart and tainted the piece for decades. Rudolf Serkin championed the concerto, recording it in 1959, but the work has remained a curio, unlike Strauss's early, glittering Burleske, a more popular homage to Brahms.
"Reger's name is in the same fear-inducing category as Schoenberg's to many," Hamelin explains. "He actually wrote beautiful songs that, while they may not be on the level of Strauss or Wolf, deserve more hearings; the pieces Reger wrote for solo strings are a continuation of Bach, and I wish more artists played them. The problem with Reger is that, at his worst, he can be so harmonically dense that he can lose you. He was fond of one modulation after another, sometimes so quickly that you don't know where you are. The Piano Concerto is not what you call 'an audience piece.' Still, there are many things in it that I refer to as 'earworms.' They really work their way into your mind. There is a lot of Brahms in Reger, though Brahms knew how to do more with less. The Reger concerto deserves a fresh hearing, though. I don't expect to perform it often live; the concerto is demanding and requires a sympathetic orchestra and conductor. But if this recording can help people want to discover more of what he wrote, then great!
"I've always had a lot of fun playing the Strauss Burleske, but it isn't an easy piece for orchestras, either. The piece is quick in tempo, and the orchestration can be heavy in tuttis — so you have to be crisp rhythmically or ensemble can be a problem. In the case of both works, though, I'm very happy with this recording."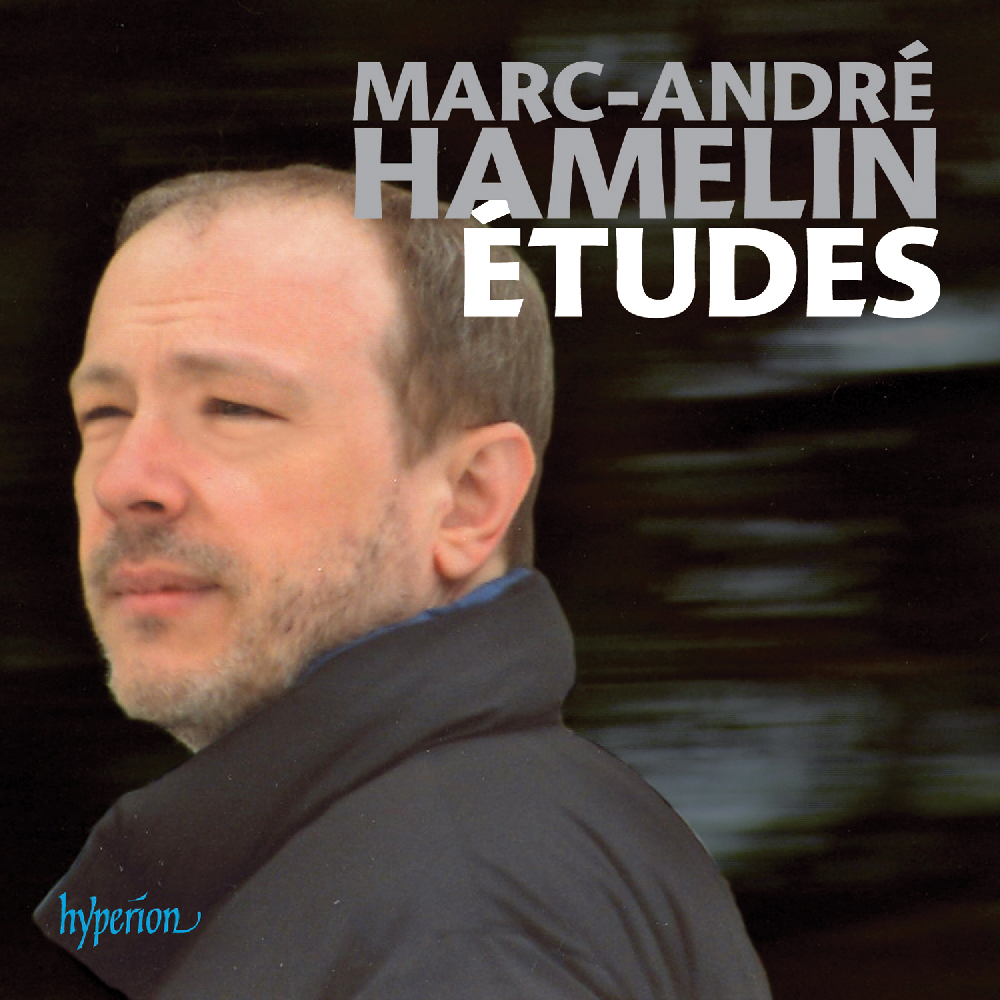 Hamelin: Études (Hyperion, 2010)
Some of Hamelin's 12 Études in All the Minor Keys have shown up in his programs as encores, and three were included on his 1998 anthology The Composer-Pianists. The pieces include such essays in stupendous complexity as the Triple Étude (After Chopin), a contrapuntal weave of three Chopin studies along the lines of a piece that Godowsky was supposed to have created in a manuscript now lost. But 12 Études also presents such hushed beauties as a left-hand study based on a Tchaikovsky lullaby. To the Études, the album adds three essentially poetic works: Cathy's Variations, Con intimissimo sentimento and Little Nocturne.
"I wrote the first Études because I wanted something of my own to play," Hamelin says. "But then I thought more about leaving something of my own behind for other pianists. Most of them are very difficult to perform, but I was always writing music, not technical exercises. I suppose that any way you look at it, the Triple Étude is something of a stunt. But it was a tremendously interesting compositional challenge. For the first ten bars, the three Chopin studies fit well together, then they diverge in form and harmony, so it becomes a real test to make two parts fit to the third one.
"The Cathy Variations is a piece I wrote for my beloved; the theme is a portrait of her, a romantic impulse. It is far more approachable than the Études, even if to give it the elegance and flow that it requires is another story."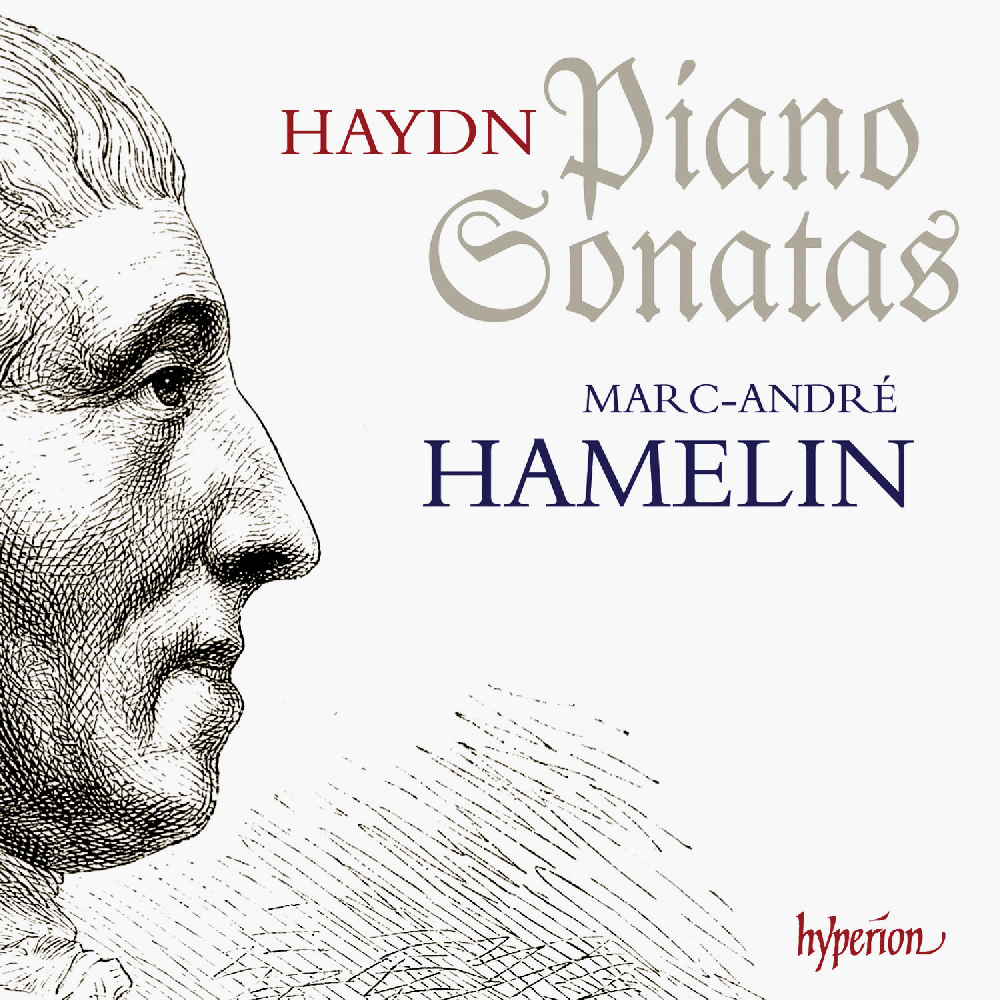 Haydn: Piano Sonatas, Vols. 1 and 2 (Hyperion, 2007 and 2009)
Haydn's sixty-some piano sonatas are connoisseur music of a different sort. Even if their digital challenges don't nearly approach what Hamelin usually plays, the pianist seems as proud of his two double-CD sets of Haydn as anything he has done (a third volume is on the drawing board). To hear Hamelin play the Allegretto from Haydn's E major Sonata No. 31 on the second volume is to experience a wonder of meditative rhythm. You can also see him perform No. 31 on the 2007 EuroArts portrait/recital DVD No Limits.
"I've known Haydn sonatas since I was a boy," Hamelin says, "but it was only gradually that I became aware that something very powerful was there. Another pianist I know described Haydn's sonatas as 'Mozart with muscle,' and that isn't too far off. Haydn takes a delight in being more angular than Mozart. He is a mischievous spirit. I first knew some sonatas through heavily edited, romantic editions, so I was flabbergasted to see the Vienna Urtext edition — Where were the slurs, the dynamic indications? He trusted his performers to know what to do. I don't think one should freak out with perverse ways of realizing the music, but to me, the freedom is stimulating. Really, going through the Haydn sonatas has been like opening one present after another; there are so many surprises, so many twists and turns. It's a ceaseless flow of invention, on par with his symphonies and string quartets. When people hear my name, they think Alkan, Godowsky, Busoni, etc. Yet I have tremendous enthusiasm for Haydn."
"Another pianist I know described Haydn's sonatas as 'Mozart wih muscle'.... Haydn takes a delight in being more angular than Mozart. He is a mischievous spirit."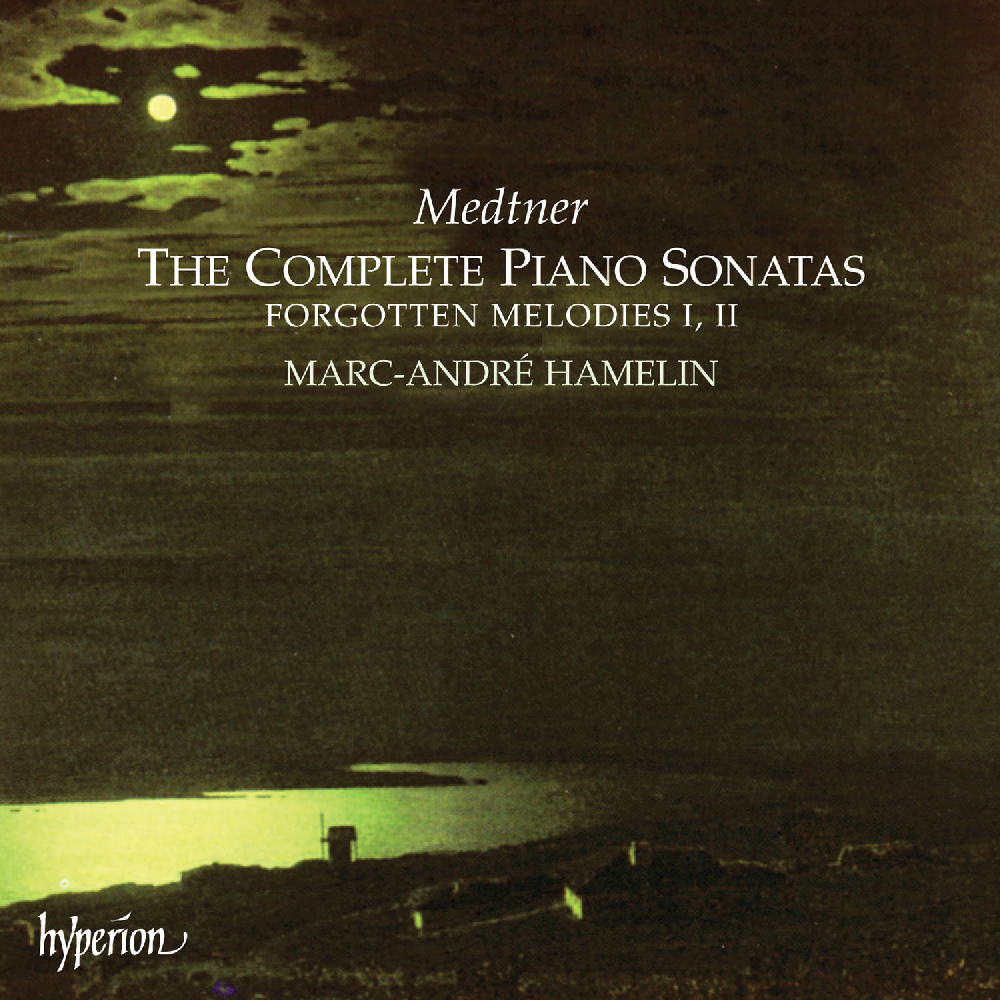 Medtner: Complete Piano Sonatas, Forgotten Melodies (Hyperion, 1998)
In 1921, Rachmaninoff wrote to his fellow countryman and composer–pianist Nikolai Medtner, "I repeat what I said to you back in Russia: You are, in my opinion, the greatest composer of our time." In the West, though, Medtner came to be considered mostly a "Rachmaninoff without the tunes." In recent years, several pianists have taken up the composer's cause in the studio, with Hamelin and his four-CD set prime among them.
"Medtner has been given a raw deal," Hamelin says. "The problem is that Medtner doesn't often make a good first impression. But if you stick with him, he'll take hold of you. He was one of the greatest musical craftsmen who ever lived, as far as architecture and development. As [Russian composer Sergei] Taneyev said, 'Medtner was born with sonata form in his veins.' Take the 'Night Wind' Sonata: It's thirty-three minutes long, and there are tons of little things in there that the listener may not catch — but they add up to something truly great. It's not usually the thematic material in Medtner that is arresting; it's what he does with it. The transformational resource is endlessly fascinating to me. The Sonata-Reminiscenza is one of my favorite things in the world. It's a rather quiet piece, not showy at all — which is maybe why it doesn't hold much appeal for young pianists, especially. But the emotion there runs deep. I'm glad to say I own the actual manuscript of the piece. Rachmaninoff came from the same world, but his music tends to be more grandiose and his harmonic vocabulary is more extended, with more chromaticism. Medtner never pushed the boundaries quite like Rachmaninoff, but within his more restricted canvas, Medtner could work miracles."