Steinway & Sons Unveils Gran Nichetto Limited Edition Piano
Venetian Aesthetic Meets Technological Innovation in a Limited Edition Masterpiece
NEW YORK CITY, NY (November 10, 2022) – Yesterday evening, iconic American piano maker Steinway & Sons announced its latest Limited Edition, Gran Nichetto. The piano is the collaborative work of award-winning designer Luca Nichetto and the master craftspeople at Steinway's historic factory in New York City. Only 50 Gran Nichetto Model B Steinway grands are available, and each is equipped with Steinway's latest technological innovation, Spirio | r, the world's finest high resolution player piano with recording capabilities.
Steinway Limited Edition pianos are unique masterpieces created by some of the most notable artists and designers of our time. They are custom built to combine classic Steinway craftsmanship with inspired artistic concepts. The Gran Nichetto, with its elegant aesthetic and contoured design, celebrates the famed shape of Venice's beloved gondola, and the incorporation of leather details adds to the Italian signature. Nichetto approached the piano like he would a piece of furniture, dissecting and redefining all external elements in close collaboration with Steinway's craftspeople. He described the assembly of these elements as similar to a micro-architecture project, evolving the aesthetic of the Model B in a way that honors the history and tradition of Steinway & Sons.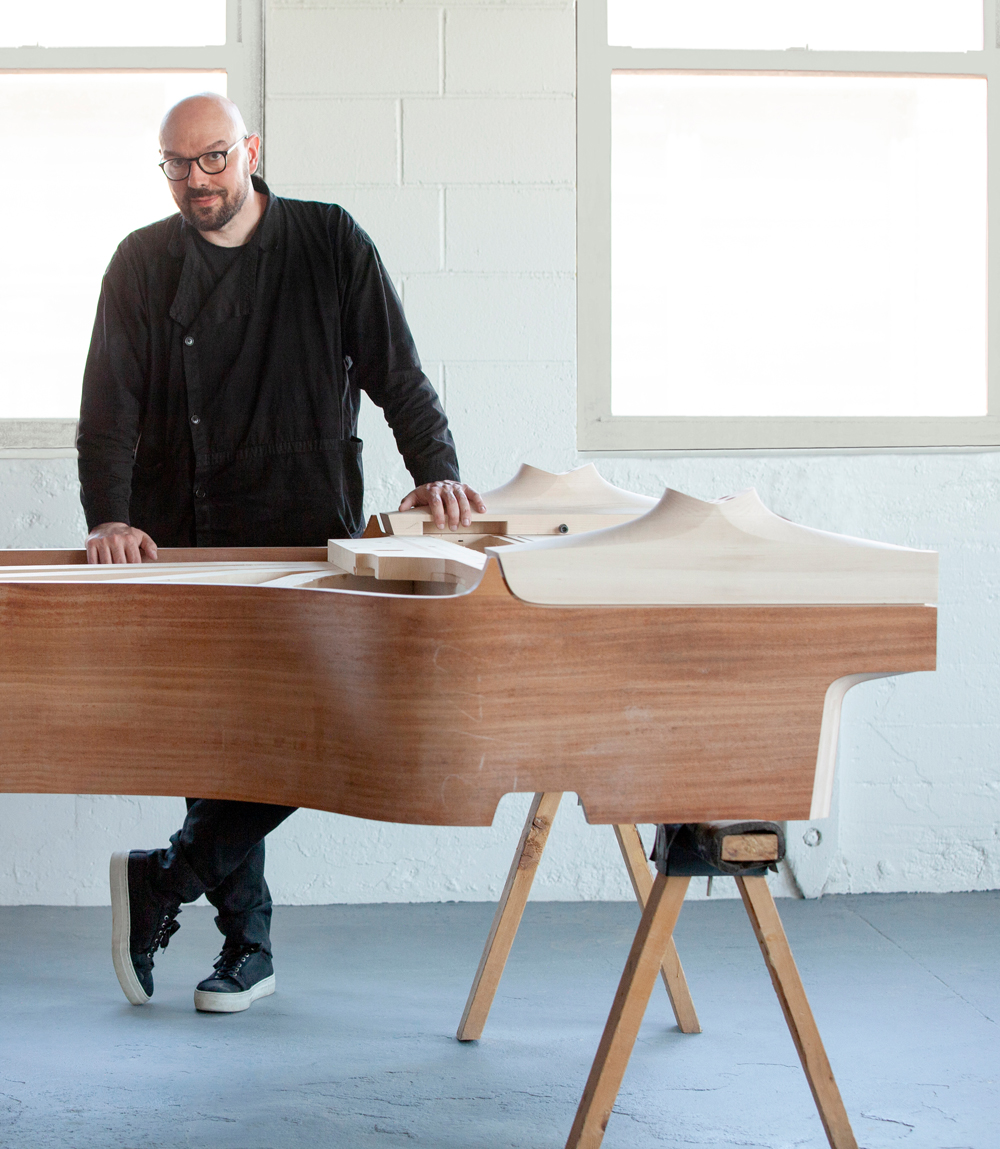 Founded in 2006 in Venice, Nichetto Studio is a multidisciplinary design studio creating furniture, products, and accessories as well as architecture, exhibition design, and branding. The Steinway Gran Nichetto is the first piano design to emerge from the studio, which has bases in Venice and Stockholm and which works with some of the world's most recognizable brands, including Hermès, Land Rover, De Le Espada, Cassina, and Ginori 1735. Nichetto Studio has been recognized with the Red Dot Award and the Elle Decoration International Design Award, among many other accolades.
The Gran Nichetto Limited Edition was more than four years in the making. It was initially conceived by Nichetto as an homage to Venice, where the designer was raised and where he was influenced by the artistry of some of the world's finest glassblowers. A visit to the Steinway factory in New York, with its stunning array of curvaceous pianos in all stages of creation, triggered childhood memories for Nichetto, who immediately drew associations with the shapely gloss hulls of the famous gondolas traversing Venice's canals. In designing Gran Nichetto, the designer sought to translate the smoothness and dynamism of the gondola into the detailing of the piano, accenting the lines and celebrating the contours across the instrument's every detail.

"Gran Nichetto is a great example of an object with multiple souls – craftsmanship, technology and legacy merge perfectly with the sculptural appearance and sound performance expected of a Steinway."


Gran Nichetto sits atop elegantly sculpted legs defined with brass or stainless-steel accents. The music desk is distinguished from the case's high-polish finish by the fine luster of Italian leather. The gracefully tapered top stick supports the piano lid, which is reinforced with brass or stainless-steel hardware integrated into the piano rim. The pedal lyre is a single piece of hand-crafted bent lamination. The Gran Nichetto is accompanied by a matching bench.
Together with its exquisite design, Gran Nichetto also offers the show-stopping capabilities of Spirio | r, Steinway's most technologically advanced piano. Spirio | r is a high resolution player piano offering live music, on demand, as well as live performance capture and playback. The Spirio music library offers an ever-expanding collection of music from the world's finest musical artists, both living legends and immortal giants.
"Gran Nichetto is a great example of an object with multiple souls – craftsmanship, technology and legacy merge perfectly with the sculptural appearance and sound performance expected of a Steinway," said Luca Nichetto.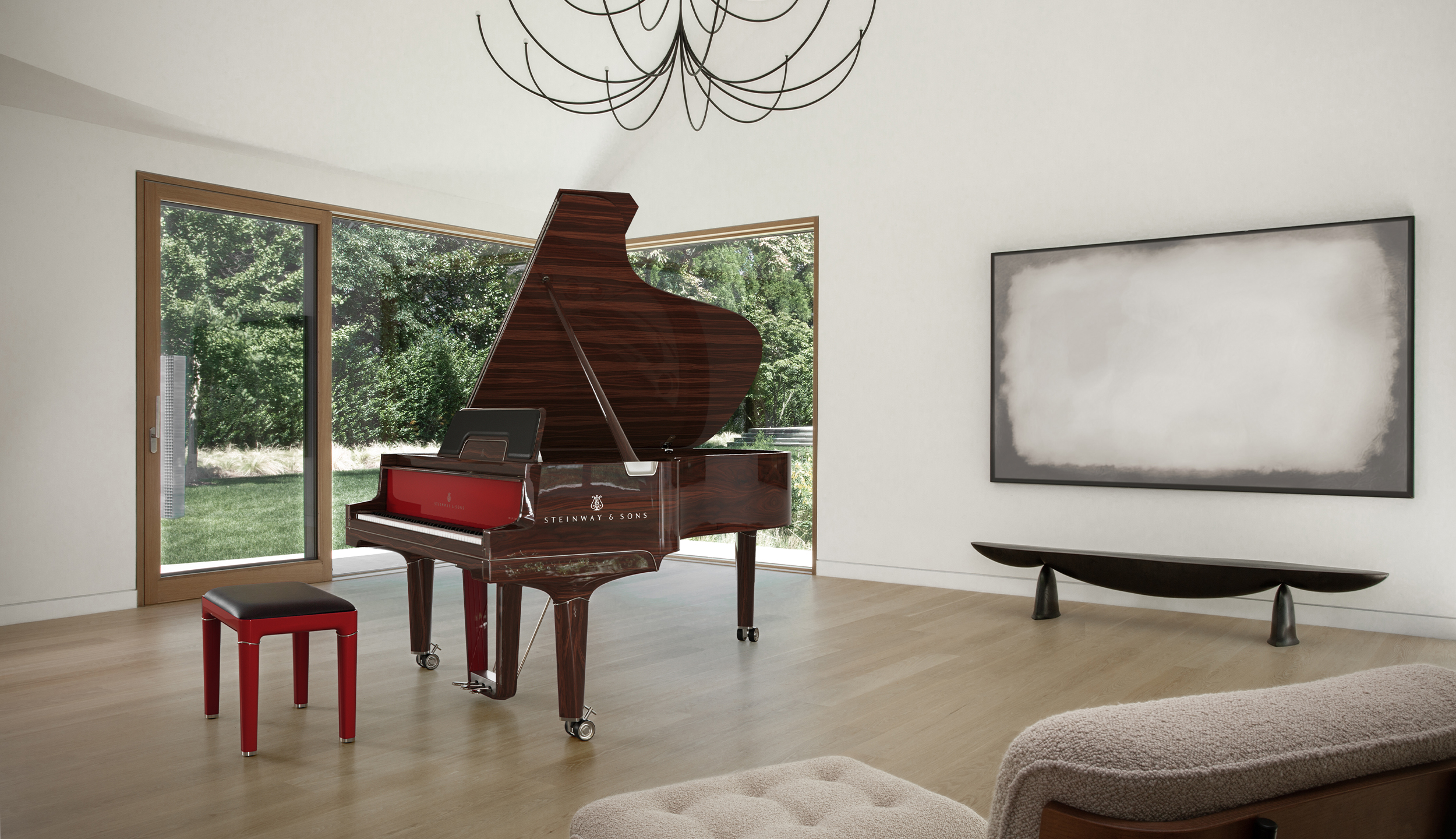 "It is always exciting to unveil a new Limited Edition Steinway, and Gran Nichetto now joins the ranks of some of the most memorable and expressive pianos in history," said Rob Polan, Vice President of Special Pianos. "Gran Nichetto honors the history and tradition of Steinway & Sons while incorporating a sophisticated Italian aesthetic. The result is a sleek, graceful Steinway like none other. We're very proud of this collaboration."
The Steinway Gran Nichetto Limited Edition comprises 50 Model B Spirio | r pianos in a range of finishes: Midnight Red, Black Polished, and Walnut Veneer.
To learn more, visit steinway.com/nichetto
About Luca Nichetto
Luca Nichetto was born in Venice in 1976, where his artistic talents were inspired by the famous Murano glassmaking industry. His career started in his schooldays, where holidays were spent selling his designs to local factories. He went on to study at the city's Istituto Statale d'Arte and earned a degree in industrial design at the local Università Iuav di Venezia (IUAV), graduating in 1998. The following year, he joined the Murano-based glassmaker Salviati, later becoming a product designer and consultant for lighting company Foscarini. He founded Nichetto Studio in 2006. Five years later, he moved to Stockholm, Sweden, and opened a second studio there, combining his Italian flair with the Swedish spirit of modernity and sustainability. Over the years, Luca has served as art director for many international design brands and has gained a reputation as a multidisciplinary designer. He has lectured and led workshops at several universities, including serving as a professor of design at the IUAV, and has sat on juries for various international design competitions. His work is often featured in prestigious exhibitions worldwide and has been the subject of retrospectives in cities including London, New York, and Beijing. His highly researched, innovative projects have earned him an impressive array of international awards for designs that range from products, accessories and furniture to architecture, exhibition design, and branding.
About Steinway & Sons
Since 1853 Steinway pianos have set an uncompromising standard for sound, touch, beauty, and value. Steinway remains the choice of 9 out of 10 concert artists, and it is the preferred piano of countless musicians, professional and amateur, throughout the world. For more information, visit www.steinway.com.

Press Contact:
Anthony Gilroy
Steinway & Sons
agilroy@steinway.com
(718) 204-3116