A new Steinway D energizes historic Steam plant at the Middlesex School
Students and faculty can practice on a Model B at the new teaching studio (Photo by Joel Haskell)
CONCORD, MA — A 19th century steam plant fueled by coal and oil to heat the Middlesex School is now supplying a much sweeter source of musical energy, as the sounds of a nine-foot Steinway concert grand piano pulse through the Rachel Carson Music and Campus Center.
Switching to natural gas and reducing its carbon footprint, the independent secondary boarding and day school initiated a creative reuse that fascinated its designers. Inside a space housing two hulking boilers, architects had the makings of quality acoustics, so concrete walls gave way to the magnificent Danoff Recital Hall.
The 22,000 square-foot Rachel Carson Music and Campus Center at the Middlesex School blends a proud industrial heritage with modern construction, environmental and sound technologies. (Photos courtesy Windover Construction)
"Personally, this is among my top five favorite projects," said Stuart Meurer, president of Windover Construction, which has been partnering with Middlesex on the school's Master Plan since 2014. "As with many older institutional buildings, we had to address the challenges of structures which were added on over the years with various floor elevations. The challenge was maintaining as much of the existing structure that made sense for the classrooms and the recital hall, which lends itself to a great listening experience." Windover collaborated with Boston-based CBT Architects, theater consultant Martin Vinik and acoustic consultant Acentech on the $13 million project.
"The sound is very immediate and you really feel like you are part of the music."
Insulated wooden panels and acoustically-designed windows allow for the proper absorption of sound. Unlike larger concert halls, the dynamic 134-seat space offers an intimate setting for student performers and audience members. "The sound is very immediate and you really feel like you are part of the music," explains Dr. Pierson Wetzel, Head of the Music Department. Outdoor views heighten a greater appreciation for Rachel Carson, a prominent 20th century conservationist and nature writer perhaps best known for her book, Silent Spring.
The music program has grown to accommodate more than 150 of the school's 400 students each year. But there was no music building, as studies were scattered around the campus, including the basement of the library. "This place is our identity, and we feel very fortunate to have it," Dr. Wetzel said. "The kids are excited about having a dedicated space where they can perform and listen to their fellow students."
Working closely with Charlotte (Charlie) Finnegan of M. Steinert and Sons in Boston, Dr. Wetzel and Shizue Sano of the piano faculty visited Steinway's famed Selection Room in Queens to pick the perfect Model D. Middlesex also added a Model A for Dr. Wetzel's classroom and a Model B for an alcove teaching studio. All of the new Steinway grands were gifts from donors.
The Recital Hall boasts world-class acoustics that demanded nothing less than a Steinway concert grand piano.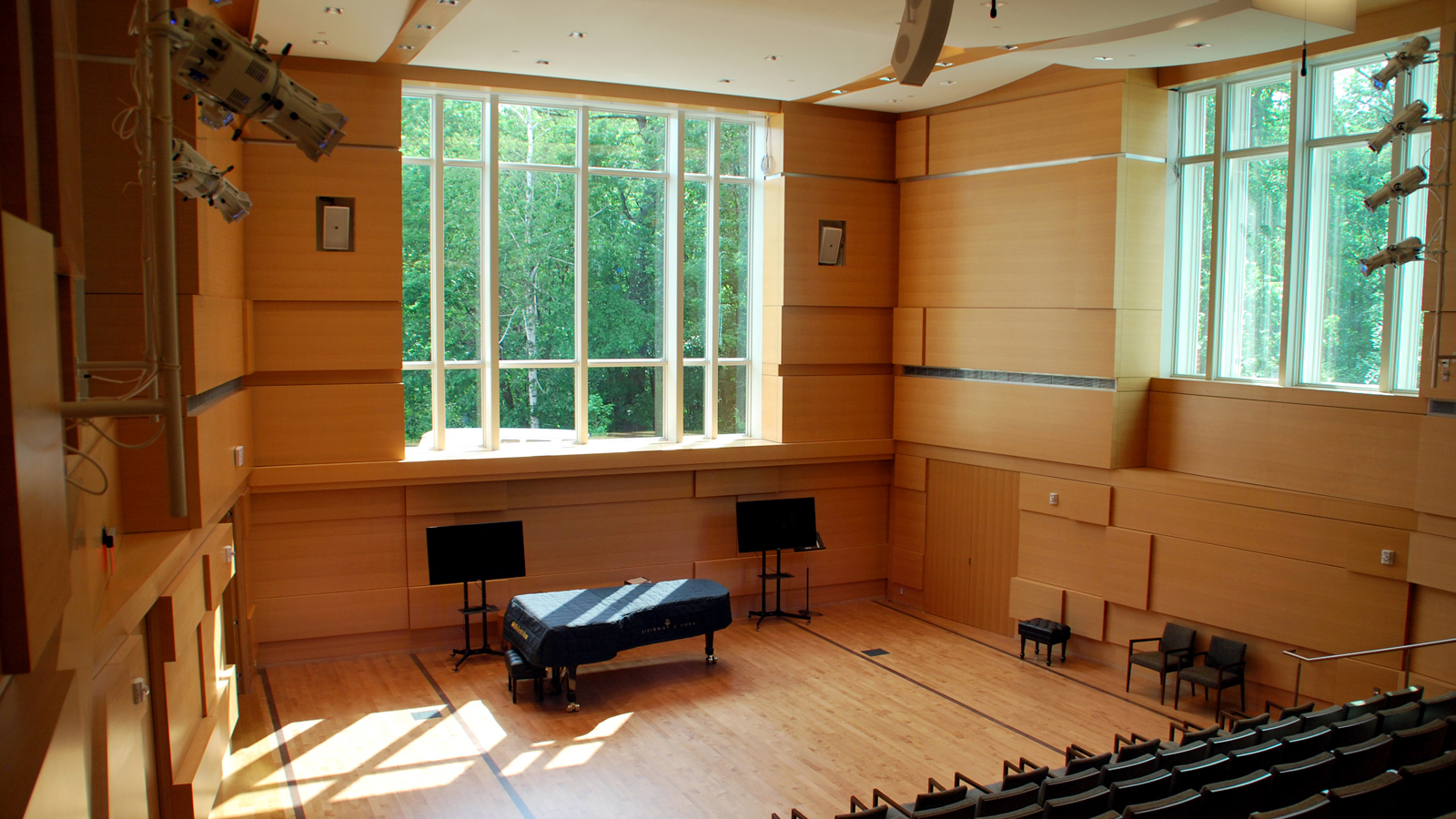 Dr. Wetzel said he is lucky to have access to such beautiful instruments. "Playing a Steinway is what it really feels like to play a good piano. The quality of the piano makes a difference, especially for our advanced pianists."
The school has a Model B in the Chapel where students would compete for playing time. "Now there are other options, so it's a different experience. They are thrilled to have the new Steinway in the Danoff Recital Hall," he said.
His tour of the Steinway factory was everything he hoped it would be – and more. "It was wonderful working with Charlie. She arranged our trip to the factory and that was the chance of a lifetime."
As for the music program's new home, Windover's Meurer credits a wonderful team and client for banding together and "creating something we know is built to last." He could have been describing the same effort that goes into making a Steinway piano.