University of Mobile's
all-steinway

campaign has an international flair

As seen in the Spring 2017 edition of the Chronicle.

MOBILE, AL – Dr. Kadisha Onalbayeva needed time to absorb her global celebrity status in 2013 when she was named the first Steinway Artist from Kazakhstan, the world's ninth-largest country. Dozens of publications picked up the story. Her phone rang nonstop for a whirlwind six days.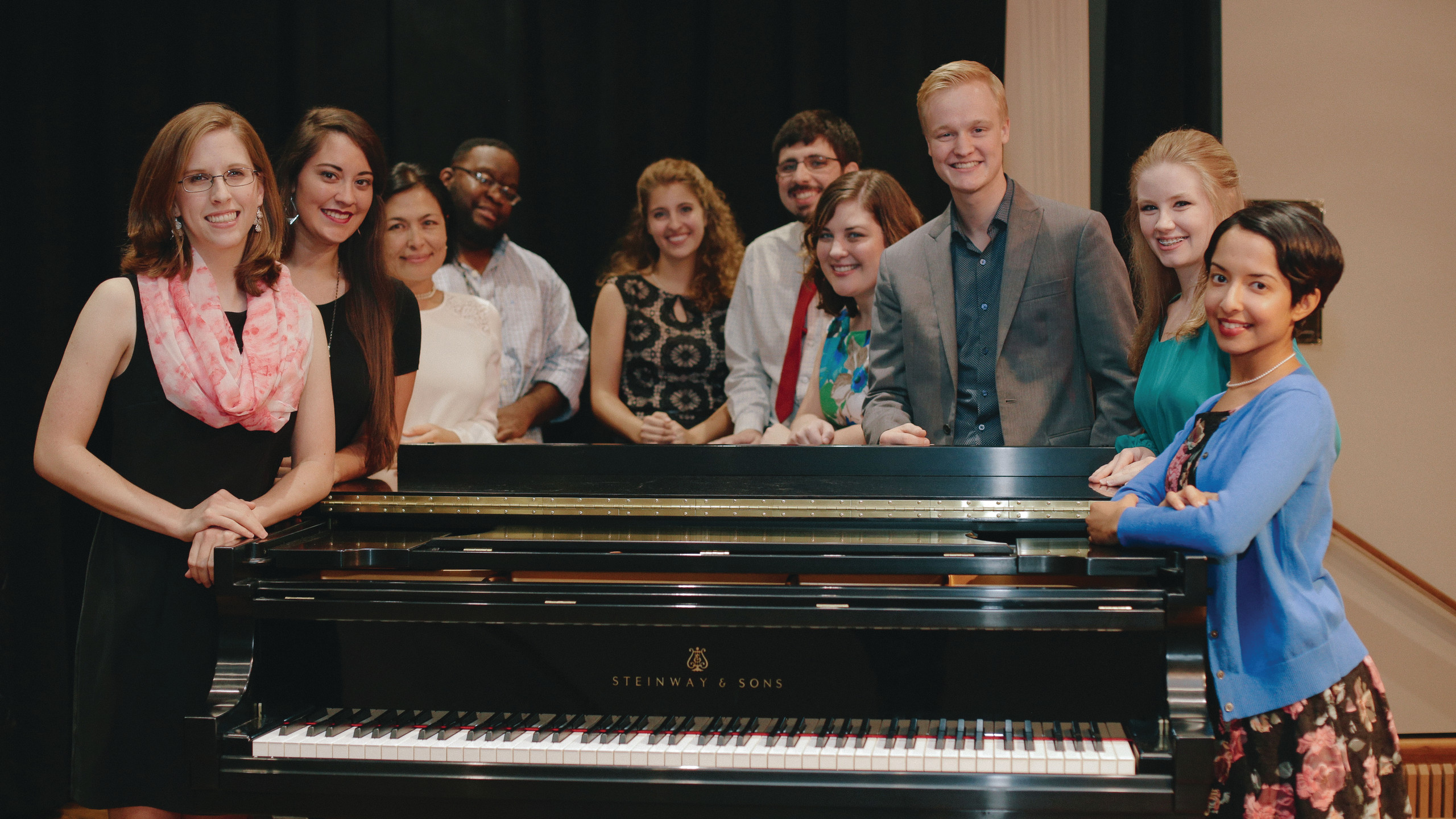 University of Mobile Students aglow with joy!
Kadisha received a commission to compose a symphonic poem, "Zherym," or "My Motherland," that premiered with the Kazakhstan Philharmonic in Almaty, where she also performed the Piano Concerto No.1 by Franz Liszt. It was in Almaty where she launched her musical career at age five in the Jubanov Special School for Talented Children.​
Immigrating to the United States in 2003, she furthered her studies at the University of New Orleans and received her doctorate in piano performance from Louisiana State University. She is most passionate about her role as president of the Gulf Coast Steinway Society, a non-profit organization dedicated to providing opportunities for young pianists, reciprocating for those she was afforded while growing up in central Asia.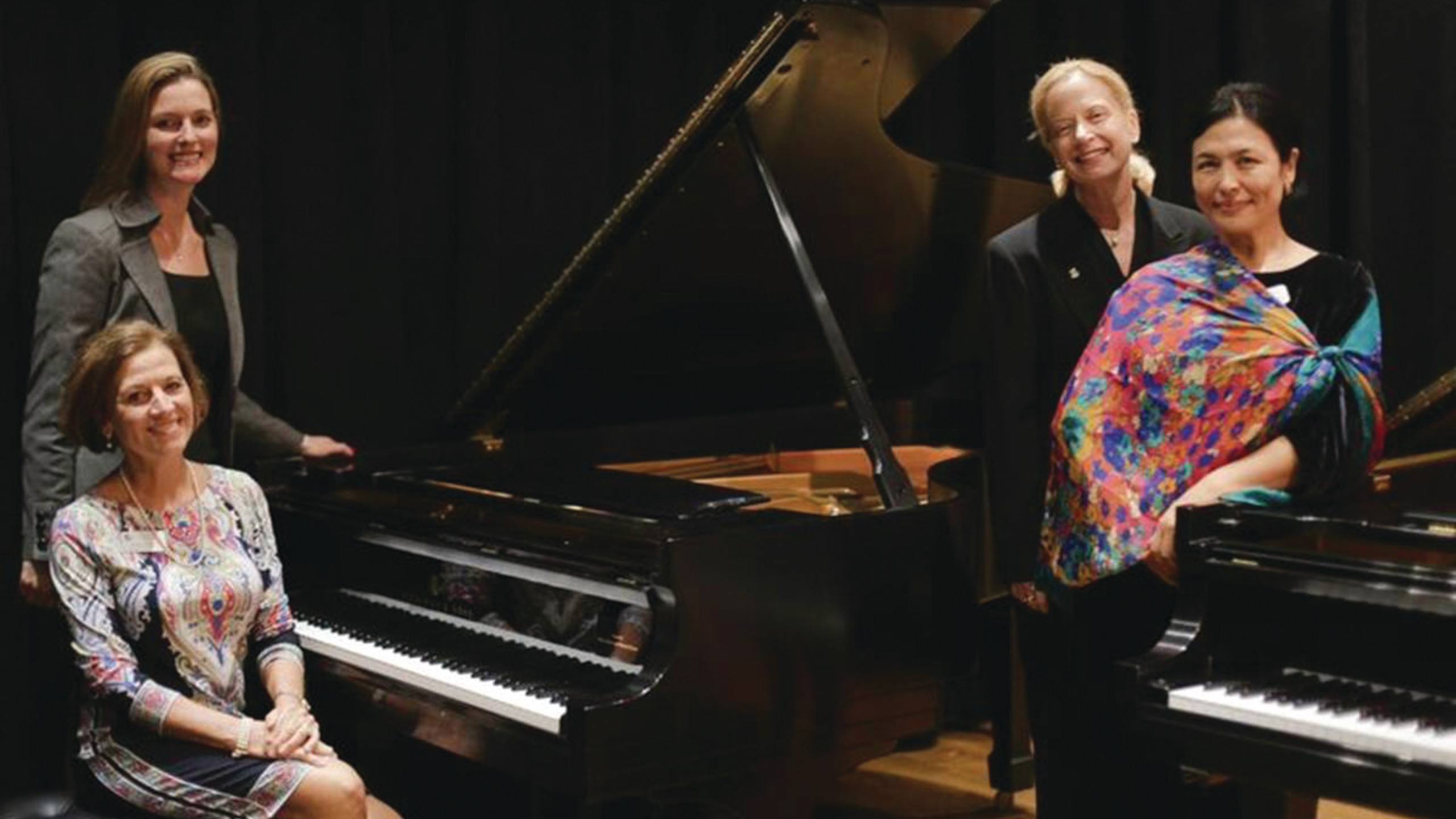 < Christy Myers, Steinway Piano Gallery, Spanish Fort; Becky Fox,associate professor of piano and campaign co-chair; Sally Coveleskie, Steinway & Sons; Dr. Kadisha Onalbayeva, associate professor of music,campaign co-chair, and Steinway Artist.
Kadisha serves as associate professor of music at the University of Mobile, a liberal arts institution affiliated with the Alabama Baptist State Convention. Along with Becky Fox, head of the UM Piano Department, she co-chaired All-Steinway, All Together: A Campaign for Musical Excellence at the University of Mobile.
"Since becoming a Steinway Artist, I have been blessed to experience the joy and inspiration of practicing and performing on the best pianos in the world."
"Since becoming a Steinway Artist, I have been blessed to experience the joy and inspiration of practicing and performing on the best pianos in the world," she tells The Chronicle. "As a music professor, I kept thinking about how I could share this same feeling with our students and faculty. If all our students had access to Steinway pianos, I knew they would also experience this heightened level of inspiration and an even stronger commitment to excellence."
After attending Steinway's Keys to Finding Funds Seminar at Carnegie Hall in New York, the two pedagogues began mapping a strategy for success with Christy and Chris Myers of Steinway Piano Gallery Spanish Fort.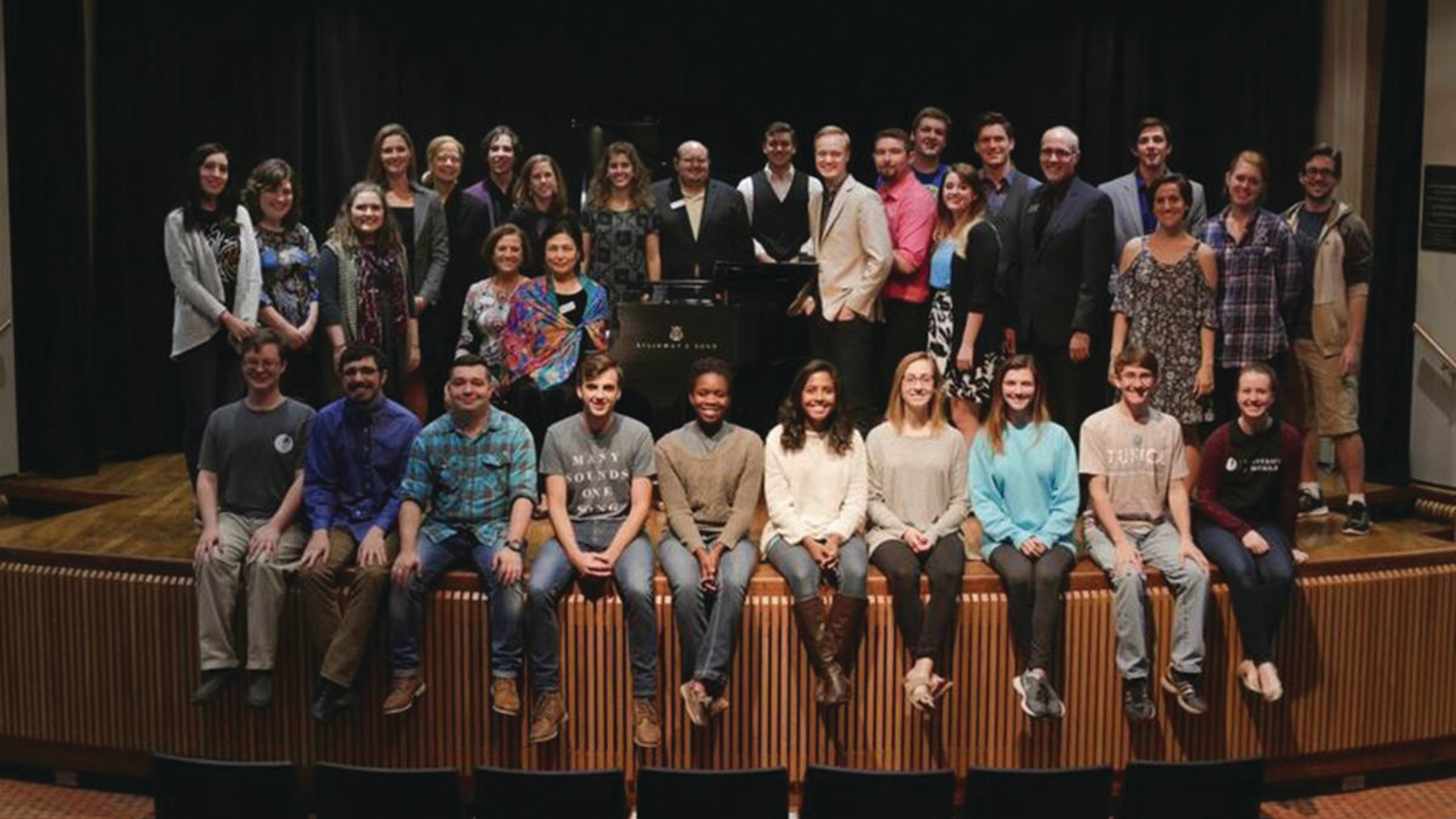 "All Steinway, All Together" is the motto at the University of Mobile.
"The University of Mobile is dedicated to training, developing, and educating the next generation of church musicians, so upgrading to the best instruments possible was an absolute must," says Ms. Myers. "It has been an honor and a blessing to partner with them on their journey toward musical excellence."
Gospel music legend Dr. Roger Breland, Executive Director of the Roger Breland Center for Performing Arts, was a powerful voice for the All-Steinway initiative. He had a major influence on Sherry Turner and Mike Atkins of Naples, Florida, who offered a $250,000 matching gift to honor Dr. and Mrs. Breland for "50 years of mentoring, teaching, and equipping the next generation of Christian leaders and performers."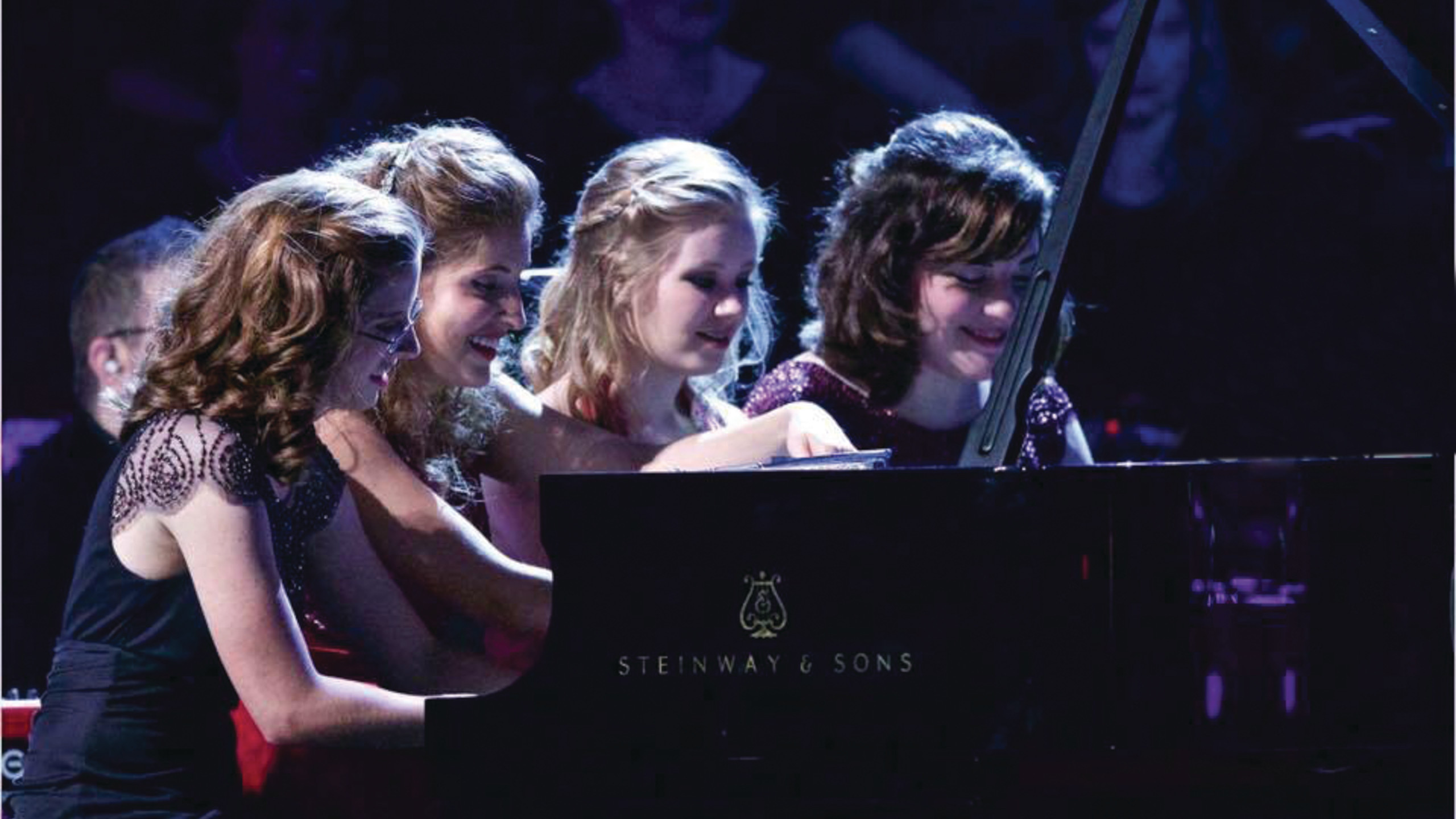 < 8 hands on a Steinway! Dr. Onalbayeva's students inaugurate one of the new pianos they helped to select at the Steinway factory.
Upon meeting Dr. Breland and students with the Voices of Mobile, a vocal ensemble, the two donors were intrigued. "Our love for beautiful piano music particularly pulled us toward the All-Steinway effort," they said.
Sally Coveleskie, National Director of Higher Education Sales, said Dr. Breland's immense contributions in bringing beautiful voices together for a greater good were similar to the handi- work of skilled craftspeople in New York, "who come together each day and create the beautiful voice that is a Steinway piano."
In one year, UM raised nearly $520,000 and achieved the dream – acquiring 24 new pianos by Steinway & Sons. The instruments are making a world of difference for students like Emily LaForce. "My ear is better developed; my dynamics are getting much better. As far as touch goes, it's consistent. I think the audience hears a truer portrayal of the music I'm playing because I have a clearer idea of what I'm practicing," says Ms. LaForce, who majors in music.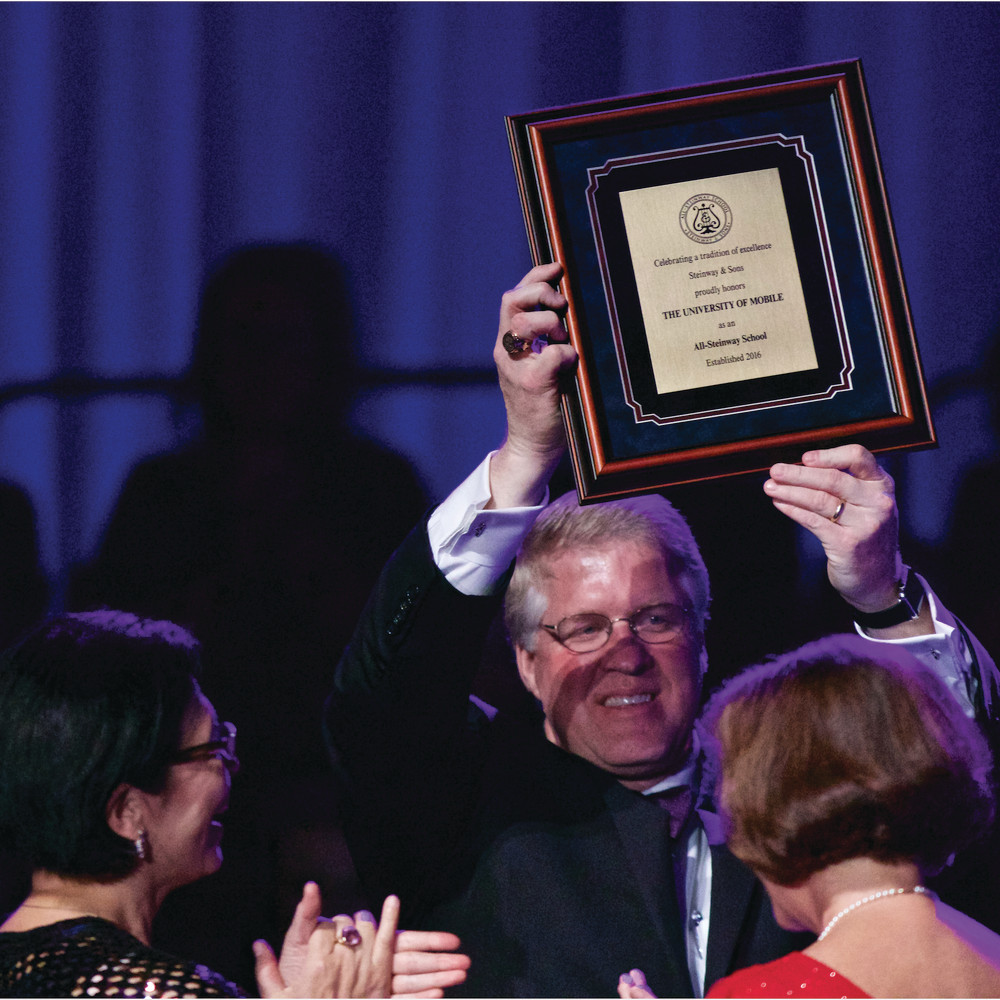 Success! President Smith celebrates the triumphant moment.>
Kadisha takes special note of better practice routines by her students, which in turn breed more inspired concert performances: "Dr. Timothy L. Smith, the new university president, is invigorating everyone with new ideas and vision. He came up with our new tagline: Higher Education for a Higher Purpose. Nothing could be more inspiring or appropriate."