Coker College celebrates

All-Steinway status and a commitment to excellence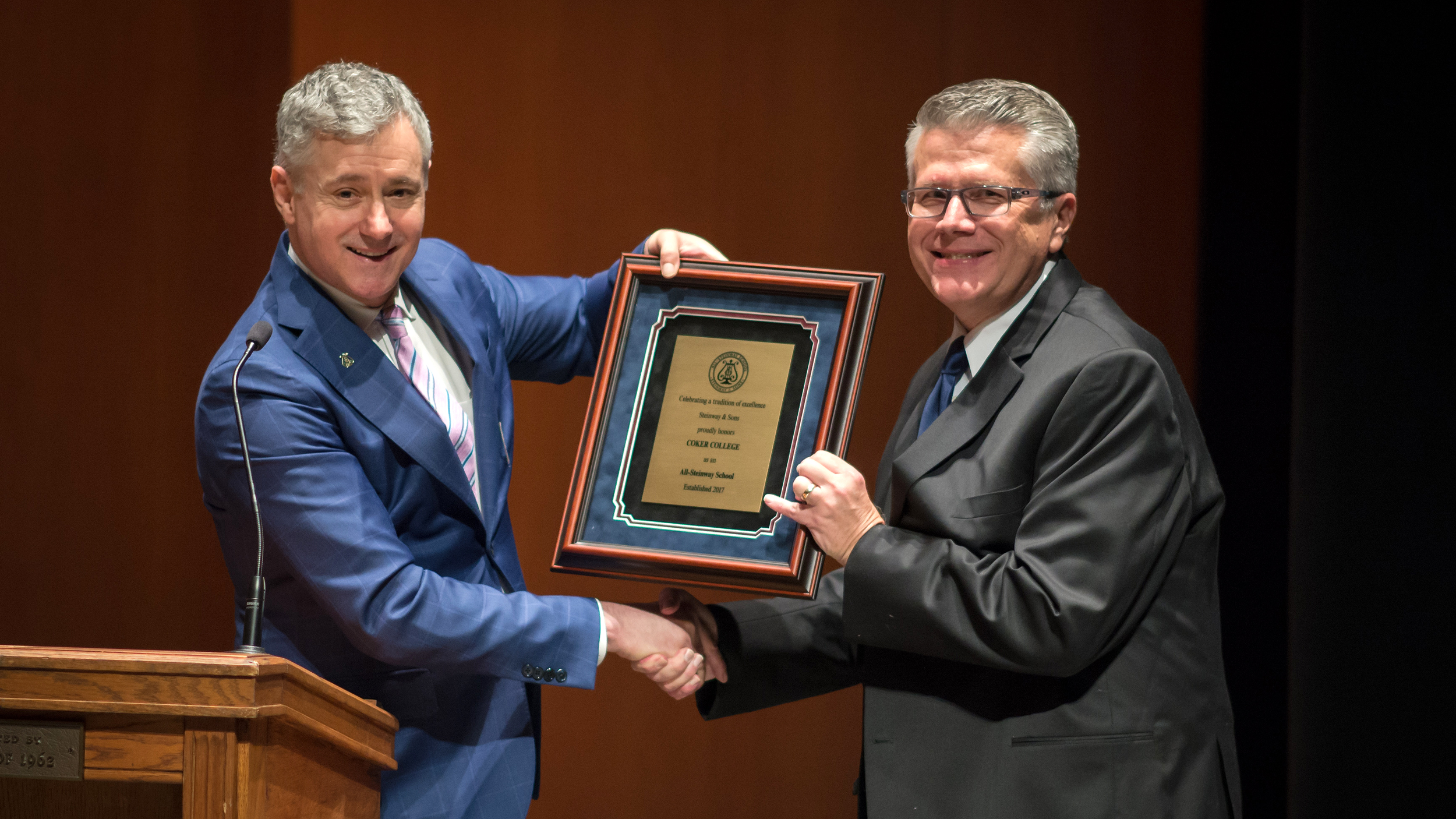 Steinway CEO Ron Losby presents the All-Steinway plaque to Coker College President Robert Wyatt.

HARTSVILLE, SC – With the recent acquisition of 23 new pianos by Steinway & Sons, the music program at All-Steinway Coker College is well positioned for future growth, according to school officials.
"The All-Steinway designation means that Coker offers its students, faculty and guest performers the highest quality pianos in classrooms, practice studios and performance spaces," beamed Dr. Will Carswell, a music professor who proposed the idea along with former piano professor Dr. Jun Matsuo in 2010. He credited President Robert Wyatt and Dr. Charles Sullivan, chair of the advancement committee, for thoroughly engaging the entire Coker community during a $600,000, five-year fundraising effort.
Steinway Artist David Osborne entertains at All-Steinway reception

"It demonstrates Coker's commitment to excellence by providing the best equipment possible for the study of music. This initiative will enhance our recruitment efforts in attracting talented new students to our program," Dr. Carswell said.
Dr. Ryan Smith, associate music professor and recipient of a Steinway Top Teacher Award, said students and faculty "feel blessed" to have instruments in tip-top shape that inspire musicianship. "Unlike other institutions that I've worked for, we rarely hear students complain that the pianos don't cooperate with them," he said. "Coker has made a long-term investment to ensure that music remains a top priority."
Rice Music House in Columbia partnered with Coker to find the perfect mix of Steinway and Steinway-designed pianos for the Music Building and adjoining Elizabeth Boatwright Coker Performing Arts Center. Jyotindra Parekh owns the historic dealership, which has represented Steinway & Sons in the Piedmont Region since 1924.
"Working with JP, Mary, and Robert has been a complete joy," Dr. Carswell said, noting the campaign culminated in stunning fashion with an All-Steinway celebration showcasing the talents of students and faculty at Watson Theatre. Festivities moved to the Library and Information Technology Center, which was transformed for a black-tie gala where guests enjoyed hors d'oeuvres and the talents of Steinway Artist David Osborne. Osborne has entertained tens of thousands of visitors at the Bellagio Hotel in Las Vegas and has also performed for Presidents Jimmy Carter, George H.W. and George W. Bush, Bill Clinton and Barack Obama.