James Madison University pays homage to a gentle giant of piano technicians
His name buzzed prestissimo around the hallways in the School of Music at James Madison University. Would Terry Walsh, a legendary Steinway technician and piano tuner for Billy Joel, consider moving to the Shenandoah Valley?
The answer was a resounding yes. And thus began an all-too-brief but extraordinary epilogue in the story of a life well-lived.
A native Long Islander, Terry passed away unexpectedly at the age of 62 on April 24, 2017. Family, friends and distinguished members of JMU's piano faculty gathered at Steinway Hall on March 2nd to honor him with song and reminisce about his unmistakably warm smile and an effervescent twinkle in his eyes.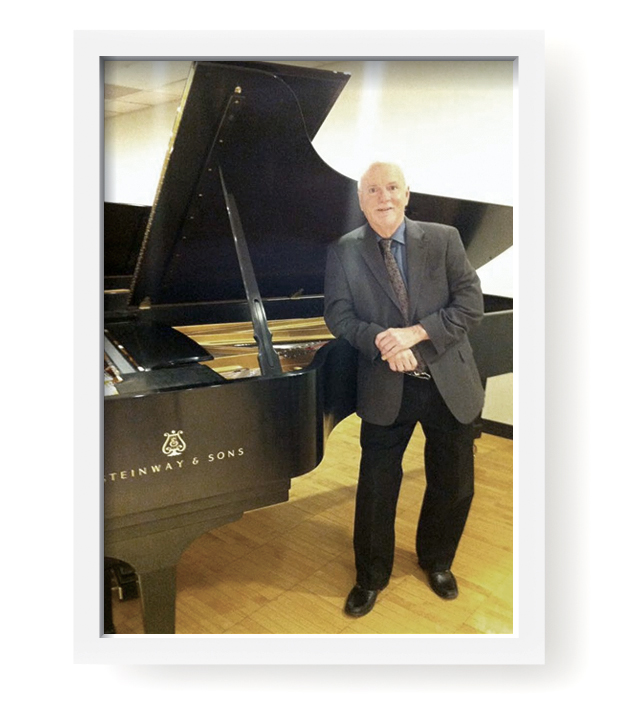 "We thought the only way we could get him to come to Harrisonburg (Virginia) was because it was part of the witness protection program," joked Dr. Lori Piitz, noting that Terry, tongue firmly planted in cheek, remained strangely silent about that possibility. He never missed a piano recital, she said, except once when students and faculty ironically had planned his surprise birthday party.
While his stint as senior technician lasted only 15 months, Terry left an indelible mark. "He had just about enough time to get the dozens of pianos he was in charge of just about to the level of the pianos in Steinway Hall," said Dr. Eric Ruple, a faculty member since 1987. "It was a miracle what he did, so we will always be grateful for that. We wish we had him longer."
Professor Paulo Steinberg recalled that in situations when most tuners would panic, "he had everything under control. Never did we befriend a piano technician like him," he said. Terry bolstered his gregarious reputation by never conveying any fears, doubts or complaints. "He was always very pleasant," added Dr. Gabriel Dobner.
Sally Coveleskie, National Director of Higher Education Sales, worked with Terry in Steinway's Selection Room – a place not for the faint of heart. "To be a technician in the Steinway Selection Room means you are one of the best," she said. "His job was to help artists choose the instruments that best expressed what they wanted to say. His special gift was helping even the most discerning of artists feel secure in making the right decision."
"His special gift was helping even the most discerning of artists feel secure in making the right decision."
Although he held numerous positions at Steinway, Terry fell into his own as a concert technician. "He was someone you liked to be around, making things very smooth and easy," said Robert Berger, Director of Customer Satisfaction, a friend and co-worker for 30 years. "When an artist was concerned about small sounds or overtones, Terry would say to me 'it's child's play.' Then he would go back into the selection room, make his adjustments and the artist would be left wondering what he just did. What made me very happy was that he seemed to find a real home at James Madison. He had such high regard for the faculty and he loved all the students. It was fascinating to see that happen in such a short period of time," he said.
Acclaimed as Steinway's North American Tonmeister, Terry began his career as retail service manager at Steinway Hall, progressing through quality control and engineering functions at the factory, where he helped launch the Steinway Restoration Center. He also taught regulating, voicing and tone at the C.F. Theodore Steinway Technical Training Academy and served as the factory's final tone inspector.
Dr. Jeffrey Bush, Director of the JMU School of Music organized the event – a rare instance in Steinway history when a beloved technician is publically lauded by an entire piano faculty. He was among many who acknowledged the great love Terry had for his daughter Victoria, who was in attendance with her husband, Patrick.
It has been said when someone you love becomes a memory, the memory becomes a treasure. People exited Steinway Hall that night with an abundance of riches from knowing Terry Walsh.
Photo Credits: Top image — From left: Sally Coveleskie, Steinway & Sons; Drs. Paolo Steinberg, Gabriel Dobner and Lori Piitz, JMU Piano faculty; Dr. Jeffrey Bush, JMU Director of the School of Music; Dr. Eric Ruple, piano faculty; Bob Berger, Steinway & Sons; and Ken Saliba, Steinway Piano Gallery – Washington D.C. Seated are Terry Walsh's daughter, Victoria Kayla Castain, and son-in-law Patrick, of New York.

Left — From left: Drs. Paolo Steinberg, Gabriel Dobner, Eric Ruple and Lori Piitz, JMU piano faculty members.

Right — From left: Dr. Jeffrey Bush and Victoria Castain.