A gift of love brings an All-Steinway designation to Connecticut College
As seen in the Winter 2017 edition of the Chronicle.
NEW LONDON, CT – There was music in the air just days after Preston Athey graduated from Yale and married his college sweetheart, Nancy Marshall, a '72 alumna of Connecticut College.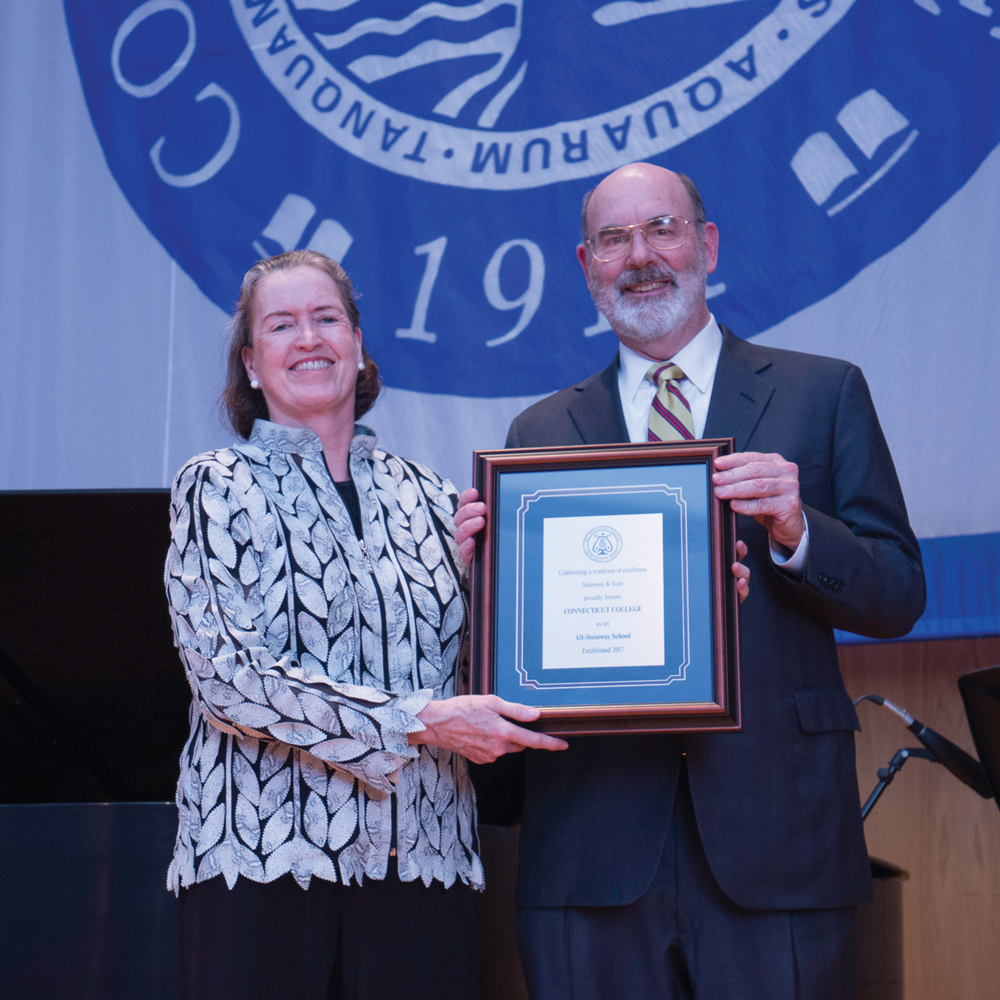 Nancy and Preston Athey >
The couple started married life in Washington D.C. He joined the Navy and became a speechwriter for Admiral Hyman G. Rickover, who developed the world's first atomic powered submarine. But Preston's true calling led to Stanford business school and a stellar career as a portfolio manager where he "perpetually hummed a cappella bass parts roaming the halls of T. Rowe Price's Baltimore headquarters," according to a 2009 profile in Forbes.
A jazz pianist, Preston belonged to Yale's legendary Whiffenpoofs, while Nancy was involved in campus vocal groups at Conn. Both may have been singing different parts at their respective institutions, but reading from the same sheet, they created something beautiful.
In 2012, the Atheys shared their passion with students and faculty at the private liberal arts school, where music was among the first majors offered when it opened in 1915. With a gift of $855,000, the college purchased 14 pianos by Steinway & Sons: a concert grand in Evans Hall; 10 grand pianos for Harkness Chapel, Fortune Hall and practice and teaching spaces in Cummings Arts Center; and three uprights for smaller rooms. In April 2017, after upgrading or rebuilding all 40 Steinways on campus, Conn celebrated its new status as an All-Steinway School.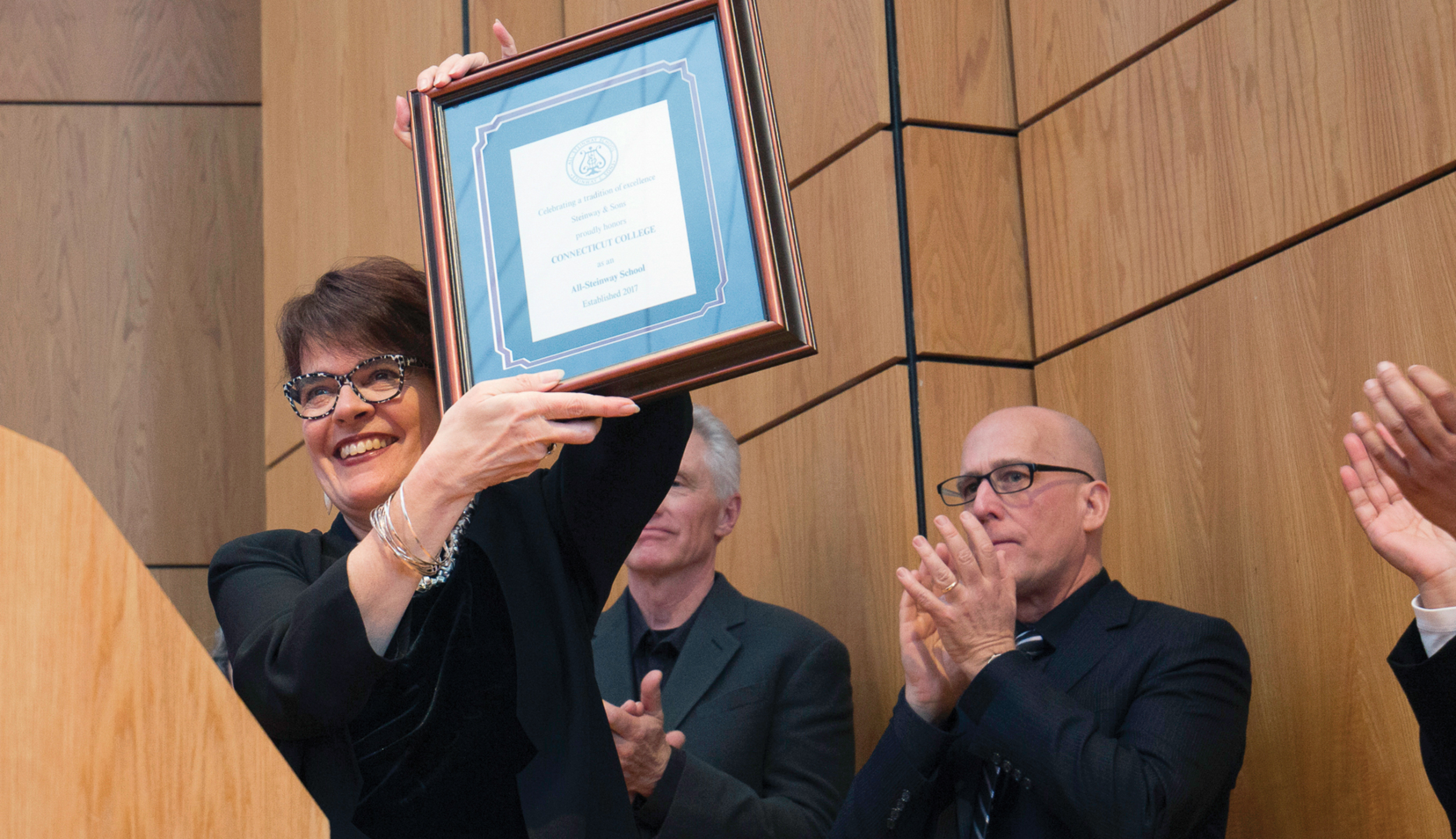 President Katherine Bergeron proudly hoists the All-Steinway plaque.
"There is no way we could have achieved this goal without the Atheys," said Professor Margaret Thomas, Chair of the Music Department who served as project director for the Steinway initiative. "Nancy and Preston are not only generous; they are smart, passionate and genuinely committed to the arts – and to music in particular. We are truly fortunate that they share our vision about the value of beautiful instruments and their potential to transform music making and music learning at the college."
Karen Beluso, Institutional Sales Manager at Steinway & Sons New York, performed an inventory analysis in 2011. "We weren't surprised to learn that many of our pianos were in poor shape, but with her analysis we were able to articulate the problem, which in turn helped us find the perfect donors," Professor Thomas said. "Karen has been incredibly generous and knowledgeable – from helping with selections to guiding us with renovations to attending important events and performing beautifully on numerous occasions. We simply couldn't have done it without her. I'll be forever grateful for her wisdom, guidance and friendship."
The All-Steinway designation "reflects a rich and long-standing commitment to the arts – a commitment that permeates our early history as a women's college to the vibrant art scene we boast today," she said.
Laura Bentley, a recent graduate with a degree in Hispanic studies and economics, stressed that the Steinways influenced her decision to attend the school. "Having access to such lovely instruments helped me feel at home and encouraged me to continue learning and loving music," she said. Professor Thomas noted that Laura's perspective is common among her students: "I expect that we will see even more enthusiasm for music generally and pianos specifically that will have a positive impact on future recruitment efforts."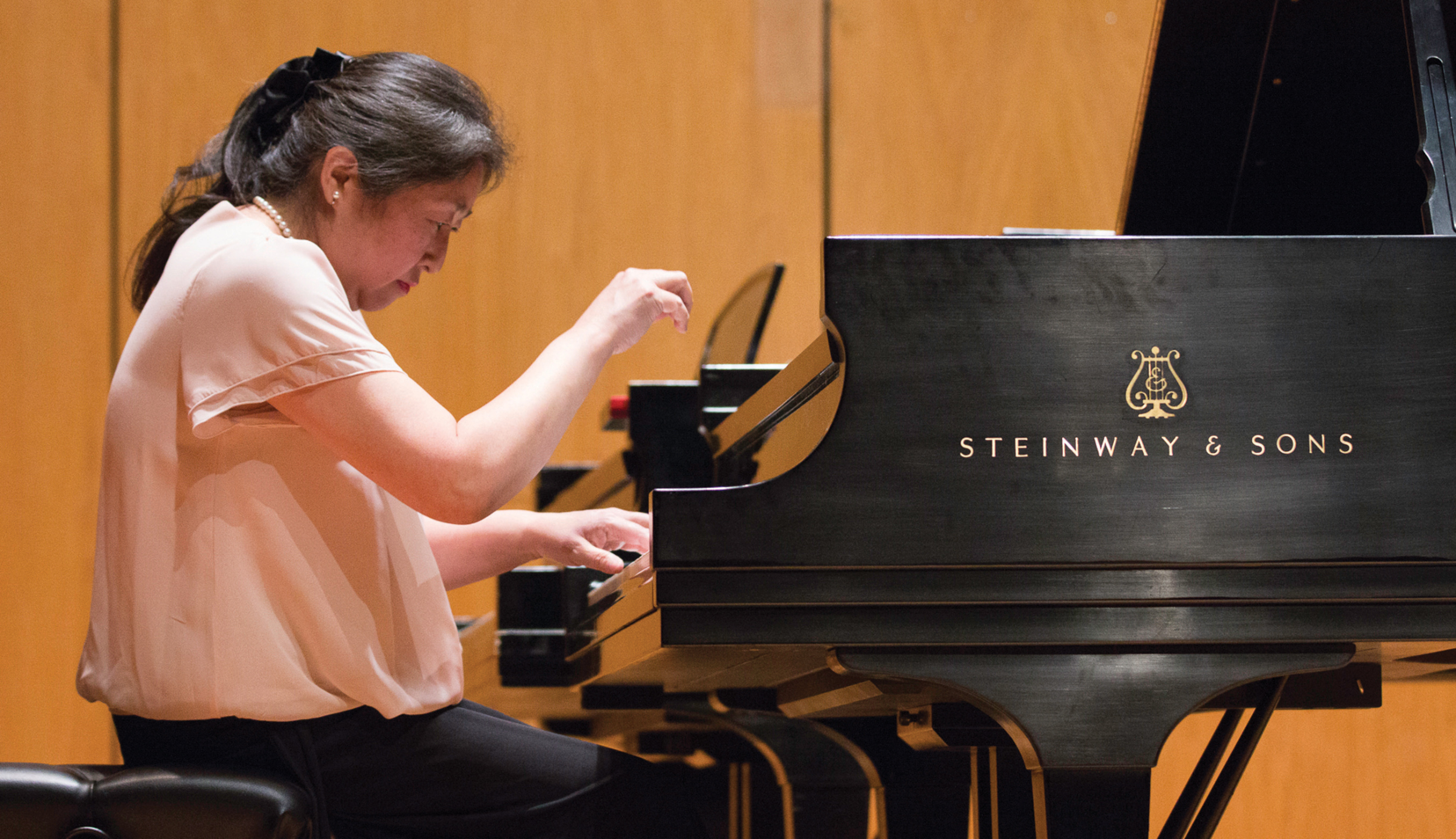 Kumi Ogano, an esteemed piano faculty member since 1994, delights the audience.
Having Steinway pianos enables exceptional performances. "No matter a student's level of proficiency, making music on a rich and sensitive instrument is a profound musical experience. Pianos capable of incredible nuance and beauty also lend seriousness to the other work of the department – learning, teaching, composing and rehearsing that takes place in our studios, practice rooms, classrooms and performance spaces."
When alumni, faculty, staff and friends gathered at Evans Hall to commemorate the All-Steinway achievement, President Katherine Bergeron thanked the Atheys for providing instruments "synonymous with excellence, the gold standard of pianos for at least 100 years."
The gift also celebrates a century of progressive education, "and we really can't thank you enough for that," she said