Largest-ever gift to Westfield State University leaves an All-Steinway legacy
As seen in the Winter 2017 edition of the Chronicle.
WESTFIELD, MA – Catherine Dower discovered what she believed to be "the most beautiful music on earth" cascading through the hallowed halls of Solemes Benedictine Abby in France.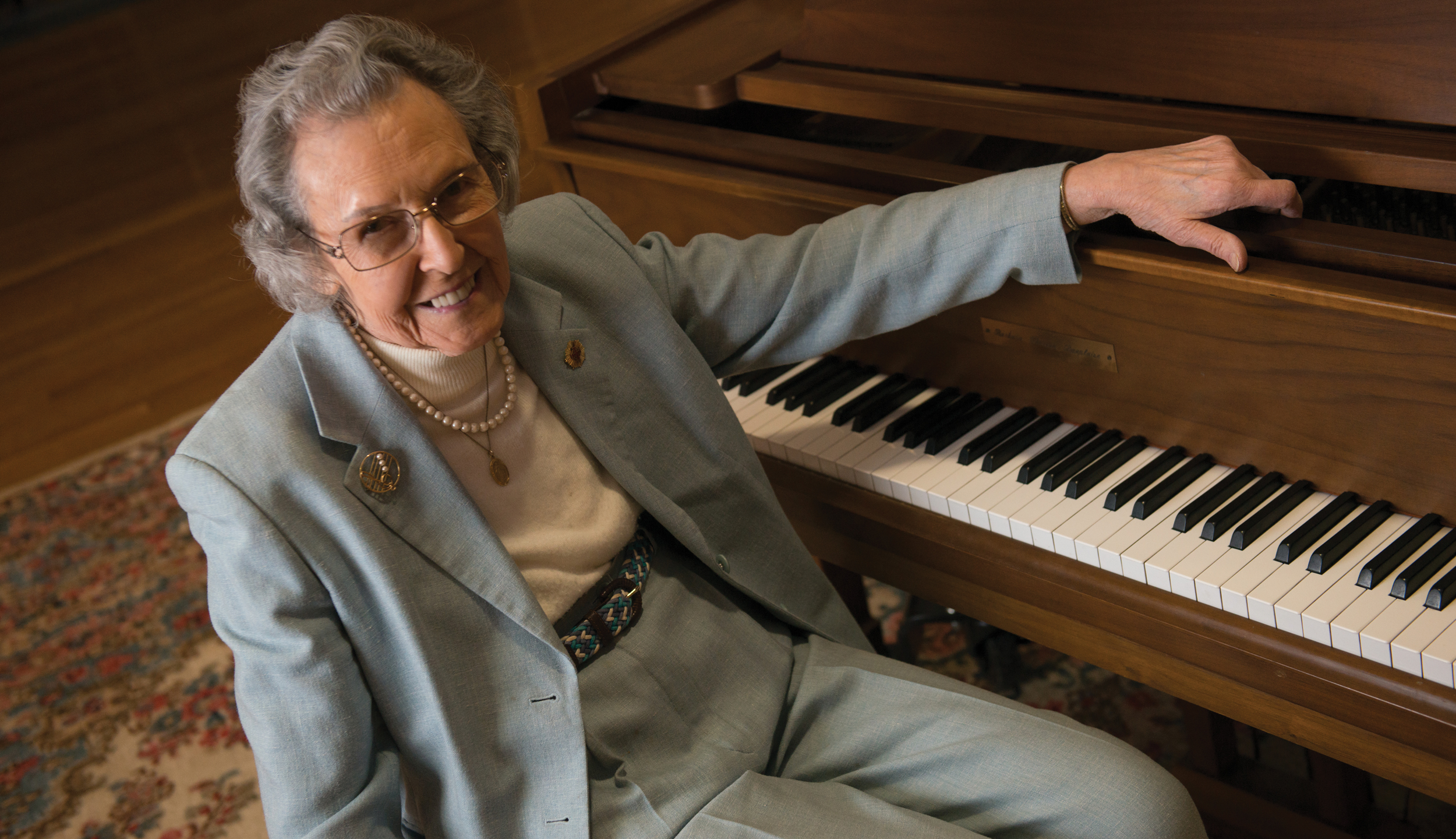 Dr. Catherine Dower
By researching the Gregorian chant, Dr. Dower found Divine inspiration in different forms of music for many of her 92 years of touching countless hearts and minds.
Holding a master's degree in musicology from Smith College and a Ph.D. with distinction from Catholic University, she began a close relationship with Westfield State University in 1956. As a longtime chair of the Music Department and later as a professor emerita, Dr. Dower crafted a legacy of excellence, not only as an educator but also as a poet, author, social advocate, and philanthropist. Her passing in May left a huge void in the Westfield community.
Her legacy inspired an anonymous donation made in her memory for a record $1.1 million, enabling future generations of students to enjoy the timeless gift of music with 20 pianos by Steinway & Sons. In 2015, Dr. Dower was the first woman to have a campus academic building named in her honor, as the new instruments will populate the Catherine Dower Center for the Performing and Fine Arts.
"We are humbled by this transformational gift in honor of Dr. Dower's legacy to our Music Department, allowing Westfield State University to distinguish itself as an All-Steinway School," said President Ramon S. Torrecilha, Ph.D. "This historic contribution will ensure that the musical excellence established by Catherine will continue to inspire others."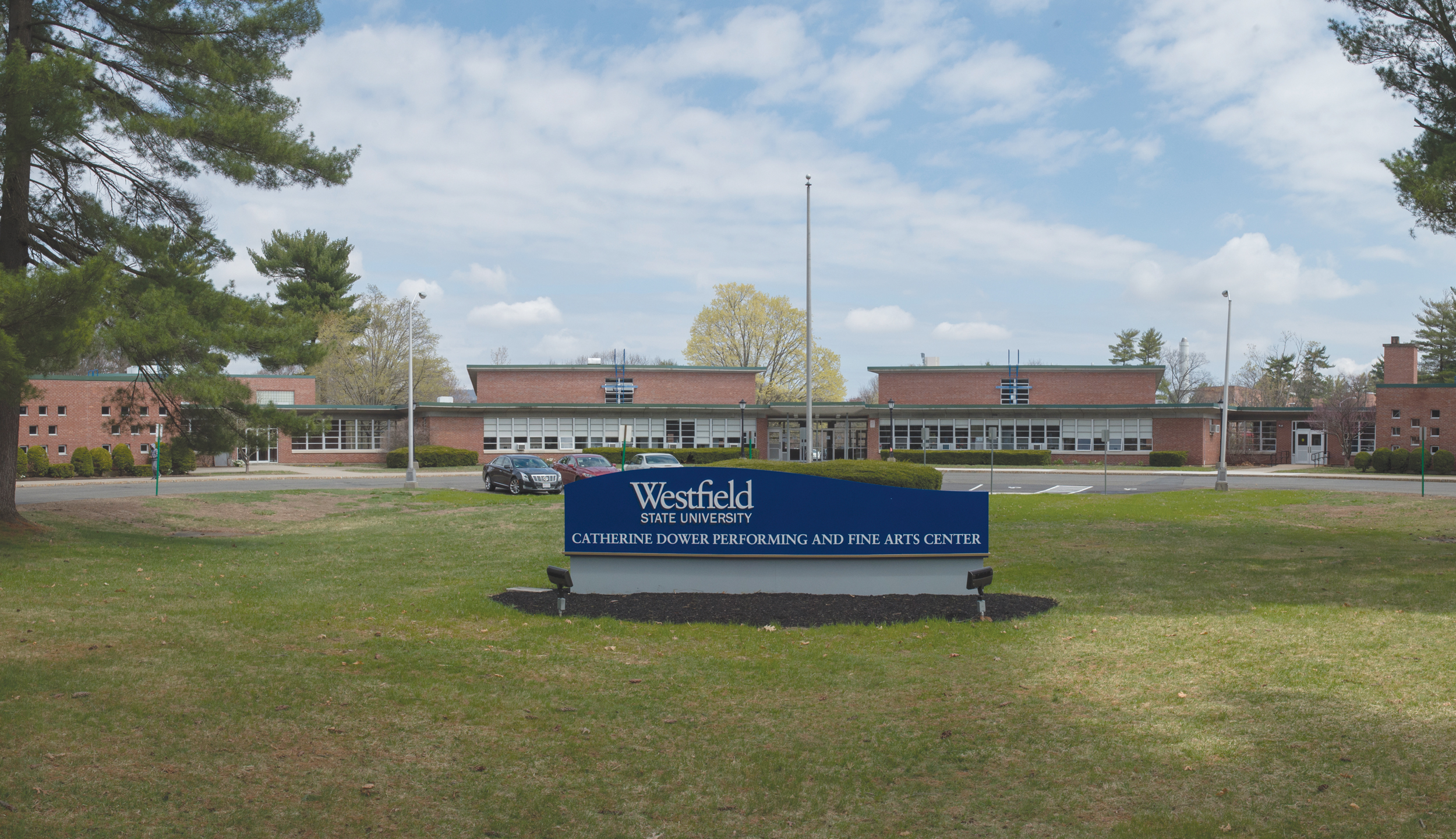 The Catherine Dower Performing and Fine Arts Center
Dr. Erica Broman, vice president for Institutional Advancement, noted the gift underscores a firm commitment by friends and alumni "who believe in and support our mission of providing an affordable, high-quality education. Performers and music educators will study in a world-class environment on the very best instruments available thanks to the generosity of this anonymous donor."
"The exclusive purchase of Steinway & Sons pianos allows us to join the ranks of some of the most prestigious schools in the world and enjoy the coveted All-Steinway distinction," said Dr. Andrew Bonacci, current Music Department chair, adding that Westfield is the only public university in New England to achieve the designation.
Dr. Bonacci and Lisa McMahon, Director of Advancement and Stewardship, attended Steinway's "Keys to Finding Funds" seminar in New York two years ago. They came away with fresh ideas and a sense that something once thought impossible was in reality highly attainable.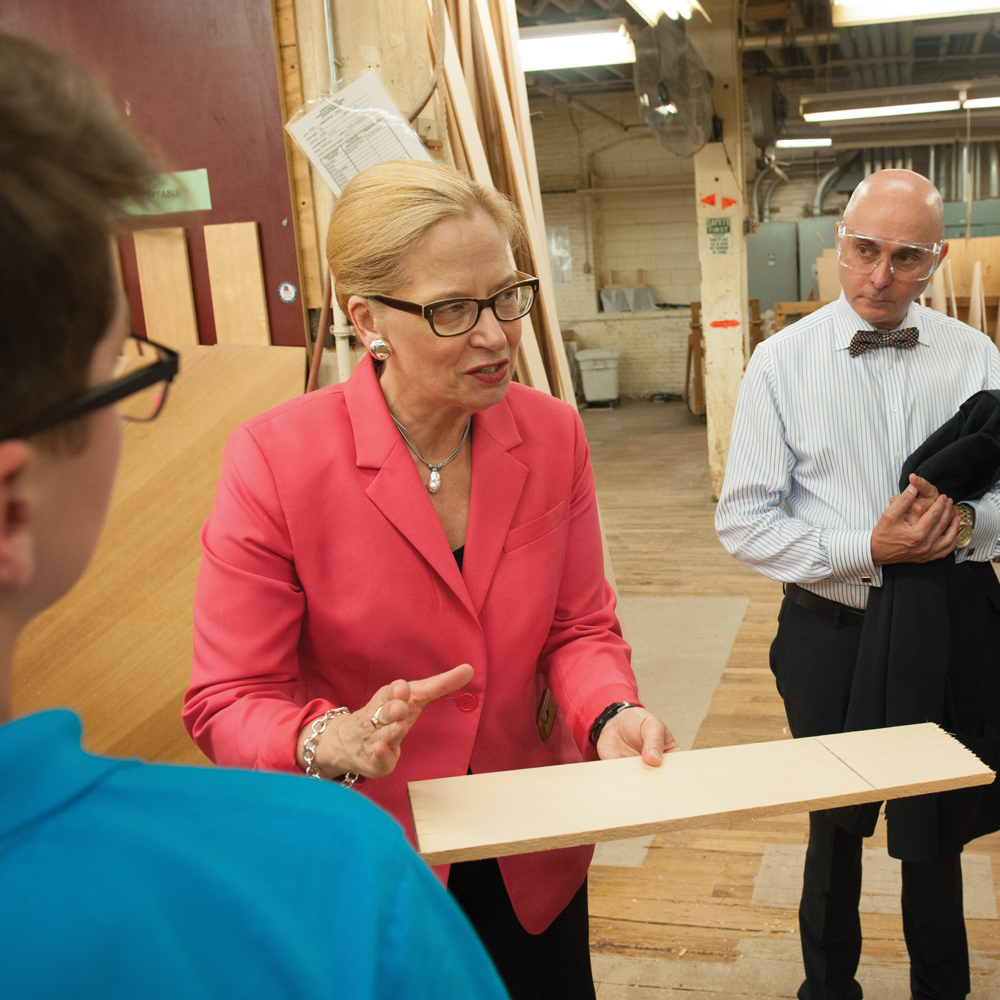 < At a factory tour, Steinway's Sally Coveleskie explains the evenness of grain in a Sitka spruce soundboard to a student while Westfield President Ramon S. Torrecilha looks on.
In 2008, Brendan Murphy, director of Institutional Sales at M. Steinert & Sons, began working with Dr. Bonacci to replace a concert grand in Dever Auditorium. "The idea was to create some buzz about that piano then see if we could get an All-Steinway campaign going from there," he explained. "Dr. Bonacci has been a constant through the whole process. He and Lisa successfully received a $1 million gift to name the music building, and that inspired the anonymous donation to make Westfield an All-Steinway school.