A Night Filled with Steinway Magic as The Music Academy of the West turns 70
As seen in the Winter 2017 edition of the Chronicle.
MONTECITO, CA – The Music Academy of the West heralded its May 21st entry into the realm of All-Steinway Schools as only it could do, bringing together two virtuoso superstars for an astonishing performance.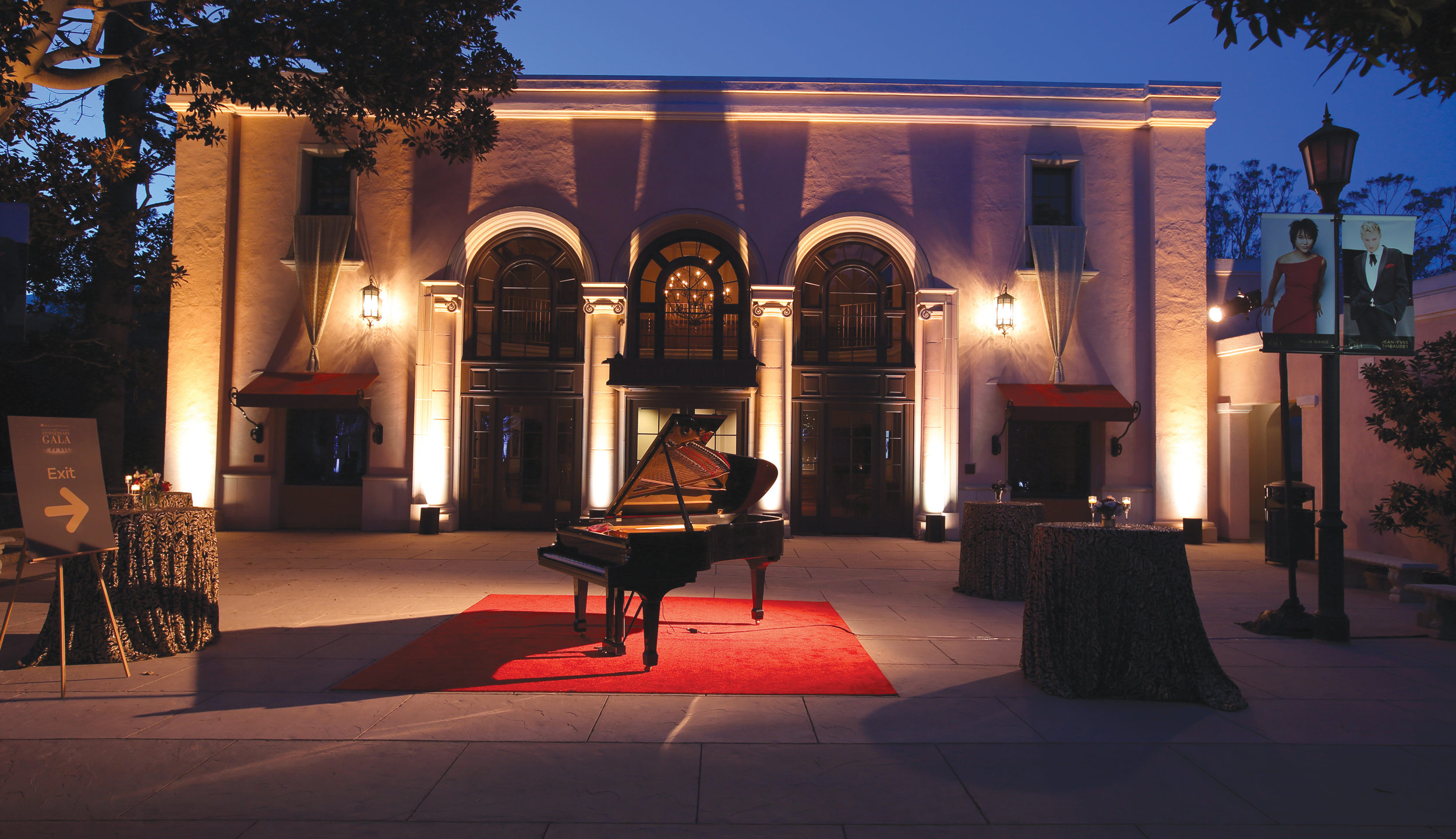 An elegant Steinway grand awaits guests at the Music Academy of the West gala. (Photo by Greg Grudt/Mathew Imaging)
Steinway Artists Yuja Wang and Jean-Yves Thibaudet regaled about 300 patrons in Hahn Hall with a stirring blend of solos and duets by Brahms, Mozart, Rachmaninoff and Ravel. The hour-long concert highlighted an evening extravaganza on the Music Academy's breathtaking 10-acre campus, offering a splendid showcase for the new Model D Hamburg that was selected by fellow Steinway Artist and Music Academy Artist Jeremy Denk.
Guests promenaded down a 40-foot red carpet in tuxedos and floor-length gowns, pausing for pictures in front of strategically-placed Steinway grands. Champagne and other spirits were to be had as they mingled over mood music from a Spirio Model B reproducing piano, Steinway's newest and hottest innovation. It was the perfect prelude for things to come inside the softly lit theater. After the concert, a scrumptious three-course meal was served in the Miraflores courtyard at dusk, as Board Chair Marge Cafarelli thanked everyone for their support.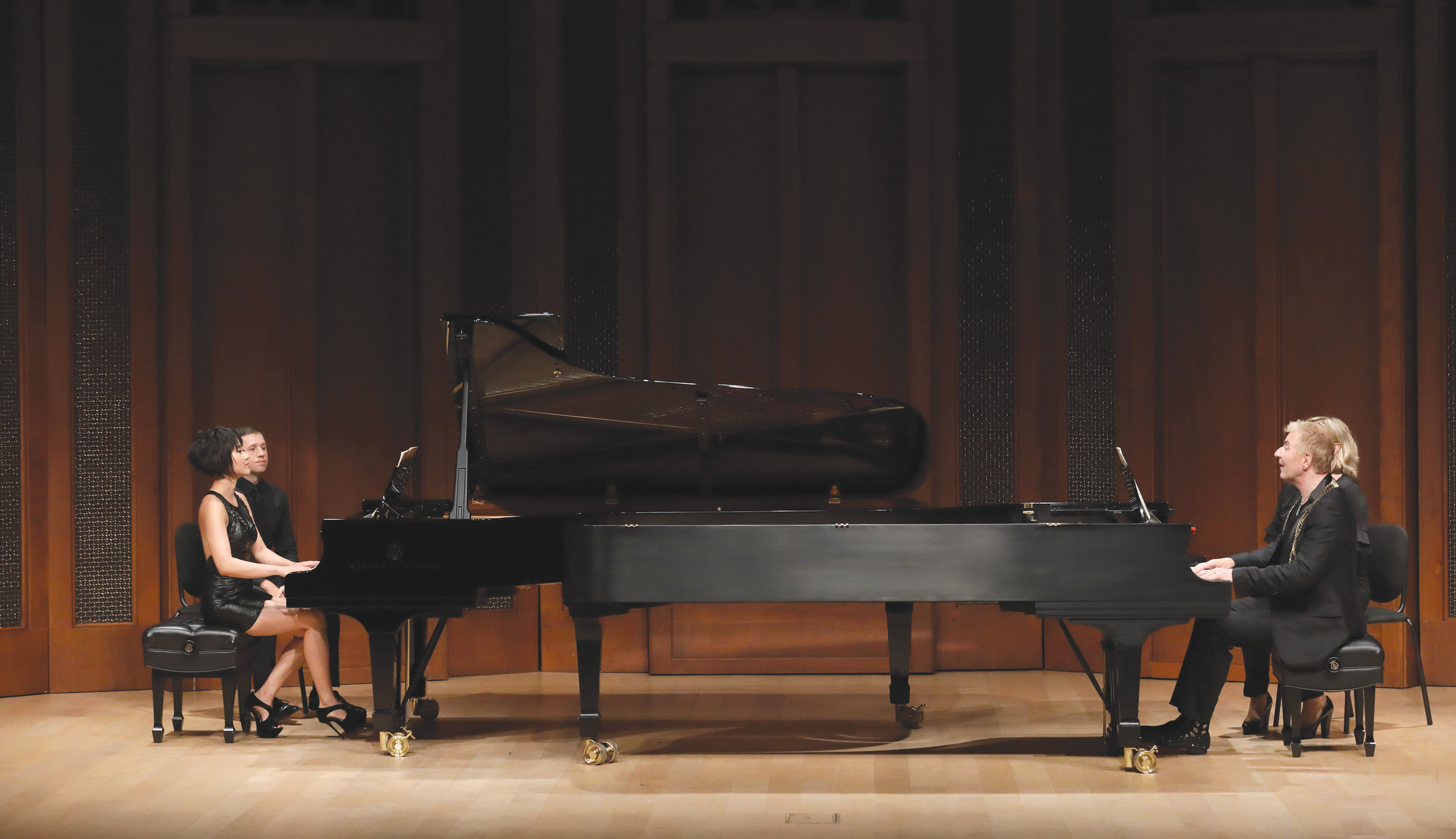 Steinway Artists Yuja Wang and Jean-Yves Thibaudet
Along with Co-Chairs Hyon Chough and Maurice Singer, President/CEO Scott Reed and Steinway's Gavin English set a premium standard for the highly anticipated event that also marked the Music Academy's 70th anniversary. Soprano Lotte Lehmann and Conductor Otto Klemperer were among a group of prominent musicians who helped establish the program in 1947.
"My experience with Scott Reed and his staff was, and continues to be, nothing short of fantastic," exclaims English, Senior Director of Retail Sales, West Coast. While past galas always left patrons with a special feeling, "our vision was to make this one for the ages, set apart from everything else."
The majestic oceanside setting on a former private estate welcomes more than 100 young musicians who gather each summer for eight weeks of mentoring by some of the world's greatest teachers and artists. The Music Academy offers full scholarships, including room and board, to a select group of gifted students who train, study and perform live on campus and other venues across Santa Barbara.
Reed guided an ambitious $50 million building renovation to dovetail with the Steinway initiative. "The Music Academy's objective to become an All-Steinway School permeated everything they did for the past seven years," says English, "and their commitment to excellence and constant focus on the long-term goal really pushed the campaign forward."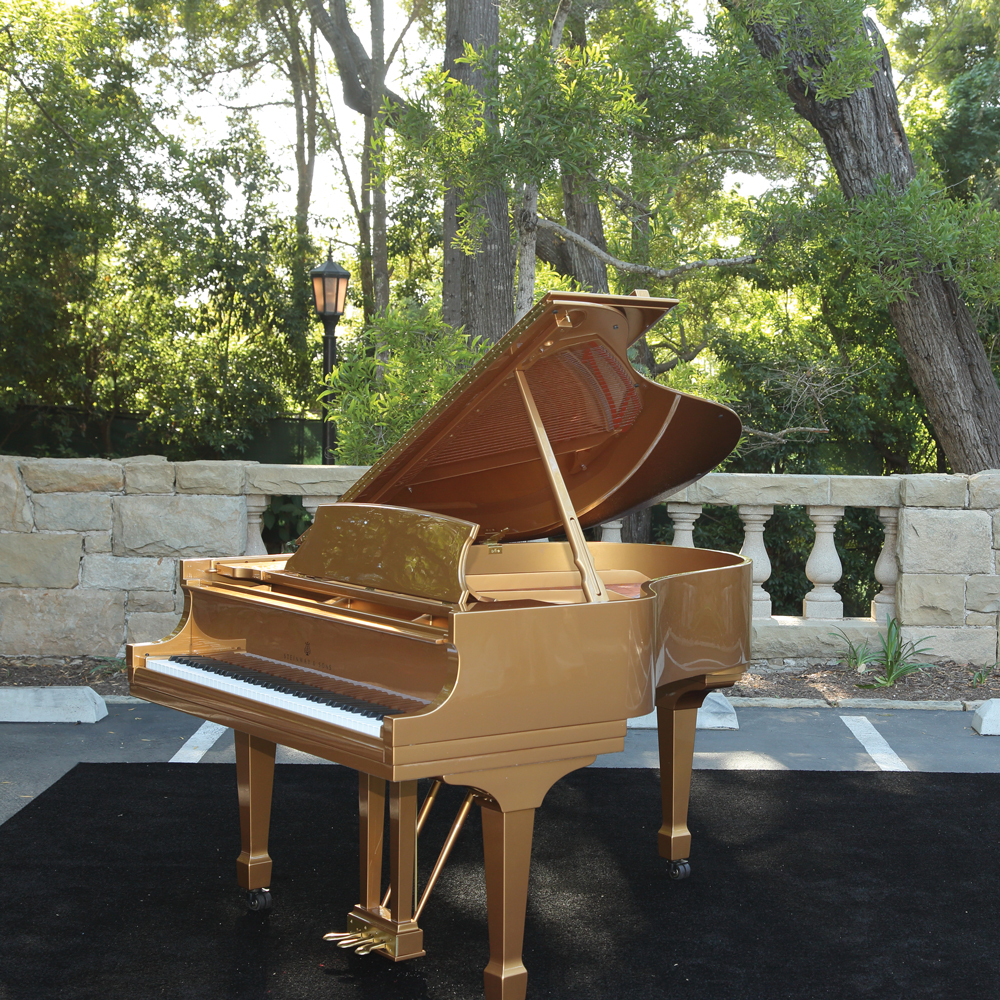 Tim Stephenson, Steinway's Western Institutional Sales Manager, adds that "Santa Barbara is extremely culture conscious and supportive of the arts, and Scott has been extremely successful in promoting that vision."
An inventory analysis began when Reed was serving as vice president of fundraising. "By the time I became CEO (in 2010), the state of our piano inventory was a top priority," he says. "What has been so gratifying along the way has been developing new programs, hosting Steinway sales in our community, involving the Beverly Hills showroom in our event planning and consulting with the Steinway team on artist recruitment."
Stephenson notes the Music Academy has 55 Steinways, with more than half being newer models acquired during the building phase. Reed prodigiously amassed a maintenance fund that will cycle in new instruments according to a predetermined schedule to ensure pianos are kept in pristine condition for decades to come. Mindful of Santa Barbara's cool Mediterranean climate, Stephenson says "they have been painstakingly conscious of temperature and humidity levels, making improvements that took those factors into consideration."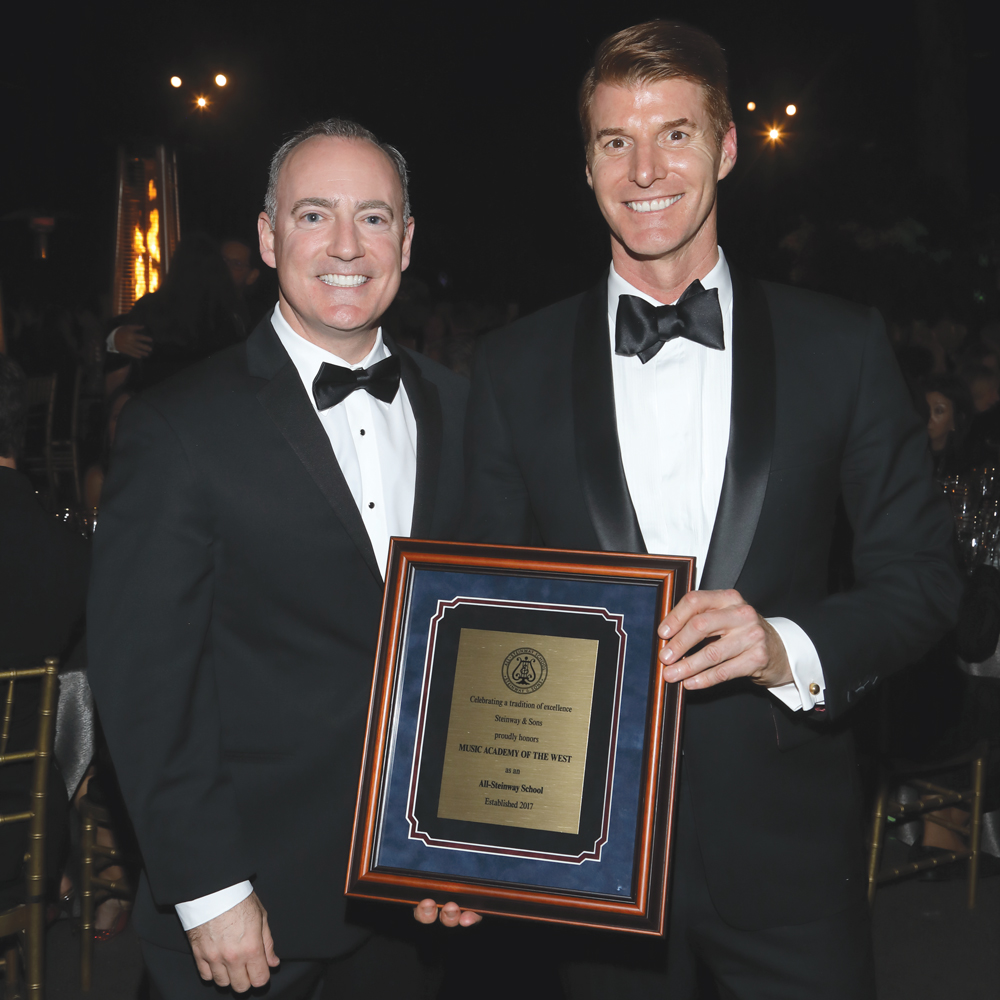 Steinway's Gavin English and academy CEO Scott Reed, who championed the All-Steinway effort.>
Reed explains why the All-Steinway designation is so meaningful: "The quality of our pianos is very much at the core of our training and performance programs. Being All-Steinway confirms our commitment to the best instruments and keeps us accountable to maintaining them in the best possible condition."
The Steinway masterplan was in motion before Reed launched another creative partnership – this one with the New York Philharmonic which found an idyllic summer home in Santa Barbara.
"Both projects leveraged one another without question," he says. "Our pursuit to become All-Steinway sent a message about our organization and our commitment to excellence. That co-branding has been a wonderful tool in creating partnerships, attracting faculty, and engaging philanthropists to our programs."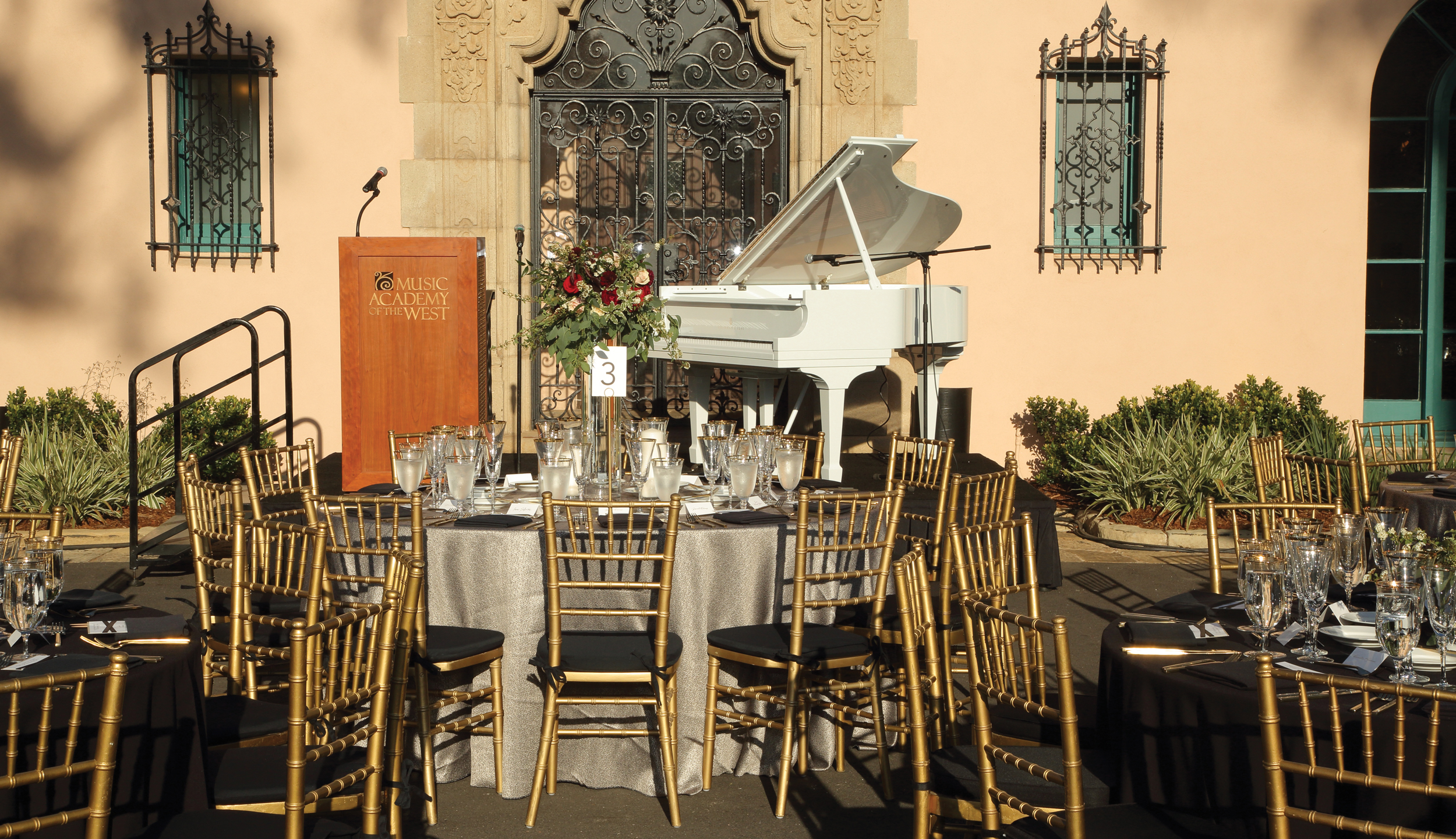 While the Music Academy has reached the goal, Reed stresses that "our intent is to remain an All-Steinway institution. This means we will have to work hand-in-hand with Steinway to evaluate our progress and sustain our success. It is reassuring to know we have such capable partners."