Yale School of Music partners with Steinway & Sons for more than a century
Photos by Matthew Fried and Bob Handleman
As seen in the Winter 2017 edition of the Chronicle.
NEW HAVEN, CT –The new Adams Center for Musical Arts at the Yale School of Music promotes a lively exchange of ideas that can begin over a few chords on a Steinway piano and spill out to a number of strategically designed spaces.
"Music has always permeated the campus, and the Adams Center brings this together in a distinctive way," says Dr. Robert Blocker, Dean of the Yale School of Music that is marking its 120th year as an All-Steinway School. "It is a place that has changed the tone of our community immediately."
Named for Stephen '59 and Denise Adams to acknowledge their generosity and continuing support for the School of Music, the $57.1 million project was funded mostly by gifts from Yale alumni.
Leigh Hall, the core of the School of Music, and freshly renovated Hendrie Hall are connected by a new edifice featuring a three-story orchestra rehearsal hall and commons area.
KPMB Architects planned the 88,604 square-foot structure to maximize human interactions in what Dr. Blocker calls a "constellation of physical spaces" where creativity can flourish.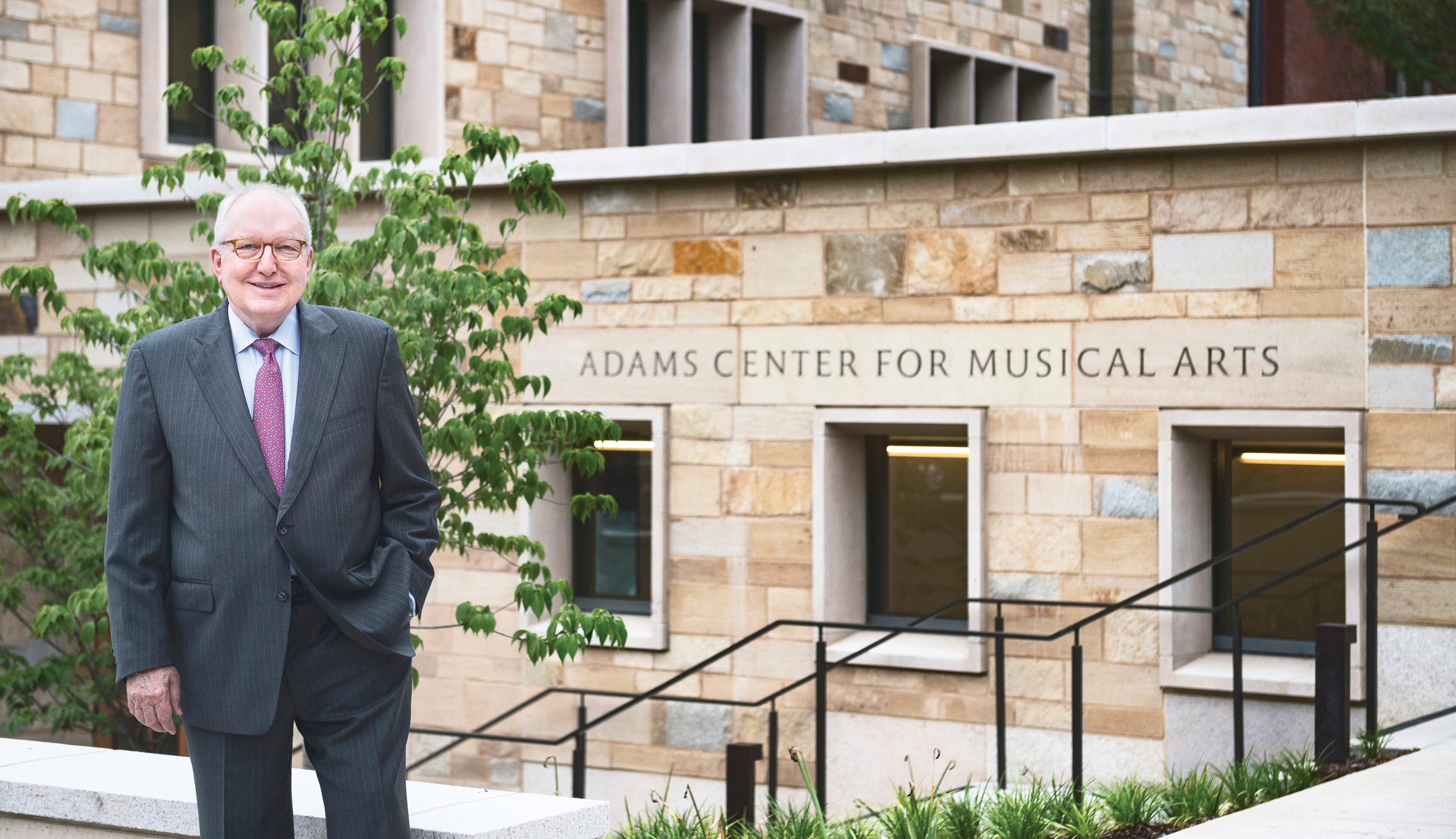 Dean Robert Blocker
Stirred by an engaging lecture, a soulful performance or motivating rehearsal, animated discussions commence over cups of coffee by the fireplace, under a historic atrium or in an adjacent courtyard.
The facility has a dedicated practice room wing, a digital recording studio, and infrastructure to accommodate the latest technological upgrades. "We have a sound stage in the orchestra room to make first-class recordings that can be transmitted anywhere in the world," says Dr. Blocker. Students also appreciate improved access to digitized classrooms where they can record rehearsals and better hone their skills.
While providing all the tools for today's musicians, the Adams Center recognizes a rich past – not as a monument – but another functional building on campus made great by Yale's 12,000 students. Dean Blocker notes that more than 30 percent of the student body participates in some form of music.
Three centuries of musical culture are traced to a group of ministers who sang a hymn at the founding ceremony of Yale College in 1701. In 1897, the Yale School of Music became one of the first conservatories to equip students and faculty exclusively with Steinway pianos.
Dean Blocker says, "Yale has always insisted on excellence in scholarship, teaching, research, community engagement, and one sees this excellence reflected in the architecture and resources that equip the buildings. Steinway must have been an obvious choice in 1897, and it remains so today."
At the turn of the 19th century, Steinway was the piano of choice when major orchestras and famous pianists toured Woolsey Hall, built to commemorate the bicentennial of Yale. "There has been a legacy that was reflective of the university's commitment to excellence and Steinway's commitment to excellence," he says.
Any conversation about Yale and Steinway invariably leads to the rustic estate of Ellen Battell Stoeckel and the Norfolk Chamber Music Festival, summer home to the School of Music. Since 1906, crowds have gathered at the storied Music Shed, with its superb acoustics patterned after Manhattan's first Steinway Hall on 14th Street.
With an inventory of 150 Steinway & Sons pianos, Yale has systematically replaced older, well-loved instruments by consistently investing in new Steinways since Dr. Blocker arrived on campus in 1995.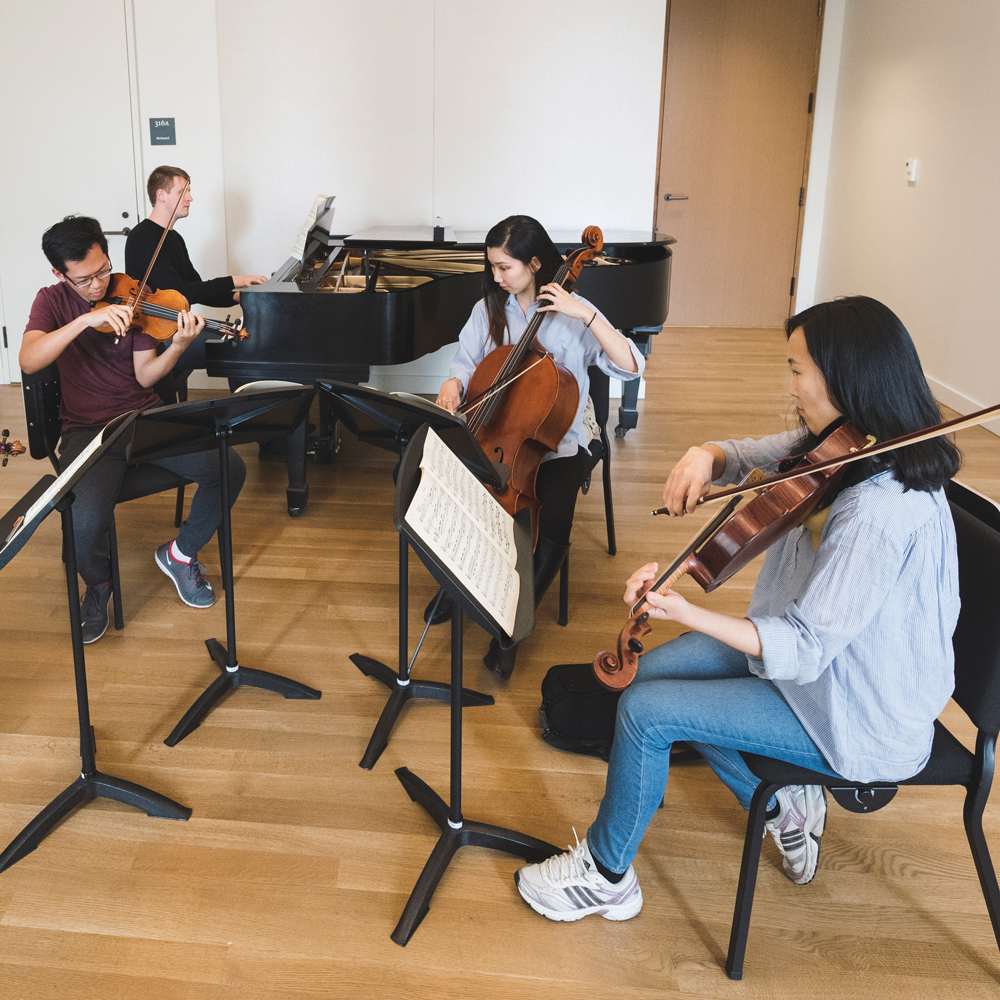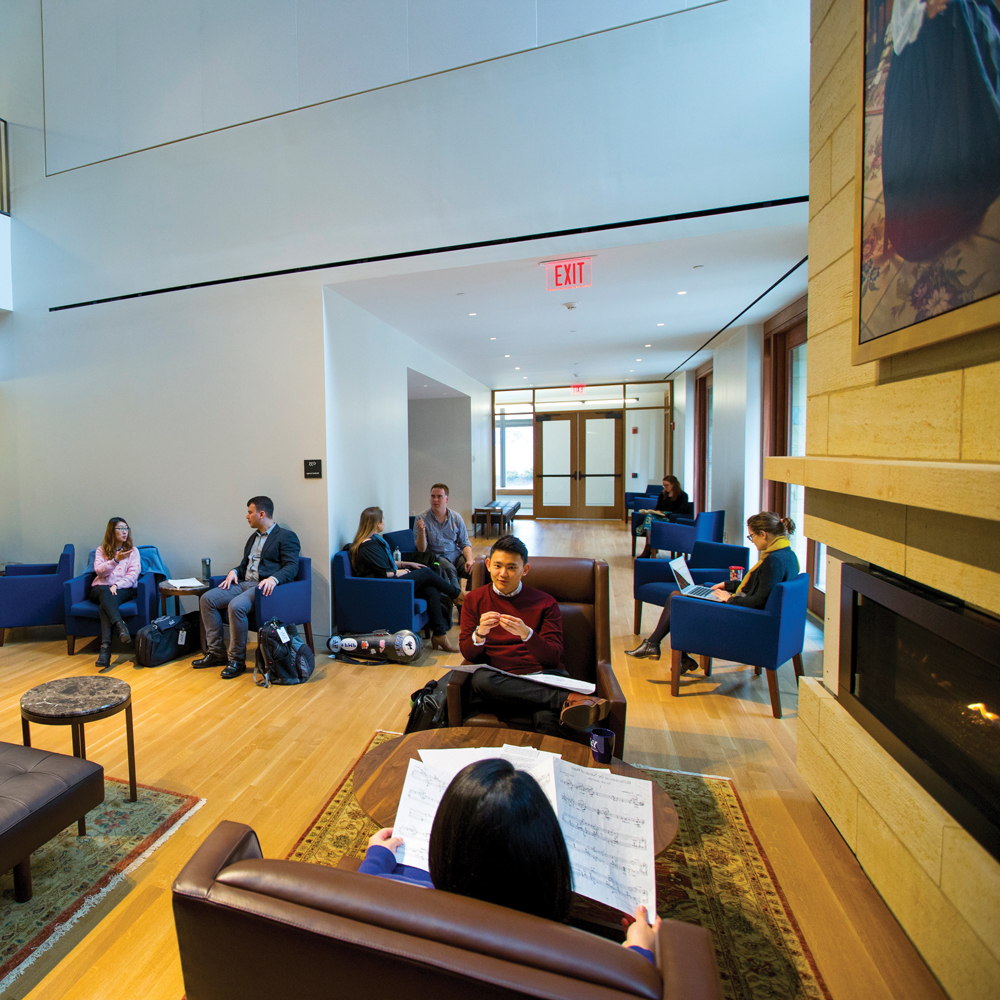 < A new space for chamber music rehearsals and a cozy gathering place under the atrium. (Photos by Matthew Fried and Bob Handleman)
Ten new Steinway grand pianos grace the Adams Center, according to Karen Beluso, Manager of Institutional Sales for Steinway & Sons in New York who meticulously attends to the sole School of Music in the Ivy League.
Sally Coveleskie, National Director-Higher Education, expressed deep gratitude to Dr. Blocker and the piano faculty for unfailing confidence in the 300 artisans at the Steinway factory. "For more than 20 years, it has been my personal privilege to aid Dean Blocker, who is also a Steinway Artist, with implementing a strategic vision that ensures students at Yale are practicing and performing on the most current Steinways," she says.
Dr. Blocker agrees that interpersonal relationships strengthen the institutional bond: "Our artists who perform around the world and our internationally renowned teachers clearly want instruments for their students that will extend their capacity for learning and help in developing one's individual talent. You establish these long-term relationships with musicians who want to play Steinway pianos," he says. "But I think without the human equation, it doesn't matter what instrument you have. When these partnerships succeed between people, they etch gentle memories for Yale alums, often leading to stories that begin:
We had this great Steinway...