Hallelujah! All-Steinway Dana School Marks 150 years of Musical Excellence
YOUNGSTOWN, OH – A sesquicentennial celebration underway at the All-Steinway Dana School of Music may have never happened without a divine touch of serendipity from George Frideric Handel.
Steinways have been part of the musical landscape at YSU since 2004 and are frequently showcased during recitals and performances.
Professor Caroline Oltmanns
Jones Hall, recently underwent a renovation that garnered an award from the Mahoning Valley Historical Society.
Founded in 1869 by William Henry Dana, the Dana Musical Institute in nearby Warren was not warmly embraced by his business-minded family. According to legend, fortunes changed when his father Junius walked past the music school one day against passionate strains of the "Hallelujah" Chorus. The Part II finale of Handel's triumphant oratorio reportedly moved him so much that he decided to financially support his son's endeavor.
One of America's first music schools would survive and thrive when it became part of then-Youngstown College in 1941. "William Henry Dana envisioned a school that would place emphasis on musicianship and performance for all its students," said Dr. Randall Goldberg, Director and Associate Professor of Musicology. "Our alums may be found in every area of the music industry – playing in orchestras and prestigious military bands, teaching at conservatories, producing Grammy-award winning recordings – but all leave Dana as excellent performers."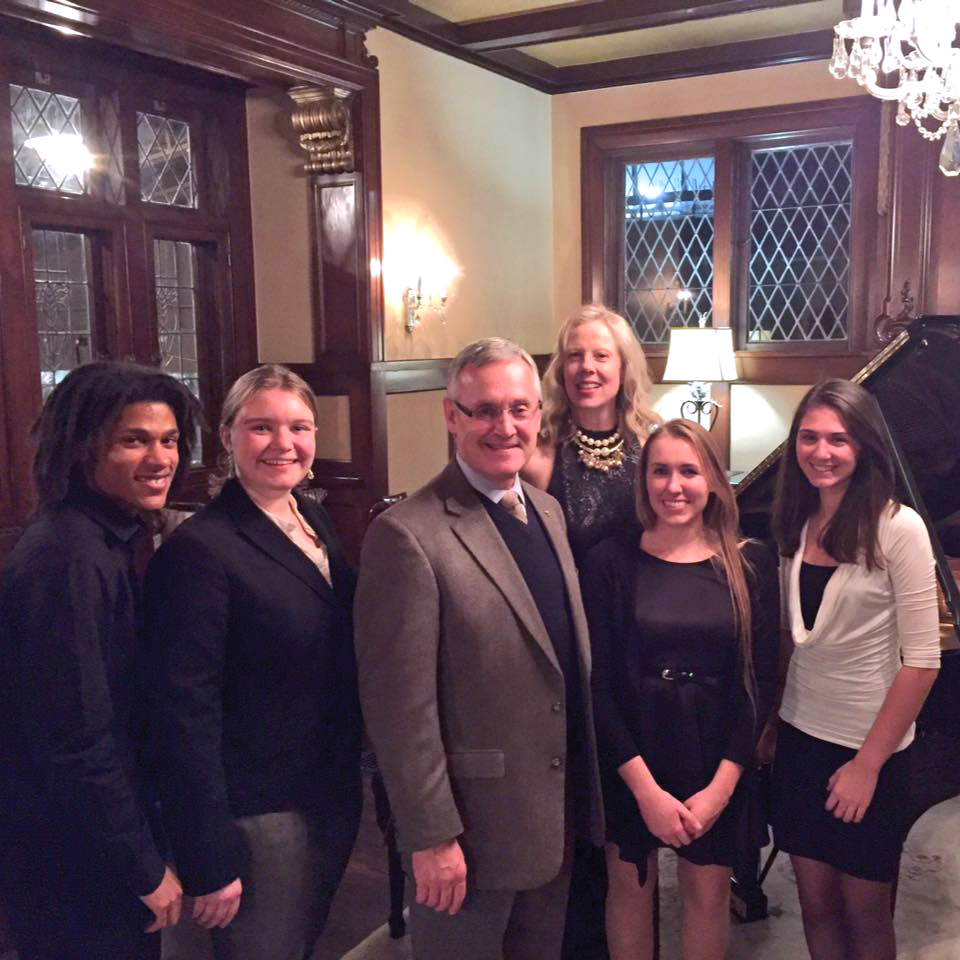 From left, students Michael Nichols, Abigail Wilson, YSU President Jim Tressel, Professor Caroline Oltmanns, and students Marleen Ocheltree and Alyssa Titi at Bliss Hall. President Tressel has been at the helm at YSU since 2014.
Home to world-class artists, pedagogues and scholars, the school continues its original mission with support from a multi-cultural population. "Youngstown is not a metropolis, but there are vibrant ethnic communities: Italian, Polish, Jewish, African-American, and many others," explains Dr. Goldberg. "Dana feeds on the rich cultural traditions of northeast Ohio in literal and metaphorical ways. From the Dana Symphony Orchestra to our solo classical guitarists, our students are fully engaged in the culture of the Mahoning Valley before they venture out into their careers."
In 2004, Dana-Youngstown State became the first public university in Ohio to gain recognition as an All-Steinway School. With more than 90 pianos by Steinway & Sons, that investment has clearly paid off, according to Dean Phyllis Paul.
"Having Steinways in every performance hall and practice room has helped our students develop their individual talents and enhanced their capacity for artistic development and learning,"
"Having Steinways in every performance hall and practice room has helped our students develop their individual talents and enhanced their capacity for artistic development and learning," she said.
"All of our students play the piano," adds Dr. Goldberg. "Some are performance majors while others use keyboards to compose or teach. I love having a piano in my classroom when I am teaching medieval polyphony or the history of Tin Pan Alley."
Steinway Artist Dr. Caroline Oltmanns, head of piano studies, said students come to Youngstown to build their own experiences. "We take pride in offering a tailor-made opportunity by presenting diverse educational models and flexible combinations of degree programs," she said. "The sense of pride and ownership of the All-Steinway designation contributes to their commitment to succeed, while the tonal range and color palette of our Steinway pianos greatly contributes to their development."
With such a rich past to commemorate, event organizers are kicking off the celebration a year early. Festivities include multiple performances by the Dana Piano Trio featuring Dr. Cicilia Yudha, highlighted by a March 22nd show at Weill Recital Hall in Carnegie Hall. Catherine and Ted Good of Steinway Piano Gallery Cleveland are assisting the school in planning the trip that will include a tour of the Steinway factory for Dana alumni and patrons. "Catherine and Ted are continually attuned to the Dana School's needs and they are terrific partners and collaborators," Dean Paul said.