University of South Carolina Aiken becomes first public All-Steinway School in the Palmetto State
AIKEN, SC – Judith Goodwin came to New York City with one wish but left with a solid game plan and fire to fulfill a much bigger dream. The advancement officer at the University of South Carolina Aiken wanted to learn more at Steinway's "Keys to Finding Funds" seminar about replacing a 30-year-old concert grand piano in the Etherredge Center.
Well-wishers crowd the hallway to cheer the arrival of new pianos that made the University of South Carolina Aiken an All-Steinway School. Judith Goodwin, in red, gives a solid fist pump, joining donor Sissy Brodie, Co-chair Beth Newburn, Lisa Turner Maddox from Turner's Keyboards, and Chancellor Dr. Sandra Jordan.
"I heard from other universities that were in the same situation as we were, and they offered some wonderful ideas on how they found success raising money, '' she says. "I was looking to replace only one piano, but they inspired me to consider All-Steinway."
Judith grew more excited as she mapped her strategy with local Steinway representative Lisa Turner Maddox of Turner's Keyboards in Augusta, Ga. "After the seminar, I was up to my elbows in fundraising," Judith confesses. "I got specific advice from the presenters and they shared some of their materials. Steinway was also a great partner in support, helping me launch the '88 Keys to Success' internet program."
"Nearly 80 percent of All-Steinway Schools see an increase in donor gifts to non-music areas of their institutions."
Lisa pointed out that USC Aiken would have the world's finest pianos and that would aid in recruiting new students and faculty. "Music students are not the only ones to benefit from All-Steinway," Lisa told her. "Nearly 80 percent of All-Steinway Schools see an increase in donor gifts to non-music areas of their institutions."
After selecting a new Steinway Model D for its main performance venue, Aiken embraced the All-Steinway campaign and USC Aiken acquired six new Steinway-designed Boston pianos in February 2019, becoming the first public university in South Carolina to achieve the designation. Co-Chairs Ben Cox and Beth Newburn not only rallied the community but made meaningful contributions, as well.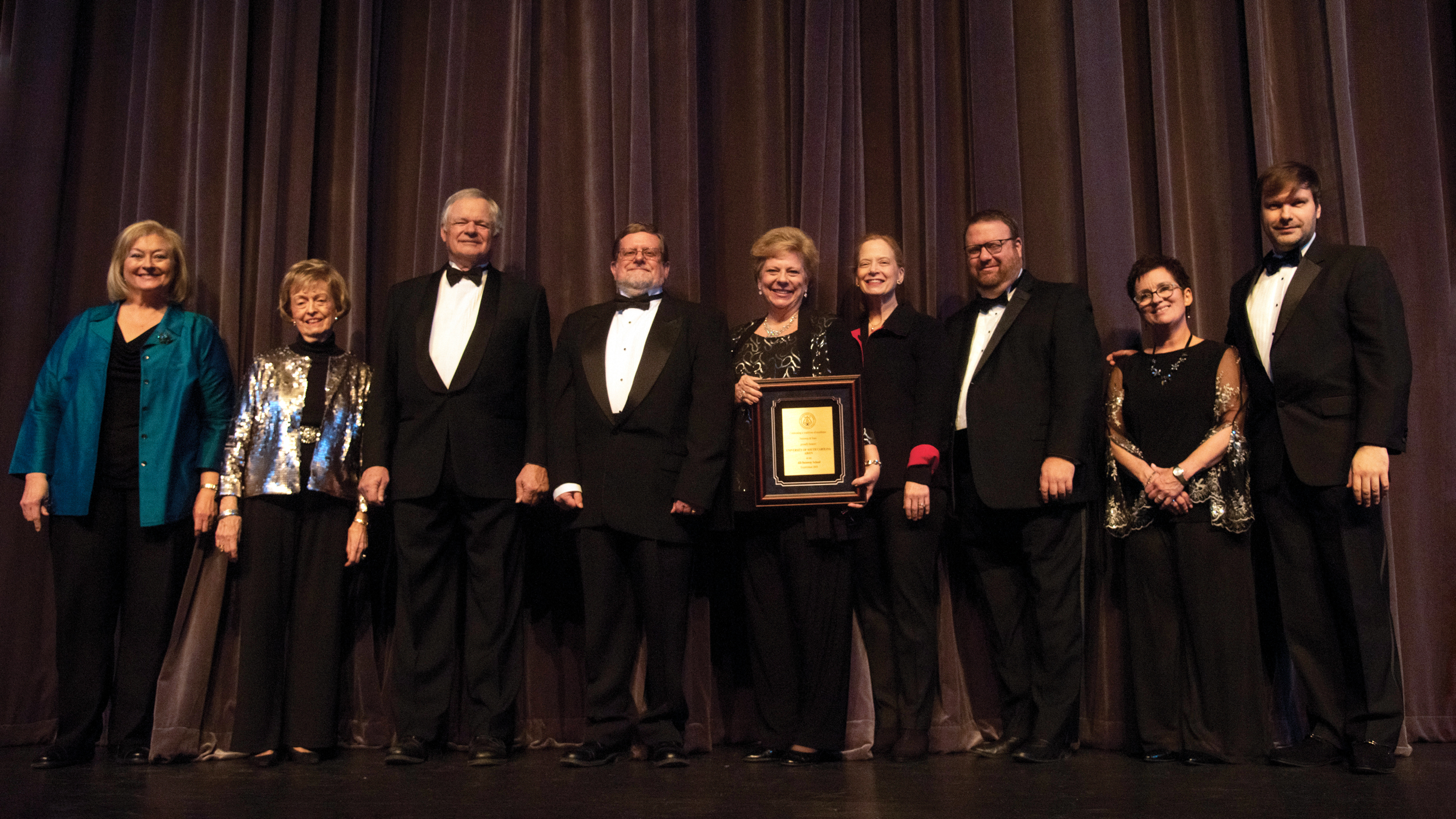 From left, Judith Goodwin, Advancement Office, USC Aiken; Beth Newburn and Ben Cox, longtime supporters of the music program; Dr. Mark Hollingsworth, Dean of the College of Arts; Dr. Sandra Jordan, Chancellor; Sally Coveleskie, representing Steinway & Sons; and Dr. Joel Scraper, Chair of the Department of Visual and Performing Arts; Lisa Turner Maddox, Turner's Keyboards; and Steinway Artist Edvinas Minkstimas.
Since then, USC Aiken has added a new major in music. "With our degree in music added to our existing music education degree we are excited to see our numbers of music majors increasing," Judith says.
Chancellor Dr. Sandra J. Jordan lauds the passion and commitment of Judith and the co-chairs. "Their tireless efforts, coupled with the tremendous generosity of our donors, made this achievement possible," she says.
Founded in 1961, USC Aiken has approximately 3,700 students and is consistently recognized by U.S. News and World Report among the top regional public colleges in the South.
"Becoming an All-Steinway School represents our institution's commitment to excellence and enables our students and community to reach high artistic standards," adds Dr. Joel Scraper, chair of the Department of Visual and Performing Arts. "Having pianos by Steinway & Sons raises the standard of excellence and provides a foundation for growth in artistry as well as enrollment. This is a significant undertaking and one that will benefit USC Aiken for generations."