Spirio Spotlight
January/Feburary 2016
musical Highlights From The Spirio Catalog

Happy New Year from Steinway & Sons Spirio! We invite you to come in from the cold and enhance a romantic evening with great music, including Mellow Jazz, Love Songs, or the powerful and emotionally striving music of the nineteenth century's Romantic Era.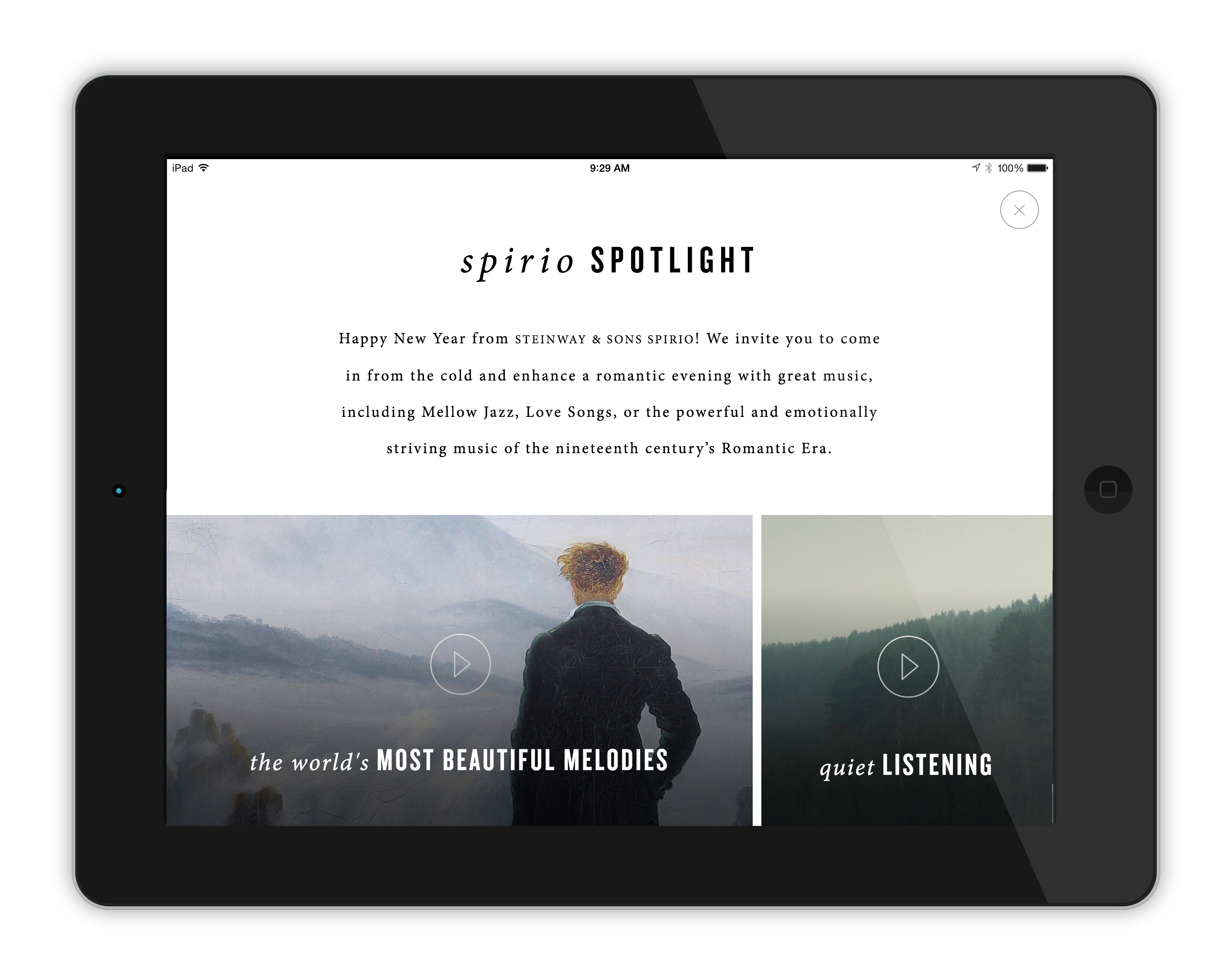 what's New
Piano phenomenon Lang Lang makes his spirio debut this month with offerings from both the Western and Chinese classical tradition. New additions include a sensitive rendition of Liszt's Romantic Liebestraum — "Dream of Love" — No. 3, Chopin's charming Minute Waltz, and Autumn Moon on a Calm Lake, a Chen Peixun composition based on the folk-inspired music of Lu Wenchen.

Grammy Award–winning jazzman Robert Glasper brings a new composition to Spirio. Titled Still Shining, the piece was commissioned by Steinway & Sons as part of a collaboration with the Museum of Contemporary Art in Los Angeles. Glasper drew his inspiration from a Spirio piano designed by artist Mark Bradford, and Glasper's music tells a story of transcendence rising out of violence and squalor. Sean Chen plays the Overture to Wagner's Tannhäuser, Olga Kern delivers an astounding Islamey, Stanislav Khristenko adds to his growing library of sonatas with Beethoven's Sonata No. 2, and Moira Lo Bianco performs original works from her upcoming Steinway & Sons album Imago.

Curator's Pick
A wide-ranging set of eclectic morsels include newcomer spirio artist Utsav Lal's entrancing "Water Lady," Hélène Tysman's performance of Bach's landmark First Partita, Yuja Wang's Pas de quatre from Swan Lake, a miniature from Darius Milhaud's La muse menagère, and Uri Caine's romping Improvisation on Mozart's Sonata No. 16 in C Major, K. 543.


The new Steinway & Sons Spirio is the world's finest high resolution player piano. A masterpiece of artistry and engineering in your home, Spirio enables you to enjoy performances captured by great pianists — played with such nuance, power and passion that it is utterly indistinguishable from a live performance. Learn more about spirio.

Connect with us below to experience Spirio in person.