Spirio Spotlight
March 2016
musical Highlights From The Spirio Catalog

Times have changed, but our love for The Great American Songbook has not. This month, Steinway & Sons Spirio features timeless standards that have inspired countless interpretations by musicians of all genres. Our great Steinway Artists offer their own interpretations through Spirio, just for you.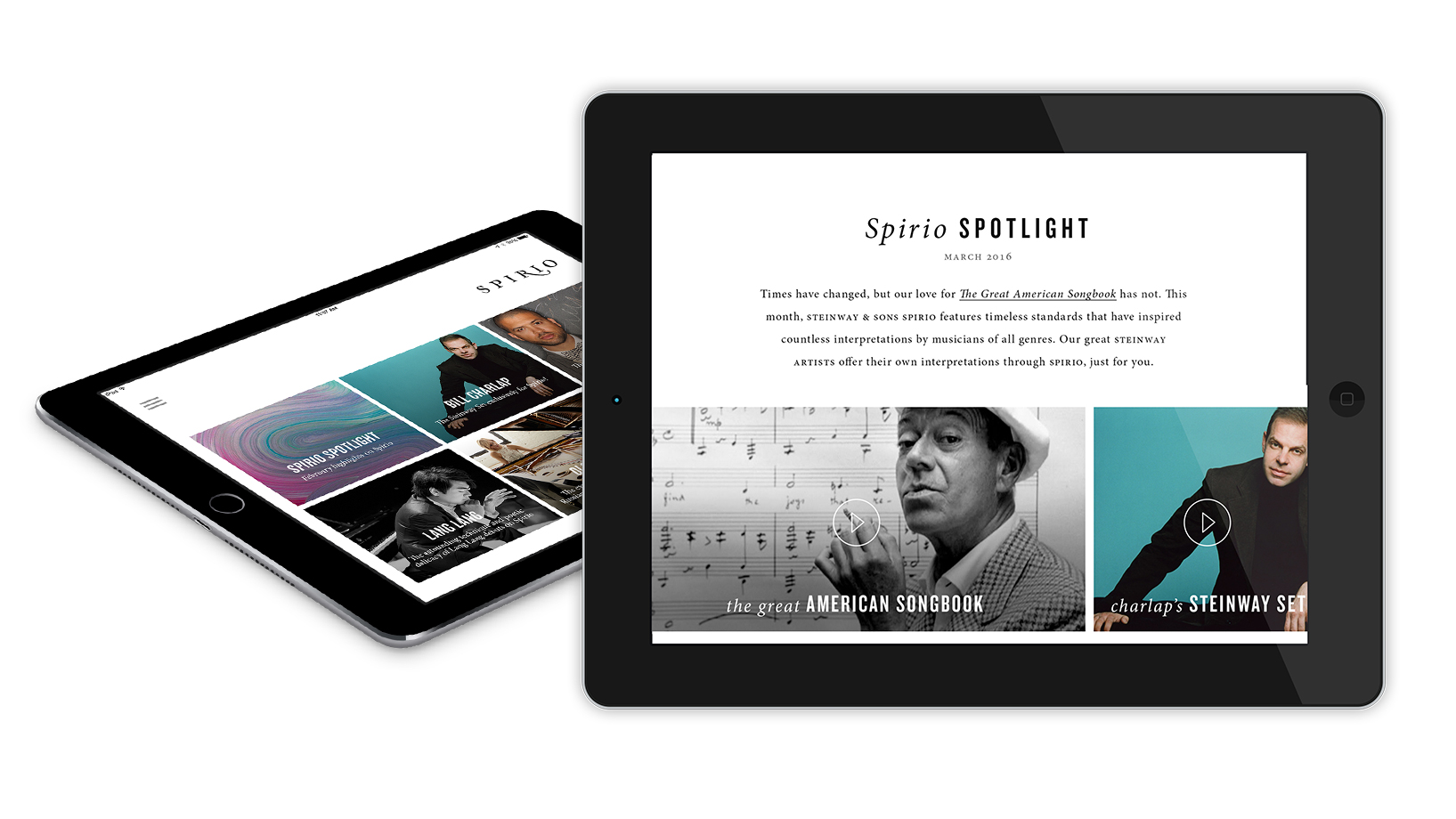 Cole Porter, Jerome Kern, George Gershwin, Irving Berlin, and more — Ella, Frank and friends would have very little to sing without these great artistic craftsman of the song form. Of course, one of the greatest living interpreters of the American Songbook is on Spirio as well. Fresh off his latest Grammy win with Tony Bennett for their songs of Jerome Kern, Bill Charlap's "Steinway Set" is not to be missed. For a virtuoso angle on the standards, be sure to give a listen to Jenny Lin's set, "Get Happy," after the Harold Arlen classic.
 
The Great American Songbook In Pictures
U.S. gov't press photo of Irving Berlin aboard the USS Arkansas, July 25, 1944.
George Gershwin. Photo: Ullstein Bild/Getty
Art Tatum (right) and Phil Moore (left), Downbeat, New York, N.Y., between 1946 and 1948 Photo: William P. Gottlieb/Library of Congress
 
Portrait of Duke Ellington and Sonny Greer, Aquarium, New York, N.Y., ca. Nov. 1946. Photo: William P. Gottlieb/Library of Congress
Cole Porter. Photo: Willoughby/Redferns
Irving Berlin and Tony Martin from the television program Irving Berlin's Salute to America. Photo: NBC

What's New On
Spirio
As the Downton Abbey series comes to a close, its theme music becomes available on Spirio. And its setting of an English country estate in the early part of the 20th century has inspired us to look back to another Julian Fellowes creation, the Robert Altman film Gosford Park. The nostalgic, somewhat sentimental tunes by Ivor Novello featured in that film bring back the elegance and charm of a lost era — an interesting contrast to the enduring music of the American Songbook.

David Benoit debuts on Spirio in March, bringing the populist smooth jazz genre to the catalog. He plays some of his favorites, including "Rainbows" and "Kei's Song," and also nods to traditional jazz with some Dave Brubeck and Bill Evans.
 
Other new releases include a group of Irish pub songs in honor of St. Patrick's Day. In their spirio debut, Eva-Maria Zimmermann and Keisuke Nakagoshi, who make up the four-hand partnership ZOFO, perform Holst's Jupiter from The Planets in their own wonderful arrangement.

Our commitment to presenting the core classical repertoire continues: Ravel's complete Valses nobles et sentimentales and La Valse are performed by Paris–based Hélène Tysman, and Stanislav Khristenko plays an action-packed suite from Prokofiev's Romeo and Juliet. Mirian Conti joins the exclusive group of classical artists delving into jazz with tracks by Duke Ellington and Zez Confrey.
 
Curator's Pick
Art Tatum — The Piano Starts Here — Live at the Shrine Auditorium
 
From our "Steinway Immortals" series, Art Tatum delivers these classic performances from a ground-breaking studio session in 1933, and his historic concert from 1949 at the Shrine Auditorium in Los Angeles. Tatum's jaw-dropping technical brilliance will leave you in awe at the Spirio.

The new Steinway & Sons Spirio is the world's finest high resolution player piano. A masterpiece of artistry and engineering in your home, Spirio enables you to enjoy performances captured by great pianists — played with such nuance, power and passion that it is utterly indistinguishable from a live performance. Learn more about spirio.

Connect with us below to experience Spirio in person.