Steinway & Sons is proudly committed to creating a diverse, inclusive and equitable environment in all aspects of our business; to environmentally sustainable manufacturing; and to supporting partner organizations which provide music educational opportunities and instruction across a spectrum of circumstance, age group, and musical tradition.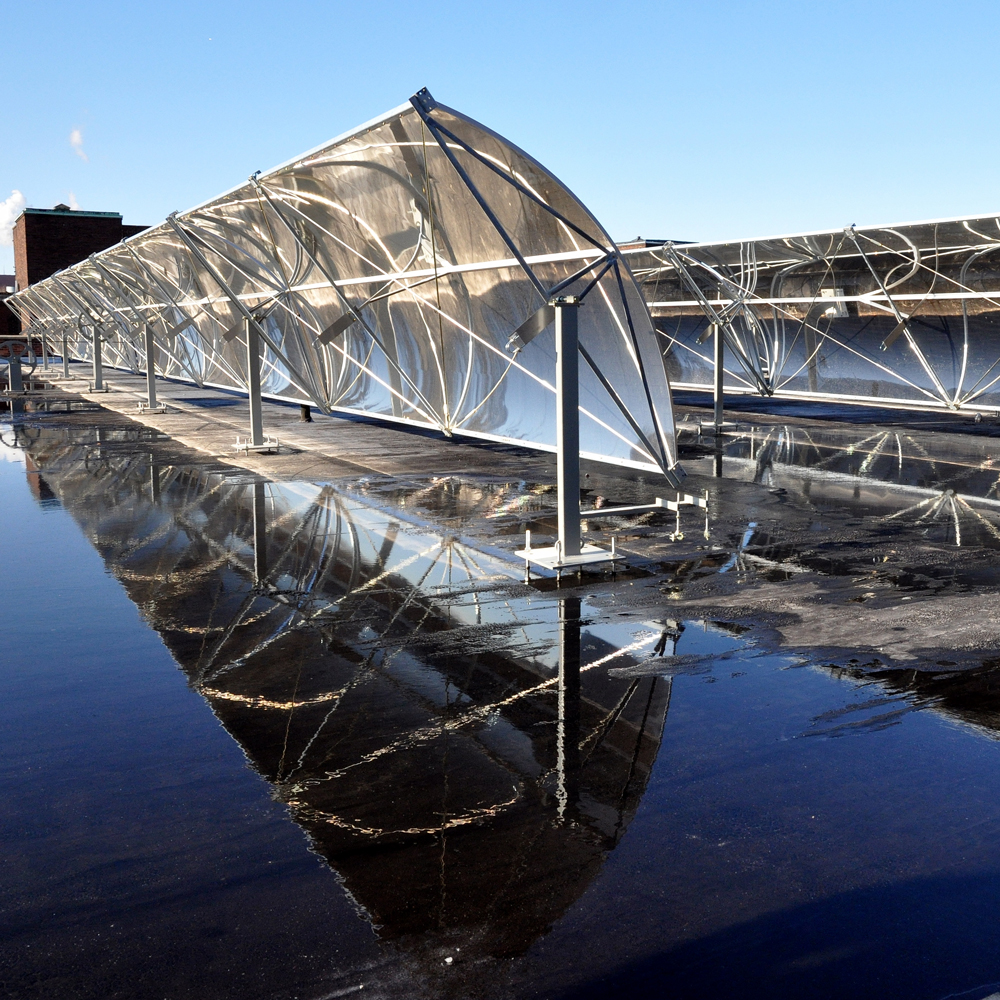 Steinway & Sons prioritizes suppliers and manufacturing processes which conserve energy and natural resources, and that minimize negative impacts on the environment. Learn more about Steinway & Sons environmentally sustainable manufacturing practices below - from its use of solar thermal systems, to energy reduction and recycling initiatives, and its commitments to responsible forestry practices.

The Power of Solar Thermal
The Steinway Factory in Astoria, NY features one of the world's largest solar thermal powered temperature control systems of its kind. The rooftop is home to 38 mirrored parabolic trough collectors, which rotate to follow the sun's path and reflect sunlight onto a centered tube. In the summer, the system produces steam at 200°C, powering a 100-ton double-effect absorption chiller — which dehumidifies and cools the Factory floor in the summer, and converts low pressure steam to heat the Factory in winter — ensuring optimal manufacturing conditions year-round for our pianos and employees.
Energy Reduction
Working together with energy consultants since 2006, Steinway has reduced its Astoria Factory energy consumption by 35%. As Steinway engages in its third lighting retrofit, replacing all fixtures with LED lighting, the Factory is projected to reduce its energy consumption by a further 15% in 2021. Steinway's metallurgy factory, the O.S. Kelly company, has converted to LED lighting as well, using a fraction of the energy it once did.
The building façade at Steinway Hall near Bryant Park boasts 23 glass lites, each over 100 sq. feet, each coated with energy efficient glazing. The glass is manufactured for its thermal performance — insulating and rejecting heat in the summer, retaining it in the winter. It blocks harmful UV rays, and protects against sudden changes in humidity.
A Lutron smart control system responds to incoming sunlight through these windows, dimming the lights and lowering the shades in response to outdoor conditions. This feature reduces both electrical consumption and cooling costs by lowering unwanted heat generated from both sources.
Recycling
Steinway & Sons upcycles wood shavings and sawdust, making them available for conversion to alternative energy sources: wood pellets and bio-bricks. Because we use the highest quality hardwoods, already weathered and kiln dried in the manufacturing process, our wood waste has a low moisture content and is therefore packed with a high energy, high BTU rating.
Responsible Forestry
Steinway & Sons is a benefactor to the Hardwood Forestry Fund, whose purpose is to promote hardwood timber growth, management, education, and environmentally sound uses of our forest resources. They strive to promote soil and water conservation, and to enhance wildlife habitats in our forests. The organization has planted over 500,000 hardwood trees since its inception.
Steinway & Sons sources Birch, Hard Maple, and Yellow Poplar from trusted FSC-Certified lumber suppliers (Forest Stewardship Council). Working with responsibly managed forests, our suppliers procure the special wood grades of mature timber that are required to build each piano in the Steinway & Sons fleet. These trees are harvested when they reach 80-100+ years of age, leaving space and light for younger trees to grow in their place.
The Forest Stewardship Council is a leading catalyst and defining force for improved forest management and market transformation, shifting the global forest trend toward sustainable use, conservation, restoration, and respect for all. The FSC promotes environmentally appropriate, socially beneficial, and economically viable management of the world's forests. Forests certified by the FSC are compliant with its set of international principles and criteria for forest stewardship.